Ol' Glory
| American Beverage LLC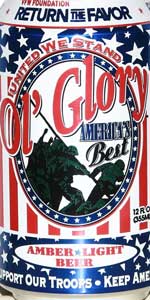 BEER INFO
Brewed by:
American Beverage LLC
Oklahoma
,
United States
olglorybeer.com
Style:
American Amber / Red Lager
Alcohol by volume (ABV):
not listed
Availability:
Year-round
Notes / Commercial Description:
No notes at this time.
Added by emerge077 on 05-24-2012
Reviews: 8 | Ratings: 17
3.32
/5
rDev
+13.7%
look: 3.25 | smell: 3 | taste: 3.5 | feel: 3 | overall: 3.5
This is a damn good beer. I got a 6 pack for 2.99 and then the store got this awesome special where they were 2 cans for a dollar .
Look this beer is awesome for the price and even if it were slightly more expensive this beer is pretty damn good.
drink a 6 pack of this and you will have the perfect buzz but then you will have to get another 6 pack in an hour or so if you got 3 more bucks but if all you got is 3 bucks then get this stuff instead of getting steal reserve or whatever they got in your local area.
unless you can get a really good deal on steel reserve or on camo or whatever they got in your town then get this stuff.
taste is good, appearance is reallly good, you can slam these like nothing so easily.
so awesome !!!
look you can get some cheap vodka but if you need to slow down a little and drink some beer then get this stuff or whatever else they got cheap, but this ol' glory is amazing the taste is amazing and man o man this is one of the best beers ever created thank you god all mighty you are the best!!!
1,042 characters
2.7
/5
rDev
-7.5%
look: 3.25 | smell: 2.5 | taste: 2.75 | feel: 2.5 | overall: 2.75
Type: 12-oz. can
Glass: Firestone pint glass
From: Pacific Liquor at Renaissance at North Park (San Diego), Calif.
Price: $2.99 for a 6-pack
Purchased: June 28, 2013
Consumed: June 28, 2013
Misc.: N/A
Poured a caramel amber clear color with 1-2 fingers of gray head that dissipated rather quickly. No lacing on the sides. Very poor retention. Gave it a bonus 0.25 for the patriotic can.
Smelled heavy on the malts. Got grass, bread, cereal, honey, grape, caramel and corn. Potent, but can't decide if that's good or bad.
Tasted somewhat similar to the nose. Got metallic notes first though. Also honey, grass and corn, and some combination of grape and green apple.
Light body. Thin texture. Soft carbonation. Abrupt, watery finish.
Not that great of beer, but $2.99 for a 6-pack is a pretty good value. Not bad for the style either.
843 characters

3.23
/5
rDev
+10.6%
look: 3.5 | smell: 3 | taste: 3.25 | feel: 3.5 | overall: 3.25
The beer poured from the can a dark yellow almost amber color. It was darker than I was expecting, which is a promising sign. The aroma had a distinctly bread-dough aroma with some pale malt and sweet fruitiness. Very light as it smoothly moves across the palate. For the style, clean, drinkable, cold and carbonated. What more could you ask for?
346 characters
3.32
/5
rDev
+13.7%
look: 4 | smell: 2 | taste: 3.25 | feel: 5 | overall: 4
24oz can with an unintelligible code on the bottom. I have no idea what the 'Return the Favor' campaign is, but I'm on board. (notice how they emphasize UNDER GOD on the label. i'm not a big god guy, but I love the jab at PC'ness)
I actually poured this and it looked pretty much like beer you see in the movies. smell is apple juice(box), dusty barn, trucker piss(dehydrated). EXTREMELY FIZZY, sweet and astringent, but not bad. just a little of that light lager metallic bite, not too bad.
Cold and out of the can, I WILL be drinking this on the fourth.
557 characters

3.08
/5
rDev
+5.5%
look: 2.5 | smell: 2.5 | taste: 3.5 | feel: 3.25 | overall: 3
Listen, I love the United States as much as the next guy but putting the Pledge of Allegiance and the Iwo Jima flag raising on the can is a bit much. Patriotism as my grand father taught me lasts a life time, it is not to be expressed in short bursts as chanting "USA! USA!" in the face to naysayers or detractors. That being said, it does have the beautiful colors of of our Republic the red, white and blue, placed with the words "Return The Favor" in which almost looks like "Return of the Jedi" text. Duality.
It's what inside the can that matters after all and this beer is not bad. It is not good, but to be honest I was gifted this and I was expecting a joke of a beer but I was wrong. I take that back, it is a good beer. Good being relative to average. It is better than any BMC which are the true parody beers. I would definitely purchase this on my own accord, I wouldn't travel miles upon miles but the taste and mouthful are decent enough to consider a second look. Amber Beer is on the label and I can definitely taste that and I do not mind supporting the VFW, but for heaven's sake can you get rid of the Pledge of Allegiance on the can. Come on!
1,163 characters
4.37
/5
rDev
+49.7%
look: 4.25 | smell: 4 | taste: 4.5 | feel: 3.5 | overall: 5
This beer is not bad at all honestly this is very bomb espisaly the taste very drinkable nice color better then most cheap beer worth a try honestly!!
Not to forget this hands down one of my favorite beers yup thats right I said it
Try this u wont be disapointed!
265 characters
3.08
/5
rDev
+5.5%
look: 3.5 | smell: 3 | taste: 3 | feel: 3.5 | overall: 3
For 3.95/6 pk, quite drinkable. Amber, 112 cal. Good COLD! Drinkable warmer. Good with orange or lemon slice. Not great, not awful but I like trying different beers. The price is right and I think this will be a great beer for the summertime when you want something cold and fizzy. I get this at a grocery located close to an AF base and VA hospital. This is my 2nd 6 pk. May even buy a case. Better than Keystone Light, Nat. Light, or Busch Light. Flavor not strong or sweet. Nothing jumps out but then I don't like hoppy beers. I think it's a good basic beer. Worth trying.
575 characters
2.34
/5
rDev
-19.9%
look: 3.5 | smell: 2 | taste: 2.5 | feel: 2.5 | overall: 2
Brewed by "Ol' Glory Brewing Company, LaCrosse WI".
"America's Best Amber Light Beer™"
www.olglorybeer.com, © American Beverage, LLC.
"America's Best for America's Best" ...MURRICA!!
This beer fits about as much patriotic schtick that can fit on a can. Pledge of allegiance? Check. Iwo Jima? Check. Random patriotic sloganeering? Check. Brewed by City Brewing, LaCrosse WI? Check.
Pours a slightly dark saturated orange color, high clarity with a fluff of foam on top that fades quickly (and audibly) to a broken skim across the surface. Some random and very sparse lace on the sides.
Smells like alcohol and grape juice, likely a wine yeast to jack up the abv, a la malt liquor.
Apple flavor with a lightly astringent bite and some lingering sweetness. Soggy grains and wet saltine crackers. The carbonation peters out and it starts tasting like dishwater. Slick and bland, flaccid. Weak sauce, but a great ironic novelty can.
Thanks for this one Gilly!
968 characters
Ol' Glory from American Beverage LLC
2.92
out of
5
based on
17
ratings.