Buddy's Bourbon Flavored Beer
| Global Brands Ltd.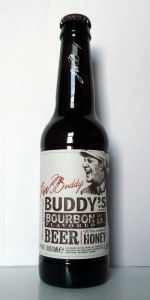 BEER INFO
Brewed by:
Global Brands Ltd.
England
,
United Kingdom
Style:
American Adjunct Lager
Alcohol by volume (ABV):
5.10%
Availability:
Year-round
Notes / Commercial Description:
No notes at this time.
Added by EmperorBevis on 07-13-2013
Ratings: 12 | Reviews: 3
Reviews by Ciocanelu:

More User Reviews:

2.57
/5
rDev
+27.2%
look: 3.25 | smell: 2.5 | taste: 2.5 | feel: 2.75 | overall: 2.5
A 330ml bottle with a BB of March 2014. Picked up a while back from a B&M store. Described on the label as beer flavoured with bourbon and a hint of honey (as the name also implies). Features some bullshit about a made-up rule-breaker called Buddy.
Poured into a Stella Artois chalice for extra class. A clear golden-amber colour with good carbonation. Forms a decent head of creamy white foam that lasts for a minute or two before reducing to a patchy surface layer. Aroma of sweet honey with faint hints of stewed veg/leaves and a harsh, artificial quality in the background. The honey is certainly there, but I'm not picking up much else (either bourbon or beer). Rather cloying.
Tastes of sweet honey with a vaguely acrid finish. Notes of honey, overcooked veg, faint stewed leaves and a dry, artificial harshness in the background. Very sweet - like it's loaded with saccharin. No bourbon to speak of. A twinge of chemicals/solvent upon swallowing. Mouthfeel is smooth and tingly, with prickly carbonation and a thin, watery body. Dry despite the sweetness. Slightly astringent, followed by an aftertaste of mild honey and acrid cardboard/leaves.
Nasty stuff. Horribly sweet and unbalanced, along with some vile undertones. It looks OK but this is the beer's only good point. The aroma and flavour feature ultra-sweet honey and little else. Unpleasant off-notes lurk in the background. Weak body. I'm also not convinced there's any bourbon in this. Not a nice drinking experience, and one that I couldn't recommend under any circumstances.
1,547 characters

3.46
/5
rDev
+71.3%
look: 3.5 | smell: 3.75 | taste: 3.25 | feel: 3.5 | overall: 3.5
1.5
/5
rDev
-25.7%
A hint of honey? The damn thing tastes like honey loops breakfast cereal!!
I made a DIY version with a bottle of Bud, a shot of Jim Beam and a tea spoonful of clear honey, which I gave a rating of 3.
Don't know who the hell Buddy is but he knows jack shit about brewing.
272 characters

1
/5
rDev
-50.5%
look: 1 | smell: 1 | taste: 1 | feel: 1 | overall: 1
It looks like piss with a vague splattering of small white bubbles.
All I smell is honey, the type in a throat lozenge
I had to bring myself to take the first sip
Taste likewise is all honey, it looks like according to the label on the bottle it was an afterthought and from putting this crap in my mouth it is like it was added to provide some FLAVOUR
Fizzy Pish, bollocks of the highest order, deceitful shit beer
422 characters


Buddy's Bourbon Flavored Beer from Global Brands Ltd.
2.02
out of
5
based on
12
ratings.