Peanut Butter Porter

Beer Engineers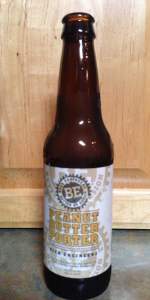 Write a Review
Beer Geek Stats:
| Print Shelf Talker
Style:

ABV:

12%

Score:

92

Avg:

4.22

| pDev:

16.82%

Reviews:

14

Ratings:

From:

Avail:

Retired (no longer brewed)

Wants

Gots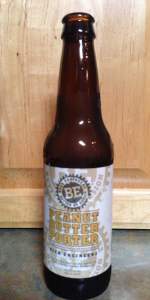 Notes:
2.7
/5
rDev
-36%
look: 3 | smell: 3 | taste: 2.5 | feel: 2.5 | overall: 2.75
Beer Engineers no longer exists. This was being produced by a contract brewer in Alabama. The beer actually had an oily mouthfeel and was to me nothing more than a fusel mess with peanut butter in it. There are much better peanut butter beers out there.
253 characters
3.65
/5
rDev
-13.5%
look: 4.5 | smell: 3.75 | taste: 3.5 | feel: 3.75 | overall: 3.5
From BeerAdvocate Magazine #76 (May 2013):
Keeping the brewer's intentions in mind, this is one insanely intense beer. Aroma and flavors border on sensory overload, with big notes of nuttiness and rich caramelization. Indeed, this beer might be over-the-top for some. The aroma smacks of flavored syrups with a cloying sweetness. That said, fans of peanut butter and big boozy beers should give this one a try.
STYLE: American Porter w/ Peanut Butter
ABV: 12.0%
AVAILABILITY: Year-round
LOOK: Mahogany; creamy, thick beige head
SMELL: Peanut oil, toasted grains, hazelnut, toffee, syrup
TASTE: Viscous, creamy, sweet, toffee, coffee, roasted peanuts, fruity, boozy, peppery, lingering nuttiness, sweet finish
715 characters
5
/5
rDev
+18.5%
If you like porters and peanuts then this beer is definitely for you. This is an absolutely wonderful beer and one of my personal favorites. Look is very dark like you would expect with a porter only very little head on most pours. Smell is also wonderful; hints of peanut butter and chocolate are very obvious but not overwhelming. Taste is strong but definitely not overbearing, unlike how i expect most 12% abv beers to be. You get the rich porter taste up front with a perfect amount of peanut flavor on the end. For feel, I would say that it has a medium to full body that can be a little heavy, depending on the batch.
Overall this is a wonderful beer. The best of any specialty or peanut butter porter that I have had.
727 characters

4.42
/5
rDev
+4.7%
look: 4 | smell: 4.5 | taste: 4.5 | feel: 4 | overall: 4.5
Pours a dark brown color with no head whatsoever from this bottle. The aroma is peanut butter/roasted peanuts. It's not an overbearing aroma, but you definitely know what your smelling. My first taste was right out of the fridge and it was exactly like the aroma. I couldn't taste the alcohol at this temperature. As the beer warms, the alcohol comes out and warms the throat and stomach nicely. Medium body, not a ton of carbonation.
I was expecting this beer to be thicker, sweeter, and boozier, but I was pleasantly surprised. I thoroughly enjoyed this beer and will be drinking again soon.
594 characters

3.88
/5
rDev
-8.1%
look: 3.75 | smell: 3.75 | taste: 4 | feel: 3.5 | overall: 4
A-Pours a thick, oily brown color. A thin, tan head sits atop the beer. It slowly fades, leaving remnants along the glass.
S-A big, sweet, artificial peanut butter aroma. Sweet, toasted peanuts. Some fudge and sweet chocolate.
T-More like a peanut butter cup than actual peanut butter. They must be using a ton of flavor additives to get it to taste like this. It's super-sweet peanut butter with some dense chocolate.
M-Oily, full bodied. Alcohol is somewhat noticeable but I was surprised the ABV was this high. Nearly cloying.
O-Regardless of the tactics used to get this flavor, they nailed the peanut butter thing here. I actually grew to enjoy this beer as I took my time with it. I'm a peanut butter fiend so I shouldn't be surprised.
746 characters

3.89
/5
rDev
-7.8%
look: 4.25 | smell: 4 | taste: 3.75 | feel: 3.75 | overall: 4
A: Poured from bottle to snifter, the beer produced a finger of tan head made of mostly fine bubbles with a few larger ones. The head fell fairly quickly (under 30 seconds) and left a dusting on top along with a ring around the edge. The beer is a very dark brown with some ruby highlights in the cheers and very clear when back-lit. Alcohol legs are noticeable when agitated and the foam kicks up a little more also.
S: A mild toasted nuts and peanut aroma on the first whiff. Also getting milk chocolate, almonds, sweet caramel and light fruity esters. Very low hop aroma, just an earthy, spice that sits below the candy bar aroma.
T: Chunky peanut butter taste, true to its name, on the first sip. Balance is on the malt side with it coming of sweet but not overly so. Almonds, peanuts, toasted pecans, milk chocolate, toast and toffee flavors all coming through in various intensities. Peanut is defiantly the dominant, slightly artificial tasting. Very low bitterness and almost no hop flavor coming through. A slightly grainy flavor at the end that leaves the pallet slightly dry.
M: Moderate body with carbonation on the lower side. Low alcohol warming.. surprising for the ABV. Maybe its a mental thing but it feels like a slick, gritty peanut butter spoonful after about 2-3 mins without a sip.
O: Unique beer that lived up to its name. Malts shine and the peanut butter flavor blends well. I don't know that I would get it again, but glad to try it.
1,463 characters
4.5
/5
rDev
+6.6%
look: 4.25 | smell: 4.75 | taste: 4.5 | feel: 4 | overall: 4.5
Appearance is a dark brown/black color with zero head.
Aroma is like no other. Dry roasted peanuts up front with hints of milk chocolate. It smells like a Reese's cup.
Flavor is of dark and milk chocolate dominant with dark fruit and lingering peanut butter flavor at the very end that sticks around til the next sip.
Simple but complex flavors in this.
Mouthfeel is bubbly, doesn't coat your mouth totally which keeps you going back for more.
The 12 abv is extremely well hidden, you cannot pickup any alcohol at all.
I could hurt myself on these!
550 characters

4.8
/5
rDev
+13.7%
look: 4.5 | smell: 5 | taste: 4.75 | feel: 4.75 | overall: 4.75
A-black with a small tan head that leaves a small lacing
S-peanut butter with a sight alcohol and chocalate smell
T- peanut butter with a roasted caramel aftertaste with some warming after the roast flavor fades
M- creamy, low carbonation, full bodied
O- my first time with this beer without eating peanut butter cheesecake. This is a great beer without the cheesecake, but it will be with a cheesecake from now on
414 characters
3.51
/5
rDev
-16.8%
look: 4 | smell: 4.75 | taste: 2.75 | feel: 3.25 | overall: 3.5
Pours a dark honey color with some ruby highlights. No head, just some wisp from from the continuous and forceful carbonation. Yep, it smells like peanut butter, or more accurately a Nutter-Butter cookie. There's a salty-sweetness on the nose, too, and some chocolate notes. This is a glorious beer to inhale.
The taste, however, is a bit of a disappointment. Roasted malts, dark rum, cane sugar up front: sweeeet. Then there's a fruity, spicy, sourness that takes over and lingers: pomegranate, sorghum, chocolate, pepper. The peanut butter is, unfortunately, masked and detectable only when smelling the beer. It's a bit over-carbonated, and for 12% not as full as I thought it would be for a porter. Maybe if they could bring the focus of the beer - peanut butter porter - back to the center, then this could be an exceptional beer.
836 characters

4.06
/5
rDev
-3.8%
look: 4 | smell: 4.25 | taste: 4 | feel: 4 | overall: 4
Poured from 12 oz bottle into tulip glass.
A: Very dark brown almost lack with minimal tan head that was one quite quickly. Some light lacing.
S: Lots of nice peanut butter and chocolate. Smells a lot like a Reese Cup.
T: Peanut butter and roasted caramel mixed with chocolates. A bit of alcohol apparent in the back.
M: Nice and creamy. Full bodied like you would expect with a big porter.
O: Enjoyable brew. A nice desert to ay meal.
441 characters
4
/5
rDev
-5.2%
look: 3.5 | smell: 4 | taste: 4.25 | feel: 3.75 | overall: 3.75
On tap at Hop City, Birmingham
A: Shoe polish brown with a tan half finger head that slinked away quickly. Decent lacing.
S: Bring on the peanut butter. Stir in the malts. Spread down the caramel.
T: Pure joy. A great sweet sipper. It really is like drinking a Reese's Cup. Peanut butter, chocolate and malts in a spirited dance down the windpipe. Yummy. The 12% catches you off guard.
M: Medium with medium, creamy carbonation.
O: Glad I got to try this local favorite. Beer Engineers have really created a great after dinner luxury. The perfect finish to a chopped pork sandwich from Full Moon BBQ down the street.
621 characters
4.22
/5
rDev 0%
look: 4 | smell: 3.75 | taste: 4.5 | feel: 4.25 | overall: 4.25
Pours an opaque dark brown with minimal head and lacing.
Aroma is of peanuts, sweet malt, some salty notes, and booze.
Tastes like a Reese's cup. Very nice. I don't much like peanut butter but this is very nice. A touch of booze on the finish. Not too sweet, not too dark. Delightful.
More carbonation than I'd imagined there being. Not too much though. Creamy but not extremely thick. Very nice.
Overall this beer is great. Didn't have high expectation for it but I was pleasantly surprised. Worth the try.
515 characters
4.08
/5
rDev
-3.3%
look: 4.25 | smell: 5 | taste: 3.5 | feel: 3.75 | overall: 4.25
A-Pours a deep, dark brown color that is almost black. Head is beige colored and wafer thin and does not retain well.
S-Damn. Smells exactly like peanut butter with very subtle notes of chocolate. Not much nuance, but the peanut butter smell is delicious making the lack of complexity just fine with me.
T-Burnt caramel hits the palate first and is a bit bitter sweet and sour, but that unpleasantness fades quickly into a lingering, and downright delicious peanut butter aftertaste. If BE was able to eliminate that initial burnt caramel taste and make it all peanut butter, this would get a near perfect score on taste.
MF-Wet, oily, a bit over carbonated and dry in the finish. Not as rich as a 12% abv porter should be.
O-Damn. The nose on this is exceptional. I was shocked at how delicious this beer was. Alcohol is barely present and the peanut butter notes in the nose make it one of the bet smelling beers I've ever had. If the brewers were able to round off the brew and soften that initial bite on the palate, this would be an elite beer.
1,054 characters
4.91
/5
rDev
+16.4%
look: 4.75 | smell: 5 | taste: 5 | feel: 4.75 | overall: 4.75
This beer was delightful... Dark and aromatic, reminiscient of dark chocolate and organic peanut butter, though not overly sweet. Not a lot of head, but a small amount of lacing along the inside of the glass.
High gravity beer at 12%, but not alcohol heavy. Very interesting concept done well. Incredibly balanced and complex throughout the palate.
349 characters
Peanut Butter Porter from Beer Engineers
Beer rating:
92
out of
100
with
81
ratings