Goldencold Lager
| Susquehanna Brewing Company
BA SCORE
83
good
13
Reviews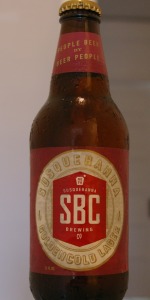 BEER INFO
Brewed by:
Susquehanna Brewing Company
Pennsylvania
,
United States
sbcbeer.com
Style:
American Pale Lager
Alcohol by volume (ABV):
5.00%
Availability:
Year-round
Notes / Commercial Description:
No notes at this time.
Added by undeadozzy on 06-12-2012
Reviews: 13 | Ratings: 108

4.38
/5
rDev
+21.7%
look: 4.5 | smell: 4 | taste: 4.5 | feel: 4.5 | overall: 4.5
Had on-tap both at the brewery and a pub down the street. While at the pub, I drank this beer directly after another well known Pennsylvania lager. SBC annihilated the other beer. It gave off a deep gold clarity one would expect from a lager. Thin off-white head remained after waiter brought it from the bar. The scent was clean and inviting, with a good mix of malt and hop aromas. Neither one overwhelming the other. Hints of bread as well. Taste delivered everything in the nose and more. I can't say enough about the smoothness of this lager. Their method of separating the husk and kernel of the grain has done wonders for the crisp, clean taste found in this very well crafted beer. Mouthfeel is a bullseye.
Extremely well done!
736 characters
4.12
/5
rDev
+14.4%
look: 3.5 | smell: 4 | taste: 4.5 | feel: 3.5 | overall: 4
A - Nice deep amber color with a thick and foamy white head. Ample carbonation, but nothing too obnoxious.
S - Can definitely pick up on the German hops just by smelling it, and maybe a little bit of cornbread and sweet dinner roll. Very pleasant smelling.
T - Great. Wonderful smooth full-bodied lager taste, with just enough hops to give it a punch. Has a sweet buttery tone to it, like a sweet dinner roll, very tasty.
M - Thick for a lager, but very full. Not greasy or watery, but almost a perfect viscosity for a beer.
O - Very good beer. Great first impression by the Susquehanna Brewing Company, a very good lager and a very good beer all around.
666 characters

4.1
/5
rDev
+13.9%
look: 5 | smell: 4.25 | taste: 4 | feel: 3.75 | overall: 4
I know that I usually eschew bottled beers, but given that Guy Hagner is part of the brewing crew behind this beer, I could not resist.
From the bottle: "People Beer by Beer People"; "The address says Northeastern Pennsylvania, but make no mistake. This beer is pure Deutchland. The use of classic pilsner malt ans Sauermalz recalls beers from centuries ago, bringing to life a traditional, rounded note. And the Bavarian and Czech hops deliver a crisp, classic and nuanced bitterness. Which can only mean one thing. It's time to don your favorite pair of lederhosen and enjoy an incredibly drinkable German-style beer, from right here in NEPA."
My musical accompaniment for this one is Adam and the Ants doing "Ant Music" since it was "ant music for ant people". My pour created just better than a finger of fizzing, tawny head that lasted longer than I expected. Color was a brilliant gold (SRM = > 5, < 7) with NE-quality clarity and now the three stooges, Croesus, Mammon and King Midas were REALLY fighting for a sip. Nose was had a grassy tang along with a cereal-like sweetness. I would have guessed GER Pils, but APL also fits. Mouthfeel was medium and the wash of grassy hops reminded me of why I have fallen in love with adjunct-free lagers. I have CANsumed far too many AALs on The CANQuest (TM) to be enamored of such things. The finish had a slight twang to go with the grassiness, perhaps from the Sauermalz, giving it a unique taste. Man, if only they would begin CANning, I'd be all set ...
1,515 characters

3.79
/5
rDev
+5.3%
look: 4 | smell: 3.75 | taste: 3.75 | feel: 4 | overall: 3.75
The beer pours a pale golden color with a thick frothy white head that fades to lacing. The aroma is good. It has a crisp, pilsner malt scent along with a touch of hops and dry lager yeast aroma. The taste is good as well. Again, it's crisp with a dry lager yeast finish. The malt character maintains a smooth, well rounded flavor. It contains a much broader taste than a macro, adjunct lager. The mouthfeel is fine. It a low bodied beer with adequate/good carbonation. This is an every day beer that's easy drinking and flavorful, yet doesn't hurt the wallet too bad.
568 characters

3.78
/5
rDev
+5%
look: 3.75 | smell: 3.75 | taste: 3.75 | feel: 4 | overall: 3.75
4/26...bright but light gold. White bubbly foam on top. Small straw and hay nose. Subtle citrus. Rich malty lager flavor, some sweetness. Light, easy, good flavor profile. Simple and subtle.
190 characters
3.75
/5
rDev
+4.2%
look: 3.75 | smell: 3.75 | taste: 3.75 | feel: 3.75 | overall: 3.75
Got this in a mix-a-six at Giant Beer Garden & Eatery enjoyed from a pub glass chilled from the bottle.
The color is a medium amber with light cream of beige with small bead and spots of lace collect. The smell is malty with a mild sweet aroma and light yeasty breadiness. The feel is good -a mix of malt and mild bitterness with a slight creamy and carbonated feel but the finish is mostly dry and alcohol is subdued.
The flavor has some nutty malt with toasty flavor combined with the yeast which adds a slight bready quality to the brew with slight spice and and mild hop flavor which seems to balance the sweetness of the mild caramel accent. Overall I enjoyed this but feel it would be better classified as a vienna or amber lager perhaps. I think it is a drinkable lager with a nice malt body.
804 characters
3.58
/5
rDev
-0.6%
look: 4 | smell: 3.5 | taste: 3.5 | feel: 3.5 | overall: 3.75
Poured from a brown 12 oz. bottle. Has a rich golden color with a 1/2 inch head. Smell is of malts, some grains. Taste is crisp, clean, malts, some hops at the finish, refreshing. Feels medium bodied in the mouth and overall this is a fine session beer.
253 characters
3.51
/5
rDev
-2.5%
look: 5 | smell: 4 | taste: 3 | feel: 3.5 | overall: 3.5
Aroma is noble hops all the way.
Appearance is golden straw and of brilliant clarity.
Taste is where I have a problem. For a German lager that is supposedly pilsner malt forward it seems like I should be getting more of a firm bitterness and much crisper. I'm glad they have as much carbonation as they do because it could have fallen really flat(no pun intended). I do also detect some slight diacetyl in the beer.
Mouthfeel is of medium body and as stated previously a generous amount of carbonation.
Overall I would have this beer in a bar around here, but I doubt I'll be buying a case. After the six pack I bought and drank I did not feel like I could drink another beer. Recommendations would be to make this beer a little crisper by revisiting the mineral content of Pittston water then decreasing carbonation to round it out. Then again I'm not the professional and can't make judgement on one beer. Maybe I'll try the 6th generation and review that!
Cheers
974 characters
3.5
/5
rDev
-2.8%
look: 3.5 | smell: 3.5 | taste: 3.5 | feel: 3.5 | overall: 3.5
Couldn't wait to try this beer from the new Susquehanna Brewing Company. SBC has done a great job in marketing and generating excitement for their products. I'm not big in to hoppier brews, and having the Stegmaier tradition involved with Goldencold made me really excited for this lager.
I'm new to reviewing beers based on texture and other characteristics, so I won't try to sound educated. I will say Goldencold initially reminded me of Stegmaier's Gold lager, but with a stronger taste. It has a nice golden color with a thick white head. The lacing is retained throughout. Very smooth and tasty.
602 characters
3.45
/5
rDev
-4.2%
look: 4.25 | smell: 3.5 | taste: 3.25 | feel: 3.5 | overall: 3.5
This brew was served on tap, into a Susquehanna Brewing Company pint glass, at the Holiday Inn's Bistro in Wilkes-Barre, Pennsylvania. It showed a metallic yellow sheen, holding a two finger head of high and tight white foam. This left sheeted, slotted lacing to cover virtually the entire glass, following a medium retention. No haze or sediment was noted, while carbonation appeared to be active. The aroma gave notes of cooled skim milk, lemon skin, seed, and juice, powdery ale yeast, Styrofoam, unsalted cashew butter, cheap adjuncty pale malts, cereal grain, fermented and browned apple sugars, cardboard, white rice, raw popcorn kernels, soured white flour mash, tamari, clay, and anciently aged tobacco. Through the taste, we experienced wet cereal grain, raw eggplant and white onion, unsweetened Rice Krispie treats, wheaty dog food grit, burnt table pretzels, caramel corn, pork fat, lemon and lime rind, pale malt dust, hearty tinny yeastiness, light vodka booziness, cork, denim, and commercial white grape juice sugars. The body was on the lighter side of medium, with quickly fizzling higher carbonation to match. Slurp and smack off the lip were wet, thinned, and generally detracted from the experience, while cream or froth were essentially absent. The mouth was left cooled, prickled, zested, and thinly coated otherwise, but this quickly bled away into a chalky dryness. The abv was easy, and drinkability was only okay, despite the lightness.
Overall, it was clear that this was Susquehanna's "BMC", "for-the-masses" beverage. For the style, however, it drank much more thickly than most, and was, generally, more robust in flavoring. A robust flavor does not a better beer make. In this case, it actually makes it a bit harder to stomach, as the corn and metallic adjuncty bulkiness tend to overwhelm the drinker. This is not a phenomenal beer by any stretch of the word, but I think we can safely say that we would prefer it over the Miller Lite that is tapped right next to it, any day.
2,036 characters

3.35
/5
rDev
-6.9%
look: 3.25 | smell: 3.25 | taste: 3.5 | feel: 3.25 | overall: 3.25
Served 36F into a 16 ounce perfect pint tumbler. No bottle dating.
Straw clarified light copper orange.
Light biscuit malts, yeast, melanoidins, and some slight esters on the nose.
Nutty, malty, cookie dough, biscuit malts, and yeasty.
To Susquehanna's credit here, this lager is very well balanced, and didn't seem to drop off in the bottle, although there is no bottle date or dating on the packaging, so as the consumer, I have no idea how old the the product is, which is why won't be purchasing anything from the brand again, unless they start bottle dating.
Goldencold is your standard fare German inspired Pennsylvania lager. It competes with Victory Helles, Sly Fox Helles, Penns Best Penndmonium and Stoudt's Gold. I will say that out of all he aforementioned, Goldencold is the most dry, and is is the least sugary which is a very positive attribute for a lager. It reminds me a lot Victory Helles, only it doesn't pack as much punch in the flavor department. Some purists may appreciate that. I wish that this lager was cloudier with less filtration. Overall very solid craftsmanship and recipe, but I will not revisit the brand until they decide to bottle date their products (not enjoy by date).
1,216 characters
3.18
/5
rDev
-11.7%
look: 4 | smell: 3.5 | taste: 3 | feel: 3 | overall: 3
Thanks to BA Smoked for sharing this growler with me. Poured into a couple of standard pint glasses, the brew appears a clear straw yellow with a frothy white head. The cap maintains as expected for the style with a spotty lace pattern across the top and on the glass.
The smell is buttery with herbal hops contrasting a bit of cereal-like sweetness. The nose is pretty average as expected for the style with the only highlight being a noble hop presence is noted.
The taste is as buttery as the nose leads on with a touch of fruity alcohol ester and faint herbal hops. The hops provide a mild herbal flavor and not much bitterness. I guess I am super sensative to diactyl because the buttery character of this brew ruins it for me. Underneath is a mild grain sweetness that lasts into the aftertaste.
This is medium bodied with a modest level of carbonation. Sonewhat crisp but not as much as you would expect for the style since the buttery notes linger and ruin the crispness. I wanted to like this beer, I really did. I always look forward to new local brews but this one is nothing more or less than a fair bmc substitute.
1,130 characters

2.89
/5
rDev
-19.7%
look: 3 | smell: 2.75 | taste: 2.5 | feel: 4 | overall: 3.25
Date: July 10, 2015... Glassware: 22 oz. pilsner... Occasion: craftbrew showdown--Susquehanna Goldencold vs. Victory Helles... Appearance: clear, golden body with steady but sparse effervescence; white head is spongy, with large gaps separating as it settles; the final formation is thin, solid and likable .... Aroma: hay and cereal malts begin the profile; bubblegum and soft floral aromas suggest a lightly hopped offering; some grainy, blanketed scents are also present.... Palate: a bit south of medium-bodied, but slightly weightier than soft; the rush to the throat is obvious, but the frontal fizziness is appreciated; the aftertaste lingers long enough to be enjoyed; a slight bitterness draws a subtle balance... Taste: a balanced approach here, with the sweet and bitter in a light-footed dance that doesn't inspire or detract from the experience-- slightly metallic hops, slightly doughy finish; some spice and variation late; a bit beefier than the Victory Helles... Overall: a lager that knows what it's intended to do, and it fulfills its promise of thirst-quenching without fanfare; picked up at a make-a-six at Wegman's, and happy for it; will not win any awards, IMO, but will make an afternoon more enjoyable, for certain...
1,249 characters
Goldencold Lager from Susquehanna Brewing Company
3.6
out of
5
based on
108
ratings.