Kirin Tanrei Green Label

Kirin Brewery Company, Limited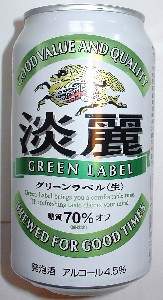 Rate It
Beer Geek Stats
| Print Shelf Talker
Style:

ABV:

4.5%

Score:

Avg:

2.21

| pDev:

28.05%

Reviews:

9

Ratings:

From:

Avail:

Year-round

Wants

Gots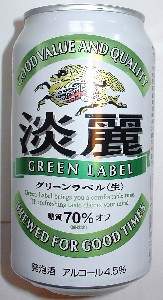 Notes:

bbtkd from South Dakota
3.29
/5
rDev
+48.9%
look: 3.5 | smell: 3.25 | taste: 3.25 | feel: 3.5 | overall: 3.25
Kirin Tanrei Green Label, 4.5%. Pours yellow, with 1 one finger white head. Nose is malty, taste follows plus light citrus, no bitterness, slight sweetness. Excellent mouthfeel, overall very good. This Happoshu came in a trade, and is style #110 of 111 for me, and #111 was also in the box.
Nov 29, 2018

Harrison8 from Missouri
2.8
/5
rDev
+26.7%
look: 2.5 | smell: 2.5 | taste: 3 | feel: 3 | overall: 2.75
Pours a pale yellow with a finger of white foam. Head retention is below average. Aroma is pilsner and bread malts. Comes across very light in the aromatic category. Flavor profile is pilsner, bread, and biscuit malts. It has a big skunky, lemony, yeast ester note come on thick at the height of the flavor profile and then subsides back to a malty finish. Lemon is left on the tongue for a while. Mouth feel is medium-thin with an effervescent, bubbly texture. It's crisp. It has a medium thickness. Overall, despite a pretty tame aroma, the flavor profile lays on a good bit of flavor, just not all in the best direction. It's the most refreshing option of the Kirin Tanrei's though.
Served in 12oz snifter from a 16oz equivalent can.
Sep 30, 2018
flyingpig from Scotland
1.83
/5
rDev
-17.2%
look: 3.5 | smell: 2.25 | taste: 1.75 | feel: 1.25 | overall: 1.25
350ml Can from Family Mart, Tokyo (¥138):
Terrible stuff from Kirin here & a beer that I will definitely not be returning to in future, it was quite a weak & poorly balanced beer with the taste a massive step down from an already poor aroma. There wasn't much of anything going on really, save for some basic corn & citrus flavours which made it one-dimensional & not very enjoyable; one of the worst I tried in Japan.
Oct 11, 2017
dbrauneis from North Carolina
2.3
/5
rDev
+4.1%
look: 3.5 | smell: 2.25 | taste: 2.25 | feel: 2.5 | overall: 2
A: Pours a crystal clear pale golden yellow in color with moderate to heavy amounts of active visible carbonation rising quickly from the bottom of the glass and faint bright yellow highlights. The beer has a three finger tall foamy bright white head that reduces to a large patch of mottled thin film covering the entire surface of the beer and a medium thick ring at the edges of the glass. Moderate amounts of lacing are observed.
S: Very light aroma overall with light aroma of grainy malts and rice adjuncts with just the slightest hint of grassy hops.
T: Upfront there is a light flavor of grainy malts with a light amount of rice husk adjuncts and just a touch of grainy sweetness. Very light hints of grassy hops and no perceptible bitterness.
M: Light bodied with moderate to heavy amounts of carbonation. Initially crisp and smooth through the finish with a thinness/wateriness.
O: Not offensive in any way but certainly not good/enjoyable and not a beer that I would seek out again. Grateful for my wife bringing this one back from Tokyo for me .
Dec 30, 2016
Logic79 from Japan
1
/5
rDev
-54.8%
look: 1 | smell: 1 | taste: 1 | feel: 1 | overall: 1
This is legally NOT a beer which is why they aren't allowed to write (ビール) beer on the can. This is (発泡酒) happoushuu which is more of a cocktail. This particular one is disgusting.
Jan 02, 2015
tone77 from Pennsylvania
2.64
/5
rDev
+19.5%
look: 3 | smell: 2.75 | taste: 2.5 | feel: 3 | overall: 2.5
I don't know why it's listed as retired. Is not hard to find in Tokyo. Poured from an 11.2 oz. can. Has a light golden color with a 1/2 inch head. Smell is mild, a light touch of malts. taste is weak, bland, some very light malts, greatly lacking in flavor. Feels light in the mouth and overall is nothing worth seeking out.
Jun 21, 2013
davidchollar from Washington
1.7
/5
rDev
-23.1%
look: 2 | smell: 2 | taste: 1.5 | feel: 2 | overall: 1.5
it is truly remarkable how many different brands of happoshu you can find at every store in japan. there are so many, i've been here for three years - always trying every beer and beer-like beverage i see - but i'll never get them all because they always make new ones.
clear and extra pale, ginger ale sounds and a pathetic head. there's a tiny, thin white circle around the glass that, i guess, used to be the head ten seconds ago. two or three bubbles float up every once in a while. oh yeah, there it is. it has that unmistable near-beer smell. unappatizing.
this near-beer makes my teeth and gums hurt. it's gross, but not in a memorable, draft one or asahi blue way.
avoid.
May 30, 2006
Naerhu from Japan
2.09
/5
rDev
-5.4%
look: 3.5 | smell: 2 | taste: 2 | feel: 2 | overall: 2
Can states proudly, 70% less sugars
Ingredients: Malt, hop, barley, sugars and yeast extract.
Less than 25% malt by volume (which means they pay little tax on this product).
I really have to reach to describe what this tastes like. At first I thought it was made entirely of rice husks, but to my dismay and shock this is made with no rice additives. This must be the only beer in Japan that is not. Considering this is made with less than 25% malt, and probably not much barley, this beer must be the taste of fermented "sugars". Now, I believe this beer is 70% sugars, which includes carbohydrates, so it must be fermented from simple sugars. (?).
This beer was so boring, I wouldn't even finish the can if served by a super-model.
Mar 06, 2004
donnebaby from North Carolina
2.47
/5
rDev
+11.8%
look: 4 | smell: 2 | taste: 2 | feel: 1.5 | overall: 4
This beer looks very good, but as a light Japanese beer, it is indeed light and lacking in what one expects of one's beer. However, it's a nice golden, sunflower color, and it is extraordinarily easy to drink. Not bad for a light "happoshu". The green label also makes me happy.
Dec 23, 2003
Kirin Tanrei Green Label from Kirin Brewery Company, Limited
Beer rating:
58
out of
100
with
22
ratings