Kirin Enjuku Kuro
| Kirin Brewery Company, Limited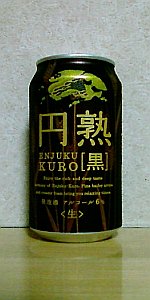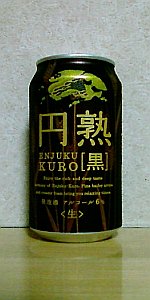 BEER INFO
Brewed by:
Kirin Brewery Company, Limited
Japan
kirin.co.jp
Style:
Happoshu
Alcohol by volume (ABV):
6.00%
Availability:
Year-round
Notes / Commercial Description:
No notes at this time.
Added by davidchollar on 05-26-2007
HISTOGRAM
Ratings: 5 | Reviews: 5
Reviews by davidchollar:
3.7
/5
rDev
+17.8%
look: 4 | smell: 4 | taste: 3.5 | feel: 3 | overall: 4
Kirin Enjuku Kuro. Another happoshu, but a strong dark one, (kuro means black). Impressive looking happoshu here. The head is similar to the pale Enjuku, fast and fizzy, but perhaps a little better retention and of course there's the nearly black body. Just translucent when held to the light, this is pretty good-looking.
Oh my god, there is something in the smell, other than adjuncts. Wait, it's probably a trick, different adjuncts. Anyway, this is not your typical Japanese near-beer! Nice, wheaty, malty smell here could possibly be mistaken for a number of other, European styles.
The taste is not so hot. Brings me back to earth, oh yeah, this is happoshu. But a pretty good one. Again, like the regular Enjuku, it's got a nice all around flavor, highly drinkable. Believe the hype! Check it out. We may have a winner here, best cheap "beer" in Japan.
866 characters
More User Reviews:
3.07
/5
rDev
-2.2%
look: 3 | smell: 3.5 | taste: 3 | feel: 2.5 | overall: 3
Better than the regular Enjuku.
Appearance - Brown with a lot of carbonation. Looks a bit like coke.
Smell - Sweet with roasted maltiness.
Taste - It's not bad. Reminds me of a blend of coffee, Guiness, and coke.
Mouthfeel - Not so pleasant. It's carbonated and not so smooth.
Drinkability - I can tollerate it for a while.
328 characters
2.86
/5
rDev
-8.9%
look: 2 | smell: 1 | taste: 3.5 | feel: 3 | overall: 4
A-There was no head at all after a second or two, and absolutely no lacing. The color was a dark caramel deal, and overall it reminded me of coca-cola.
S-All tin and sulfur. Neither my drinking partner not myself could detect anything else.
T-Very sweet and caramely. The finish had a hint of wheat in it with a lingering and pleasurable dry sensation. Definitely a lot more adjuncts than barley in this one.
M-I'm gonna say dead average on this one. Nothing remarkable or otherwise about it.
D-Very drinkable, although I wouldn't pick it out myself. If someone stopped by with a six pack, I could finish off my half without complaining.
The big problem is that "kuro" is synonymous with stout, so a drinker looking for a creative low-malt take on stout will be very disappointed by the fact that this is "usui" like any other happoshu.
837 characters
3.37
/5
rDev
+7.3%
look: 3 | smell: 3.5 | taste: 3 | feel: 3.5 | overall: 4
Nice dark brown body is let down by a rapidly fading off-white head. Sweet malty aroma, with some mild nut and caramel flavours going on. Taste has some cocoa and caramel sweetness and a touch of leafy hops. Fairly soft in the mouth, and with a refreshing crispness from the steady stream of bubbles. Light body and medium-high carbonation.
340 characters
2.68
/5
rDev
-14.6%
look: 3 | smell: 2.5 | taste: 2.5 | feel: 3 | overall: 3
Well first of all, you have to understand that this is strictly not a "beer" according to Japanese definitions. If the malt content is less than 67%, then in Japan the brew is defined as a "happoshu".
In fact this beer contains less than 25% malt. Yet, it tastes malty. So, what the heck is it made from ?! Who knows ?! And I think I'd like to know. There seems to be a growing market in Japan for non-malt beers (containing e.g. Soy, non-malted barely, wheat etc), that do not attract as much tax as full malt beers. So, they are cheaper, maybe 60% or less of a beer price.
In taste terms, this one is reminiscent of a classic British Mild. But even though it is called Kuro (Black), it is not - its more like a very dark brown, as you'd see when you get near the end of the glass. Its nothing like a stout or porter, and is sweet, though not off-puttingly so, and carries a hint of caramel. Its 6%, and being used to Milds, I'd have guessed it was more like 3.6 % !!!
971 characters
Kirin Enjuku Kuro from Kirin Brewery Company, Limited
Beer rating:
3.14
out of
5
with
5
ratings