Kirin Light Beer
| Kirin Brewery Company, Limited
BA SCORE
58
awful
62
Reviews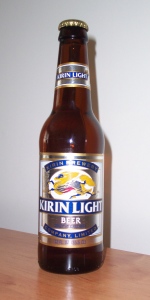 BEER INFO
Brewed by:
Kirin Brewery Company, Limited
Japan
kirin.co.jp
Style:
Light Lager
Alcohol by volume (ABV):
not listed
Availability:
Year-round
Notes / Commercial Description:
No notes at this time.
Added by Jason on 08-05-2002
Reviews: 62 | Ratings: 185
2.85
/5
rDev
+28.4%
look: 2.5 | smell: 2.5 | taste: 3 | feel: 3 | overall: 3
Poured a pale yellow color with modest white head. Smell is very minimal with only a slight sweet note to be found. Taste is very light, but also refreshing, and moderately enjoyable. Finish is more of a refreshing taste, but offers nothing out of the ordinary. Expensive spacer.
★
279 characters
1.87
/5
rDev
-15.8%
look: 1.5 | smell: 2 | taste: 1.5 | feel: 1 | overall: 3
Well I had the Kirin so lets see if the light is as good.
Wow this is pale yellow, or moderatly hydrated man piss. White head that leaves no lace. Smells of boiled rice and taste of almost nothing. My mouth thinks I am drinking soda water, at least I can drink it quickly.
★
275 characters
2.1
/5
rDev
-5.4%
look: 1.5 | smell: 1.5 | taste: 2 | feel: 1.5 | overall: 3.5
The closest beer I recall that tastes almost exactly like water. Although this may increase its drinkability score, no other positive qualities could be found. Appeared almost like water with a few squeezes of lemon. No head or carbonation. First time I have had a Japanese beer and I hope this will not deter me from trying a few others.
★
338 characters
2.03
/5
rDev
-8.6%
look: 2.5 | smell: 2 | taste: 2 | feel: 2 | overall: 2
As a rule I'd never sample one of these "Light" beers, but as I was given a sixer by my neighbor, as her soon to be daughter-in-law is from Japan, so she bought the beer only to find out she doesn't drink, so here goes nothing.
The beer escapes the bottle a very light translucent yellow with a moderate in size bright white head that is frothy in texture, and the lace a very thin sheet to conceal the glass. Nose is all malt what there is of it, crisp and clean, start is sweet, thinly malted, top is light to moderate in feel. Finish is sternly acidic, hops sparse and the aftertaste desert dry, drinkable if you're into light beers and I must say a tad better than most.
★
682 characters

2.5
/5
rDev
+12.6%
look: 2 | smell: 2 | taste: 2.5 | feel: 3 | overall: 3
Appearance - fairly standard light golden color. Much more carbonation than the other Kirins. Half-finger of seltzery white head that quickly bubbles away.
Aroma is very lightly skunked, but clears out after a moment. Fairly pils-like, but light.
Taste - not too bad. Some malty, pilsnerish notes coming through, very bubbly, watered down to about what I'd expect. Not bad for a light, but I wouldn't pay the extra import price for it.
Mouthfeel - crisp, very carbonated with a trace of malt left behind, just slightly sweet.
Drinkability - for hot weather, sure. I think I'd choose a cheaper alternative, but it'll drink.
★
634 characters
2.13
/5
rDev
-4.1%
look: 2.5 | smell: 2 | taste: 2 | feel: 2 | overall: 2.5
Kirin Light: a Japanese interpretation of an American Light Beer that is actually brewed in America. I really don't know if that makes any sense, but that's exactly what this is. Kirin Light does lack some of the more nasty elements of American light beers, but it still maintains the same wateriness that you can find anywhere else.
Kirin Light pours a pale yellow straw color with a 2 finger foamy white head that disappears in under 30 seconds. The smell is light and clean, consisting mainly of some light malts and some crisp fruity smell. The mouthfeel is fizzy and watery, of course. The main flavor is some light grainiess (with some bready/toasty flavor noticeable at first), with some dryness on the palette. Light hop bitterness in the finish. There are some husky adjunct flavors present, but there are notes of some "funky tap water" taste here. If you live or have lived in a town with some nasty tasting tap water, you'll know what I mean. There is little aftertaste, with just some graininess, and there is no alcoholic warmth here either.
A bland, watery light beer is all that's here. Nothing too foul, but nothing that would warrant a second purchase either.
★
1,183 characters
1.86
/5
rDev
-16.2%
look: 1 | smell: 2.5 | taste: 1.5 | feel: 2 | overall: 2
They are now importing this beverage into the "beer wasteland" of Oklahoma convenience stores. I don't know if it required watering down or not...probably not, judging from the touted 95 calories and the other reviewers comments. Regardless, here goes:
Pours to large soapy bubbles that dissapear. Color is water and light straw. Aroma is carbonated water, malt, adjunct grains and a weak dose of pungent hops. Taste is mostly carbonated water with a splash of malt, cereal and hops. Bitter finish that sours and turns into a metallic, stomach-acid aftertaste. Probably better suited for pairing with food to mask the aftertaste.
★
630 characters
2.3
/5
rDev
+3.6%
look: 2 | smell: 2 | taste: 3 | feel: 2 | overall: 1.5
This brew poured a medium head of fine to medium sized white bubbles that quickly disappeared. Its body was a straw yellow and was very carbonated. It had a very mild malt aroma and a skunky cheap macro swill flavor of weak hops.
★
229 characters

1.62
/5
rDev
-27%
look: 1.5 | smell: 2 | taste: 1.5 | feel: 1.5 | overall: 1.5
When I took my first taste of this brew, I knew instantly that I was not going to like this one. It poured a small white creamy head with small bubbles. There was fair lacing with this brew. The body was straw yellow in hue. It had a mild malt aroma and it was bitter tasting from start to finish. This brew was light and watery tasting.
★
337 characters
2.35
/5
rDev
+5.9%
look: 2 | smell: 2 | taste: 2.5 | feel: 2.5 | overall: 2.5
Crystal-clear and straw colored with a head that resembles dishwashing soap lather and suffers poor retention. Moderately carbonated with poor lace. Slightly skunky with a slightly sweet grain aroma, more like corn, actually, and a little spicy hops. Taste begins with slightly sweet maltiness and slightly biting carbonation, the taste just fades to a bit of spicy hop bitterness at the finish. The finish is crisp and dry.
In defense of this beer I must say that it is better than many American lights, although that may not be saying much. Still, if one must drink a light beer, this may be one of the better ones. The label copy notes "only 95 calories", so its clear that the caloric content is of more importance to the target audience than the taste.
★
761 characters
2.39
/5
rDev
+7.7%
look: 2 | smell: 3 | taste: 2 | feel: 2.5 | overall: 2.5
Pours a crystal clear, very light straw gold body. It's topped by a full, foamy, bright-white head head, but unfortunately it drops almost immediately! It keeps a thin foamy collar but hardly any surface covering, and leaves no lace. The aroma is nice with a softly sweet graininess. Exceptionally clean. The body is light and gently crisp in the mouth - quite appropriate for a light beer. The flavor, however, expresses less character than the nose might lead you to believe. There's just a mild touch of grainy maltiness, and it's much less sweet than might be expected. It doesn't really finish as much as it just ends. In fact, the entire flavor is just like a short dry finish. Disappointing.
★
698 characters
1.85
/5
rDev
-16.7%
look: 2 | smell: 2 | taste: 1.5 | feel: 2.5 | overall: 2
12 oz brown long neck bottle with an A&B "Bottled On" date on the back label. Brewed by Anheuser-Busch in the US.
The head retention is awful, barely a ring of lace. Good clarity, but that is a given. Very pale yellow colour.
Clean aroma, too clean with a hint of cereal grain.
Masterful crispness within a thin malty character, thin bodied and full of light cereal grain flavours. Hops are just another pawn in the game of lackluster flavours. Clean, clean and clean with little flavour to notice and a seltzer water influence.
What would be the politically correct term for this beer? Japanese American Light Crap? Please this beer is horrible, and now it is brewed in the US like that would make any difference other than someone cutting costs to line their pockets.
★
793 characters
Kirin Light Beer from Kirin Brewery Company, Limited
2.22
out of
5
based on
185
ratings.