Kirin Stout
| Kirin Brewery Company, Limited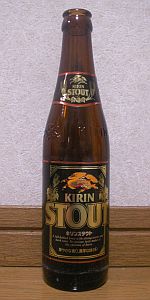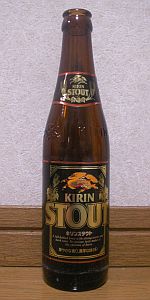 BEER INFO
Brewed by:
Kirin Brewery Company, Limited
Japan
kirin.co.jp
Style:
Foreign / Export Stout
Alcohol by volume (ABV):
8.00%
Availability:
Year-round
Notes / Commercial Description:
No notes at this time.
Added by Naerhu on 03-11-2003
This beer is retired; no longer brewed.
HISTOGRAM
Ratings: 15 | Reviews: 9
2.8
/5
rDev
-23.7%
look: 2.5 | smell: 2.5 | taste: 3 | feel: 2.5 | overall: 3
Appearance - Opaque, stained mahogany. Very reasonable for a stout. Only the smallest amount of light passes through. Decent head retention but no lacing. Less than one finger of head. Some small carbonation bubbles visible at the edge of the head. Clings to the edge of the glass for about 1 sec.
Smell - One notices quickly a strong oat / smoke smell. But there is something more. I can best describe it as rawhide (like the kind used to make dog treats). The smell is distinctly beefy but at the same time dry like beef jerky or dry dog food. There is also a roasted malt smell.
Taste - Salty and smoky initially. Moves to a feeling of eating a piece of toasted whole wheat bread that is pleasant. Aftertaste lingers a looong time like the tastes of sea water and tire rubber.
Mouthfeel - Low viscosity. Low carbonation. The salt tire aftertaste dulls tastebuds.
Drinkability - Would be good with steak and potatoes. A Philly cheese steak sandwich, fajitas, or a bit of rye or wheat toast. Not the best stout but good enough when selection in your town is poor.
1,068 characters
2.83
/5
rDev
-22.9%
look: 3 | smell: 2.5 | taste: 3 | feel: 2.5 | overall: 3
A: Thin finger of head. Dissipates within 2 minutes to fine film. Minimal head retention. Black amber color.
S: Roasted malt with a distinct hint of mildew.
T: Pleasant initial taste, fades to burnt toast, sour, lasting aftertaste. Red clay sticking to my throat.
M: Slightly fizzy, retains carbonation while creaminess fades rapidly.
D: If theres no Tokyo Black or Guinness available, or you find yourself in a Japanese conveneince store / supermarket, its good enough to fulfill your stout craving.
While I'm certain the bottled version would improve the tasting experience, I feel that the only way to explain the shockingly high ratings by other reviewers for this beer is that there are scant few other stouts sold widely in Japan.
741 characters
3.28
/5
rDev
-10.6%
look: 4 | smell: 3.5 | taste: 3 | feel: 3 | overall: 3.5
A pitch black beer with a fast fading head.
Smell is lightly roasted with some faint caramellic whiffs. Also some molasses.
Taste is mildly roasted with a light husk taste. The roast is a little off and gives the impression of sugar and/or molasses use. Body is light, which makes the beer drinkable. The beer appears to be brewed with high drinkability in mind, where other stouts are more session beers.
408 characters
3.29
/5
rDev
-10.4%
look: 4.5 | smell: 3 | taste: 3 | feel: 4 | overall: 3.5
Ups to the GF who bought it in Okinawa.
A - Pours black with 2 fingers of cappucino head. Dissipates slowly and leaves really nice lacing.
S - Light roast coffee, chocolate, corn and rice adjunct, and bittering hops.
T - Light roast coffee, chocolate, light corn and rice adjunct, fruity dark esters, and bittering hops.
M - Moderate bodied, malt dominated, slick, and smooth.
D - Not bad. Tastes more like a budweiser with the adjunct ingredients though. Guiness and lion are better examples of export stout.
514 characters



4.08
/5
rDev
+11.2%
look: 4 | smell: 3.5 | taste: 4.5 | feel: 4 | overall: 4
Appearance: Deep, black brew with hints of red and brown. Thick brown head with golden highlights.
Smell: Rich, smoky malt, caramel, vanilla. Nice kiss of hops.
Taste: Coffee, minerals. Very rich. Sweetness peeks through at times. Bit of warming alcohol bite. Good bitterness in the finish.
Mouthfeel: Full body. Great departure from the typical Japanese "Stouts." Good sipping brew for the cold months.
Drinkablity: Outstanding brew worth seeking out. Hearty and tasty.
476 characters
4.22
/5
rDev
+15%
look: 4 | smell: 4.5 | taste: 4 | feel: 4 | overall: 4.5
Appearance: Black coffee brown with a hazelnut head. Fair retention.
Smell: Rich with buckwheat honey, molasses, caramel, and brown sugar, plus the deep, saturated fruitiness of prunes and raisins. A drop of soy sauce betrays a well-developed roastiness and intense fermentation. A mixture of vanilla and alcohol creates the association of whiskey. Hops are undetectable, lost in a malty mushroom cloud.
Taste: Umami and sweet right off the bat, with a heavy malt base balanced more by alcohol than hops. Rich and roasty with a dark chocolate coffee edge.
Mouthfeel: Smooth and full, syrupy and sticky. Very savorable.
Drinkabilty: I can't believe anyone could brew a stout this rich and complex and downright delicious using... rice! Very good, and a nice bargain if you can find it. Highly recommended. Well done, Kirin!
834 characters
4.35
/5
rDev
+18.5%
look: 4.5 | smell: 4.5 | taste: 4 | feel: 4 | overall: 5
Oh my god. Where has this beer been hiding for the past few years? I don't believe I've ever seen it until just recently. I wholeheartedly agree with the other 2 positive reviews. This is an amazing beer for being a low-priced macro.
Solid black with a big, thick, and surprisingly dark tan head. Great retention. Kirin Stout is just one surprise after another. Delicious complex smells of caramel, coffee, alcohol and chocolate. Pretty standard for the style, but impressive in its tastiness.
Mouthfeel and taste are equally enjoyable. This is obviously superior to Asahi Stout in its fine balance and finish. It just gets better and better, and I have to bump my scores up a half point. This might be the best macro stout I've ever had. It definitely holds its own in comparison to Guinness Foreign Extra. My new go-to beer!
830 characters
4.6
/5
rDev
+25.3%
look: 4.5 | smell: 4.5 | taste: 4.5 | feel: 4.5 | overall: 5
Ingredients: malts, hops, rice and sugars.
It someone would have told me that you can make a beer this good while having rice as an ingredient I would have called them a dirty liar. buy this is fantastic stuff.
Black body and oddly dark head.Head lasted till near the bottom of the glass. A milk chocolate aroma. A long lasting cocoa flavor with a long lasting full palate feel. Meduim-low bitterness.
409 characters
4.8
/5
rDev
+30.8%
look: 4.5 | smell: 4.5 | taste: 5 | feel: 4.5 | overall: 5
Do not confuse this with the other stouts Kirin occasionally puts out. This is only available in bottles (as far as I'm aware) whereas all the other versions are canned.
This is a deep, dark stout. Rich, burnt caramel flavours and an incredibly creamy mouthfeel. One of the most drinkable though deceptively strong stouts I've ever encountered - at 8% it'll knock you on your arse after more than a couple. If I had to compare it to other stouts it would be somewhere between Guinness Foreign Extra and Sam Smith's Imperial Stout.
This is by far my favourite of the domestically brewed Japanese macros, though it is still very difficult to find even in Japan. Sadly it is (to the best of my knowledge, and message me if you know otherwise!) unavailable in my native England, or it would be on regular rotation in my belly...
827 characters
Kirin Stout from Kirin Brewery Company, Limited
Beer rating:
3.67
out of
5
with
15
ratings