British Beer Company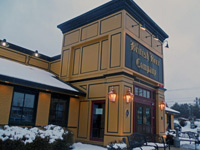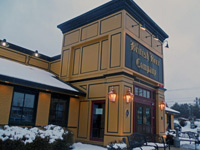 Bar, Eatery
1071 S Willow St
Manchester
,
New Hampshire
, 03103-4030
United States
(603) 232-0677 |
map
britishbeer.com
Notes:
2.94
/5
rDev
-21.2%
vibe: 2.5 | quality: 3 | service: 3 | selection: 2.75 | food: 3.5
The British Beer Company is more chain restaurant than beer bar. It's even more obvious at this location which is housed in a former Chili's in the parking lot of a strip mall in the center of a section of Manchester that is known for its strip malls.
The atmosphere is the typical British Beer Company pub aesthetic with lots of dark wood. As I stated above, this one feels stale and corporate as it's a remodeled Chili's. I've been to BBC's in Plymouth and Sandwich, both of which have a more authentic, lived-in pub aesthetic. As a function of location, this BBC has more of a family restaurant atmosphere.
Quality is average. This is not the type of place where you're going to get the perfect pour into the proper glassware. I've been told that all but one of the "cask engines" behind the bar are fake. I also once received a beer that was obviously infected - not sure if that is the fault of BBC's lines or the brewery, but I was surprised they served it.
Service is lackluster. Hostesses are high school or college kids and a little clueless. Servers are typical for a family restaurant but don't expect them to be able to tell you about any of the beers. On my first visit, even the bartender didn't know what the White Birch tap was but at least they seem to have gotten better.
Selection is average. They'll usually have a couple of locals on along with a few other standard crafts. I've seen some Founders, Dogfish Head, etc. but don't expect to see anything head-turning. Of all the BBC's I've visited, this one has the worst selection hands-down.
The food is good for a chain, ranging from your typical family restaurant selections to some British offerings. I'd say it's a step above most chains but a big step below a more authentic pub like the Coat of Arms in Portsmouth.
Value runs the gamut. The prices for food are more than reasonable and the prices for your more run-of-the-mill beers are as well. If you see something interesting on the draft list, though, ask about the pour size and the price. I saw Founders Backwoods Bastard on the list one night and of course I ordered one. It came in what looked like a 12oz juice glass and I had to do a double-take when I got the check and saw that it was $12 for one pour! $1/oz. for any beer in New Hampshire is simply ludicrous.
At the end of the day, it's nice to see another option for craft beer in Manchester. While I'm not a fan of the family restaurant feel, this is a place that appeals to the whole family and still offers a decent pint. In other words, I can get my in-laws to go here instead of some other dreadful chain. Because of that and its location, however, waits for a table can get lengthy at prime times.
2,714 characters

3.81
/5
rDev
+2.1%
vibe: 4 | quality: 4 | service: 3.5 | selection: 3.75 | food: 4
The interior features plenty of dark stained wood and a large center bar area. Plenty of taps and what appears to be plenty of beer engines as well which are FAKE! I was told that all but one of the beer engines pour straight keg beer, and the one engine set up for cask was out.
Also, big minus points for lots of flat screen tvs which you not find in a British pub.
The menus is pretty extensive with plenty of tasty offerings. The bangers and mash was very good as was the fish and chips. The bangers could have used a bit more gravy and the chips were soggy though. The draught selection is better than average for NH. That being said there are a lot of filler beers which are not particularly exciting.
Service was good for the most part, with the exception of the female bartender who had an attitude when I asked to check and make sure my Allagash White was indeed a White. The White was either a Harpoon UFO or a Allagash White which was in seriously bad shape. Either way, no need to be confrontational with the customers.
The food was a bit pricey ($13.00 for bangers and mash), as were the beers ($5.75 for a pint of the White).
All in all I would probably go back, but the beer selection and prices are far better at Strange Brew, where they actually have cask ales, not just fake engines for show.
1,314 characters
4.03
/5
rDev
+8%
vibe: 4 | quality: 4 | service: 3.75 | selection: 4.25 | food: 4.25
Stopped in here yesterday (24FEB13) with Alewife and my two daughters for dinner prior to The Who concert... We had planned on Millys, but they closed early due to some bad weather, and Strangebrew was packed, so.... As noted earlier, it is located in a drab strip-mall, and it has the same ugly-ass mustard and green color scheme as many other BBC locations. Inside is lots of dark wood, brass, old period english paintings and pics, plus a large number of flat-screen TVs for your viewing pleasure.
They have a better-than-decent draft selection, with a little bit of many different styles to choose from. Bottles were also plentiful. Amongst the three drinkers present, we had some Rogue Dead Guy, Longtrail Brown Bag, Youngs Double Choco Stout and an Arrogant Bastard. An order of nachos hit the spot leading off, then 2 burgers and 2 plates of steak tips closed things out. Service had its misses, as our lady was a bit lax on getting around to greet us, and our 2 burger orders were cooked incorrectly. Otherwise, it was a pleasant time. Prices weren't outrageous, with 4 meals, an appetizer and 5 biers coming to about $100...
Cheers!
4.03/5 rDev -0.5%
vibe: 4 | quality: 4 | service: 3.75 | selection: 4.25 | food: 4.25 | $$
254
1,240 characters
4.1
/5
rDev
+9.9%
vibe: 3.5 | quality: 4.5 | service: 4 | selection: 4 | food: 4
I stopped in here with a friend on Monday night for dinner and a couple beers. We'd heard good things and were curious to see what they'd done with an old Chili's.
Being on the later side for a Monday night (9pm), the place wasn't packed, but was also far from dead. We found a couple stools at the end of the bar, right in front of the cask engine, and had a seat. The bartender was friendly and prompt, and she clearly knew a lot about the beers available and in general, and offered several samples. She also told us that only one of the nine hand pumps was actually a cask engine; the others were all actually dressed-up tap handles.
That gets at why this place, despite having a very handsome bar and a warm dining room with lots of dark wood, gets a lower vibe scale from me. There's a bit of showmanship that I don't necessarily appreciate, but it's not bothersome. I just don't want to see what looks like a cask engine to find out that it's just a fanciful tap handle. The other reason behind the lower vibe score is simply the location--this is a cozy bar that I'd love to sidle up to even with the fake casks, but it's in a Michael's parking lot on one of the ugliest sprawl strips in New Hampshire. If this was downtown, in a neighborhood, or even in a strip closer to a neighborhood, I'd give it a higher score. That might be superficial, but location is important--being in a place where you can barhop or in a neighborhood where people can walk in changes the mood for me.
That said, I liked this place a lot. BBC was very nice and cozy inside, with lots of nice details and a good crowd. And the food was quite good--I had the mahi burger, which was a great summer sandwich. I'm looking forward to the New England pasty once fall comes around.
But of course the real attraction here is the beer, and this is where BBC soars. Manchester has a growing number of solid bars and restaurants, and a handful with very good taplists--Strange Brew, Firefly and River Road immediately come to mind. BBC is easily near the top of that list. Like River Road and Firefly, its beer list isn't as extensive, but is perhaps better selected than the Brew. It's a very good mix of American (especially local and regional) craft beer and solid if not mind-blowing imports. And the one real cask was a treat, with White Birch's Crown of Gold rye pale ale on.
I'd visit this place a lot more often if it wasn't out by the mall. But as it is, it's enough of a draw that I'll still suck it up and head down to BBC instead of downtown.
2,533 characters

4.03
/5
rDev
+8%
vibe: 4 | quality: 4.5 | service: 3 | selection: 4.5 | food: 4
We stopped in here for an early dinner on Sunday afternoon hoping that the newness had worn off and we could get seated in a reasonable amount of time. There was a wait when we arrived but we were seated quickly enough. The restaurant is a big open space with a huge dark wood bar set up in the middle towards the back of the building with a smattering of high top tables, high top booths and regular booths strew about the place. Typical of a large open space the volume level is a bit high. English memorabilia and drinking quotes from famous people adorn the walls. The beer list is quite large with 40 or so taps 50 or so bottles and one beer on cask. As you would expect there is a heavy emphasis on British beers. Oddly there are 8 hand pumps at the bar that are fake and dispense force carbonated beers. I had a fullers porter and a double chocolate stout and I paid the extra buck to make them imperial pints $7. The food is typical English style pub grub, I had the Guinness steak pie, my wife had a French dip sandwich and my daughter had the kids cheeseburger. Our meals were all pleasant, nothing special, nothing horrible. Service was a bit on the slow side, I'm not sure if this is typical or we lucked out with a slow server. We enjoyed our meal and brews and will more than likely be back.
1,305 characters
British Beer Company in Manchester, NH
Place rating:
3.73
out of
5
with
18
ratings