Day Tripper
| Indeed Brewing Company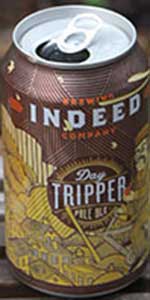 BEER INFO
Brewed by:
Indeed Brewing Company
Minnesota
,
United States
indeedbrewing.com
Style:
American Pale Ale (APA)
Alcohol by volume (ABV):
5.40%
Availability:
Year-round
Notes / Commercial Description:
Regionally grown American pale malt is blended with rich European malt to produce a lighter bodied beer, bright in color, with a taut white head. Then there are the hops - four pounds per barrel to be exact. Willamettes, Cascades, CTZ, and Summits give this brew a citrus punch and spicy character.
45 IBU
Added by sacrelicio on 08-14-2012
Reviews: 108 | Ratings: 638

4.26
/5
rDev
+5.2%
look: 4.5 | smell: 3.5 | taste: 4.5 | feel: 4.5 | overall: 4.5
750 mL bottle from the brewery. Stamped "filled Sep 6th, 2012". Deep golden with two fingers of white foam. Sheets of lacing. Smell is quite a bit more muted than the tap offering, is this due to the four weeks since filling? Faint citrus and grassy, lightly malty. Taste is nicely bitter and crisp with equal elements of orange-grapefruit citrus pith, grass and herbal hop flavor. Good malt backbone moderates hop bitterness without adding sweetness. Excellent carbonation with a crisp, juicy mouthfeel. Dry moderately bitter finish. Very flavorful, moderate bitterness, quite enjoyable, although I enjoyed the fresher flavor and aroma of the tap offering(s) even more, and therefore plan on visiting the taphouse from time to time.
1/12/13 Update: Cans are widely available here now for the past several months. And this is a go to for me. Packed with tropical taste, nice bitterness, well crafted.. Very tasty. Highly recommended.
★
934 characters
3.48
/5
rDev
-14.1%
look: 4 | smell: 3.5 | taste: 3.5 | feel: 3 | overall: 3.5
On tap at the Blue Door. Beatles on the audio system. Bluicy in hand. Day off of work and I'm set. Mmm, not really loving this. I really want to, but I don't quite get it. Could there be such a thing as hops that are too exposed?
Appearance is very nice with a hazy golden hue.
Aroma is also nice with juicy, fruity character.
Hop freakin' forward! Flavor is bitter and raw. Dry dank, and a bit harsh, with a somewhat medicinal tone. Wow, there is a reason why people don't chew hop cones for fun. I get papaya, tobacco and nasturtium.
Mouthfeel is watery and light, but somehow sticky.
I love hops. I love big IPA's. This one is unbalanced and not quite working. Maybe this is revolutionary and riding the fresh hop wave? I prefer Brau Bros Hopsession for a low alcohol, hop forward beer. Just not getting this one. Damn, and I really wanted to.
★
852 characters
4.35
/5
rDev
+7.4%
look: 4.5 | smell: 4.5 | taste: 4.25 | feel: 4.5 | overall: 4.25
On cast at Town Hall Tap. The beer arrives a clear orange color with a thick white head that lingers until the beer is gone leaving nice rings of lacing along the sides of the glass. The aroma is of passion fruit, tangerines, grapefruit, a hint of pineapple, and a nice whiff of grass in the background. The taste is bitingly bitter. Almost too bitter as it seems to get in the way of the rest of the flavor. There are some nice tropical fruit tones, but they are hard to pick up due to the bitterness. The mouthfeel is medium bodied with a silky texture, and appropriately mild carbonation. Overall, this is a pretty good beer. I actually liked it better on tap as the flavor was much more well rounded, but I will certainly try it again on cask.
★
747 characters
4.4
/5
rDev
+8.6%
look: 5 | smell: 5 | taste: 4 | feel: 4 | overall: 4.5
Not sampled but rather fully drank and immensely enjoyed. Calling Day Tripper hoppy isn't really doing it justice. It's an absolute fracking hop bomb! Pale in appearance with head and stuff. Dank, resinous pine and citrus hops, and hops and hops. Mind blowing, pure RAW hops. We don't need no stinking malts. Boy do the hops carry into the flavour. I mean, my God, what are they thinking? Like chewing on a bloody hop pellet. Hop love, no! It's hop sex. Dirty hop sex. Yikes. Hops don't provide alcohol, so I guess without the malt this beer wouldn't be beer. So, I'm glad they added malt. Call me if you can actually taste it though. I can't find it. Oh yeah, it's bitter as well. A mean bitter, but it apologizes and buys you a Happy Meal after it slaps you around. Dry, clean and wicked hoppy. You want something else?
★
821 characters
4.11
/5
rDev
+1.5%
look: 3.5 | smell: 5 | taste: 4 | feel: 3 | overall: 4
Appearance: Cloudy light gold with lots of bubbles. 1/4" of ivory colored foam. Fair amount of lacing.
Smell: Hop-along! Lots of lovely hops loaded with pine. Just like walking in a pine forest right after a rainfall. Can't wait to taste this beer!
Taste: Upfront piney hops, almost a woody flavor. A medium bitter finish. Very nice.
Mouth feel: Light mouthfeel. Very tingly, but not a lot of body.
Overall: This beer is all about the hops. The malt is only there to support the hops. Very nicely done. Would be an especially enjoyable beer for those who like hoppy brews.
★
572 characters

4.06
/5
rDev
+0.2%
look: 4 | smell: 4.25 | taste: 4 | feel: 4 | overall: 4
Wow. Blown away by this beer. Upon opening the bottle I get the scent of lots of juicy hops. The right amount of malt sweetness and the hop bitterness to balance it out. An excellent beer.
Lots of grapefruit and hop bitterness on the finish.
Poured from a bottle that was bottled 3 days ago and the aroma is wonderful. Excited for further offerings from this brewery.
★
371 characters

4.47
/5
rDev
+10.4%
look: 4 | smell: 4.5 | taste: 4.5 | feel: 4.5 | overall: 4.5
Beautiful glittering golden hue, slightly hazed, under a full flush of white foam.
Aroma: fresh, zesty, brimming with hops, bubbling over with citrus and pine, a vibrant, pithy nose, plumb with lemon and grapefruit.
Taste: Here's where it's getting good. We start with a slap of hops and a tickle of malt, and it never, ever quits. A fierce blast that tempers some in time, with malt succulent, soft, and supple, keeping the ground level, delivering a modicum of sweetness, providing a minimum of balance. Good and hoppy this one (though not out of bounds), and a remarkable drinker. Certainly a sessioner, with the continuing reward of hoppy goodness on the tongue.
Medium bodied, with a long, hoppy finish. The bitterness is high, and ever-present, and coupled with the malt flavor, it provide deliciousness. This is such an excellent pale ale, I'm finding it almost perfect. There's not a thing lacking, not a bit wrong, nothing to dishonor this ale. Like I said, these guys will have a hit on their hands.
★
1,014 characters
4.42
/5
rDev
+9.1%
look: 4 | smell: 4.5 | taste: 4.5 | feel: 4 | overall: 4.5
Fantastic new Minneapolis pale ale. Devised and brewed by former Town Hall brewer Josh Bischoff, this very bitter pale ale is reminiscent of some of Town Hall's rotating pale ales, but with a much more bitter, hop-forward attack. I detect heavy Simcoe additions, with distinct gooseberry and catty aromas and flavors, combined with citrus and pine flavors from possible Amarillo and Cascade additions. Very resinous with hop oils coating and tantalizing the tongue. A true winner in every way, I also made a delicious vinaigrette dressing with a heavy dose of this beer, making the dressing sublime.
★
599 characters
Day Tripper from Indeed Brewing Company
4.05
out of
5
based on
638
ratings.