Yamma Jamma
| Indeed Brewing Company
BA SCORE
84
good
31
Reviews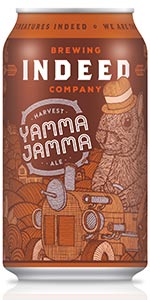 BEER INFO
Brewed by:
Indeed Brewing Company
Minnesota
,
United States
indeedbrewing.com
Style:
Fruit / Vegetable Beer
Alcohol by volume (ABV):
5.00%
Availability:
Fall
Notes / Commercial Description:
Formerly Sweet Yamma Jamma
Added by feloniousmonk on 11-16-2012
Reviews: 31 | Ratings: 193

3.73
/5
rDev
+0.8%
look: 3.75 | smell: 4.5 | taste: 3.25 | feel: 3.75 | overall: 3.75
A: Deep copper orange with a small of white head. Hardly any lacing.
S: Tons of spice: nutmeg, cinnamon, ginger, allspice. Maybe some sweet potato and candied yams in the background, but I might just be imaging that. Smells really good.
T: Not nearly as much spice as in the aroma, but there is a bit of cinnamon and nutmeg. You can really pick up the sweetness from the sweet potatoes and candied yams, though it is not overly sweet and there is actually some beer flavor. It is fairly bland though compared to the nose.
M: Medium body, softer carbonation. Smooth.
O: An interesting beer to say the least. I'm not really a fan of pumpkin beers, but I do like this better. Drinkability isn't the greatest to me since it is close to a pumpkin beer, but defiantly worth the try.
780 characters
3.81
/5
rDev
+3%
look: 3.5 | smell: 3.75 | taste: 4 | feel: 4 | overall: 3.5
Full disclosure. I hate pumpkin beers. This is not a pumpkin beer since this contains sweet potatoes and candied yams. The spices remain the same. Since this is from an impressive local brewery, I had to try it. And I am happy to report, it is not disgusting.
Pours a brilliant copper color with one finger of head that quickly settles to a thin cap. A little lacing is left down the glass.
Aroma is full of spice, nutmeg, ginger, and cinnamon. I think I perceive some sweet potato as well.
Actually has some beer qualities in the flavor. Not as sweet as pumpkin and the spice is not too much. A delicate balance the brewer played here with giving a good wallop of spices, without going too far.
Mouthfeel is where I think this beer really separate itself from pumpkin beers. It does not have that disgusting chalky, mealy texture those exhibit. This actually feels like a beer I want to drink. Carbonation is a little on the low side but I do not mind.
Glad I gave this beer a shot. I won't be buying another six pack this year, but I will next year when it makes its return.
1,081 characters
4.42
/5
rDev
+19.5%
look: 4 | smell: 4.5 | taste: 4.5 | feel: 4 | overall: 4.5
Canned 08/03/13
Yams>Pumpkins
A-Pours a deep rich amber color with a thin layer of head on top of the beer with some decent retention and average lacing on the side of the glass.
S= The aroma is big on cinnamon, nutmeg, allspice. Classic fall flavors. I suppose yams are in the nose as well. Smells fabulous.
T= The taste is amazing. The cinnamon, nutmeg, and all spice come through complementing perfectly the yams. Yams come through as a pumpkin would but it's less sweet. I think it's more of a beer type flavor. This beer is fall in a can.
M= Nicely carbonated with a nice lingering flavor.
O= This is the best fall pumpkin/yam beer I've ever had. I would say I'm a bit of an expert on pumpkin beer and this baby blows most of them out of the water. It's sweet without being too sweet and there's a nice roasty malt character that comes in a little to back up the sweetness of the yams.
899 characters
3.92
/5
rDev
+5.9%
look: 3.5 | smell: 4 | taste: 4 | feel: 3.5 | overall: 4
On tap at Town Hall Brewery.
A -Poured a clear, copper color with a one-finger, off white head of foam. It left thin rings of lace on the glass.
S - It smelled of Thanksgiving spices - nutmeg, allspice and cinnamon. It had a sweetness that resembled pumpkin.
T - Good blend of spices and pumpkin like flavors. Light caramel taste.
M - It was crisp, sharp and smooth. A medium bodied ale with a dry finish.
O - This is a tasty brew. My first Indeed brew. Very good!
469 characters
3.84
/5
rDev
+3.8%
look: 3.75 | smell: 4 | taste: 3.75 | feel: 4 | overall: 3.75
Serving glass: Poured from large bottle into Imperial Pint. (Update: happy this is canned now)
Appearance: Reddish-orange with nice off-white head.
Smell: Fruity, sweet and nutty. Definitely spices added, such as cinnamon, but can't tell exactly what beyond that. Hints of vanilla.
Taste: Tastes like a pumpkin beer, with that sweet nuttiness. Lots of spices on the finish - noticing cinnamon, clove and allspice. Dry and spicy, but not at all bitter.
Feel: Relatively light body with moderate carbonation. Despite the sweet core, there is a lingering firm and dry finish.
Overall: This is essentially a low abv Pumpkin Ale, which is usually a pretty unexciting style. However, Indeed does a commendable job of elevating this beer. Great, easy drinking fall beer.
768 characters

3.93
/5
rDev
+6.2%
look: 4 | smell: 3.5 | taste: 4 | feel: 4.5 | overall: 4
Sweet Yamma Jamma, Indeed Brewing Company, Minneapolis, Minnesota.
"We chefed up something special for fall with Sweet Yamma Jamma, a spiced sweet potato ale. Brewed with pulverized sweet potatoes, candied yams, and a special blend of spices, Yamma Jamma is full of flavors and aroma that pair well with fall colors and crisp nights. 5% ABV, 10 IBU, Style: Sweet Potato Ale.
Lightly hazed, copper-y, amber coloring, under a full, flush, stable head of off-white head.
Aroma: sweet and vegetal, little hops, much malt. Some spices, but which exactly, I'm not sure. Maybe cinnamon, allspice, a touch of clove? The fruit is biggest, though.
Taste: Mmmm, yeah. If I didn't know what this was, I'd guess it was a pumpkin ale, because the flavors are so similar. Large, plump, lush flavor of the gourd, whether yam or what have you, it's big and in it deep.
I know what people may be thinking: Oh, my God, a Sweet Potato Ale, that's got to be weird, right? I've never heard of that, it's unfamiliar, I'm scared, oooo….Ooooo!
Yeah, that's how they talk, that's how they are…
But, this…this is nice. Here's a way to celebrate the season without being a conformist. I like that. I was skeptical, as well, about a sweet potato ale, but the drinking quits all doubts. Yum. Sweet, but not too much, good balance (I think this will be a common thread with Indeed…with some exceptions…), and utter deliciousness. Mmmm, tasty. I could drink it and drink it.
But, not 9% alcohol, that may be where they went wrong, he asks, facetiously.
1,554 characters
Yamma Jamma from Indeed Brewing Company
3.7
out of
5
based on
193
ratings.