King's Ale
| Bass Brewers Limited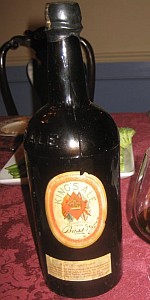 BEER INFO
Brewed by:
Bass Brewers Limited
England
,
United Kingdom
bassale.com
Style:
English Strong Ale
Alcohol by volume (ABV):
11.00%
Availability:
Limited (brewed once)
Notes / Commercial Description:
Part of the Bass Royal Ales series. Water for the mash started by King Edward VII on February 22, 1902. Re-bottled in 1977.
Added by Pencible on 03-24-2010
This beer is retired; no longer brewed.
Reviews: 8 | Ratings: 17

5
/5
rDev
+18.5%
Vintage 1869. Fan f-in tastic!
Dark brown, no head at all. Loads of cork in the glass.
Almost no smell, smells a bit like an old garbage can or sours.
Taste is amazing, like japaneese soysauce.
Vintage 1902, bottle one a bit oxidized. Bottle 2 very oxidized and almost undrinkable.
Vintage 1911, bottle one oxidized, but still drinkable. Bottle 2 very drinkable.
369 characters

4.33
/5
rDev
+2.6%
look: 3.25 | smell: 4 | taste: 4.5 | feel: 4.25 | overall: 4.75
So first and foremost, I can't believe that I got to try a beer that was brewed 111 years ago. Brewed February 22nd, 1902. Thanks to my good buddy Gram for flying to London from Texas and aquiring the crazy old brew. First barleywine ever mass bottled.
Onto the beer: I was a little buzzed when I got to sample a one ounce pour. Going off memory, the beer was dark and consistent like soy sauce. Aroma of teriyaki, leather, earth. Flavor was dust and must, plum, raisins, leather again. Easy sipper. No carbo. Full bodied.
I've had a lot of beers, and I have been brewing for about 4 years. But once you try a beer that is over 100 years old, nothing else even matters. Great experience
690 characters

3.49
/5
rDev
-17.3%
look: 3.5 | smell: 3.75 | taste: 3.25 | feel: 3.75 | overall: 3.5
Big thanks to Jedwards for the final pre-move blowout cellar crash. Brewed in 1902 and bottled in 1905. Served in an Oerbier stem. Pours the appearance of soy sauce with no head. Nose expresses sherry, leather, root cellar dirt and raisins. The flavors on this beer are extremely strong and overpowering - leathery, tobacco, and acidity are over the top. Finish reveals rich chocolate. Mouthfeel is medium-light with a still carbonation and quite a bit of acidity. I have to say that this beer has held up incredibly well; however, the flavors are just way too intense. A splash was more than sufficient.
604 characters

4.29
/5
rDev
+1.7%
look: 4 | smell: 4.25 | taste: 4.5 | feel: 3.75 | overall: 4.25
An aged English strong ale, bottled in 1902, hmmm this is back in the day. Let me say Bass nailed the color for the Kings Ale, for sure. Smell is old old leather suitcase, taste soy sauce and still some sweetness. The appearance and uncorking of this beer is very special indeed, Thanks Graeme, say my name bitch say my name.
325 characters

4.33
/5
rDev
+2.6%
look: 4 | smell: 4 | taste: 4.5 | feel: 4.25 | overall: 4.5
Pours a dark clear amber with a few bubbles - no head or evidence of carbonation. The smell is old leather, peat, tobacco, moss. The taste is heavy on the tobacco and leather, with a rich sweetness to it. It's thick and viscous, but still clean on the palate. A delicious and wonderful old beer. (We also had a Jubilee Strong Ale and a Prince's Ale that night - this was the best of them.)
389 characters

4
/5
rDev
-5.2%
look: 4 | smell: 4 | taste: 4 | feel: 4 | overall: 4
1902 Vintage decanted at Eb's 8/23/2012
Wow a 110 year old bottle of beer I'm stoked fro the opportunity to try this, Thanks a million Chris!
Pours into the glass a murky headless red brown liquor with faint legs when swirled. Wow that nose is rank. Musty cellar fumes mixed with sherry, wet cardboard and band aids. there a hint of caramel sweetness in there as well, but its hard to find under the other aromas. The flavor is more funk and earth with lots of sherry and dark fruit notes. A bit more funk and some plastic phenols round out the flavor. Medium body with a non existent level of carbonation and a harsh acidic sherry mouthfeel. How the hell do I rate this? Its clearly an oxidized mess, but the novelty alone makes me glad I got to try it.
754 characters

3.93
/5
rDev
-6.9%
look: 3.5 | smell: 3 | taste: 4 | feel: 4 | overall: 5
Gigantic thanks go to Knifestyles for sharing this 109-year-old beer at his birthday tasting. I certainly never thought I'd get to try a century-old brew - this thing was already old before my grandparents were born...
A: The cork practically disintegrated into the beer upon opening, but a quick pass through a coffee filter yields a clear mahogany body that is totally still, and doesn't show much in the way of legs. It's ok, but not as attractive as the 1929 Prince's Ale that started the tasting.
S: Whoa, that's nuts. Hugely cheesy, musty, woody. Cobwebs, moldy bread, and madeira. It's improving as it warms and opens up, but the profoundly funky cheese not is tough to get past.
T: Big caramel sweetness up front, followed by the woody + musty notes from the aroma. Luckily the cheese doesn't come through. It's actually pretty darn tasty, and especially so for being older than the Model T.
M: Smooth, still, fairly full body. Pretty much like a fine dessert wine.
O: How can I not give this a perfect score for Overall? This damn beer has been through two world wars; when it was brewed, mankind had never flown.
Cheers!
1,137 characters
4.85
/5
rDev
+14.9%
look: 4.5 | smell: 4.5 | taste: 5 | feel: 5 | overall: 5
Part of the Bass Royal Ales series. Water for the mash started by King Edward VII on February 22, 1902. Re-bottled in 1977.
Tasted on March 13, 2010. Thanks to Traquairlover for sharing!
This poured a clear but very dark cherry mahogany with no head. It smelled like malt vinegar and iodine and port and raisins and prunes and leather and cigars, with some molasses and alcohol and brown sugar. It tasted like tobacco and port and walnuts, with some raisin and date and molasses and alcohol, and a bit of malt vinegar and leather and cigar smoke. It was thick with no carbonation, and had a lasting sweet aftertaste. Overall this beer has survived and thrived! Impossibly delicious after 108 years. It was fantastically complex with deep scents and flavors unlike any other beer. I could sip this for a long time. Every taste brings a new element of character or nuance to the flavors. And they all are balanced against each other in perfect harmony. Simply unforgettable.
974 characters
King's Ale from Bass Brewers Limited
4.22
out of
5
based on
17
ratings.