Our Finest Ale
| Bass Brewers Limited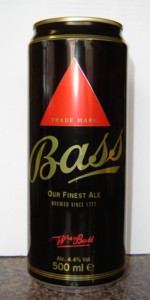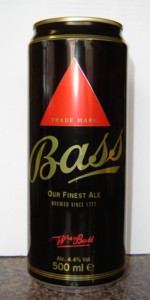 BEER INFO
Brewed by:
Bass Brewers Limited
England
,
United Kingdom
bassale.com
Style:
English Pale Ale
Alcohol by volume (ABV):
4.40%
Availability:
Year-round
Notes / Commercial Description:
No notes at this time.
Added by Kwak on 11-14-2002
This beer is retired; no longer brewed.
HISTOGRAM
Ratings: 10 | Reviews: 6
None found.
More User Reviews:
3.48
/5
rDev
-2.2%
look: 3.5 | smell: 3 | taste: 3.5 | feel: 3.5 | overall: 4
good looking clear amber/burnt orange color with a small foamy head. cant fault the beer too much for the small head as it was poured fairly cold.
sweet, hoppy, perfumy aroma. fiarly light though.
soft, sweet maltiness matched nicely to a calming bitterness. goes down real easy with good mouthfeel. as in it doesnt just slide off the back of your tongue.
would make a good session beer if you're looking for something easy to drink and wont make your head spin.
467 characters
3.5
/5
rDev
-1.7%
look: 3.5 | smell: 3.5 | taste: 3.5 | feel: 3.5 | overall: 3.5

3.4
/5
rDev
-4.5%
look: 3 | smell: 3 | taste: 3.5 | feel: 4 | overall: 3.5
A- frist mistake was i served it too cold, had no head no carbonation and chill haze, so i let it sit in the glass to warm then i repoured. This time produced a copper amber body with a 2 finger rocky white head reducing to a whisp crown.Minimal lacing
S- Some fruity grapefruit notes, burnt coffee, hops over power malt.
T- Acidic grapefruit taste as it hits the tongue, turning to a roasted malty slightly sweet finish - slightly bready malt.. not as harsh as i was expecting on the finish.
M- Medium carbonation, a full bodied mouthfeel, no watery finish. pleasant
D- I will never be a fan of the english pale ale style, it has always seemed so stale and 2nd class to me. I think the previous reviewer hits the nail on the head when describing an aspect of taste and smell as eggy-sulphury. This is what i mean by stale.Perhaps a harsh opinion but just the way i feel. I would drink this if all i could get was pale ale but i would look for something else first. The good mouthfeel, and the bready sweet finish are nice aspects, but i can never enjoy the floral fruit acidity of the pale ale style. It was nice though to sample bass as it is a classic
1,166 characters

4.72
/5
rDev
+32.6%
look: 4.5 | smell: 5 | taste: 5 | feel: 4.5 | overall: 4
This only avalibale in England copy of a cask condition ale.
Nice thick head with a toasty nut taste.
Good body nice carbonation.
Smooth taste a littel hoppy,and almost floral.
Unassuming aftertaste.
I am sure its not as good as it's cask condition counterpart
but you take what you can get.
302 characters

3.27
/5
rDev
-8.1%
look: 3.75 | smell: 3 | taste: 3.25 | feel: 3.25 | overall: 3.5
2.52
/5
rDev
-29.2%
look: 2.75 | smell: 2.5 | taste: 2.5 | feel: 2.5 | overall: 2.5
3.08
/5
rDev
-13.5%
look: 3.5 | smell: 3 | taste: 3 | feel: 3.5 | overall: 3
This is my first time to try the bottled version of this ale, and its name has also been changed to Bass "Premium Ale". BB Nov. 07 and it's consumed now on 30 Nov. 07(!!) - so that's why it's reduced to 99p to clear at the shop! Served cool in a straight imperial pint glass.
A: dark amber, clear, off-white foam with ok retention, and rather light carbonation.
S: besides being mildly rusty, the aroma is pretty standard for a traditional best bitter: smelling hay-ish and fruity - apple-ish and slightly orangey (maybe due to Goldings) - with a burned-sugary backdrop and a pretty fine malty hint of (perhaps) pale- plus crystal-malts... A good swirl brings out the deeper layer of sulphuric & stinky edge of Pale Ale's yeastiness. Overall, not complex, not quite aromatic, even a tad sweet, but with a reasonable standard there on the nose, I can sense...
T: slightly hay-ish, sour-sweet fruity, then followed by an intriguing edge of Pale Ale's yeasty dry-ness to prevail on the palate... Bitter-sweet caramely maltiness and mildly earthy & yet powdery bitterness both linger along with that dryish palate in the end.
M&D: mildly carbonated and light-bodied, it drinks rather well, albeit thinner and not as soft as its cask version. According to my British friends old enough to remember how blissful Bass used to taste, the modern product is shite... but for someone who is not haunted by the "good olde days", I personally find it pretty easy-drinking, with a good lingering bitterness to show. But I'd rather go for the cask version whenever I feel like trying it again.
1,579 characters

3.83
/5
rDev
+7.6%
look: 4 | smell: 3.5 | taste: 4 | feel: 3.5 | overall: 4
Got this can of English ale from Dan Murphy's. Our version was actually labelled "Bass Premium Ale", so I hope this is the right category to review it under...
Poured a ppale amber gold from the can, with a thick white head that sunk back a little.
Aroma: All malt with a slight spicey hop in the background, not too much here, I was expecting it to be more like Bass Pale ale.
Taste: Creamy full malt with a restrained hop bitterness, that finished dry without any complexity. An easy drinking session beer.
518 characters

4.33
/5
rDev
+21.6%
look: 4.5 | smell: 4 | taste: 4.5 | feel: 4 | overall: 4.5
Bass is one of those beers that divides people.It was once the biggest selling beer in the world and the Bass brewery extended over a square mile in 1900.The red triangle is the world's oldest trade mark.Over the last couple of decades it has been sidelined , the dry hopping was discontinued , the brewery changed hands and the beer is now brewed by Marston's under contract.
It is often served too green and discussions with publicans suggest that where beer is paid for on delivery there is pressure on cash flow to sell the beer quickly ; where credit is available the beer can be aged in the cellar.Whatever the reason , it does vary from place to place.
Our local CAMRA branch,at least, consider the best way to serve Bass is on gravity.We feel that it drinks out of its class , it seems somehow to put on weight.For those who like to see a large head on a pint the sight of a crystal clear beer with just a few bubbles may be offputting.One taste should dispel any doubts though.Of course,with no head you get more beer in your glass!
This review is actually of Bass delivered on handpump.Up to a point the head on a pint can be whatever you ask for because the output nozzle has a thing called a sparkler. If tight,a creamy head is produced.I ask for it to be slackened off or removed.
A small head sits above a crystal clear amber liquid. The aroma is muted but that isn't a bad point because that's the result of a small head and the fact that this isn't a bitter.A creamy head will have more aroma but then the body of the beer has less!
The taste is pure Burton , a lovely soft as silk malt with a hint of sulphur, and just the right amount of hops to balance it.
A good test of drinkability is whether the beer tastes better as it goes down the glass and whether the next pint taste better still. In this case definitely Yes , but I didn't have a third pint because there were 6 other beer on handpump waiting for attention!
Bass in a can , worse still a nitro can , just isn't the same animal.
2,015 characters
Our Finest Ale from Bass Brewers Limited
Beer rating:
3.56
out of
5
with
10
ratings