Howard's Pub & Raw Bar Restaurant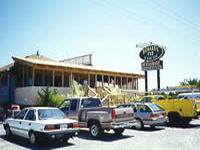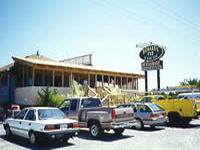 PLACE INFO
Type:
Bar, Eatery
1175 Irvin Garrish Highway
Ocracoke
,
North Carolina
, 27960
United States
(252) 928-4441 |
map
howardspub.com
Notes:
No notes at this time.
Added by BeerAdvocate
PLACE STATS
Reviews:

12

Ratings:

pDev:

5.28%
HISTOGRAM
View: Place Reviews
Ratings: 13 | Reviews: 12
Reviews by Onenote81:

4.2
/5
rDev
+0.7%
vibe: 4 | quality: 4 | service: 4 | selection: 5 | food: 3.5
Spent a week in Waves and came over here to Ocracoke for a day, and this place was a "must-stop." Came for lunch. We went a bit early so it wasn't that busy, but it packed out while we were seated. Decent atmosphere. We sat in this side deck area that was cooled by fans only, no AC. That was a little disappointing, but not a deal-breaker. Service was prompt. Everything was done right, drinks were filled, and everyone was happy. I ordered the shrimp basket, and my wife had the teriyaki tuna sandie. Both plates were decent, but not earth-shattering. The beer list here is insane. Over 200 beers, predominantly bottles. Around 25 taps, with some decent "locals" available. But really, this place would have most anything one would crave as far as beer. Highly recommend.
773 characters
More User Reviews:
4.18
/5
rDev
+0.2%
vibe: 4.5 | quality: 4 | service: 4.25 | selection: 4.25 | food: 4
Howard's is an institution on Ocracoke. Huge tap & bottle list. Mostly craft staples and familiar names. Great place to watch a game. Food is mostly seafood, burgers, and fries. Usually hits the spot. Prices are on the higher end but you only live once and this place should be on your bucket list.
298 characters

4
/5
rDev
-4.1%
Local hot spot--lots of tourists and some locals.
Lots of beer on tap--almost too much for somewhere this size if not in summer. Bottle list impressive but given the size, would favor things that hold up.
They had Two Hearted on my recent trip and a couple of local tap options that all appeared fresh.
305 characters
4.3
/5
rDev
+3.1%
vibe: 4.5 | quality: 4 | service: 4.5 | selection: 4.5 | food: 4
This is the only place for beer on Ocracoke. ~30 taps with a well rounded selection of micros and a few imports. They keep their web site up to date with their draft list.
Service is very good. Everyone appears to hustle and even in busy times they seem to be able to keep everyone's glass full.
Food is also very good, with a menu you would expect in a beach pub. Good sandwiches and apps, perfect accompaniments to your draft.
The only downside is the price. They do have to truck their product a long way to make it to Howards, so expect big city prices at least for the beer. Food prices are actually ok.
613 characters

4.3
/5
rDev
+3.1%
vibe: 4.5 | quality: 4 | service: 4 | selection: 5 | food: 4
This is a great bar on the way to Light House viewing. As a matter of fact, you may spend more time at Howards Pub than at the light houses on the Outer Banks.
It has a great atmosphere and during the off season you can really get in there a have a good time. I went a few years ago during late winter/early spring. The regulars are great in there...tell you all about life on the coast!
They have great NC beers like Duck Rabbit and Highland and some hard to find micros like Left Hand. And they have one of my favorite beers, Great Divide IPA. They have over 200 beers, so something for everyone!
The food is a better than the average bar food! Try the Oysters....fresh and tasty!!! Or just get some hush puppies to snack on. They have a great recipe for hush puppies!
This is a great place to stop and relax your feet and have a beer...wish there were more places like it where I live!!!
894 characters
3.75
/5
rDev
-10.1%
vibe: 4 | quality: 3.5 | service: 4 | selection: 4 | food: 3
Stopped here on 8/05/07 just finally got to the review from notes and pics. Found out about this place from a good BA buddy of mine Sudsdog, who was suppose to meet him there for the first time,but he had a family emergency and couldn't make it.
Arrived here on a very hot Wednesday afternoon around 1:30. The place was already packed a with 45 minute wait. Had a nice confortable waiting room as you walked in, also had vedio games there. Finally got in, it was about 45 minutes. There was 2 dining areas seperated by a divider made of glass windows and wood with lattace. There was an upper deck didn't get to check it out it was so hot out and nobody was up there looked to be good sized.There was a nice wooden bar about as long as the dining area with about a dozen taps on each end. The place looked just as I would have thought. Lots of wood with wooden beams like a ski lodge, or the inside of a ship reminded my of something like a Joe's Crab Shack or similar. There was beers signs all kinds and some neons also, the place was covered with stickers,pennants.licencse plates,mugs,hats,you name it was on the cluttered side. I would hate to have to dust this place.
Had the best beer selection by far i'd seen around the area. The tap selection was great,some macros a couple of imports and some nice run of the mill micros. Suprized to see Bell's Two-Hearted there also some Rouge. The bottle selection was very good around 200 different bottles. Listed by styles as Lager and Pils about 40 Heavy Seas umber Pils,Abita,Rouge,Tupper's and lots of your good basic imports. About a dozen or so IPA's such as DFH,Rouge,Hop Ottin,and some locals. About a dozen in the Stout and Porter,Sam Smith,Rouge,North Coast,Duck Rabbit a local brew which makes very good dark beer would recommend trying this if you like dark beers.About 20 Belgians as Chimay,Rocherfort 8,Ommegang,St Bernadus. Also some Wheats,Whites and Weizens around 20 types here lot of German types and the usual suspects.
A nice selection in every catagory,most of your standard basic brands,no hard finds here,but something to please everybody's palate. Nothing extreme in the selection,still very nice.
Only complaint here was the lack of beer knowledge the waitress didn't have a clue what a wheat glass was came back with a large wine glass. All the beer glasses were pint glasses with the Howard's logo on them.
The waitress was really on the ball,great service for the large crowd.Never had to worry about an empty glass.
Came in with the family,lots of family's here, just ordered some sandwiches for lunch a burger which was good, the catch of the day sandwich mackel which had lots of small bones in it kind of bothered me. The fries were very good. Had a nice menu wish I could of stayed for dinner.
Would definatly come here again the best bar i came across on my vacation to the Outer Banks. My biggest gripe was that the place was so hot inside,but it was very crowed and extremely hot outside.
2,979 characters
4.25
/5
rDev
+1.9%
vibe: 4 | quality: 4 | service: 4.5 | selection: 4.5 | food: 4
Whenever I visit Ocracoke Island, the first thing I do after I hit town is to visit Howard's. While there are way too many macros to suit me on the menu, it is balanced out by a large quantity of good bottle beers. There is always something worthwhile on tap. I've had Bell's Two Hearted, Victory Hop Devil, Brooklyn Monster Ale, and Rogue Dead Guy on tap there. While the seafood is fresh, there are other places in town that I would go to first for fish. However, the burgers are truly excellent and the french fries(made from freshly cut potatoes) are the best that I've had in many a year. The service is really good and friendly. They handle huge tables as promptly as they do a table for two. Open 365 days a year. Christmas at Howard's. Now that would be a tradition worth starting.
789 characters

4.45
/5
rDev
+6.7%
vibe: 4 | quality: 4.5 | service: 4 | selection: 5 | food: 4.5
on a recent trip to the outer banks, we took the ferry ride to okracoke island for a night and after a 30 min. ride, we drove through about 20 more min. of beautiful natural wildlife preserve. if you've never been there, it's one highway splitting a long narrow island only a few hunderd meters wide at times. usually on one side of the road is scrubby desert butted up against the surf side of the ocean, and on the other side of the road is swamp or desert leasing on the sound side. all this great scenery builds up and then you hit the pirate town of okracoke. howard's is one of the first landmarks you see, rising like a memphis above the cheerful maritime tourist town. it was the 3rd pub we visited and i wish it were the first. the tshirt and souvenir store was almost as busy as the bar. there were license plates (alot from ohio) and other memorabilia hanging on the walls creating a very fun, comfortable, open atmosphere. the place was PACKED, very family oriented. i noticed an uncountable number of beer bottles on a ledge above the bar and was deeelighted to learn they had a 200+ beer selection. after a few cold ones and a snack i ran upstairs to look out of the sweet watchtower, then took a picture of myself by the bar. beer and food priced were inflated, but that's what you must expect from a tourist destination, and it's like that everywhere. hey, i'm on vacation, i'll pay 4.50 for a great beer. f**k it. don't take the boat ride without visiting howard's.
1,482 characters
4.43
/5
rDev
+6.2%
vibe: 5 | quality: 4.5 | service: 4.5 | selection: 4 | food: 4.5
My 'home base' for beer is the NYC area, but this is an outstanding destination when in the Outer Banks of NC. To get there, you need to hop a ferry from Hatteras Island, and then drive about 10 miles through a barren area. Once your reach the town of Ocracoke, Howards is a beacon that greats you on your right.
The bar and surrounding area is wooden, much like a boardwalk. Many tables inside, as well as a deck area with screens. Additionally, there is a sundeck above the establishment for drink'ms in the sun.
There are about 15-20 taps available, none of which were particularly outstanding, but featuring some local stuff, which is always nice. The bottle selection is extensive, and mostly American-based.
Food is terrific and reasonably priced. It's a "family-friendly" place featuring license plates and stickers adorning the walls from places across the country.
definitely a 'must-stop' for every trip I make to the area.
937 characters
4.14
/5
rDev
-0.7%
vibe: 4 | quality: 4 | service: 4.5 | selection: 4
Stopped in for a quick two pints before catching a 6pm ferry while driving down the coast. The atmosphere was a nice combination of seafood bar and sports bar. I was very surprised to see as many taps as they had, and a decent few of them were quality microbrews. They had Highland Tasgall, Anchor Steam, Dead Guy, and Victory Hop Devil among several others, great considering it all has to get to the island by ferry. The bartender was very friendly and attentive and service was fast even though they were fairly busy. Although I didn't have time to try the food, I know I'll be stopping here whenever I'm in town.
616 characters
3.75
/5
rDev
-10.1%
vibe: 4 | quality: 4 | service: 2.5 | selection: 4.5 | food: 4
So if you are staying on Ocracoke Island, this is the place you have to visit. 15 taps and 200 bottles in their selection. The atmosphere is very coastal puby with a long bar, wooden floors, etc. Sort of reminds me of a the kind of pub you would find sailors at, only more upscale. Service was incredibly slow when I was there. I also don't mind getting carded. I know I'm 23 and I look 18, but I don't appreciate being patronized for leaving my ID in the car at my age...I mean I am 23 not 18. Selection was quite good, especially bottles-I'd give them a 5 here, though I think some of them are over priced, but what you normally see them for. The taps are nice, about 13 of them are craft. They have a nice selection here in that they aren't Belgian heavy like all the bars in my hometown (chapel hill). Food was very good. I had the lunch special, Soft shell crab sandwhich with pub fries. Fries were a little crispier than I tend to like, but the sandwhich was excellent.
975 characters

4.08
/5
rDev
-2.2%
vibe: 3.5 | quality: 4 | service: 4.5 | selection: 4 | food: 4
I've been here a couple of times with my family when we've traveled to the Outer Banks, and it's a very nice little restaurant. Actually, it's not so little; it's pretty big, which is a good thing, since it seems like pretty much everyone who gets off the ferry to Ocracoke ends up going here. Anyway, there's a lot of seating. We sat on a screen porch type area, so we were outside, but not really. Atmosphere is nice, with a cozy feel that belies its large size. There was no cigarette smoke to be found, which was a plus.
The place has a nice beer list. There were about 20 taps, most of which were macros and the usual imports. There were several interesting choices though, including Brooklyn Monster Barleywine, Flying Dog In Heat Wheat, and Victory Hopdevil. I went with the Hopdevil, which tasted fresh and delicious. There was also a bottle list with about 200 selections. Again, nothing terribly interesting, but there were some good choices and a few decent Belgians even. It shouldn't be hard to find something to your liking on the list. Prices were fairly reasonable as well.
Food was good also. My fried oyster sandwich was good, although I've had better. They have good beer-battered onion rings, too. You must try the conch fritters though, they're great. Service was also very good. The waitress was very nice and our food and drinks arrived promptly. No complaints there.
Overall, this is a nice place to stop in Ocracoke. It probably has the best beer selection of anywhere on the island, and the food ain't bad either. It's kind of out of the way for me, since I always stay in Kill Devil Hills which is a sizable drive (and ferry ride) away. It's not quite worth the drive just for this place, but if you find yourself nearby, definitely check it out.
1,782 characters
Howard's Pub & Raw Bar Restaurant in Ocracoke, NC
Place rating:
4.17
out of
5
with
13
ratings