Head Butt IPA
| Iron Goat Brewing Co.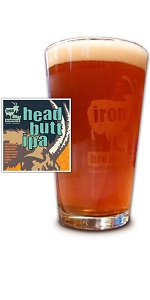 BEER INFO
Brewed by:
Iron Goat Brewing Co.
Washington
,
United States
|
website
Style:
American IPA
Alcohol by volume (ABV):
6.70%
Availability:
Year-round
Notes / Commercial Description:
No notes at this time.
Added by leedorham on 08-22-2012
Reviews: 5 | Ratings: 22

3.93
/5
rDev
+2.1%
look: 4.25 | smell: 3.75 | taste: 4 | feel: 3.75 | overall: 4
Poured into a Seattle Beer Week pint glass. Pours a medium coppery amber with a nice two finger white head with good retention and lots of lacing; looks good. Aroma of caramel malt, citrus and lightly grassy hops, lemon citrus. Flavor is caramel malt, piney and citrus hops, orange and lemon citrus; finishes with resinous piney and citrus hops, high in alpha oils. Medium bodied with light creaminess. A classic Northwest style IPA with a good, flavorful malt body and hefty hopping that really comes through in the finish. The finish is a little unbalanced towards alpha bitterness than herbal hop flavors, but the flavor that is present is quite nice. Glad I found a bottle of this on my recent trip through Spokane and it invites me to try some more ales from this brewery.
★
778 characters
3.62
/5
rDev
-6%
look: 3.75 | smell: 3.5 | taste: 3.5 | feel: 4 | overall: 3.75
2015-07-14
22oz bottle brought back to me by a co-worker. No date that I see on the bottle. Served in a large mug.
Pours slightly hazy yellow-amber with a pretty big white head that leaves lots of lacing with lots of big holes. Plenty of carbonation. Smell is fairly standard -- grapefruit and pine bitterness, a little orange blossom.
Taste is moderately floral, slightly strawy, with a nice solid piney bitter backbone.
Mouthfeel is medium, a little bit of what I would call "fluffy". Overall, this is a good solid beer. Don't turn it down if you run into it.
★
565 characters
3.82
/5
rDev
-0.8%
look: 4 | smell: 3.75 | taste: 3.75 | feel: 3.75 | overall: 4
22oz bottle, thanks be to IronDjinn for bringing this to our most recent backyard BBQ catch-up.
This beer pours a hazy, medium copper amber hue, with two fingers of puffy, tightly foamy, and somewhat creamy bone-white head, which leaves some stringy dissipating lace around the glass as slowly dissolves.
It smells of bready, grainy caramel malt, watery orange and lemon rind, a hint of earthy yeast, and further leafy, herbal, and flinty hops. The taste is gritty, grainy caramel malt, overripe orange and red grapefruit, bitter floral, herbal, and grassy hops, all with a bit of Pine-Sol cleaner alcohol astringency.
The carbonation is adequate in its plain-Jane frothiness, the body a decent middleweight, and smooth enough. It finishes off-dry, just, as the gritty malt persists, and the mixed and matched Pacific Rim hops keep on keepin' on.
A good IPA, sure, but a bit unbalanced in the malty background to be deemed a stellar example of the style. Still tasty, though, and easy enough to put back as thoughts turn to my fryin' up some cheeseburgers duties.
★
1,071 characters
3.85
/5
rDev 0%
32oz grunt/howler/mini-growler/growlette/whatever purchased at the brewery for approx. $6. I've had this numerous times in the past, but have yet to formally review it until now.
Poured an extremely clear, copperish shade of amber, with a decent-sized off-white head.
Piney tree sap aroma along with...strawberries? My palate is just good enough to be dangerous, but even with that caveat, I'm a little mystified by the aroma. I know this was originally brewed with southern hemisphere hops, back when IG first opened. Maybe it still is, and that's a hallmark of the particular hops used (Greg & Heather, one half of the couples that are the owners/brewers, have told me the hop bill, but I can't remember what it is). It's a thick hop aroma, but there's enough of a malt backbone to keep it from being too much of a hop bomb.
This tastes like what I would call a Pacific Northwest IPA: Piney taste upfront backed with citrus. The piney flavor is almost too big, and might well be too big for people who don't dig that. I do, but just sayin'. The fruity, strawberry flavor I detected in the nose is present here, but it is subordinated to the piney aspect of the flavor. There's also a sweet, honeyish flavor that I've never picked up on before. It's kind of in the background, but it's there. Despite its being a "regular" IPA rather than a double, this is a BIG, flavorful IPA.
A little bit too big in the body for me to rate in elite numbers for the mouthfeel category. Oily, resiny mouthfeel.
When I want an IPA that is big and fresh (it's brewed about two miles from where I live, so it takes some work by an incompetent bar manager for it not to be fresh), and not too alcoholicly massive this is what I tend to think of. This and Riverkeeper (from River City, and a totally different kind of IPA) are my two current favorite IPAs on the local beer scene. Unless something tragically changes, I'll be having this again.
★
1,954 characters

4.09
/5
rDev
+6.2%
look: 3.5 | smell: 4.5 | taste: 4 | feel: 4 | overall: 4
Reviewing from memory. I've had head butt several times both at the tasting room and at a couple other places locally.
This is arguably the best IPA being brewed in Spokane right now. I can fault its appearance a little due to it being very cloudy each time I've had it but other than that it's a go-to.
The aroma is dank and pops right out, which means the hop flavor follows. Bright, citrusy, great beer.
★
413 characters
Head Butt IPA from Iron Goat Brewing Co.
-
out of
100
based on
5
ratings.