Quinten Matsijs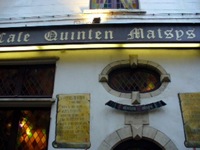 Reviews by TheLongBeachBum:
TheLongBeachBum from California
3.88
/5
rDev
+0.5%
vibe: 4 | quality: 4 | service: 4 | selection: 3.5 | food: 4
The 'Quinten Matsijs', is advertised as the oldest licensed Bar in Antwerp. Built in 1565, it was originally called the House t' Gulick, named after the County of Gulick near Luxembourg - for it is here where the many merchants in times past no doubt came to relax after a hard days trading and spent their hard earned money getting plastered. So Tie your Horse up outside, tell your Manservant to take the afternoon off, and be sure to adjust your Codpiece before entering this most noble of historic establishments.
A great Main Hall resplendent with leaded windows, which cast multi-colored refracted light shadows all around the room during most of the daylight hours. Dark woods, creaky floors, old paintings and other antique fittings complete the digression in time. Inhale the smell of a 400 year old bar, whilst you peruse the Beer List of some 50 bottled and 4 draft beers which include the Antwerpers 'fave' - De Koninck. Snacks and wholesome small meals are superb, many are local specialities. I tried the Black Pudding with a De Koninck – excellent.
There are many great Bars in Antwerp that are all (thankfully) different, yet all serve good beer. The Quinten Matsijs serves good beer, but I will admit this is no Kulminator, and the Bar has indeed lost some of its authenticity to tourism over the years. Nevertheless, do not be a "beer snob", miss this bar to your detriment, for it is still a fantastic drinking experience for those that have never been, and certainly one that you may never partake of elsewhere. The beer list may be truncated at 50+ when compared to others, but it contains many great beers, and is still well worthy of study for an hour, or two, at least.
And of course don't forget the house rule ...after 10 De Konincks, the next one is free!!!
Nov 04, 2002
More User Reviews:

HopBelT from Belgium
4
/5
rDev
+3.6%
vibe: 3.75 | quality: 4 | service: 4.25 | selection: 3.75 | food: 4.25
Aug 25, 2018

ministoat from England
3.14
/5
rDev
-18.7%
vibe: 3 | quality: 3 | service: 3.5 | selection: 3
It took a few minutes to find this place but wasn't a complete mission.
Beer list was average but we got to try our de koninck blond's which were on our list and they were very nice.
Seemed a pretty run of the mill place though but the major gripe were our nibbles, Antwerp is very hit and miss about whether you get any nibbles with your drink, unlike Brugges. I never expect them and being English it's always an unexpected little surprise. However, it was quite unpleasant to be served cheese wotsits which tasted like the bag had been open for a week. Only go there if you're passing. Sorry, we're fussy about our snacks!
May 29, 2009
BlackHaddock from England
4.44
/5
rDev
+15%
vibe: 4 | quality: 4.5 | service: 5 | selection: 4
My wife and liked this place the moment we were through the door. It is obviously a well run and maintained pub, spotlessly clean, neat and tidy.
The bar is straight in front of you as you walk in, leading away to your left. The tables and chairs there on the left were full of older generation locals who all knew each other and the staff.
To the right is a larger area, full on our visit with shoppers, families and two tables of other Brits.
Two men behind the bar manning the pumps and opening bottles, making coffee etc, an old chap looking after the regulars and a lady seeing to the main, larger room. All well drilled and as clean and tidy as the pub itself.
The food looked good, cooked by an oriental lady who who popped up behind the bar occassionally.
The beer selection isn't going to send you into raptures but what they have is a solid list of beers that are worth drinking. No wierd stuff, but your normal Trappists, Abbey's, Tripples, Blondes, Ambers, etc, etc.
The place oozed a friendly pub style ambience rarely seen outside the UK. A very pleasant surprise indeed.
Jan 06, 2009

ViveLaChouffe from Georgia
3.93
/5
rDev
+1.8%
vibe: 5 | quality: 4 | service: 4 | selection: 3.5 | food: 3.5
Old pub that has been in service since the 16th century and very little seems to have changed since then. Quite cozy on a chilly, wet day with a old fireplace and is a classic "brown bar". Tucked away in a small alley but close enough to the cathedral to be an easy walk.
The beer list is around 50-60 including 5 drafts when I visited. Nice food menu too and reasonably priced for the city.
Service was good at the tables and the bar.
Outside of the atmosphere, not one individual feature of the bar is outstanding but as a whole it was worth two stops for me during the long weekend I was in Antwerp.
Nov 25, 2008

downes51 from England
3.7
/5
rDev
-4.1%
vibe: 4 | quality: 4 | service: 3.5 | selection: 3.5 | food: 3.5
Not a bad boozer this, although it can be tricky to find. It's close to the Hendrik Conscience Plein, Moriaanstraat runs east-west south of Wolstraat (along which the eastbound trams run to Deurne).
The draft beer list includes Kasteel Blonde.... treat this with great care! There's a very old pub game by the side of the bar which involves throwing balls across the room and dropping them down a hole.
It can be a bit gloomy inside, but the food and the service is good and it's open on Sundays which a lot of places are not in that district.
In the summer you can sit outside. Please note that it does tend to get quite full with local luncheon parties on Sunday afternoons.
Mar 28, 2005
Quinten Matsijs in Antwerpen, Belgium
Place rating:
3.86
out of
5
with
8
ratings