Schadenfreude
| Parallel 49 Brewing Company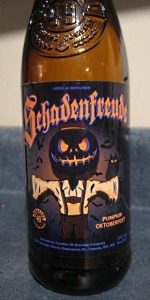 BEER INFO
Brewed by:
Parallel 49 Brewing Company
British Columbia
,
Canada
parallel49brewing.com
Style:
Märzen / Oktoberfest
Alcohol by volume (ABV):
5.00%
Availability:
Fall
Notes / Commercial Description:
We've carved out a pumpkin Oktoberfest even Ichabod Crane would love. This hearty, malty lager is warmed by the mighty pumpkin and lifted with notes of cinnamon, nutmeg, all-spice and ginger.
Added by biboergosum on 09-29-2012
Reviews: 12 | Ratings: 66
4.3
/5
rDev
+7.5%
look: 4 | smell: 4 | taste: 4.5 | feel: 4 | overall: 4.5
A - bright clear bronze, thumb of head held nicely, left plenty of lacing
S - mild raw pumpkin and spice, some toasty and leafy aroma in the back end
T - an interesting mix of pumpkin, nutmeg, rich toffee, nutty, and mild leafiness, this really does capture key elements of both styles and blends them well
M - medium and relatively creamy, very smooth with a light spice tingle
O - very happy with this brew, doesn't fall into the common pumpkin pitfall of spice overload, blends the pumpkin into the marzen style seamlessly, and there is a richness that makes it almost dessert like
584 characters
4.2
/5
rDev
+5%
look: 4 | smell: 4 | taste: 4.5 | feel: 4 | overall: 4
Appearance- Pours a copper orange with a finger width of bubbly off white head.
Smell- Pumpkin, cinnamon, nutmeg, clove, breadiness.
Taste- Immediately hit by the pumpkin and the spices. Definitely tastes like pumpkin pie. It is followed by the breadiness and slight earthy hops. Finishes mainly with the spices.
Mouthfeel- Medium bodied with moderate carbonation. Has a dry finish.
Overall- A very flavourful pumpkin oktoberfest by Parallel 49. Well balanced pumpkin and spice flavours that remind you of Thanksgiving and the fall season. Defnitely pick this one up if your a fan of the style.
598 characters

4.2
/5
rDev
+5%
look: 4 | smell: 4 | taste: 4.5 | feel: 4 | overall: 4
Perfect marriage of the crispness of the lager style (albeit with the malty goodness of the marzen style ) with the baking spice notes of the Pumpkin beer. Lovely shining dark gold colour with a real Pumpkin aroma on the nose. The beer is super drinkable but has some complexity in the finish with the pumpkin smoothly combining with the malt. Love what these guys are doing.
375 characters

4.13
/5
rDev
+3.3%
look: 4 | smell: 4 | taste: 4.25 | feel: 4.25 | overall: 4
Bomber from the LCBO; served barely chilled. Looks like it's dated Aug 11 2016, if I'm translating the stamped code correctly. This is the second bottle I've cracked in the last two weeks.
Pours a gorgeous, clear orange-amber colour; streams of effervescent bubbles race from the bottom of the glass to the surface, which is initially crowned with one finger of creamy, off white-tinged head. By the two minute mark it has mostly faded into oblivion, leaving behind a foamy, modest-sized collar surrounding a thin, patchy cap. Spicy notes of nutmeg, allspice and ginger snap on the nose, with pie crust and pumpkin pie filling overlapping with rich caramelized sugar from the Munich malt. Hints of vanilla and tea leafy hops.
Quite well-crafted - sometimes these 'hybrid' beers can turn out a bit muddled, but in this case, the pumpkin integrates beautifully with the underlying märzen backbone. Moderately sweet, with brown sugar and digestive biscuit flavours eventually being brushed aside by pie crust and pumpkin. The nutmeg really sticks out, with ginger and clove tying for second; the allspice and cinnamon are a bit more restrained, but still difficult to miss. The profile wraps itself up with hints of vanilla, leafy hops and earthy spice. Medium-light in body, with fairly mild carbonation that gently prickles the tongue and palate with each sip. Ridiculously drinkable for a pumpkin beer.
Final Grade: 4.13, an A-. Schadenfreude is denoted a "pumpkin oktoberfest," and I'd have to say it delivers precisely what it advertises. This enticing fall seasonal pairs all of the clean, crisp, lightly sweet goodness of a märzen lager with the usual array of pumpkin pie spiciness, and the final product is an impressive fusion. I haven't had a boatload of beers from this BC brewer, but this one is definitely my new favourite P49 product - well worth trying if you have any interest in pumpkin beers, German-style amber lagers, or both. I think the stock has already sold out locally, otherwise I'd be picking up another bottle in the near future. Recommended.
2,073 characters

4.09
/5
rDev
+2.3%
look: 3.5 | smell: 4.5 | taste: 4 | feel: 4 | overall: 4
Golden amber appearance with a small amount of foamy amber head which slowly settles down leaving some lacing. Smells like pumpkin pie; sugar, ginger, various spices, bread and a hint of malt. Good first impressions.
Taste is similar to the smell, tastes like I'm eating pumpkin pie. Consists of malt, ginger, bread and bitter hops. Tastes blends well together. Medium bodied with moderate carbonation. Finish is an earthy, slightly butter, pumpkin taste.
Overall, this is a good and interesting season beer that mixes the features of a pumpkin beer and an Oktoberfest. Not a typical beer by any stretch, try it while you can.
630 characters

4.06
/5
rDev
+1.5%
look: 4 | smell: 4.25 | taste: 4 | feel: 4 | overall: 4
Parallel 49 'Schadenfreude' @ 5.0% , a Pumpkin/Oktoberfest beer tasted on *cask* @ GCBF '12 , tap @ GCBF '13 &'14 , plus a couple of 6pack's of 341 ml bottles purchased for $15
A-pours a light gold from the bottle to a clear amber in the glass with a small off white head that quickly dissapates leaving some thin lace along the pint
S-mild pumpkin pie spices (nutmeg & cinnamon) , more of harvest/marzen
T-definate sweetness to this malty lager , certain dry clove dryness on the swallow , tap version is bit smoother than bottle
MF-mild carbonation , medium body , definate dryness on the palate
Ov-great combination of the two styles , the pumpkin flavor is more noticeable in the tap version of Schadenfreude , still a better than average Pumpkin/Harvest beer
prost LampertLand
792 characters

4.05
/5
rDev
+1.3%
look: 3.75 | smell: 4.25 | taste: 4 | feel: 4 | overall: 4
Appearance: It has a nice deep hazy orange color to it. It has a nice light beige head that dies down moderately and leaves lacing.
Smell: The aromas definitely give out hints of cinnamon, nutmeg, cloves, some bready notes and some definite toffee and vanilla.
Taste: Like the aromas, it has some cinnamon, nutmeg, cloves, slight breadiness, sweet toffee, vanilla and a faint grassy/earthy bitterness.
Mouthfeel: It has a medium carbonation with a nice overall balance and feel.
Drinkability: It's a very smooth drinkable beer accompanied with good flavors and aromas.
574 characters
4.04
/5
rDev
+1%
look: 3.5 | smell: 4.5 | taste: 4 | feel: 3.5 | overall: 4
341ml bottle. Sufficiently spooky label renderings, not to mention the cheeky blending of styles here.
This beer pours a clear, pale golden amber colour, with one finger of weakly puffy, thinly foamy, and somewhat bubbly ecru head, which leaves a low rocky shoreline of lace around the glass as it evenly subsides.
It smells very much like my mom's gingerbread cookies - which of course were replete with cinnamon, ginger, nutmeg, and a whack of brown sugar, here well represented by a sturdy sweet bready malt, and the attendant zingy spices, with a slight earthy hoppiness striving to bring things back into the realm of normal beerdom. The taste is more malty than anything so far, of a bready, pastry-esque sort, and the usual suspect spice components and gourd goodness equally timid, but still adequately prevalent, with a noble hop bitterness closing the loop.
The bubbles are fairly placid, the body on the north side (barely) of medium weight, and tacitly smooth. It finishes trending sweet - pumpkin flesh, bready malt, and that very particular blend of spices showing their fall colours.
A deft, nicely rendered blend of seasonal pumpkin spices and an Oktoberfest lager, killing two birds with one stone at this time of year, as it were. It's pleasant to see that it's no surprise that the former holds sway throughout the vast majority of this affair, ensuring that this is tasty enough that I am inclined to pine for another.
1,443 characters

4.04
/5
rDev
+1%
look: 3.5 | smell: 4.5 | taste: 4 | feel: 3.5 | overall: 4
341ml bottle poured into pint glass 1/11/12
A clear light bronze with a few tiny particles and a couple streams of bubbles, a short lived thumbs width of foam leaves no lace
S nutmeg, allspice, vanilla a little pumpkin with some brown sugar and faint nutty notes, everything's very strong it smells the part quite well
T more of the same really, perhaps a little ginger and some earthy leafy notes, I'm getting board of pumpkin brews but this one's pretty good
M light and it fluffs up quickly and flattens out just as fast, the finish is faint but long
O it is what it is and its good, pumpkin beers are all starting to mesh together and taste the same, nothing really to set it apart other then the intense smell
Its a good version but perhaps my last of the season, I like it for what it is but I'm just board of the style talk to me again next year
859 characters
3.92
/5
rDev
-2%
look: 4 | smell: 3.75 | taste: 4 | feel: 3.75 | overall: 4
Single 341 ml bottle poured into a tulip. A glinting copper red with a finger of milkshake-like frothy beige foam on top.
Some spices on the nose to be sure, nutmeg, ginger, and a pinch of cloves, but there is an equally robust toffee-like maltiness. Hints of grape and vanilla pudding. In short, smells like an Oktoberfest/pumpkin beer hybrid, exactly as billed. All is right with the world.
Palate strikes the same balance. Crisp and snappy for a pumpkin beer, with the spices mellow and the pumpkin pie flavor amply present but cut via grassy hops and lightly toasted grains. I am appreciating the emphasis on dry aromatic malts. Some raisin notes. Pleasant butterscotch aftertaste. I think I can place the allspice in particular. Solid medium body with carbonation just on the high end of moderate. Finish is ethereal but long-lived; I am getting a tea-like tannic vibe. Nice. Much going on here and one can focus on the sweet and the dry elements as the mood strikes.
975 characters

3.49
/5
rDev
-12.8%
look: 4 | smell: 3.75 | taste: 3.25 | feel: 3.5 | overall: 3.5
Pumpkin beers are here! I went to the BCLS on Commercial Drive today and there was a display of at least 10 different pumpkin beers. This one is 12.50 + deposit for 6x341ml.
A: Clear copper with about a finger of head that dissipates fairly quickly. Visible carbonation.
S: Spice - cloves, ginger, maybe nutmeg? There's a pleasant dampness/dankness to the smell that I'd guess is from the pumpkin. I'm also picking up some toffee sweetness.
T: This one definitely tastes mild after the IPAs and other more hoppy beers I've been drinking lately. I think maybe I'd prefer something with either more sweetness or more of a hop kick, but I wouldn't say this is bland.
F: Very smooth.
Didn't hate it, didn't love it. I'm hoping I'll like Lost Souls more.
752 characters
3.39
/5
rDev
-15.3%
look: 3.75 | smell: 3.5 | taste: 3.25 | feel: 3.25 | overall: 3.5
A: Mid tone amber ale, clear and shiny with a solid cap of microfilm head. No noticeable lacing, however the head appears to hold it's structure well.
S: Fall spices of nutmeg and all spice, slight hint of pumpkin and vegetative notes. Yeasts present on the scent with a slight bit of dankness or wet leaves.
T: Sweet pale malts over squash lead the way followed by a yeasty breadiness peppered with fall spices. Some mild hops at the back end, but nothing that really sticks on the tongue.
M: Light to medium body with some pick up of the carbonation on the palette and a slightly dry finish.
O: A light lager to drink back easy and quick. Flavours and scent are somewhat predictable. As a fan of darker brews neither of us felt overwhelmed with this pumpkin beer.
773 characters
Schadenfreude from Parallel 49 Brewing Company
4
out of
5
based on
66
ratings.