Fat Dragon
| The Great Yorkshire Brewery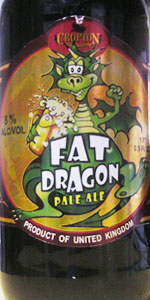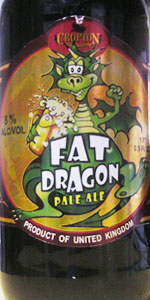 BEER INFO
Brewed by:
The Great Yorkshire Brewery
England
,
United Kingdom
thegreatyorkshirebrewery.co.uk
Style:
English Strong Ale
Alcohol by volume (ABV):
8.00%
Availability:
Year-round
Notes / Commercial Description:
No notes at this time.
Added by wheatyweiss on 07-03-2010
Ratings: 12 | Reviews: 10

2.35
/5
rDev
-11.7%
look: 2 | smell: 2 | taste: 2.5 | feel: 2.5 | overall: 2.5
Pours a murky, medium brown color with almost no head and slight piece floating in it. Has a slight scent of hops but that's about it. The taste is slightly tart with very little bitterness. Compared to most pale ales, you would think this is a beer gone bad, but lots of other reviews describe the same look that I see. Not really too much taste overall. I'm glad I got this as part of a closeout deal as this is not something I enjoy or will buy again.
458 characters
2.18
/5
rDev
-18%
look: 2.5 | smell: 2 | taste: 2 | feel: 2.5 | overall: 2.5
Reviewed from notes.
A. Murky ruddy brown color with a finger and a half of foam that lasts for about a minute with only minimal lacing properties.
S. Some nondescript acidic tartness jumps out at my nose immediately. Underneath is a very odd wooden sort of malt aroma (like smelling a warm 2 by 4 plank or even sawdust perhaps) that doesn't raise the best of expectations for the flavor. At least it doesn't smell boozey. Where are the hops?
T. Exactly the same progression of flavors happen in exactly the same order as in the nose.
M. Unfortunately quite severely thin and watery for the style, to the point of distraction. Needs carbonation and a heavier body.
If only this beer was labeled as a Flanders I would have been more forgiving in my review. But unfortunately, 'Pale Ale' is printed quite clearly on the sticker and the truth is that any kind of hopping at all is nearly completely undetectable in this beer. Really the best thing this beer has going for it is that it doesn't taste like an 8% beer. But than again, neither does it taste like a Pale Ale.
1,073 characters

3.12
/5
rDev
+17.3%
look: 3 | smell: 3.5 | taste: 3 | feel: 3 | overall: 3
Clear red colored beer with basically no head formation.
Smells strongly of toffee and sour apple. Little bit of butter and vanilla in the scent. Herbal English style hop and a faint tobacco scent.
Starts out sweet with a oaken flavor and herbs. Not really strongly flavored mostly it is toffee candy in flavor. Bit of butter and vanilla tasted.
Mouthfeel is OK.
Overall this is a forgettable beer, can really recommend it.
427 characters
1.15
/5
rDev
-56.8%
look: 1.5 | smell: 1.5 | taste: 1 | feel: 1 | overall: 1
A: Deep rich thick apple-cider cloudy caramel brownish color with half a finger of quickly receding head. Tons and tons of little floaty bits hovering menacingly throughout, not moving up or down. Like toxic pond water.
S: Pungent pale malts; particle board, with a touch of cedar. Copper tainted tap water.
T: Extremely sour front, metallic flavor overall, like copper or steel. Rust... I'm beginning to wonder if I'll need a tetanus shot after this.
M: Wet. Almost no carbonation at all to support the untenable flavor. Floaty bits throughout.
O: This beer frightens me. Not because it's overly pungent or strong, but it just feels... rotten. Like I might be sipping at somebody else's waste. Maybe this could be classified as storm drain runoff. I've seldom tasted anything this bad. I think I'll wash this down with lots of water and try to move on to happier tasting... and hopefully I don't get ill.
910 characters

3.39
/5
rDev
+27.4%
look: 2.5 | smell: 3.5 | taste: 3.5 | feel: 3 | overall: 3.5
Pours a one finger off-white head that fades quickly to a ring leaving a trace of lace. Murky amber color, ton of yeast left in bottle. Light-medium carbonation and medium bodied. Caramel nose and flavor is caramel, musty, earthy and is watery. Unusual English pale. Higher ABV is hidden. $7.00 for a 330ml bottle from Tully's Beer & Wine Wells, Me.
349 characters
1.95
/5
rDev
-26.7%
look: 2 | smell: 2 | taste: 2 | feel: 1.5 | overall: 2
I was very disappointed in this brew as Cropton usually brews a good beer. The beer pours a murky amber color that settles quickly in a snifter glass and leaves a thin brownish film on top. The beer smells very tarty and is bitter to the taste. The aftertaste really brings this beer down as for the fact the aftertaste does not go away and is extremely bitter on the tongue. A bit disappointing considering I paid $5.49 for a pint bottle.
439 characters
2.78
/5
rDev
+4.5%
look: 3 | smell: 2.5 | taste: 3 | feel: 3 | overall: 2.5
(Served in a nonic)
A- This beer pours a dense caramel brown body with lots of trub swirling around and a thin film of beige that fades to a hint of a ring. There is no sign of carbonation.
S- The clean aroma has only a woody malt hint with a touch of cardboard coming through as it opens.
T- The tart flanders red note is bright with a woody malt note that fades into a watery taste in the finish.
M- The light mouthfeel has a slightly watery texture and no alcohol heat. There is just a touch of fizz that comes through as it warms.
O- This is an 8% ABV Pale Ale? I didn't get any hops at all or malt character except for the woody stale quality and water. The flanders red tartness was interesting but I'm not sure it was intended. Very underwhelming.
763 characters
4.04
/5
rDev
+51.9%
look: 3.5 | smell: 4.5 | taste: 4 | feel: 3.5 | overall: 4
Poured from a 500 ml bottle into a tulip glass.
Appearance: Beer is a rusty amber color (bordering on muddy), with a dirty eggshell color head. Fades down to a ring around the edges and a cap in the middle.
Smell: Very nice clove feeling at first. Very crisp, with some banana bread in the background. Perhaps some light floral hops. Maybe just a touch of "bubble gum" flavor too.
Taste/Mouthfeel: Cloves, grapefruit, floral hops. Decent toffee malt base which doesn't so much "coat" the tongue as grace the tongue. Fairly light on the tongue, and it goes down slightly sour.
Overall: A solid good beer. Definitely worth trying, and it fits into the style perfectly.
671 characters
2.76
/5
rDev
+3.8%
look: 4 | smell: 3 | taste: 2 | feel: 2 | overall: 4
My curiosity was peaked when I couldn't find ANYTHING about this beer, ANYWHERE.
Poured out of a bottle into the most sophisticated of Solo cups. Good head, off-white, about a finger-and-a-half.
Smells of stale malt, maybe brown bread. Not too much going on here.
Tastes like it smells. Old, slightly bitter malts, cocoa bread without the sweetness. Brown. Bland. Blah. Not offensive by any means, just not interesting enough to hold attention. For 8%, there's not even a hint of the alcohol, which normally I would enjoy, but in this case it just adds to the overall emotionless-ness. You know that flavor after you've soaked a bowl of milk in Cocoa Krispies for 20 minutes? It's that flavor minus the sweetness of the chocolate.
Mouthfeel is... a bit on the thin side. I'm talking Twiggy thin, not I'm-going-to-die-from-Anorexia thin.
Drinkability really wasn't that bad. The alcohol is nowhere to be found, which kind of forces you to drink it quick, searching for the flavor that is obviously not coming. By the time you've downed the 500ML bottle, the 8% has already hit you.
Overall: It's not terribly offensive, and packs a punch, but I need something with more going on, that will hold my attention. I lost interest after the first 1/4 of the bottle.
1,269 characters
2.66
/5
rDev 0%
look: 3.5 | smell: 2.5 | taste: 2.5 | feel: 2.5 | overall: 3
Poured from a 16.9 ounce bottle into a czechvar glass.
Pours a rusty amber with a heavy cloud and a modest creamy head that dissipates fast.
Aroma is of rich malt, caramel and buttery. Minerals give a metallic aroma. Spicy phenolic aromas with a hint of alcohol.
Flavor is very badly attenuated malt, peppery and bitter from an extremely over exhausted roast and extended boil. Hop s are light giving a slightly peppery flavor. Malt is sweet and sticky. Mineral rich flavor is not the same as mostly English Ales I've had before, this mineral taste is metallic. Finishes sweet and cloying with alcohol esters.
Mouthfeel is watery and thin. Carbonation is too light, this is a malt forward "malt liquor" at best.
Actually would not buy this again.
761 characters
Fat Dragon from The Great Yorkshire Brewery
Beer rating:
8.3%
out of
100
with
12
ratings