Zeno's Rye Ale
| Otto's Pub and Brewery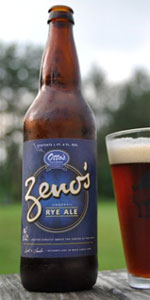 BEER INFO
Brewed by:
Otto's Pub and Brewery
Pennsylvania
,
United States
ottospubandbrewery.com
Style:
Rye Beer
Alcohol by volume (ABV):
6.50%
Availability:
Year-round
Notes / Commercial Description:
No notes at this time.
Added by jsbrendle on 09-20-2008
Reviews: 15 | Ratings: 50
4.05
/5
rDev
-3.1%
look: 4 | smell: 4 | taste: 4 | feel: 4 | overall: 4.25
Always nice to come across a new rye beer.
Overall, a pretty decent ale here. Consistent hop influence with mild resin and some pine on as well. Mild spice tones from hops also. Smooth. Pretty easy drinking. Certainly not bland and not trying to obliterate your palate. A nice beer.
284 characters
4.35
/5
rDev
+4.1%
look: 4 | smell: 4 | taste: 4.5 | feel: 4.5 | overall: 4.5
A 650 mL bottle purchased at Zeno's To Go, the only place to get this epic rye ale.
A: The rye ale is a full brown hue, darker by a few shades than the bottle that it came in. A finger and a half of head, an off-white color that looks just a little dirty, is trying to lace around my mug.
S: Citrusy hops stand out, sweetly bitter, against the caramel and rye malt body. Peppery, darker fullness comes from the rye.
T: The first sip reveals the depth of the rye, a dark bready taste that offers just a bit of caraway. Matched with the rye is an in-your-face hop profile, citrusy in nature. The flavors alternate, rye-hop-rye before settling in with a pleasantly hoppy finish. An awesome rye beer.
M: The rye is spicy and the hops are alive with bite. Easily one of the best rye beers I've ever had.
D: I can't rave enough about this beer. I'm happy to report that I'll be in State College next weekend and will stock up on a few more bottles.
947 characters

4.22
/5
rDev
+1%
look: 4 | smell: 4.5 | taste: 4 | feel: 4 | overall: 4.5
I'm getting repetitive thanks syndrome from all the good beer dropping out of the sky from my good friend beerisheaven. Add another brick to the wall. 22 oz. bottle split with my wife while re-watching the first couple episodes of 24. The first potential black presidential candidate, David Palmer. Hah!
Pour is clear-filtered copper tubing, fairly still. Nose is a winner, heavy rye mingled with a citrusy tang, echo of pine. Very nice.
Zeno's Hoppy Rye Ale is a slick little doppleganger. The first taste reveals layers going back to the Plessianic Era. Big sweet malts threaten to make this too too much, but the rye asserts itself like a WWW wrestler; handful or earth & spices jar the back of the tongue. Then the hops. The hops! They show up & stick. Nice bitterness with a dose of pine, orange. I could slurp this like river water after the canoe capsizes.
Tons of flavor, nice layers, & the tastes all feed off each other in that way that truly good beers do. Is there anything better than having an excellent rye beer in your glass? Well, yeah, but this is niiiice.
1,078 characters

4.23
/5
rDev
+1.2%
look: 4 | smell: 3.5 | taste: 4.5 | feel: 4.5 | overall: 4.5
Poured from bottle into pint glass
Appearance - A very dark red color,almost brown. A off white head formed in pouring and faded fast giving way to some nice lacing.
Smell - Hops hit you up front. Citrus and pine really take hold. Can pick up a faint hint of caramel, but the hops really dominate.
Taste - Sweetness of caramel and malty bread like flavor hit the mouth right when the beer meets the tongue. This is quickly overshadowed (but in a pleasant way) by the hoppiness of the beer. The citrus hop flavor stands out, but a bit of the pine works in with the citrus. Very tasty.
Mouthfeel - I would say just about a perfect level of carbonation and a nice smooth body. This is one beer that is both easy and enjoyable to drink.
Overall - The best Rye I have ever had, and high on my overall list. In terms of greatness/price ratio it is likely the highest beer of all I have ever had.
894 characters
4
/5
rDev
-4.3%
look: 4 | smell: 4 | taste: 4 | feel: 4 | overall: 4
22oz. bomber on 10/18/09. Thanks to akorsak for sharing.
A - Poured a slightly hazy orange/caramel-colored body with a finger's worth of creamy beige head that retained well and deposited some stringy lacing around the glass.
S - Huge spicy rye presence with lots of perfumy hops and some citrusy notes in the background. Malt character suggests burnt caramel.
T - Initial flavor is a well-rounded balance of spicy rye notes and assertively bitter hops. Hop character incorporates perfumy, citrusy and floral notes. There's also a heap of caramel malt sweetness to balance the load.
M - Medium bodied with a syrupy texture and moderate carbonation. Dry, spicy finish with moderate hop bitterness that lingers for a while on the palate.
D - Very good rye IPA that's specially brewed by Otto's for one of PA's best beer bars - Zeno's. This is just a really good hoppy rye beer that I'm happy to see in bottles.
915 characters

4.1
/5
rDev
-1.9%
look: 4 | smell: 4 | taste: 4 | feel: 4 | overall: 4.5
The first in a new line of brews made especially for Zeno's by hometown micro Otto's.
A-Brilliant deep copper with a medium light tan head that reduced a bit and left spotty lace.
S-Citrus hop pop up front with a substantial biscuity malt profile. A bit of extra spiciness with the rye malt addition.
T-Really nice, like a "poor" mans Founder's Red's Rye. Plenty of spiciness, citrusy hops and a solid biscuit bas makes this one a tasty brew.
M-Medium-light, crisp with a nice astringent kick. Hop flavours linger throughout.
D-A most inpressive house brew. Plenty of flavour and crispness. This one is an easy drinking and eminently sessionable brew. If this is an indication of what's to come from this series I welcome more additions!
742 characters
4.42
/5
rDev
+5.7%
look: 4 | smell: 4.5 | taste: 4.5 | feel: 4 | overall: 4.5
On-tap at Zeno's earlier this afternoon.
A- Body is a nearly transparent red/amber hue. Served with a 1/2 finger or so slightly rusty foamy head. Head fades to a thick collar but has great retention from there. Some lacing left behind in the glass.
S-Nice hoppy smell, lots of grapefruit and other citrus (lemon, orange) upfront but a good bready backbone with a hint of caramel.
T- Taste is similar to the smell. Nice hoppy flavor with a good dose of citrus hops upfront and a substantial bready rye and caramel malt backbone. Finish is more hoppy as the bitterness begins to kick in but a sweet breadiness lingers to balance out the bitterness.
M- Medium tingly carbonation and medium weight body that is full,smooth, and somewhat oily.
D- This is awesome and one of my favorite rye beers-2nd only to Cane & Ebel. Well put together and very drinkable-I'd like to try other offerings from Otto's pub.
906 characters

4
/5
rDev
-4.3%
look: 4 | smell: 4 | taste: 4 | feel: 4 | overall: 4
22 oz bottle. Pours amber with short lived white head and lively carbonation. Aroma is of citrusy hops, fruit jam and caramel malt. Body is medium and crisp. Citrusy hops, ripe fruit, caramel malt and spices fill the mouth. Finish is long and slightly bitter. Tasty, nicely balanced brew.
288 characters

4.25
/5
rDev
+1.7%
look: 4 | smell: 4 | taste: 4.5 | feel: 4 | overall: 4.25
DATE TASTED: October 18, 2013 ... GLASSWARE: Howard's Pub pint... OCCASION: another booty of beer for beating Ryan in fantasy baseball--prosit, friend!... APPEARANCE: medium-dark brown body that cascades upward thoroughly; head is almost as white as Santa's beard-- thick and frothy with thick lacing... AROMA: bright rye scent reminiscent of vanilla and clove; some cinnamon and cookie dough as well; nicely complex..PALATE: full-bodied, big in the mouth and substantial in its aftertaste; nicely balanced...TASTE: an ale that retreats at its impact; actively citric at the throat but easy-drinking with a doughy exhale...OVERALL: a slap of something heavier hits at the glass's bottom; a winner in the sense that most pales occupy the same space on the tongue, while this beer--and Otto's is a great place to enjoy beer, BTW--engages in a slightly nuanced way with some extra ABV to boot...
892 characters

4.66
/5
rDev
+11.5%
look: 4.5 | smell: 4.75 | taste: 4.75 | feel: 4.5 | overall: 4.5
Poured a clear dark amber with a two finger white head.
Smells like citrus and aromatic hops. A little caramel malt comes through
Citrus and a little earthy pine in the taste. Perfectly balanced. Slightly bitter aftertaste
Lots of carbonation in this beer and lots of flavor. Thanks to Otto's and Zeno's for this rye ale.
Would definitely grab this one again
362 characters
3.36
/5
rDev
-19.6%
look: 4.25 | smell: 3.25 | taste: 3.25 | feel: 3.25 | overall: 3.5
Pretty straightforward, fairly pedestrian beer. The spice & heft that you'd normally associate with rye is mostly absent, it plays as a nondescript pale ale with some medium hop bitterness being the only thing that really stands out.
233 characters

4.1
/5
rDev
-1.9%
look: 4 | smell: 4 | taste: 4 | feel: 4 | overall: 4.5
Had this last night at Zeno's pub. Glad to see that this one will be available in bottles soon. Poured into a pint glass by Dave.
A: Pours a rusty copper with a nice one finger light khaki head. Pretty hazy and one of the best lacers that I have ever seen.
S: I didn't realize this was a Rye IPA so I was caught off guard with the vast hop scent. A nice blend of citrus, cascade I would assume, but a nice pine characteristic as well. Some nice rye bready scents and caramel come through as well.
T: Taste is spot on for the style. Very nice hop aspects to this beer with great orange, lemon and light fruit characteristics. Those are all balance nicely with a pine and rye bready quality.
Overall, another great offering by Otto's for the great pub that is Zeno's.
769 characters
5
/5
rDev
+19.6%
look: 5 | smell: 5 | taste: 5 | feel: 5 | overall: 5
Had on-tap at Zeno's a while back for a nice visit back to Penn State.
I had told the bartender that I was a big fan of Troegs Nugget Nectar, he suggested I try the new rye ale brewed by Otto's just for Zeno's. Although Nugget Nectar, and this rye beer are very different, I definitely feel they are similarly appealing in some senses.
The beer poured a nice dark amber color. Seemed nearly black inside dark Zeno's but when I held it to the light, you could see the nice ambor color. It had a small head to it, but it held throughout consuming the beer.
It had an awesome combination of a hoppy, bready, and malty smell. Really got me excited to drink the beer.
Phenomenal taste and mouthfeel. It has a nice full body that completely coats your mouth, plently of flavor. I notice a great hop character right of the bat, followed by an awesome rye after taste.
I've had Founder's Red Rye, and Cane & Ebel, both awesome beers. But, I really feel Zeno's Rye is a better Rye. I just has a much better feel in your mouth, and a more full body than the Founders beers. Give it a try if you make it to State College!!
1,116 characters
3.95
/5
rDev
-5.5%
look: 4 | smell: 4 | taste: 4 | feel: 3.5 | overall: 4
New draft brewed by Otto's for Zeno's Pub, casks also forthcoming I've heard. Not all that much head. Nice reddish hue. Grainy/spicy flavors from the Rye. A bit of hops to balance and a nice finish make this one an easy drinker for the rest of the Fall until the kegs run out.
276 characters
4.32
/5
rDev
+3.3%
look: 4 | smell: 4.5 | taste: 4.5 | feel: 4 | overall: 4
A: Clear, deep amber color with about a finger of white head.
S: Hops, hops, hops! Very piney and citrusy.
T: Follows very closely from smell. Great hop and mild citrus flavor with only a mild bitterness.
M: Awesome - moderate carbonation and very smooth/drinkable despite the hoppiness.
D: I'm not a huge fan of hoppy beers, but man, this was good. It was perfectly balanced and extremely enjoyable to drink. Something that I would definitely pick up again.
463 characters
Zeno's Rye Ale from Otto's Pub and Brewery
4.18
out of
5
based on
50
ratings.