Slab Cabin IPA
| Otto's Pub and Brewery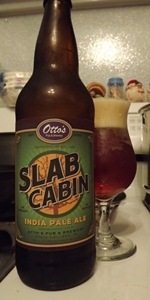 BEER INFO
Brewed by:
Otto's Pub and Brewery
Pennsylvania
,
United States
ottospubandbrewery.com
Style:
American IPA
Alcohol by volume (ABV):
6.30%
Availability:
Year-round
Notes / Commercial Description:
No notes at this time.
Added by Kegatron on 09-27-2008
Reviews: 59 | Ratings: 165
4.15
/5
rDev
+7%
look: 4 | smell: 4 | taste: 4 | feel: 4.5 | overall: 4.5
A 22 oz bomber picked up at the brewpub yesterday.
A: The IPA is the same color as the amber bottle it came in. Brighter orange hues punctuate the narrower parts of the glass. Two fingers of head have left lace all around the top quarter of the glass.
S: The nose is a floral with an oily citrus presence. Grapefruit is near the forefront, almost matching the flowers.
T: Citrus hops set the stage, showing off grapefruit and peach flavors. A floral bitterness rounds out the hops with a bang. Caramel malts have a bready flavor that sits contentedly in the background to bolster the hops. I always found the Double D to be too much; this one does it just right.
M: A pleasantly hoppy IPA, the floral flavors jump out early. A smooth bitterness ensues, leaving an oily taste.
D: Another winner from Otto's, especially in the bottle form. Allowing it to warm made it better than the on-tap version.
902 characters
4.37
/5
rDev
+12.6%
look: 3.5 | smell: 4 | taste: 4.5 | feel: 4 | overall: 5
A: 22oz bottle into a pint glass. Got a nice two finger head under a fairly hard pour,retention was fair, but lots of lacing all the way down the glass. dark reddish amber in color with very few carbonation bubbles.
S: Nice nose on this one, pine needles right off the bat with a little caramel and brown sugar in the background.
T: More pine needles along with some floral esters. I do detect some caramel malt coming through a bit, although hops are very much in the forefront. All in all a fairly balanced IPA.
M: Buttery smooth on the palate, and the carbonation seems spot on, although I could hardly detect any in the appearance.
D: Way high on this one! I could and will session this beer for sure, and the low ABV helps in that respect.
All in all this is a fine IPA. I'll definitely buy this again. So far I've liked everything I've tried from Otto's, and this beer doesn't disappoint either. I definitely will miss Double D as that was one of my favorite DIPA's, but they offer plenty of other fine brews to enjoy.
1,029 characters

3.88
/5
rDev 0%
look: 4 | smell: 3.5 | taste: 4 | feel: 4 | overall: 4
On tap at the pub.
A-Pours a clear copper amber with a thin white head and decent lacing.
S-Some sweet malt and some citrus hops.
T-Pretty balanced taste throughout. Not a huge hop presence but a nice citric bite to balance the sweet malt.
M-On the light side of medium bodied with a lingering hop bitterness.
D-A nice easy drinking session IPA. I would not go out of my way to find this one but it's tasty.
HV
416 characters
4.2
/5
rDev
+8.2%
look: 4 | smell: 4 | taste: 4.5 | feel: 4 | overall: 4
16oz serving on draft presented in a tulip pint.
A - Rich copper body with one finger of off-white head. The head diminishes after a few sips but sticky lace clings to the glass all the way down.
S - Aggressive hop nose with grapefruit and resiny pine; a touch of caramel malt in the background.
T - Plenty of grapefruit and pine with toast and toffee. Nice assertive bitterness, with a little background maltiness to keep it from being a one-dimensional hop bomb. The finish is pleasant and long with lingering bitterness.
M - Medium body, peppery.
D - A good, sessionable IPA along the lines of SN Celebration. I was impressed with the quality of this brew.
664 characters
4.42
/5
rDev
+13.9%
look: 4 | smell: 4.5 | taste: 4.5 | feel: 4 | overall: 4.5
Out to lunch with the girl, and decided to pick up a growler of this ale.
A A light ruby/amber. Pours a half finger head that dissolves into a thin layer fairly quickly. Laces well..
S Really nice, piney and light fruit scents. Some apricot, peach, and slight hop scents. Very well balanced, a scent like this is a thing of beauty, and really excites me for what is to come with the taste.
T Very smooth onset, which compliments the scent very nicely. Mouthfeel is very refreshing and fairly carbonated, and the ale finishes very well with a nice springy set of hops and apricot coming through.
A very refreshing IPA, great for any time of year. I'm really happy I purchased this in a growler, and can not wait to continue to drink this through out the week. I don't believe that Otto's bottle's this, so if you're in the State College Area, definitely stop by this premium brew house.
892 characters

4.2
/5
rDev
+8.2%
look: 4 | smell: 4 | taste: 4.5 | feel: 4 | overall: 4
Honey-gold in appearance. A healthy, fluffy off-white head. Light lacing on the glass as I sip away.
This may sound weird, but it smells like a brewery. It's got that mix of hops and yeast and malts that floats through the air when you take a tour. The hops stand out the most. A pleasant fresh sort of smell.
A very nice balance between sweetness, bitterness and hoppiness. I'm actually really surprised how well balanced this tastes. This might be a great bridge into hoppy beers. Perhaps gross, but the burps in my mouth taste very nice.
The mouthfeel is very smooth though perhaps a bit on the watery side.
This could easily be a staple IPA for me.
656 characters

4.25
/5
rDev
+9.5%
look: 4 | smell: 4 | taste: 4 | feel: 4.5 | overall: 5
The full time IPA on tap to replace the much loved Double D.
A-Deep brilliant copper with a medium light tan head that reduced to a small cap that held tight. Nice amounts of lace left behind.
S-Nothing fancy but all solid. Citrus, pine and sweet malt mingle in a dance for the nares.
T-An initial sharp spicy citrus hop bite that is backed up by an agressive malt sweetness. Certainly a hop forward brew but the malt comes through.
M-Medium to almost medium light bodied and crisp. A nice long, lingering hop bite prevails.
D-While this is no DD it certainly is an easy all day long drinker. Not the malt/hop bomb but a worthy replacement considering it uses only half the amount of hops. A nice brew to have on while we wait for the return of DD.
754 characters
4
/5
rDev
+3.1%
look: 4 | smell: 4 | taste: 4 | feel: 4 | overall: 4
On tap at Otto's on 10/19/08. Served in an imperial pint glass.
A - Clear medium copper-colored body with amber highlights and about half a finger of creamy off-white head that receded into a patchy film and left a bit of lacing. Minimal amount of carbonation present.
S - Pine and citrus hop notes with an underlying caramel malt sweetness and a touch of alcohol. Pretty standard IPA aroma that is simple, yet pleasing.
T - Citrus hops are at the forefront of this IPA with hints of pine and resin in the background. Pretty juicy hop flavor overall. Malt is primarily sweet caramel with some toffee notes. There is also a hint of graininess in the finish.
M - Medium body with an oily texture and moderate carbonation. Sweet on the palate with a fairly aggressive bitter finish.
D - Solid IPA and a worthy successor to Double D. Nicely balanced with enough of a hop presence to please most hopheads.
908 characters

4.1
/5
rDev
+5.7%
look: 4 | smell: 4 | taste: 4 | feel: 4 | overall: 4.5
Served on-tap at the brewpub and poured into a 20oz glass. Appears a transparent golden amber color with about one finger of off-white head. Smells and tastes of sweet caramel malts, pine and citrus(grapefruit, lemon). Medium in both body and carbonation. Deuane and I simultaneously agreed that we could sit there and drink this all day. This beer will almost make you forget that Double D is on hiatus.
404 characters
Slab Cabin IPA from Otto's Pub and Brewery
3.88
out of
5
based on
165
ratings.