Scotch Ale

Guadalupe Brewing Co.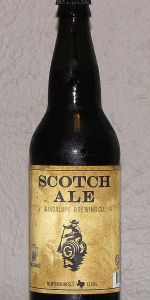 Rate It
Beer Geek Stats
| Print Shelf Talker
Style:

ABV:

8.17%

Score:

Avg:

4.04

| pDev:

13.37%

Reviews:

10

Ratings:

From:

Avail:

Year-round

Wants

Gots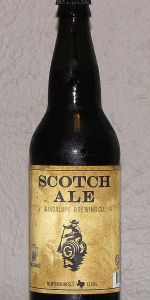 Notes:
JohnDee from Texas
4.16
/5
rDev
+3%
look: 3.75 | smell: 4 | taste: 4.25 | feel: 4.25 | overall: 4.25
Pours an opaque dark golden brown. Sweet aroma reminiscent of stone fruit or mead. Taste is sweet and bready with just enough hops to give it a nice, delicate balance. Alcohol blends well with the taste. Smooth and medium bodied with a slightly dry finish. Delicious.
May 28, 2016
Myotus from Texas
4.17
/5
rDev
+3.2%
look: 3.75 | smell: 4.25 | taste: 4.25 | feel: 3.75 | overall: 4.25
Poured at 56°F from a 22oz bottle (bottled date 09Feb16) into a thistle glass. Consumed on 18May16.
LOOK: Pours with two fingers of khaki foam that recedes into a half fingers worth within two and a half minutes. Mohagony in color with an extreme amount of cloudiness. Bubbles are both small and medium in size while being moderate in quantity. Lacing is thick, but very subtle.
SMELL: Strong aromas of sweet bread, caramel, figs, and plums entangle with mild aromas of smoked goodness and subtle black tea. Hints of alcohol are also present.
TASTE: Strong caramel flavors along with completely random flavors of mild banana (since they weren't in the smell) first caress the palate upon first sip. Strong sweet bread flavors immediately follow and bring some balance while also increasing the sweetness of the brew. Mild flavors of plums and figs roll out next to further amplify the sweetness, but are quickly met by subtle smokey flavors, which present their own balance to the brew. Subtle flavors of wood, black tea, and alcohol finish off the taste symphony as all previous flavors press on.
FEEL: As expected from this style (and should be), the beer is full-bodied. Carbonation levels are high. Goes down somewhat rough. Finishes with a mild dryness.
NOTE: A very sweet brew as I would expect from the style. The alcohol, black tea, and smokey flavors were just enough to prevent any cloying. The banana flavors threw me off, but didn't negatively impact the overall flavor, but rather add a unique presence that is not usually tasted in this style. I strongly ecommend this brew to anyone who loves the sweeter side of the beer spectrum.
May 19, 2016
tubeyes from Texas
4.1
/5
rDev
+1.5%
look: 3 | smell: 4.25 | taste: 4.25 | feel: 4 | overall: 4
Hazy brown in color, minimal to no head or lace for me.
Very sweet nutty amazing nose. Taste is very sweet, nuts, pecans, dates, warm yumminess. Had on tap in shaker pint at Tavern on the Creek.
Jan 28, 2016
ElJacobian from Texas
4.2
/5
rDev
+4%
look: 5 | smell: 3.75 | taste: 4.25 | feel: 4.5 | overall: 4.25
Love the depth and complexity of flavor. Taste has much more dark fruit than I anticipated. I'm getting plum, fig, apricot and dark grapes. I think its score is a little low on here.
May 09, 2015

Jugs_McGhee from Colorado
2.18
/5
rDev
-46%
look: 3 | smell: 2.5 | taste: 2 | feel: 2 | overall: 2
BOTTLE: Purchased at Whichcraft in Austin, TX. Bottled 09/30/14. 22 fl oz. Brown glass. Boring label design. Unbranded black pry-off cap.
8.17% ABV. "Scotch ale" aged on American oak per the label. Reviewed live. Expectations are above average. Served cold into a pilsner glass and allowed to warm over the course of consumption.
No bubble show forms as it's poured.
HEAD: ~.5 inches wide. Khaki colour, with a great shining complexion and a good even consistency replete with nice creaminess and frothiness as well as nice sticky fullness and thickness. Leaves light lacing as it recedes.
Retention is above average - ~3-4 minutes.
BODY: Dark auburn-brown of average vibrance. Not a clear beer, but a translucent one. Murky and dark, but not filled with yeasty dregs or anything.
It's a pretty average looking Scotch ale. Nothing to write home about, but passable.
AROMA: Heavy on the British bready malts and toffee, with plenty of caramel and Scottish malt set off nicely by the subtle oak undertone. White oak barrel sugars are showcased nicely here, with hints of vanilla and toast rounding out the nice but restrained oak character. I'm reticent to say the "barrel" complements the base beer - if only because I doubt an oak barrel was actually used; for oak stave character, this is nice - but it does have an artificial vanilla sweetness indicative of inauthentic vanillin.
Aromatic intensity is average.
Constructively, some Scottish peat would be nice, as would marshmallow or a more expressive Scottish malt backbone. This definitely comes down on the sweeter side, but I'm hoping it will still be balanced.
Suggests a simple Scotch ale with no frills.
TASTE: The Scottish malt backbone is apt, bringing notes of toffee, caramel, and yes - a dab of marshmallow - to the table. English biscuit malt makes an appearance, but sadly no graham cracker. Definitely sweet - perhaps overly so. But the oak character is nice, bringing white oak sugars and faint toastiness. The artificial vanillin note doesn't really work here, and amplifies the already problematic perceived sweetness, but it's not awful. There's some out-of-place peat character which feels entirely forced and unnatural.
It's a simple, shallow Scotch ale with an underwhelming but welcome oak character. They need to tweak the malt bill and bring down the sweetness. I don't hate it in spite of its shallowness and plain presentation of flavour, but the build is definitely mediocre and it lacks the intricacy and subtlety observed in the best beers in the style. Definitely malt-heavy. I dislike it more with every sip, as the sweetness emerges more and more.
No yeast character, booze, or hops come through. Flavour duration and intensity are average.
TEXTURE: Smooth, wet, full-bodied, and overly thick and hefty on the palate. Overall presence on the palate is subpar. Overcarbonated and unrefreshing.
This texture fails to elevate the beer as a whole.
OVERALL: There's no harmony of texture to taste and this beer is neither well-balanced nor gestalt, but it's not awful. With superior beers like Old Chub available at a better price and more widely, I can't see myself buying this again. More middling work from Guadalupe. I wish I had help finishing this; its sweetness grows more and more off-putting the more you drink. Difficult to drink given its lackluster quality. ABV is not well-hidden.
D (2.18)
Apr 21, 2015
Pegasus from Texas
4.1
/5
rDev
+1.5%
look: 4 | smell: 4 | taste: 4.25 | feel: 4 | overall: 4
Appearance: Deep amber in color, with a moderate, somewhat coarse tan head, which slowly fades.. A thick coating of lacing adorns the glass walls.
Aroma: Lots of smoked malt, peat, dark caramel, and earth, very appealing.
Taste: Opens with a wave of toffee and caramel, and a slightly burnt, peat and earth flavor. As the taste progresses, the peat flavors hold sway, if anything, the smoke and peat intensifies, although not unpleasantly. Somewhat sweet, warming alcohol appears midway through the taste, and carries to its conclusion. Finishes with lingering notes of earth and caramel.
Mouth feel: Smooth, soft, full, almost velvety, very nice.
Drinkability/notes: An excellent example of the style.
Presentation: The example I am reviewing was from a sixty-four ounce growler filled a few days ago, refrigerated since and opened for this review; served in a New Belgium Brewing chalice.
Jan 17, 2015

twiggamortis420 from Texas
4.27
/5
rDev
+5.7%
look: 3.5 | smell: 4.5 | taste: 4.25 | feel: 4.25 | overall: 4.25
22 oz bottle (6/19/14 bottle date) pours a light brown color with a modest tan head. Average retention and not much lace.
Nose is very nice...lots of toffee and caramel with dried apricot fruitiness. Rich malts, very deep. Very much to style.
Oak-y, rich malts rock out with their sock out! ranges from semi-sweet chocolate all the way to light caramel and toast. Sweetness level is perfect, just enough to offset the toast. Nutty, full and smooth is how I would describe the mouthfeel. I am really surprised by this beer, one of the better scotch ales I have had. Very good, I might even say one of the better Texas beers out there.
Jul 19, 2014
champ103 from Texas
4.28
/5
rDev
+5.9%
look: 4.25 | smell: 4.25 | taste: 4.25 | feel: 4 | overall: 4.5
A growler purchased from Premium Draught in Houston. I am very happy to see this.
A: Pours a dark, nearly opaque ruby red/brown color. An ultra fine tan head rises to two fingerings. Ultra fine bubbles, incredibly silky and creamy head. Plenty of lace is left as well.
S: Oh man, I like this. Toasted malt, light smoke/peaty aromas, and wood. Wow, I did not know this was oak aged until I looked it up on their website. Chocolate, light caramel sweetness. A great malt character in the nose.
T: Like the nose, this has a wonderful malt character that is very well balanced. Toasted malt, baked bread, light smoke, and the woody/oak flavor. Chocolate, vanilla, and light caramel malt. A total malt bomb that is incredible.
M/D: A medium body with ultra fine carbonation, which I could have guest from the look. So smooth. This is like silk. I can not tell the alcohol here at all. The incredible malt balances makes this a treat to drink.
Yep, I am a fan. I might like this better than Real Heavy for the best regularly made Texas Wee Heavy. Nothing is over the top, and everything is in balance. Which is perfect for the classic Wee Heavy style. I am very impressed by this. Highly recommended.
Jul 11, 2013
ExaltedNecrosis from Texas
4.45
/5
rDev
+10.1%
look: 4.25 | smell: 4.25 | taste: 4.5 | feel: 4.75 | overall: 4.5
32oz growler from Big Hops Gastropub poured into a pint glass.
A: Pours a surprisingly clear ruby brown with 2 fingers of smooth, creamy tan head. Head lingers a bit.
S: Caramel, toffee, bready malt. Smells very sweet.
T: Much the same as the aroma, it tastes like caramel, toffee, sweet bread, with a character of oak. The alcohol decently hidden.
M - Smooth and creamy. Moderate carbonation, moderate body, and it is just insanely smooth feeling. A bit chewy.
O - One of my favorite scotch ales, second only to Dirty Bastard. Incredibly smooth, great sweet malt, this is an amazing beer.
May 14, 2013
Lawl3ss from Texas
4
/5
rDev
-1%
look: 4 | smell: 4 | taste: 4 | feel: 4 | overall: 4
Growler to stemmed tulip pint. Keg to pint ~ 3 hours.
Look- Medium amber, half-finger of tight, frothy head. Good retention for a growler, nice lacing.
Smell- Caramel, toasted biscuit, cream soda, full, herbal undertone.
Taste- Mild, toffee-oatmeal feel. Light herbal, vaguely smoky something but dominated by a robust browned biscuit. Earthy bitterness and mild roast aftertaste.
Mouthfeel- Medium body, medium carb. Silky, full, fairly dry finish. Cleaner than anticipated. Mild-moderate warming for the ABV and style.
Overall- Atypical, but certainly welcome. Absolutely worth trying, I'll definitely be looking for it.
Apr 18, 2013
Scotch Ale from Guadalupe Brewing Co.
Beer rating:
89
out of
100
with
71
ratings