Ampleforth Abbey Beer
| Ampleforth Abbey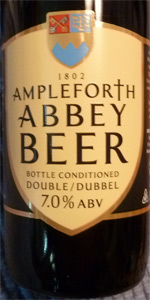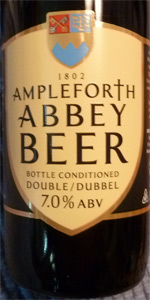 BEER INFO
Brewed by:
Ampleforth Abbey
England
,
United Kingdom
ampleforth.org.uk
Style:
Dubbel
Alcohol by volume (ABV):
7.00%
Availability:
Year-round
Notes / Commercial Description:
No notes at this time.
Added by mmapes on 10-07-2012
HISTOGRAM
Ratings: 14 | Reviews: 9
Reviews by endless1408:
More User Reviews:

2.63
/5
rDev
-20.1%
look: 3 | smell: 2.5 | taste: 2.75 | feel: 2.5 | overall: 2.5
A 330ml bottle with a BB of July 2014. Purchased from Trembling Madness in York some time back and cellared in my garage (although I was also given a gift set of these for Christmas, including a branded glass). The label describes it as an abbey dubbel in the Trappist style, with a fruity, malty character. There is also an interesting bit of history about how the monks fled from England to France and then back again several hundred years ago, sustaining themselves by brewing as they did so. Ampleforth abbey is only a few miles from where I live, so I'm pleased to hear that they're getting into the brewing scene. About time a UK abbey turned it's hand to brewing (although it should be noted that the beer is currently contract-brewed by Little Valley brewery).
Poured into an Ampleforth tulip. Bottle conditioned. A deep, hazy reddish-brown hue clouded by yeast sediment. Carbonation appears to be low. Yields a smallish head of creamy off-white foam that hangs around for a minute or two before subsiding. Aroma of sweet, fruity caramel malt with notes of raisins, dried fruit, brown sugar, caramel/toffee, earthy yeast, faint herbs and stewed hops. There is a hint of vinegar and tart apples in the background, suggesting mild oxidation. Seems a bit too sweet; not brilliant.
Tastes of sweet, fruity malt with a dry finish. Notes of dried fruit, caramel malt, brown sugar, earthy yeast, herbs and stewed hops. The flavour feels too sugary and underattenuated, with a rather harsh quality. Very dry; little bitterness to speak of. A faint funky sourness lurks in the background. Mouthfeel is smooth and earthy, but seems completely flat and uncarbonated. Body is OK. Somewhat astringent, with an aftertaste of earthy yeast, herbs and mild caramel malt.
Flawed to a degree and seriously disappointing. The appearance lacks the lingering fluffy head that characterises many Belgian beers. Both the aroma and flavour seem overly sweet and lacking in attenuation. The flavour also doesn't have the typical yeast ester profile of many Belgian beers, which implies that an inappropriate yeast strain has been employed to ferment this brew. There is a subtle hint of sourness in the aroma/flavour that gives the impression of mild oxidation. Finally, the carbonation level is much lower than one might expect. The beer is based on a traditional recipe that the monks brought with them when they settled at Ampleforth, so how much tinkering can be done is up for debate. However, I reckon that they could do with changing the yeast and probably fermenting at a higher temperature. It's hard to tell what the brewer's intentions were, but this falls far short of many Belgian beers in a similar style. I hope improvements will be made in the future, but in it's current state I cannot recommend this beer as deserving of your time or money.
2,843 characters

3.2
/5
rDev
-2.7%
look: 3.5 | smell: 3.5 | taste: 3 | feel: 3 | overall: 3.25
P- Thanks to my buddy Donn in Europe for this rare brew in the US
A- chewy raisin like color. minimal head and no lacing.
S- raisin/fig and an apple cider vinegar tart smell. some malt as well.
F- an over ripened apple flavor with sweet malts on the back end. unusual and not overly great.
M- sour and chewy. The sour malt lingers too long in the mouth.
O- average at best but an interesting try.
401 characters

3.76
/5
rDev
+14.3%
look: 4 | smell: 3.5 | taste: 3.75 | feel: 3.75 | overall: 4

3.14
/5
rDev
-4.6%
look: 2 | smell: 3 | taste: 3.5 | feel: 3 | overall: 3
Traded from Ben (thanks!) 330ml bottle. Pours muddy brown. Bottle had been upright in fridge for at least a day. I wonder if it needed more time upright to settle, or if it's naturally cloudy.
Taste is slightly watery up front for a 7% abbey beer. Sweet malty taste, with a suggestion of apple/tree fruit. Subtle flavor rather than strong. Not a bad beer, but if I were looking for an Abbey style, I'd go for something more Belgian - something less subtle. Looking forward to see how it ages.
Bottle says the beer is contract brewed by Little Valley Brewery for the abbey.
--Review of a cellared bottle, July 27 2014--
Bottle says Best Before JUL 14. There is a layer of sediment in the bottom.
Dark brown. A clear reddish tint with light behind it. Medium head dissipates fairly quickly. Still smells of tree fruit - apple, mostly. Spice (maybe cinnamon, subtly) on the nose? Dried fruit. Carmel, maybe?
FIrst sip acidic up front. A little thin ("watery"). Subtle, grainy finish that disappears pretty quickly (disappointingly).
Later sips reveal more of the carmel, cola brightness and sweetness. Apple. Very subtle toasty note after the finish. I do like those carmel notes, but the thin body and short finish are disappointing. I'd say it aged well, but it wasn't the best beer to begin with.
appearance becomes 4
smell becomes 3.75
taste - 3.5 was probably too generous the first time, but it's about the same
mouthfeel - drops a bit, maybe to 2.5
overall - 3.25 maybe?
It's better, aged, but I'd still say reach for a genuine Belgian.
1,551 characters

3.49
/5
rDev
+6.1%
look: 3.75 | smell: 3.5 | taste: 3.5 | feel: 3.25 | overall: 3.5
330ml bottle served into a chalice glass.
Look: Pours much like a 'traditional' Belgian dubbel - quite a dark brown with a certain amount of haze even after fairly careful pouring. Off-white head settles back to some surface foam with little in the way of lacing evident.
Smell: Quite a 'sweet' smell - plenty of malts and burnt sugar/caramel toffee smells and an underlying hint of woodiness. Dark fruits, too - think in terms of raisins, figs and the like, and a vague peppery spiciness. Perhaps not quite as fruity as some Belgian beers, but there again this is inspired by Belgian Trappist beers.
Taste: Much like it smells - heavy on the roasted malts with a sugary sweetness and a certain amount of dark fruits thrown in for good measure. The spiciness and some earthy hops come through in the aftertaste which go someway to offsetting the initial sweetness. Slightly alcohol in the aftertaste, too.
Feel: Slightly watery, which is a bit strange considering the ABV. Sweet up front with an astringent finish.
Overall: It's worth pointing out that this beer isn't brewed at Ampleforth Abbey (about 25 miles up the road from where I live) but contract-brewed by Little Valley Brewery in Hebden Bridge. It's also worth pointing out that this is inspired by the Belgian Trappist beers rather than actually being one (there's a bit of background on the bottle label). As dubbels go it's not bad, and it's an interesting interpretation of the style - not a patch on the 'real thing', though.
1,496 characters
3.49
/5
rDev
+6.1%
look: 3.75 | smell: 3.5 | taste: 3.5 | feel: 3.75 | overall: 3.25
Appearance: This one pours rather a rather dark brown with a light beige head about a finger thick.
Aroma: Dark fruits, raisins, molasses, ripe banana, brown bread, roasted hops, toffee.
Taste: Sticky on the palate with notes of toffee. Molasses, dark fruit, brown bread, raisins, faint pear roasted hops. Dark roasted malts lend out a nice sweetness.
Notes: Overall it's not too bad lots of sweetness in this one. I would buy this one again. Cheers
460 characters
3.47
/5
rDev
+5.5%
look: 3 | smell: 3.5 | taste: 3.5 | feel: 3.5 | overall: 3.5
Best before July 14.
A: deep rich color, rosy-copper color, clear, poured with some head that quickly dissipated
S: medium nose, wet leather and dark malts, traditional Belgium yeast dominates
T: deep roasted malt, earthy with characteristic Belgian dubbel yeastiness, lacks depth but beer style is evident
M: very drinkable for ABV, somewhat thin in mouthfeel
361 characters

3.85
/5
rDev
+17%
look: 3.75 | smell: 3.75 | taste: 4 | feel: 3.75 | overall: 3.75
Beer bottle (25 cl.) purchased from Bières & Chopes, and tasted in 2013.
Appearance : dark brown color with fan foamy head.
Smell : malty, caramel and woodiness aromas.
Taste & mouthfeel : roasted malts flavors with a light bitter finish.
Drinkability : a good beer in the style Dubbel.
288 characters
3.29
/5
rDev 0%
look: 3.25 | smell: 3.5 | taste: 3.25 | feel: 3 | overall: 3.25
Bottle from a Flavourly box. Not a great dubbel, it's quite fizzy and thin, which hides the taste - the usual dark fruit, a bit of sweetness and some malt.
155 characters

3.49
/5
rDev
+6.1%
look: 3.25 | smell: 3.5 | taste: 3.5 | feel: 3.5 | overall: 3.5
3.52
/5
rDev
+7%
look: 3.75 | smell: 3.5 | taste: 3.5 | feel: 3.5 | overall: 3.5
Coming in a 330ml slim brown bottle, BB 12/2015, served mildly chilled in a long-stemmed broad-rimmed goblet (Westmalle's branded goblet, to be precise). Notes: the back label says the beer is brewed and bottled under contract by Little Valley Brewery, of West Yorkshire.
A: pours a deep dark mahogany hue, coming with restrained carbonation and a thin layer of dark beige froth settling fast to a rim to last.
S: burned brown sugar, bitter chocolates, roastiness of black malts, adouki bean paste, sweet herbs, and anise aroma springs to mind; fairly robust, fulsome, and nicely malty while the fruit esters play a relatively mild part on the nose, if comparing it with most Belgian products. As the beer goes and applying a good swirl, the savoury, licorice-ish and floral fragrance does get woken up and lends a bit more pleasant complexities at times.
T: lightly effervescent, the swallow shows rather light-bodied, lightly nutty dark malts followed by light spices, adouki bean paste, burned dark sugar, licorice, a limited input of dates and a lingering but not pronounced level of herbal hop bitterness. Short finish, not particularly dry nor cloying.
M&O: somewhat loose on the palate, but not to the point of being thin, this Dubbel beer keeps its charm with an accent on the malty side, but in comparison with most Belgian take on the style this interpretation by Little Valley is, somewhat, much less estery and exotic for my preference.
1,451 characters
Ampleforth Abbey Beer from Ampleforth Abbey
Beer rating:
3.29
out of
5
with
14
ratings