Camba Bavarian Winter
| Camba Bavaria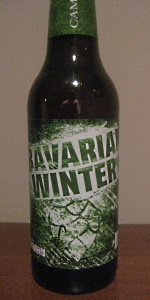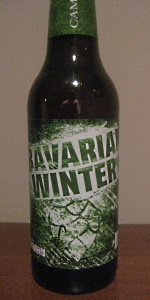 BEER INFO
Brewed by:
Camba Bavaria
Germany
cambabavaria.de
Style:
American IPA
Alcohol by volume (ABV):
5.80%
Availability:
Winter
Notes / Commercial Description:
No notes at this time.
Added by Shadman on 11-01-2016
HISTOGRAM
Ratings: 10 | Reviews: 6
Reviews by ChrisCage:
4.29
/5
rDev
+15.6%
look: 3.75 | smell: 4 | taste: 4.5 | feel: 4.5 | overall: 4.25
A- Well upon opening the bottle I was greeted with a heaping pile of foam ready to escape....all over my lap and table....not a great start. After settling down, this does provide a very well retentive cloud like head that is nice and white in color. The brew itself is a hazy golden color with a lot of carbonation swiftly rising to the top of the liquid and the lacing is very modest to my surprise, but leaving an oily film around the side of my glass....interesting look for sure!
S- Plenty of hop bitterness wafts into my nasal passage, and in the background there are sweet balancing aromas of bread/yeast, caramel malt, tropical fruits (melon, banana etc) and citrus crispness such as grapefruits and lemon flesh. The finish is clean....overall a nice smelling brew!
T- The flavors of this are actually much sweeter than the aroma would have let on, with the malt character being the dominant taste initially. Lingering background notes of lychee, mango juice, kiwi and a blend of tart citrus fruits that are more like Valencia orange and Pomello....on the sweeter end of the spectrum rather than sour but still....well tart! The finish is clean and of subtle hop bitterness that is quite quenching and delectable.
M/O- The mouthfeel is smooth and succulent with the large amount of carbonation actually being quite frothy. This is a medium bodied Ale, and is quite drinkable....I wouldn't be upset at enjoying a couple of these in a sitting, and think it would pair well with a medley of dishes. Recommended, but watch out for that initial opening lol!
1,570 characters
More User Reviews:
3.96
/5
rDev
+6.7%
look: 3.75 | smell: 4 | taste: 4 | feel: 3.75 | overall: 4
330ml bottle, day 2 of the 2016 Craft BeerAdvent calendar, and an IPA, made with 4 of the big 'C' hops.
This beer pours a slightly hazy, pale golden amber colour, with three fat fingers of puffy, rocky, and sort of fizzy beige head, which leaves a bit of tacky snow rime lace around the glass as it readily sinks away.
It smells of exotic fruit (lychee and mango, mostly), orange and white grapefruit, grainy pale malt, a lesser caramel sweetness, subtle earthy yeast, and some tame leafy, weedy, and piney green hop bitters. The taste is more tropical fruit up front (kiwi, lychee, and acai berries), grainy and bready caramel malt, ephemeral yeasty notes, generic grapefruit, and more understated earthy, weedy, and floral verdant hoppiness.
The carbonation is quite active in its poking and prodding frothiness, the body a so-so medium weight, and kind of thin-seeming at times, but generally smooth for the style. It finishes off-dry, the complex fruitiness more stable than the fleeting bitterness.
Overall, this is somewhat of a surprise to see in this annual Christmas offering, as hoppy brews don't tend to stand up to the packaging strains of such a thing. At any rate, this one appears to have made it through unscathed, with the hoppiness presenting as deftly balanced, as opposed to a big ol' smack to the palate. Good stuff.
1,345 characters
3.59
/5
rDev
-3.2%
look: 4 | smell: 3.75 | taste: 3.5 | feel: 3.5 | overall: 3.5

4.17
/5
rDev
+12.4%
look: 4.25 | smell: 4 | taste: 4.25 | feel: 4 | overall: 4.25
A Bavarian IPA! That's good!
Golden bronze with a white head, ring of retention, some lace.
Aroma of grapefruit, mango and underlying bready malt.
I was so surprised by the flavour, I had to look at the bottle. Definitely grapefruit and lychee, really great hopping, with a modest bitterness. I wonder what hops they used? Malt is obviously continental and very bready.
Moderate body is smooth, with a light hop acidity in the finish.
Unique and I really like it.
471 characters

3.52
/5
rDev
-5.1%
look: 3.75 | smell: 3.5 | taste: 3.5 | feel: 3.5 | overall: 3.5
From another beer Advent calendar..this one featuring old world Brewers and new world beers.
Debated as to what to style this falls into..the Hops used are all new world so AIPA it is.
Slightly hazy, light peach colour.
Tropical fruit, slight pine, sweet bun dough.
Candy sugar sweet, some tropical fruitiness, sugary sweet grapefruit towards the end. Grapefruit rind bitterness in the finish.
Came across rather watery in places.
All in all an okay example. Lacks balance and hop punching power to truly be a good AIPA.
526 characters
3.65
/5
rDev
-1.6%
look: 3.75 | smell: 3.75 | taste: 3.5 | feel: 3.75 | overall: 3.75
Hey some of these guys below me cheated on their Craft Been Advent Calendars. Santa wont be happy! Don't open until December 1st!
So far, on day two, the wait has been worth it.
When I saw Bavarian I wasn't expecting this.
Poured into a Pint glass if gave a thick two finger head that went down slow into a nice film, good lacing. Beer was a light golden haze with some carbonation.
Scent was a bit of a fruit basket of aroma that had a stronger grapefruit, maybe apricot or mango.
Tastes of a hoppy grapefruit while a little yeast flavour.
Medium wight mouthfeel, carbonation was more than expected from who it looked and leaves a comfortable bitterness after.
Overall I liked it because I'm not used to this style of ease from Bavarian Beers. I've had plenty of German Winter and Christmas Beers form my four years there and never hit one like this so it get points on the surprise factor. Nice presentation, overall enjoyable 2nd day of advent!
964 characters
3.52
/5
rDev
-5.1%
look: 3.75 | smell: 3.5 | taste: 3.5 | feel: 3.5 | overall: 3.5
3.53
/5
rDev
-4.9%
look: 4 | smell: 3.5 | taste: 3.5 | feel: 3.5 | overall: 3.5
3.28
/5
rDev
-11.6%
look: 3.5 | smell: 3 | taste: 3.5 | feel: 3 | overall: 3.25
A bit of a strange one. It is definitely full of hop flavor, but it lacks the malty balance and mouthfeel to be considered as a a winter ale.
A bit too watery for me, but interesting.
183 characters
3.58
/5
rDev
-3.5%
look: 4 | smell: 3.5 | taste: 3.75 | feel: 3 | overall: 3.5
Camba Bavarian Winter from Camba Bavaria
Beer rating:
3.71
out of
5
with
10
ratings