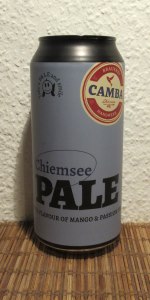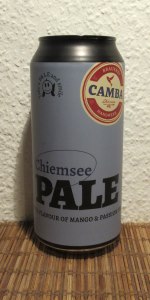 BEER INFO
Brewed by:
Camba Bavaria
Germany
cambabavaria.de
Style:
American Pale Ale (APA)
Alcohol by volume (ABV):
5.20%
Availability:
Year-round
Notes / Commercial Description:
No notes at this time.
Added by boddhitree on 09-10-2013
HISTOGRAM
Ratings: 13 | Reviews: 5
Reviews by boddhitree:

4.58
/5
rDev
+21.5%
look: 4.25 | smell: 4.25 | taste: 4.75 | feel: 5 | overall: 4.5
First, what I notice is the pic on the label… evoking Marilyn Monroe, the iconic American pin up? It definitely has a 50s vibe. Also, the background is earthy, smudged, unclean almost, very in contrast to all Camba's other labels, which are full of clean lines, strong colors and overall pretty boring. No images. All the German style beers have only the stated name of the beer and, well, that's it. Here we have a more evocative image, provoking a link to the craft beer labels in the USA, I'm guessing. Anyway, it's interesting how the American styles are so different in labeling than the German styles. 2nd these beers are available only in 0.3L bottles, instead of the 0.5L bottles for almost all the German styles. More beer for less flavor? Is that the message they're sending? Or more ingredients require smaller bottles, hence higher costs require less product sold at one time, equaling more profit per bottle?
These little things really add up, IMO The overall image here is how they want the beer perceived by the public, and it's interesting to know the thinking behind these marketing concepts.
Ok… the beer. It's 5.2%, orang-ish yellow, or yellowish orange, not sure, but it's dead in the middle of those two colors, with tints of red hiding in the shadows of the glass.
The nose is all grapefruit, orange, lemon, typically C-hops, quite strong and lovely aroma.
The flavor is close to the typical American Pale Ale. Up front lots and lots of bitterness, slightly biting in a manly, aggressive manner. Yummmm. In the middle a tad sourness and astringency with lemon flavors mixed with a little, yes, just a hint of British Pale malt. In the back, again, lots of flavor. I get more bitterness in the back, Pale malt flavors, giving me the feeling I'm drinking a English Bitter while searching for the aftertaste, which is quite strongly in the direction of astringency again.
However, I can taste the German-ness in this beer. First, what makes this beer German is the Pils and Roasted malt flavors that underly the flavor profile. I can taste these are German malts and quite good quality, too. Second, it's mouthfeel is German, thick, romantic, warming,… in a word… süffig. It's a feeling I get from German beers, and that's present in all Camba's beers. How I love that feeling in my mouth.
Overall, slapping a U.S. craft beer label on the bottle doesn't make it a "craft beer," so luckily the beer lives up to the expectations provided by the label. It's an extra aggressively hopped Pale Ale that could be masquerade as a U.S. brewed APA. Is it special, unusual or outstanding for this style? No, and except for the wonderful bitterness here, it's not too different from other APAs, and that's a great, wonderful thing. See, I haven't had, not even laid eyes on an American style Pale Ale since leaving the USA, so this is an exotic taste of a lovely hopped up beer for one hopeless man stranded in Germany. Yet, it's not too far out there for a German tasting this beer for the first time, for it still has familiarity such as undertones of German malts and the mouthfeel that envelopes like a warm blanket. Put all that together, and you get a WOW beer.
3,202 characters
More User Reviews:



3.55
/5
rDev
-5.8%
look: 3.75 | smell: 3.75 | taste: 3.5 | feel: 3.25 | overall: 3.5

4.05
/5
rDev
+7.4%
look: 3.75 | smell: 3.75 | taste: 4.25 | feel: 4.25 | overall: 4
Picked this up at a great beer shop in Darmstadt, Germany, Maruhn Welt der Getränke. Hazy yellow-orange pour with a foamy one finger pure white head with decent retention and lacing. The nose is fruity with hints of lemon, tangerine, orange peel, pine, and subtle resin. The taste follows suit with lots of lemon and tangerine along with hints of pine, grass, caramel, orange peel, and grapefruit. The mouthfeel is tangy and fizzy with great balance and huge drinkability. Overall, this is one of the best German Pale Ales I've had to date. Crisp and refreshing and very flavorful. Definitely worth re-visiting!
619 characters
3.39
/5
rDev
-10.1%
look: 3.5 | smell: 3.75 | taste: 3.25 | feel: 3.25 | overall: 3.25
Straw gold with a hint of haze, almost no carbonation and 3 fingers of rocky white head. Nice lacing.
Orange juice, lemon candy, pine, herbaceous and an almost menthol quality.
Orange tic tacs, pine, lemon cough candies, a little bitter finish.
Light body, little carbonation. A little flat.
Found in Chiang Mai, drank here Jan 14th, 2016. A real good directional step for German brewers. A little flat, but a lot of good qualities going on.
448 characters
3.79
/5
rDev
+0.5%
look: 4.5 | smell: 3.5 | taste: 3.75 | feel: 4.25 | overall: 3.75
L:
-pours a hazy golden with a medium,foamy,white head
-particle floaties visible
-high carbonation visible
S:
-oranges,tangerines,mango,papaya,guava
T:
-Follows the nose plus lemon zest
-medium bitterniss for the style
-finishes very dry
F:
-medium to high carbonation
-medium,creamy body
O:
Really nice
304 characters


3.92
/5
rDev
+4%
look: 4 | smell: 3.75 | taste: 4 | feel: 3.75 | overall: 4
.25 at the Celle Beer Festival.
A: Golden, slightly hazy, lots of bubbles, medium sized head, decent retention, left quite a bit of lacing.
S: Cascade hop.
T: Lots of grapefruit, notes of strawberry gave it balance.
M: Medium body, slightly coarse edge from the bitterness.
O: Seemed to follow the SNPA template.
321 characters

4.48
/5
rDev
+18.8%
look: 4.75 | smell: 4.75 | taste: 4.25 | feel: 4.5 | overall: 4.5

Pale Ale from Camba Bavaria
Beer rating:
3.77
out of
5
with
13
ratings