Ace Beverage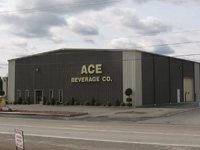 PLACE INFO
Type:
Store
203 Betty Street
Eynon
,
Pennsylvania
, 18403
United States
(570) 876-0260 |
map
Notes:
No notes at this time.
Added by BeerAdvocate
Ratings: 12 | Reviews: 9
1.96
/5
rDev
-55.3%
vibe: 1.5 | quality: 2.5 | service: 1 | selection: 2.5
Service sucks. You never know what you are going to be charged for a case of beer.
One time it is one price & then then next time the price could be 25% MORE. It seems that whoever is working charges whatever they want. PRICES SHOULD BE CLEARLY MARKED LIKE THEY ARE AT MOST OTHER BEER DIST.
293 characters


2.85
/5
rDev
-34.9%
I've stopped an Ace Beverage a few times over the past few years and there are some issues with this place.
#1. They don't accept checks or credit cards. Who is walking around with $100 bills to buy cases of beer with?
#2. Selection is pretty average. They mostly carry domestic and domestic micro-brews. While Rogue and Stone make great products, they are fairly common-place at this point in time.
#3. The past two times I went there and wanted to walk around inside, they gave me an odd look and more-or-less implied that it was not something that they like or condone. Perhaps, these were new employees?
In any event, living in NEPA is rough when it comes to beer. Ace really isn't a great example of a good place to buy as there are far better places only 5mins away in Dickson City. As an example: Wegmans Supermarket has an extremely impressive selection of beers to choose from and the prices rival many places that I've purchased from in NY and NJ.
962 characters

4.3
/5
rDev
-1.8%
Stopped in to pick up a case of beer for an upcoming split. First thing I saw was the drive thru with a couple cars waiting to be stocked up. Since I didn't know what I wanted, I took a walk inside. I was greeted a few seconds later with a very friendly and knowledgeable staff member. He explains to me how the beer is arranged (off to the right is "what you find in just about every distributor", off to the left was the harder to find stuff). One thing I thought was weird was the layout, but it was explained to me that they organize the beer to make it easier to move around, not so much by style/location/etc.
The selection was very good from what I saw: Rogue, Stone, DFH, Bells and the like. I didn't walk over towards the "common beer" side since I wanted something a bit more unique, but from all the beer I saw it looked like you could find just about anything. When I finally picked up my case (Green Flash West Coast IPA), I found the price very reasonable. I will definitely be coming here again.
On a side note, I looked up the address in both Mapquest and my GPS. Mapquest found it no problem, but my GPS found the city to be Archbald, non Eynon.
1,164 characters

4.5
/5
rDev
+2.7%
Really nice selection here. Most of the local beer bars get the majority of their lineup right here. Step inside and you will find Stone, Dogfish Head, Rogue, Unibroue, Ommegang, Kasteel, Green Flash, Tröegs, Chimay, etc. The selection is quite balanced between imports and craft beer. Service was friendly, helpful, and quick. Prices were really reasonable, but then again, you are buying directly from the ID (Importing Distributor) for most of the brands here. Cases and kegs only here though. Certainly worth a stop if you are in the area.
544 characters
4.5
/5
rDev
+2.7%
This is the best distributor I have found within a reasonable distance from my house. They have a large selection of beers that I usually do not see at other distributors and the service is good. If they do not have something you are looking for they will almost always order it.
I found this place after trying Rouge at a local beer festival. After calling all the distributors in my area, this was the only one that carried what i was looking for.
When i arrived i was surprised to find that they had a very large selection of beer and have been going back ever since
572 characters
4.65
/5
rDev
+6.2%
I stopped in a few days back to do a beer run for the guys in the midwest. Since I was visiting home, it was a good opportunity to stock up on some unavailable brands. I grabbed a case of Stone Arrogant Bastard, Oaked Arrogant Bastard, IRS, and Ruination IPA. I wanted to get more, like some Troegs but I already spent 260 on these 4 cases. Anyway it was slow, so the guy inside was able to talk with me for a while. We talked about all sorts of stuff, which is always nice. He kept recommending beers to me and kept saying I should get the West Coast IPA from Green Flash. So he gave me a bottle on my way out from a broken case. I suppose that's not such a huge score since I spent so much! But it was cool all the same. A great stop, nice selection and friendly service.
773 characters
4.85
/5
rDev
+10.7%
This is the only place where I buy beer. They have a large selection of beers including more than a few Belgian beers and yes many in kegs! They also have many domestic craft brews as well. Although set up as a drive through if you park out of the way and wander through the place you will feel like a kid in a candy store. Because it is a drive through you will not see prices as you wander through but all you have to do is ask and they wil be happy to tell you how much everything is. While it may not have the selection of a Shangy's, it is as good as you can get in Northeastern Pennsylvania. I have been buying there for a couple of years and have gotten to talk with the owner and most of the employees and they are both friendly and knowledgeable regarding the products they carry especially those which they distribute locally. They are more than happy to special order from other distributors when you want a product they do not carry. Yes this is Pennsylvania and they only sell cases and kegs; but, if you want to try something before making a major investment in a case or a keg, you can generally sample anything they carry at the River Street Alehouse in Pittston, PA., or at either Cooper's locations in Scranton or Pittston. Actually, I have refrained from writing this review for some time as I feared the sometimes limited supply of Belgian beers and other exotics they carry may be sold out from under me if word got out about this place. Even if they are not the cheapest place to buy a given beer, as one reviewer noted who paid more than he paid more than expected, I believe there is more to value than just price. If you know a better place to buy good beer in Northeastern PA, please send me an email because I don't!
1,746 characters

3.6
/5
rDev
-17.8%
The employees were friendly and helpful, so no complaints there. Selection was better than most places - but cases/kegs only - I forgot what buying beer was like in PA (OK is screwed up in its own way). Troegs (including $90 gigantic bottles of Mad Elf), Stone, Harpoon, Chimay, Mendocino, Yuengling (of course), Rogue, and quite a few more. Very disorganized - I spent more time than I wanted to in there, yet couldn't help but think I was missing something.
Only real problem was the Harpoon mixed case I purchased was awfully close to the "best buy" date. The Yuengling was fine (or so my bro-in-law tells me).
Oh - also, there were almost no prices listed, so it's not really fair to comment on value. (though I paid more than I expected for my 2 cases)
763 characters

4.85
/5
rDev
+10.7%
What can I say about Ace Beverage...being from NEPA there is one and only option for good beers..Ace.
As they supply most of the quality bars in that area, it only makes senses to go there. They have expanded there facility and it sounds like they will get bigger and better in the future. Everytime I go there I find something new and exciting like a Stout's Triple or something yummy from Dogfish or a great Belgian that you can't get in the area.
In addition to the regular Lindeman's Lambics, they have a great selection of other alternatives that have turned out to be winners.
If you end up finding something that doesn's taste right,they are quick to make things right which is really nice.
Eventhough I live in the Philly area, I will head up to Ace when visiting friends/family and pick up a case or 2 of something at a very reasonable price...a must go...
878 characters
Ace Beverage in Eynon, PA
4.38
out of
5
based on
12
ratings.