BarleyWine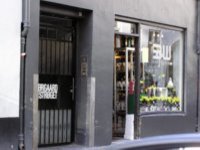 Reviews by Beervana:

More User Reviews:

mothman from Minnesota
1.6
/5
rDev
-59.2%
vibe: 1 | quality: 2 | service: 1 | selection: 2
Probably one of the worst stores I have ever shopped at. I was checking out the selection and saw a beer on a table with a price tag that I wanted to purchase. I asked if they got this beer in and they lied right to my face and said they had none in stock and rarely get it in. They had multiple bottles with price tags on them. I will not shop at a store that lies to me.
Aug 05, 2016

JamFuel from Sweden
4.04
/5
rDev
+3.1%
vibe: 3.75 | quality: 4 | service: 4.25 | selection: 4
Jul 04, 2016

22Blue from Kansas
4.22
/5
rDev
+7.7%
vibe: 4 | quality: 4.25 | service: 4.5 | selection: 4
Update-they now accept credit cards. Very nice small store in Copenhagen, easy to find. Service was excellent. Very well organized store. Prices are decent. Well worth stopping by.
Oct 02, 2015


Smakawhat from Maryland
4
/5
rDev
+2%
This store is very easy to miss, but it has a great Belgian and Danish selection of beers to buy.
Service is very cordial, and they can answer pretty much any questions about the products they have. The store is a little small, but it's well displayed, very clean and easy to find things since it's organized very well. There's some wine here too as I remember.
I believe if I remember also it is cash only, so make sure you have some Krone on you. As for prices, it is Copenhagen and everything is expensive there, so look for the beers you can't get at home that are marked up high, and that's where the values are.
Oct 15, 2014
WellMixed from Spain
3.5
/5
rDev
-10.7%
vibe: 3.5 | quality: 3.5 | service: 4 | selection: 3
A very nice place to stop, the variety is great and the lady was very nice and very helpful. She knew a lot about beers and brewers. They have many rare Danish beers. It is worth a stop. The only but I can find is that it may be a litle pricey but as said the place is worth a visit.
Aug 23, 2013
deac83 from Texas
5
/5
rDev
+27.6%
Stopped in to this shop while in Copenhagen last month. I was there for the selection of Danish beer and was not focused on the wide variety of other beer they had. The shops owner's wife was working in the store when I stopped by. She was extremely helpful and knowledgeable about the beer in the store and beer in general. She was able to tell me about the brewers and some of the stories behind them such as who had gone out of business and who's brand was taken over by another brewer. Said that she and her husband try a lot of the beer they sell so they can speak from experience.
They had many of the top Danish beers in the store such as Amager Hr Frederiksen, Amager Portvinslagret, Beer Here Hopfix, Hornbeer Black Magic Woman, Midfyns Imperial Stout, Mikkeller Beer Geek Breakfast, Beer Geek Brunch, Single hop Simcoe IPA, Raasted Imperial Stout.
Definitely on the high end in terms of price but you are paying for the availability and variety. It may be possible to find some of this beer for a lower price, but if you are in CPH on business or vacation, it's worth a stop in here to pick up some beer you probably wouldn't get to try otherwise.
Oct 27, 2010
drpimento from Wisconsin
4.5
/5
rDev
+14.8%
Found this place quite by accident the evening before I departed Copenhagen. The owner's wife was in and she was very kind, knowledgeable, and helpful. They have a great selection considering the size of the store. It was a very warm summer day and I wanted to take a bottle back to my room to savor. They have a modest bottle merchandiser and she suggested a couple of bottles for me that she knew weren't available outside Denmark. She also posed for a photo for me along side the shelves of beer. What a great find! Hope to return someday.
Aug 28, 2009
ricke from Sweden
3.7
/5
rDev
-5.6%
A rather small beer store. The selection is perhaps somewhat limited, but the overall quality is good. Good selection of Danish craft beers and quite a lot of British and Belgian stuff (quite a lot of lambics, no real rarities though). Smaller selections of German, other European and American beer, but some of the American stuff is pretty rare.
The staff was friendly.
Their website isn't really up to date.
When you're in Copenhagen and looking for good beer, you should visit this store right after you've been to Ølbutikken.
Aug 03, 2009
rastaman from England
3.85
/5
rDev
-1.8%
Nice quaint little boutique beer shop, a nice sekection of beer from Belgium, England, Holland and germany as well as few others. I managed to pick up a few really rare Dutch micros (including De Schans Lentebier) aswell. I also had Sam Smiths Imperial, Anchor Old foghorn, Hoegaarden Special, Affligem dubbel and many others. They also sold many gift sets (i.e beer with their respective glass). My only problem was that it was quite expensive, so i knocked half a point off service for this, but in general, they are people who know and appreciate beer, recomended if you're in Copenhagen.
Mar 24, 2003
BarleyWine in København, Denmark
Place rating:
3.92
out of
5
with
12
ratings