Scotch Barrel Aged Imperial Brown Ale

pFriem Family Brewers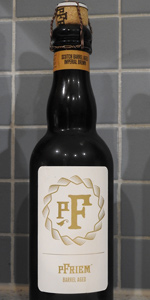 Rate It
Beer Geek Stats
| Print Shelf Talker
Style:

ABV:

10.5%

Score:

Avg:

4.13

| pDev:

8.47%

Reviews:

13

Ratings:

From:

Avail:

Rotating/Seasonal

Wants

Gots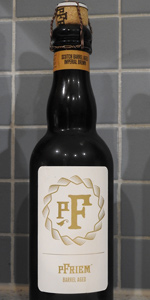 Notes:
brentk56 from North Carolina
4
/5
rDev
-3.1%
look: 4 | smell: 4 | taste: 4 | feel: 4 | overall: 4
Appearance: Pours coffee colored with a thin beige head that fades to a ringlet; spotty lacing
Smell: Brown bread, milk chocolate and Scotch whiskey wth a hint of caramel
Taste: Milk chocolate and brown bread forward, with some caramel sweetness underpinning; the Scotch whiskey flavors arrives in the mid-palate and builds from there into the finish
Mouthfeel: Medium to full body with moderate carbonation; some warmth in the gullet
Overall: Scotch barrels are tough to work with and using a brown ale was an interesting choice; there is not as much going on here as I would have liked but it is still a pleasant drinker
Thanks, The_Gingerbeard_man, for the opportunity
Oct 01, 2020

MaltsOfGlory from Oregon
3.84
/5
rDev
-7%
look: 4 | smell: 3 | taste: 4.25 | feel: 3.75 | overall: 4
375ml bottle
Pours a finger of light brown head into my snifter. Retention is maybe a little below average for the bulk of the foam, but it leaves a very hefty film behind. Body is definitely black, not brown, even when held up to the light. Looks pretty good so far.
I was hoping that since this is a brown and not a stout, and aged in scotch rather than straight whiskey, it might offer some other characters than your usual umami oxidation. Nope. I mean, this is common, and maybe even "acceptable" but nope, I'm not ever going to say this is ok. I might not write the rules, but I have an opinion, and this is just not right. Hard character to avoid in production, but it dominates the palate, and kills beers, let's hope the flavor is more diverse.
There is a little bit more going on with the flavor, but the umami certainly remains. Around that lies a fair amount of sugar, finishes with pretty desert like toffee, caramel, and chocolate notes. Really hard to pull a lot of flavors out of this. Maybe I'll chalk this up to the list of beers I shouldn't drink, but I was holding out hope with the slightly different approach. To be sure, this is tasty and better than the aroma - not at all difficult to drink, but the complexity and flavors are greatly muted from the umami.
Mouthfeel is pretty good. Sugars are extremely high, which is a little much, but to be somewhat expected; somewhat cloying. Given that character, the body comes across pretty thick. Carbonation is on the lower side, and any bitterness is not that present. Appropriate mouthfeel, even if it's not my cup of tea.
Drinkability is one thing I can't knock, this goes down way too easy for 10.5%, well done.
Appearance turned out pretty nice. Residual foam hung around, along with some patchy, but elegant lacing.
As the beer warmed, the umami on the flavor fell off quite well. Vanilla started coming through, and the other flavors become clearer. This is quite nice now. One Hundred percent a desert beer, very rich, robust. I'm not sure how many brown characteristics it has, but the flavor is pretty nice. Kinda all over the place as a whole, but given the adequate flavor and amazing drinkability, I'll say this is a solid beer.
Feb 21, 2020
GreesyFizeek from New York
4.16
/5
rDev
+0.7%
look: 4 | smell: 4.25 | taste: 4.25 | feel: 4 | overall: 4
This one pours a darkish brown color, with a small head, and not much lacing.
This smells like caramel, light peat, toffee, oak, dark fruit, and chocolate.
This is fairly light on the barrel, which is fine, given that scotch barrels can only transfrom a beer for the worse. There's a little bit of smoke and peat, but not much outright spirit character. There's oak char, chocolate, and caramel, along with a touch of sweetness, and maybe even some vanilla.
This is medium bodied, slightly creamy, and nicely drinkable, with no real booziness.
I figured I'd like at least like this a little bit, as pFriem is almost always very tasty beer. I'm happy to report that I like a lot, which wasn't a given...given that scotch barrels are so tough to use.
Dec 02, 2019
stevoj from Idaho
3.96
/5
rDev
-4.1%
look: 3.75 | smell: 4 | taste: 4 | feel: 3.75 | overall: 4
Taster at brewery. Dark brown, small ring of head. Boozy, woody aroma. Taste brings some solid brown sweetness, a lot of the booze barrels. Almost like a root beer with a bit of burn, and not so much sugar.
Nov 29, 2019

EMH73 from New York
3.89
/5
rDev
-5.8%
look: 4.25 | smell: 4 | taste: 3.75 | feel: 3.75 | overall: 4
Pours a very dark brown with a thin tan head that leaves islands of lacing. Smell is very scotch forward with notes of roasted malts, brown sugar and dark fruits. Taste follows the nose but is not quite as good, additional notes of chocolate, oak, smoke, caramel and toffee. Medium bodied but the mouth feel is slightly watery, light carbonation, dry finish. Overall slightly disappointing.
Oct 23, 2019

Beersnake1 from California
3.84
/5
rDev
-7%
look: 4.25 | smell: 4 | taste: 3.75 | feel: 3.75 | overall: 3.75
Poured from fridge temp and allowed to warm. Pours very dark brown (almost black) with quickly dissipating brown head. Nose is scotch, roasted malts, chocolate, and dark fruit. Taste is pretty good, but I'm not blown away. A bit of grapes, scotch, licorice, burnt wood, plum, tobacco, bread, and nuts. The flavors don't really come together in a complimentary way, but rather haphazardly. Don't get me wrong, this is good. However, it's not my favorite of the style. Mouthfeel is medium bodied. Overall, this is pretty good.
Feb 04, 2019
DefenCorps from Oregon
3.85
/5
rDev
-6.8%
look: 4 | smell: 4 | taste: 3.75 | feel: 4 | overall: 3.75
On tap at the Loyal Legion
Smoky, peaty, mildly fatty on the nose, there's also a mildly smoky honey note. Caramel, toffee, brown sugar are present. The barrel expression is great here, with a moderately smoky and peaty character, but unfortunately, there's a slight unctuous/fatty feel on the palate. Solid.
Nov 19, 2018
markjknowles from Oregon
5
/5
rDev
+21.1%
look: 5 | smell: 5 | taste: 5 | feel: 5 | overall: 5
Why splurge on a barrel aged beer? This is one good reason. It pours Starless and Bible Black ( I am listening to that BTW). With an almond quarter inch head in my Pfriem tulip. That smell ifs friggin' single malt scotch smell! And when you taste it? Scotch on top of roasty malts. Damn. And nothing over-the-top (unlike my listening selection). It is so immaculately blended. Viscous mouth feel that makes me want to hold it in my mouth and savor it a bit. If you can tell me how this can be improved, please educate me 'cause this is pretty perfect in my mind.
Mar 31, 2018

Lingenbrau from Oregon
4.24
/5
rDev
+2.7%
look: 4.5 | smell: 4.25 | taste: 4.25 | feel: 4 | overall: 4.25
As advertised, this pours brown. The darkest of browns, like ebony stained walnut, and very clean. A thin and creamy looking ring of tan bubbles form around the edge of the glass, and a variety of sizes converge as a small, hilly island.
There is no question about there being a single malt influence, however this starts with a much more brown ale presence. Sweet but well toasted bread rolls are drizzled with vanilla icing sparingly. Then an aura of slightly smokey scotch whiskey surrounds it, with only suggestions of wood.
And now it's time for the complexities. I find myself waiting for some time after each sip for the flavors to come one by one. The sweetness is dominant, first with milk chocolate, then more of a cinnamon roll than just the vanilla icing mentioned above. Perhaps filled with a fig jam.... And then the wood, light char, toast, and a pinch of savory spices finish it off.
As indicated, this is very sweet, but does have a decent balance due to it's tingly spices and slightly toasted character. The carbonation and body are equally in the medium range, and there is a pretty hefty dose of alcohol warmth.
I'm glad I aged this one. No where near as boozy as other barrel aged beers I've had, but this seems right in the sweet spot, even after only a few months. I wish I'd bought more, because this is damn good, and unique. A barrel aged brown ale that actually tastes and feels like a brown ale, and not another stout. Very good, and another winnner from pFriem. Cheers!
Mar 15, 2018

LiquidAmber from Washington
4.26
/5
rDev
+3.1%
look: 3.5 | smell: 4.25 | taste: 4.5 | feel: 3.75 | overall: 4.25
Poured into a Fremont small snifter. Pours a very dark mahogany brown in the glass, appearing nearly opaque, with a thin, patchy head that dissipates to a ring around the glass with little lacing. Aroma of dark toasted and biscuit malt, molasses, a hint of peat, somewhat muted, but nicely malty. Flavor is dark toasted malt, char, licorice, peat. Finishes with lingering light peat and more licorice. Medium bodied, a bit light on carbonation. This is quite a unique ale, I can detect the base brown ale, but the malt flavors are somewhat muted. It is at first a little underwhelming in flavor, but soon reveals the malt, surprising level of licorice and finally a pleasant light peated malt flavor. My taste buds seem to have been expecting a heavy stout flavor from this from the look and smell, and this is much lighter. The Scotch flavor, licorice and malt are nicely balanced. This is interesting and different. I'm really glad to see more Scotch barrelled ales and this is one I will definitely pick up again in the future. A fine ale, as expected from Pfriem.
Feb 01, 2017

Slammy from Oregon
4.57
/5
rDev
+10.7%
look: 4.5 | smell: 5 | taste: 4.5 | feel: 4 | overall: 4.5
I've tried a number of pFriem's barrel aged beers, and this, for me, was their most well rounded offering. A beautiful nose with notes of malt, green grape, and chocolate milk with alcohol on the back end. The beer pours a deep dark brown, fully opaque, with minimal head and lacing, which was expected. At 10.5%, I was expecting the alcohol to be a bit more prominent, but it was only noticeable toward the end of each sip, and less so as the beer warmed up. This one is a winner. Would gladly drink again.
Purchased a 375 ml bottle for $8.99 from my local grocer.
Jan 29, 2017

mactrail from Washington
4.19
/5
rDev
+1.5%
look: 4 | smell: 4.25 | taste: 4.25 | feel: 3.75 | overall: 4.25
This is really a tasty variation on the barrel-aged theme. The whiskey flavor is distinct and different from the usual boozy Bourbon barrels. Interesting hint of licorice along with the vanilla.
Bready with just a hint of bitterness lurking behind the alcohol. Brown sugar and roasted malt to the max. Not overly sweet. They seem to be unable do do anything wrong at pFriem. From the 375 ml bottle.
Jan 16, 2017
terabin from Oregon
3.9
/5
rDev
-5.6%
look: 4 | smell: 4 | taste: 4 | feel: 3.5 | overall: 3.75
At the Hood River taphouse. 8 oz poured with quite a head. Waited several minutes for the brew to settle down and warm abit.
Candied dried dark fruit and char barrel nose.
Brown sugar toffee sweet front. Mid-palate alcohol carries this thinnish beer longer than expected. Bitter finish lingers. Not the loveliest of aftertastes.
Mouthfeel bubbly with carbonation, masks mid-palate a bit.
A good endeavor. And I certainly appreciate barrel-aged beer made in the Gorge!
Dec 13, 2016
Scotch Barrel Aged Imperial Brown Ale from pFriem Family Brewers
Beer rating:
89
out of
100
with
33
ratings