Rum Barrel-Aged Porter

pFriem Family Brewers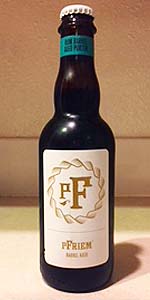 Write a Review
Beer Geek Stats:
| Print Shelf Talker
Style:

ABV:

9.5%

Score:

Avg:

4.17

| pDev:

4.56%

Reviews:

10

Ratings:

From:

Avail:

Rotating

Wants

Gots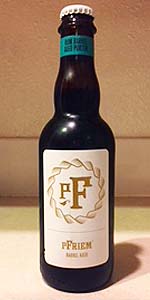 Notes: RUM BARREL AGED PORTER
We age our Imperial Porter for a year in barrels kissed by the Caribbean, giving pFriem's Rum Barrel Aged Porter notes of chocolate truffles, ripe cherries and vanilla beans. Drink in this captivating brew and taste luscious decadence.

IBU 45
FLAVOR PROFILE
Chocolate Truffles, Rum Cake, Vanilla Bean, Cinnamon

INGREDIENTS
MALT: Simpsons-Marris Otter-Finest, Caramalt, Crystal Dark, Crystal Extra Dark, Chocolate, Crisp-Pale Chocolate, Patagonia Perla Negra
HOPS: Warrior, Chinook, Cascade
YEAST: American Ale
BARREL: Caribbean Rum Barrels

TASTING NOTES
Black walnut with ruby red hues sitting beneath the dense khaki foam. Seductive aromas of Belgian Chocolates, cinnamon, nutmeg, red velvet cake, and molasses. Luscious flavors of vanilla bean, chocolate truffles, rum cake, ripe cherries, and Mexican hot cocoa. Finishes soft, round, and decadent.

3.98
/5
rDev
-4.6%
look: 3 | smell: 3 | taste: 4.5 | feel: 4.25 | overall: 4.25
350ml bottle
Pours a small finger of off white head into my snifter, fades somewhat quickly but leaves a little around the edges. Initial lacing looks good. Body is pitch black. Looks pretty good so far.
Once again all I smell is a syrup like umami soy sauce. Hard to notice anything else.
Luckily the flavor has hardly any of that, and is it quite lovely. More of a molasses, velvet chocolate flavor for the beginning. Touch of cinnamon. Finishes with some oak/vanilla/rum and lingers for quite some time. The latter half of the flavors are somewhat subtle, but overall this is very flavorful, and quite tasty.
Mouthfeel compliments pretty well here. Carbonation is pretty lively, at about medium. Body is on the lighter side, which actually might help drinkability. Not bitter. Definitely sweet, which is a little much at times, but it is to be expected and it is not cloying at all which is impressive. Quite soft and smooth. No alcohol, big plus. Overall it works well.
Drinkabiltiy is very impressive for being nearly 10 percent. Not cloying and no alcohol presence.
Appearance turned out somewhat poor. Some perimeter foam hung around, but this is mostly a laceless appearance.
Overall this is not perfect, and it's certainly not something to have every night. But it's very tasty, and it brings along a smooth mouthfeel.
1,356 characters

3.72
/5
rDev
-10.8%
look: 3.75 | smell: 3.5 | taste: 3.75 | feel: 4 | overall: 3.75
Clear yet very dark brown body; respectable head, a tad thin yet lasting. The smell is a strange blend of chocolate and cocoa interlaced with a dry red wine overtone. The taste is more roasted grain and cocoa with just a note of sherry or marsala; roasted nuts. Medium-heavy body; soft and spongy; semi-dry mouthfeel; a bit of boozy warmth.
Supposedly a rum barrel aged porter, I pick up more notes of a red wine. The base beer is pretty solid overall, and with a bit of room warming, things come together fairly nicely even though any kind of rum taste is pretty much lost (except, perhaps, with the boozy warmth in the mouthfeel). A good if rather weak one compared to other pFriem efforts.
693 characters

4.09
/5
rDev
-1.9%
look: 4 | smell: 4.25 | taste: 4 | feel: 4.25 | overall: 4
Clear dark amber brown with a mustache of foam in the Kasteel chalice. Aroma of rum and apples. Sweet and raisiny with a deep burnt sugar taste. Even the mouthfeel is lush and squishy with carbonation. Molasses and dried figs.
I find it quite sippable with a different sort of barrel flavor. It does stay on the sweet side, but there is a nice sharp tang. Call it liquid luxury. From the 375 bottle dated 11.13.18 purchased at Haggen Market in Burlington.
458 characters

4.23
/5
rDev
+1.4%
look: 4.25 | smell: 4.25 | taste: 4.25 | feel: 4 | overall: 4.25
Dark brown appearance with off white head that dissipates quickly. Aroma is a slightly sweet malt with a rum accent. Taste is a very pleasant slightly sweet malt and rum combination without any bitterness.
207 characters

4.22
/5
rDev
+1.2%
look: 4.5 | smell: 4.25 | taste: 4.25 | feel: 3.75 | overall: 4.25
Poured into a Fremont small snifter. Pours a very dark mahogany brown, appearing nearly opaque black in the glass with a fine, two finger milk chocolate colored head with great retention and nice lacing. Aroma of dark toasted malt, milk and dark chocolate, vanilla, light rummy fruit; a hint of oxidation. Flavor is dark toasted malt with light char, dark chocolate, vanilla, rum and oak. Medium bodied with a bit overly active sharp carbonation (it had quite a pop on opening). A full flavored imperial porter with light, but pleasing influence from the rum barrel. The rum, vanilla and oak flavors are well integrated. The overcarbonation is a little bit of a drawback, giving a slight sharp edge to the flavors. Overall nicely done and a great use of rum aging.
765 characters

4.41
/5
rDev
+5.8%
look: 4.25 | smell: 4.5 | taste: 4.5 | feel: 4.25 | overall: 4.25
Pitch black, blocks all light. Light head. Aroma is all rum and dark roasted toffe, expresso and chocolate. A sip takes you into deep, multiple layers of flavors - dark rum, of course, then rich dark coffee, malts and molasses. There's a definite ABV burn coming out in the finish. Excellent. Bottled in Jan'18 - enjoyed on crisp October evening camping out in Oregon.
374 characters

4.18
/5
rDev
+0.2%
look: 4.25 | smell: 4.25 | taste: 4 | feel: 4.5 | overall: 4.25
Not the biggest fan of rum barrel aging, loved the beer, but think I'd like it better in rye whiskey barrels. That said still an enjoyable porter I'd hppily have again but not seek out.
186 characters
4.47
/5
rDev
+7.2%
look: 5 | smell: 4.25 | taste: 4.5 | feel: 4.5 | overall: 4.5
Wow, the rum barrels really lightened up the porter. That rum flavor brightens the dark, roasted malts. A little caramel head appears upon pouring and melts into the dark porter morass. But brightly. The taste has a sharp edge that sits on top of the porter's thickness. They have better barrel aged beers than this. But not many other breweries do.
349 characters
4.24
/5
rDev
+1.7%
look: 4 | smell: 4.25 | taste: 4.25 | feel: 4.25 | overall: 4.25
Sampled out of the bottle at the tasting room the other day.
The beer pours the expected blackish brown color with pretty good head retention and lacing. On the nose, you definitely pick up some rum aroma, but it's not over the top, and it seemed blend in quite well with the light coffee, dark chocolate, vanilla, light burnt toast and light licorice. The flavor profile replicated the nose pretty closely, with the base beer and rum flavor imparting something of buttered rum flavor in this porter. Mouthfeel is pretty full, and this beer is very soft and smooth on the palate. Alcohol is very well integrated into the flavor profile, and so drinkability is quite good. The beer comes across as a bit rich and sweet, so I'm not sure I could drink a whole lot of this beer, but it would certainly be a great after dinner sipper.
A very nice beer from pFriem. A lot of rum BA producers either overdo it on the rum to the point the beer is almost cloying (the recent Abyss variant is a good example I think), or there's so little rum character the barrel aging seems to add nothing to the aroma or flavor profile. In this case, I feel as if pFriem got it pretty much just right, with the rum component blending seamlessly into the base beer. Very impressive effort.
1,274 characters
3.84
/5
rDev
-7.9%
look: 3.75 | smell: 3.5 | taste: 4 | feel: 3.75 | overall: 4
Served in 10oz goblet. Poured a solid black color with just a thin cap of of light brown head that had low retention and no lacing.
The rum was certainly noticeable on the tongue, but not dominant. The base beer showed through with good malts, and a slight bit of roast. Those descriptors apply to the flavor profile, just expanded. The malt base was sturdier, the roast aspect sharper, and the rum bolder.
The body was very good, smooth, solid, just light enough to be not sticky. Drinkability was good, although this is a sippin' beer, not a quaffer. Overall, a very good beer, a must try if you see it.
607 characters
Rum Barrel-Aged Porter from pFriem Family Brewers
Beer rating:
91
out of
100
with
17
ratings