Preservation
| Tonka Beer Company
BA SCORE
70
okay
12
Reviews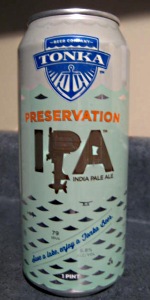 BEER INFO
Brewed by:
Tonka Beer Company
Minnesota
,
United States
Style:
American IPA
Alcohol by volume (ABV):
6.80%
Availability:
Year-round
Notes / Commercial Description:
No notes at this time.
Added by motorhed on 10-17-2012
This beer is retired; no longer brewed.
Reviews: 12 | Ratings: 31

3.85
/5
rDev
+57.1%
look: 3.5 | smell: 3.5 | taste: 4 | feel: 4 | overall: 4
Poured from a fresh pint can into a Carlsberg large pint/tulip glass.
A - Pours a traditional dark golden copper color that looks filtered, light haze to it. About 2 fingers of very white head. Very light lacing throughout the consumption.
S - Floral, malty, some light grapefruit, and tangerine.
T - Light hops upfront, floral and light citrus flavors in the middle, with a very light bitter back- end. Very malt forward IPA with a smooth finish and you can taste a bit of alcohol on the finish. I like it a lot, different than what is already available in the Minneapolis area.
M - Medium mouthfeel with a smooth finish. Some very light lacing throughout the glass. Carbonation feels spot on for this beer.
O - Very enjoyable, malt forward IPA with ample amounts of citrus. Liked it a lot, very glad i got a 4 pack and looking forward to finishing it up. Cheers Tonka, well done! Will buy it again.
906 characters

3.1
/5
rDev
+26.5%
look: 3.25 | smell: 3.25 | taste: 3 | feel: 3.25 | overall: 3
Appearance: Slightly hazy orange/amber color with a thin off-white head. Didn't expect it to be as dark as it is but still basically average looking for the style.
Aroma: Not much there. A touch of crystal malt sweetness with some tangerine nectar behind it.
Taste: A pleasant, if mild, flavor. Starts with some bitterness that carries on throughout. States 79 IBUs on the can but that seems a tad higher than what's on the palate. By the middle you get some of the sugar coated barley flavor that provides the backbone of many eastern and european IPAs. There's also an interesting sweet overripe mango and blood orange hop character near the end. Unfortunately the flavor gets repetitive and almost metallic at times.
Mouthfeel: Medium in body with light carbonation. The sweetness of this beer becomes cloying and hankers the drinkability.
Final Thoughts: Not impressed by this one. Feels like it's missing something and just too overly sweet. Would I drink it again? No, in a scene bursting with new breweries you really need to do better than this to survive.
1,068 characters

3.01
/5
rDev
+22.9%
look: 3.75 | smell: 3.25 | taste: 2.75 | feel: 3.5 | overall: 2.75
Big off white head settles into a decent lacing above a clear copper golden colored deer.
Light caramel roasted malt with a little bit of hops notes coming through in the aroma of the IPA.
Sweet lightly roasted caramel malts seem to be overpowering the light hops coming through in the taste.
A lightly sweetish not quite dry aftertaste with some light caramels hanging around on this medium bodied beer.
A lot of malts coming through in a so-called IPA, was looking for a can of hops tonight, going to have to try again.
525 characters
2.76
/5
rDev
+12.7%
look: 4 | smell: 3 | taste: 2 | feel: 4 | overall: 3
Attractive looking beer. A clear amber color with just over a finger of head that had good retention. Some lacing is left behind on the glass.
Aroma is bready with light herbal, floral notes. Rather timid smelling IPA.
For a beer that boasts 79 IBUs, where is the hops? Very sweet. Probably the sweetest tasting IPA I have ever drank. Like a Belgian ale type of sweetness. Light floral hop notes. If there is bitterness there, I am not detecting any. A cloying sweetness in the finish. Definately not what I am looking for in an IPA.
The body is good. Nice depth and carbonation.
If I am not mistaken, this is brewed by our notorious friends at Minhas. Tastes about like one of their efforts. At least profits go to a good cause and that is the only reason I bought a 4-pack.
780 characters
2.58
/5
rDev
+5.3%
look: 3 | smell: 2.5 | taste: 2.5 | feel: 3 | overall: 2.5
Thanks to Penguin3200 for the can.
Appearance: Perfectly clear amber with some pale gold leanings. Head is small, tight, creamy and bright white. Drops to a thin cap with some decent lacing.
Smell: Mild biscuit dough with a mellow earthy hop element. Some citrus rind, mostly orange. Really mild. Some caramel and sweet pale malts as well. Vaguely floral. Really not doing it for me. Slightly salty. Mild and rather unexciting.
Taste: Very malt forward. Slightly chewy biscuit malt and some underlying pale and caramel malt sweetness. Vague underlying fruitiness hits at something akin old mealy pear. Slightly salty. Citrus rind and some slight earthiness. Oddly sweet. Lingering grassiness.
Mouthfeel: Body runs on the lighter side of medium. Moderately light carbonation. Relatively clean and easy drinking.
Overall: Preservation efforts hampered by mediocre beer.
Drinks like a slightly more complex stock ale. Hopping is a mess and the malts are thin and dirty. Not a lot good going on other than an average level of drink ability. Something just didn't click.
1,077 characters
2.49
/5
rDev
+1.6%
look: 3 | smell: 2.75 | taste: 2.25 | feel: 2.5 | overall: 2.5
I was at a buddy's house the other night, and he offered me a Tonka Preservation IPA. It's the first time I really couldn't drink a beer offered to me by someone. I hold to the idea that if someone offers me a beer in hospitality I will drink it, even if it's a Bud Lite. Fortunately my friends know I like good beer and usually it's not a problem. But my buddy bought it because they give their profit over to environmental causes. Anyhow, it sucks donkey kong, and I had to drain pour it. I can't recall when I've had such a bad beer.
A- It looks like beer, a little dark for an IPA
S- I knew we were off to a bad start when the beer didn't have much of a fresh hop aroma. Smells doughy.
T- This is where the train de-railed. This is not an IPA. Perhaps it is closer to an APA. Overly sweet, overly malty, and nowhere near enough hops to balance it out. There is also a metalic aspect to the beer which I didn't care for.
O- I would not drink this again.
961 characters
2.27
/5
rDev
-7.3%
look: 4 | smell: 2 | taste: 2 | feel: 3.5 | overall: 2
16oz can with no legible date. around $10 for a 4-pack
I'm not one to unfairly disparage beers, but this one was atrocious. It was extremely malty, sweet, and without hops. Tasted like a mix between well water and ribbon candy. I liked their shandy but this is just an utter failure. It's still drinkable but not reminiscent of an IPA whatsoever.
Tonka needs to go back to the drawing board with this one. Would definitely not recommend.
440 characters
1.96
/5
rDev
-20%
look: 1 | smell: 2.5 | taste: 2 | feel: 3 | overall: 1
L - Medium amber. Hazy. Hunks of stuff. Short, white head, somewhat persistent.
S - Light citrusy hops.
T - Sweet with light citrus hop flavor.
O - Given the hunks, I gave this only a small taste before pouring. Appeared overly sweet and lacking in hops intensity for style.
278 characters
1.93
/5
rDev
-21.2%
look: 3.75 | smell: 2 | taste: 1.5 | feel: 2.25 | overall: 2
473ml can. Another Minhas offering rendered through a holding company, this time in suburban Minneapolis. I already have an enhanced bias against this, as one of the cheap-ass cans literally burst spontaneously in the front seat of my car on the way home from the liquor store.
This beer pours a hazy medium bronzed amber colour, with two fingers of puffy, chunky foamy off-white head, which leaves some nice broken chain link lace around the glass as it lazily sinks away. I've seen this sort of wizardry before, so I am withholding judgement, with extreme prejudice - even though it actually looks like a real, grown-up beer.
It smells of bready, somewhat crackery malt, raw rocky minerals, and a simmering vegetal skankiness. The taste is a trip due south, the sugary, sour, musty unpleasantness that is the trademark of the underlying 'brewer' here coming burbling straight up to the surface, to present at best, a weak-ass, overly sugary amber ale, hopped to the bare minimum. So where does that leave us as far as American IPAs go? Oh, right. NOWHERE! The review should really end here, but I'm not done yet, alas.
The carbonation is no more than innocuous, the body a bland medium weight, and smooth in a nolo contendere manner. It finishes off-dry, of course, the middling, clammy malt really the only real-world player here, as the anemic fruit and wavering musty skunkiness aren't even remotely worth wasting breath or carpal tunnel aggravation over.
Sigh. The marketing efforts on the can are worthy enough, I suppose, lakes being a good thing and all. However, the vector here is solely lacking, as there are so many things for which I might provide support, yet this is hardly a feel-good way into this particular charity, as this resembles nothing even remotely close to a typical Yankee IPA. My impression for this cause sadly fades even further - thanks again, Minhas.
1,888 characters
1.64
/5
rDev
-33.1%
look: 3 | smell: 2 | taste: 1.25 | feel: 1.75 | overall: 1.5
A friend brought a four pack over to watch the first game of the World Series. Everyone was talking and saying "You gotta try this--I'm not sure what's going on with this beer." I thought, "how bad could an ipa taste?" The answer: pretty bad. We passed the can around the room, and everyone made a scrunched up face like when you suck a lemon or smell a dirty diaper. One wonders if in an effort to preserve the lake, the existing contaminants were collected to be used as adjuncts in this recipe.
I'm not sure how it is labeled as an IPA. There is no hops aroma, nor does any such taste magically appear once you drink it. It is way too sweet, especially for an ipa. It's like the fermentation got stuck halfway through. This is the caliber of beer that might be expected from a novice homebrewer--it is hard to believe that it is "commercially brewed."
The can says that all the profits go to support the eradication of invasive species. If you want to support the cause, make a donation and buy some other beer to drink.
If you can get a single for 50 cents, I'd recommend getting a can so that you can share the confounding experience of drinking a bad, mislabeled, mystery-beer. A four pack, at any price, is three cans too many.
1,239 characters
1.41
/5
rDev
-42.4%
look: 1.75 | smell: 2 | taste: 1 | feel: 1.75 | overall: 1.25
One of the oddest IPA's I've had...
Really no hop impression at all....none...
Has mostly a spoiled fruit/caramel maltiness...
Head is a bit excessive...overcharged carbonation
Seriously reminds of some of those old horrible, Glueck fake craft beers that came out of Cold Spring in the early 2000's
Very poor representation of a craft beer. I had heard they were not top notch but did not expect this to be this bad.
Scores reflect for style but really just as a beer it is real close to drain pour. I want others to know how poor this is so they don't make the same mistake I did and pass up other offerings for this. I see no reason to give this middling scores when it is truly as bad of an IPA as I have ever had.
723 characters
1.28
/5
rDev
-47.8%
look: 2 | smell: 1.5 | taste: 1 | feel: 2 | overall: 1
I have had a good 400+ different IPAs and this is easily the worst one. It tastes like hardly fermented sugar water with hardly any detectable hops. Its hard to notice the hops but they have a bit of a citrus flavor to them. Just a truly crap beer.
248 characters
Preservation from Tonka Beer Company
2.45
out of
5
based on
31
ratings.