Abbaye De Saint Bon-Chien Grand Cru (Aged In Vin Jaune Barrels)
| BFM (Brasserie des Franches-Montagnes)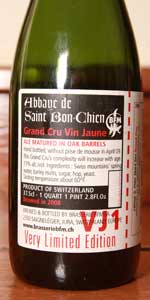 BEER INFO
Brewed by:
BFM (Brasserie des Franches-Montagnes)
Switzerland
brasseriebfm.ch
Style:
Bière de Garde
Alcohol by volume (ABV):
11.00%
Availability:
Rotating
Notes / Commercial Description:
No notes at this time.
Added by illidurit on 05-25-2009
Reviews: 30 | Ratings: 59
4.08
/5
rDev
+0.5%
look: 4.5 | smell: 4 | taste: 4 | feel: 4.5 | overall: 4
At Max's Ravens and Rare Beer event this past Sunday.
Huh? Carbonation? Why? Well, unique among all the Bon Chien Grand Crus I've had, this actually has some carbonation. Mildly hazy with a thin off-white head with great retention and lacing, this is solid.
Decidedly unique among the Bon Chien Grand Crus, this is mildly sweet, vinous tart and sour with a mild aspirin-like character. Not as complex as I've come to expect, this is mildly fruity with mostly tropical fruit (pineapple). Pretty darned solid
Opening tart and sour with a mildly solventy character with very high carbonation (so high that the beer foams in my mouth), this beer is mildly fruity with golden raisins, white grapes and not as tropical as the nose suggests. Not very acidic, this has the tartness I've come to associate with berries and grapes. Not as rich, deep and vinous as the others (I'm guessing this is due to a paler base beer), this is still very good. Tart on the finish with a crisp acidic character with mild tartness. Thankfully, the solvent and aspirin character is not as prominent on the the palate as it was on the nose.
The carbonation is strange, but works OK. Medium in body, I love the long lasting finish with a great white grape character, I'm finding this to be very enjoyable. I would love to try this again.
**Edit 09 April 2012**
Drinking my lone bottle of the 09 vintage, Vin Jaune 1, that I bought for the stupid price of $22 at State Line. Oh well.
Darker than the 08 vintage, this is a beautiful burnished copper with a dense, light brown head with excellent retention. The nose is a lot more muted than the other beers in the series. In place of a big, leathery red wine character, there's a more delicate honeyed and floral fruit character, with pears, light-fleshed plums, and a rather spicy Brett character, with cloves and a little plastic.
The palate has taken on a whole new level of sourness. A blend of medicinal and raw stone fruit (particularly the flavor of unripe peaches and grapes). As it breathes, it gains quite a bit of an oxidized, sweet white wine character, which is what I guess a vin jaune is. Quite fruity with light sherry, unripe peaches, apricots and pluots (no, really), this has taken on a lot of barrel character, and sourness too. The sourness has a lot of fruit character, once the medicinal character dissipates. Despite my initial impressions, acetic character is quite low, and the sourness is predominantly lactic. However, there is a little bit of bitter-sweet-sourness all rolled into one (like a sour candy) that I would guess is a combination of malic and succinic acids? Alcohol is quite well hidden, this finishes dry, lightly carbonated and plenty of fruit on the finish. Quite impressive and unique, but over-priced. Worth buying once IMO. 4.5/3.5/4/4/4
2,813 characters
4.5
/5
rDev
+10.8%
look: 4.5 | smell: 4.5 | taste: 4.5 | feel: 4.5 | overall: 4.5
Well I'll be damned. A bon chien beer with carbonation in it.
The beer pours a brownish rose color with (shock!!!) very good head retention and lacing. The nose otherwise is all bon chien, with some lovely sour apple, cherry, wine and a touch of funk. The sour and funk seem to be dialed down a bit more then usual in this beer, which was something I (naturally) appreciated. Otherwise, the flavors on the palate replicate the nose, but as is always the case with bon chien, the beer really delivers a boatload of flavor. There is also a nice hint of gin in this beer, that works well with the wine flavor and soft mouthfeel. Alcohol is well disguised and I would call this one of the more drinkable bon chien beers I've come across. This is just lovely stuff.
761 characters
4.7
/5
rDev
+15.8%
look: 4.5 | smell: 4.5 | taste: 5 | feel: 4.5 | overall: 4.5
First let me say out right that the cost of this beer is higher than what most people will pay, however the beer is really something special.
The appearance was a mirky ruby with a decent head.
The Nose was great not overly sour, slight pear and pineapple rind with some fusel alcohol.
The taste was crazy good with sweet Pear, apple core, hints of pineapple and coconut. The finish was long dry and more tart than sour or acidic, with a the slightest amount of heat.
The mouthfeel was pleasantly delicate and soft on the pallet.
Drinkability would have been a 5 if not for the price as it is far to easy to reach the end of this bottle, but as I said well worth it.
672 characters
3.9
/5
rDev
-3.9%
look: 4 | smell: 4 | taste: 4 | feel: 4 | overall: 3.5
Ditmier (Eric) poured this one on Friday night.. I'm glad I took good notes, because with some later pours, he was starting to make me question what I was tasting. Eric.. It does NOT taste like cocktail onions. :-)
Hazy dark gold/orange ... foamy head with good lace and only descent retention.
Nose lends itself to peaches and only mildly sour.. a little vineous... mild oak.. a little musty as it warms up with later pours.
The flavor is much more oakey.. and the same white peach essence seems to dominate.. a little lactic elements add some sour and tends to dry it out a bit. apple skin on the finish.. more tannic than sour... again a little musty.. more acetic as it warms.
I don't know... I think this one was pretty good.. certainly okay... Ditmier got inside my head. :-)
Thanks again to a fucking great BA and thanks again for another beer that was so far off my radar that I NEVER would have tried trading for it..
931 characters

4
/5
rDev
-1.5%
look: 4 | smell: 4 | taste: 4 | feel: 4 | overall: 4
At $23 for 375ml, this is one of the most expensive beers I've ever bought.
This incarnation of the Bon Chein grand cru series seems to actually have carbonation, as I was greeted by a fluffy two finger head upon pouring this beer. The body itself is hazy reddish-amber, cloudier than other batches I've had, but that may be because I didn't give the sediment much time to settle before opening it.
The aroma is vinous, and, surprisingly, a bit solventy. There's light funk beneath the alcohol, but I'm amazed at how dominant the solvents are. As it warms, the booziness becomes all-consuming.
The taste is tart, fruity, vinous, and again, surprisingly boozy. I'm guessing this is the influence of the Vin Jaune barrels, because I haven't picked up much heat in other batches of this beer. Sourness is more lactic than acetic, with mild fruity sweetness adding balance. Medium-full body with fairly crisp carbonation. The finish is hot, sour and semi-dry.
This is good, but really, $23? Per oz, it's roughly twice the price of the bourbon barrel Bon Chien, and not nearly as good. Disappointing.
1,099 characters
Abbaye De Saint Bon-Chien Grand Cru (Aged In Vin Jaune Barrels) from BFM (Brasserie des Franches-Montagnes)
4.06
out of
5
based on
59
ratings.