Abbaye De Saint Bon-Chien Grand Cru (Aged In Cabernet Barrels)
| BFM (Brasserie des Franches-Montagnes)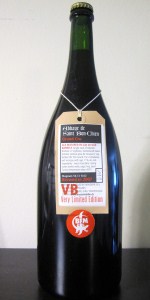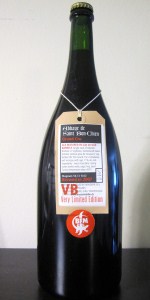 BEER INFO
Brewed by:
BFM (Brasserie des Franches-Montagnes)
Switzerland
brasseriebfm.ch
Style:
Bière de Garde
Alcohol by volume (ABV):
11.00%
Availability:
Limited (brewed once)
Notes / Commercial Description:
No notes at this time.
Added by illidurit on 05-25-2009
This beer is retired; no longer brewed.
HISTOGRAM
Ratings: 9 | Reviews: 7
Reviews by emerge077:
4.4
/5
rDev
+4.5%
look: 4 | smell: 4 | taste: 4.5 | feel: 4 | overall: 5
Big thanks to Alex for breaking out this monster magnum...
In the glass it's a murky copper orange with suspended particles visible. A few juice-like bubbles form with a deliberate pour, and quickly fade, presenting a still, wine-like drink.
Woody tannic nose, some mild acetic vinegar, funky washed rind cheese, berries, and red wine grapes. Pleasant but fairly straightforward.
Acetic, mild sour grapes, some muddled woody spice from the barrel, sort of mossy and earthy soil. Long tart finish that hits the glands in the back of the throat. Some traces of the 11% abv. The body is still but savory like a cabernet.
This was passed around and I managed to down a couple glasses of it. Very enjoyable, thanks again Alex for the opportunity to try this Bon-Chien edition.
778 characters
More User Reviews:

4.64
/5
rDev
+10.2%
look: 3.5 | smell: 4.5 | taste: 5 | feel: 4.5 | overall: 4.5
Pours a clear tawny color, though chunks of sediment can be seen floating around in the glass. As usual with these Bon Chien Grand Crus, there's no head, no carbonation. The aroma is intensely, amazingly funky up front. With time to breathe and a few vigorous swirls it starts to reveal more depth; tart and ripe fruits, red wine, balsamic vinegar, caramel. On the tongue, this is remarkably multi-layered and complex. Initially fruity, sweet and funky, tartness quickly takes over along with wine-like tannins and vanilla, leading into a semi-dry, semi-sour finish. Drinkability is through the roof despite the (unnoticeable) high ABV. I'm sorry to hear that these Grand Crus will no longer come in magnums; 1.5 liters seems like the perfect amount.
750 characters

4.24
/5
rDev
+0.7%
look: 4 | smell: 4.25 | taste: 4.25 | feel: 4.25 | overall: 4.25
4.68
/5
rDev
+11.2%
look: 3.5 | smell: 4.75 | taste: 4.75 | feel: 4.75 | overall: 4.75
Magnum, 2007 vintage, shared with a bunch of folks the other night. So sad to see this go.
A still deep red with no head, this looks OK. The nose is stunning. Brilliantly structured with the base beer integrated phenomenally well with the cabernet barrel. Red wine, vanilla, buckwheat honey, a moderate funk of earth, mushroom and cheese, dark caramel, mild toffee. Rich, layered and perfectly integrated, especially so on the palate where the complex fruity notes from the wine barrel complement the fruitiness from The base beer as well as the light fruitiness from oxidation. Sourness I'd moderate, mildly lemony and lactic and faintly acetic. Full bodied with a brilliant finish, this is a remarkable beer.
712 characters

3.22
/5
rDev
-23.5%
look: 3 | smell: 3.5 | taste: 3.5 | feel: 3 | overall: 2.5
Magum Bottle, 2007.
Pours completely still, with a maroon color and a little bit of yeast chunks floating around. I'm not sure its possible to pour this magnum without disturbing the sediment.
The aroma is strong and intense. It has a tart edge with some cherry like fruitiness, wild berries, and a general grape smell. There is some wild yeast contributing a little bit of funk and acidity to the nose.
The taste is as strong as the nose suggests. It's very tannic, just like a big red wine. There is a harsh, puckering feeling throughout, especially in the dry finish. It's sour tasting but the still mouthfeel seems to tame that a bit. There is some wood flavor detected along with the tannins. The fruitiness comes through with grapes, red berries, and cherries. The finish is a little harsh and unpleasant.
The reviews and fellow tasters noted that this beer didn't taste its 11%, but I disagree. I didn't find this very drinkable even considering the 11%. It was definitley unlike anything I've ever had before, so I'm glad I got to try it.
1,051 characters

4.77
/5
rDev
+13.3%
look: 4 | smell: 4.5 | taste: 5 | feel: 4.5 | overall: 5
Magnum consumed on 8/14/2009 and poured into a snifter. 2007 Vintage. Pours sun-kissed dark orange, nearly copper, with no head or visible carbonation - still.
The aroma is initially funky and fruity, with notes of plums, ripe grapes, and vinegar. Some wood is present, as well as lactic character. Vanilla and a medium level of tartness are apparent.
I've loved the flavor of every Bon-Chien, and the Cabernet Barrel Grand Cru is no exception. There's a lot going on here. The flavor opens up with funky fruits in the form of overripe plums and plum skins, with grapes and currants. Tartness is at a high medium level throughout, and a little acetic acid is noticeable. The beer is tannic and vinous. Wood notes are again evident, with notes of vanilla as well. The beer is slightly sweet throughout (but definitely on the dry end of the spectrum overall), finishing dry and fruity, with a fantastic lactic sourness. Why don't I taste any alcohol? How do they manage to obscure 11% every time?
The beer is medium bodied with absolutely no carbonation. As is the case with all the Bon-Chiens, the lack of carbonation works very well. I wish I had another magnum.
1,166 characters

3.93
/5
rDev
-6.7%
look: 2.5 | smell: 4.5 | taste: 4 | feel: 3 | overall: 4
Magnum shared by ygtbsm. Thanks again Brad! Sampled alongside the bourbon and Pinot noir versions.
Pours a dark chestnut/copper color with dark orange edges but it's completely still with no head or lace.
Very earthy aroma with lots of oak tannis and vinous dark fruit.  The barrel character is very strong with lots of oak, vanilla and vinous dark fruit.  Lots of drak grape, cherry and other berries.
Flat with a slick oily mouthfeel but again the vinous fruit and red wine flavors help.  Very sweet with a very prominent vinous dark fruit/red wine character.  Subtle earthy oak with a touch of vanilla but it's not as prominent as the nose suggests.  A bit one dimensional with hints of grape, currant, dark cherry and other berries.   Some boozy heat in the finish but overall the ABV is nicely masked.
Overall this was the best of three versions that we sampled. Still if this had a bit of carbonation and a little more complexity it could be amazing.
969 characters

4.54
/5
rDev
+7.8%
look: 3.5 | smell: 4.5 | taste: 4.5 | feel: 4.5 | overall: 5
Picked up a magnum of this at West Lakeview Liquors. Bottle #111 according to the tag. Served in a mini-pint taster glass at the Bad Apple tasting event.
A - Looks like typical Bon-Chien. Pours mostly still with a few big bubbles that quickly dissipate. Slightly hazed orange-red cider color, and some obvious sediment.
S - Vinous, slightly peaty, some wet wood, light funkiness, strong Cabernet character, and light vinegar and acetic acid. Nothing unexpected, but still manages to blend well and impress.
T - Again, it's a hefty dose of Cabernet grapes, light funkiness, tannic barrel character, slight oxidation and sherry notes, and a bit of lactic sourness. Nary a trace of the 11% ABV on the label - it's actually quite mellow.
M - Incredibly well-hidden booze, with only minimal heat. Medium body, red wine-like texture with some tannic dryness in the finish, and a bit of stickiness as well. Obviously there is no carbonation.
D - Probably the most slam-able 11% beer I've ever had. With no carbonation, and incredibly well-hidden booze, these magnums are a hospital trip waiting to happen. It's probably for the best that I brought it to a larger tasting.
1,169 characters
Abbaye De Saint Bon-Chien Grand Cru (Aged In Cabernet Barrels) from BFM (Brasserie des Franches-Montagnes)
Beer rating:
4.21
out of
5
with
9
ratings