Abbaye De Saint Bon-Chien Grand Cru (Aged In Spirit Barrels)
| BFM (Brasserie des Franches-Montagnes)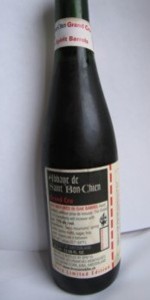 BEER INFO
Brewed by:
BFM (Brasserie des Franches-Montagnes)
Switzerland
brasseriebfm.ch
Style:
Bière de Garde
Alcohol by volume (ABV):
11.00%
Availability:
Limited (brewed once)
Notes / Commercial Description:
This Grand Cru edition aged in a spirit barrel for only 7 weeks end of 2009. The wooden cask contained Merlot for 3 years, then Grappa for 5 years, then our beer spirit-la Gnôle for 7 years. The wood was like a sponge and the flavors came so suddenly and intensely that I decided to bottle it, even if the fermentation was not over. That's why there's a bit of CO2 (like in VJ1).
Added by MasterSki on 05-30-2010
This beer is retired; no longer brewed.
Reviews: 14 | Ratings: 22
4.13
/5
rDev
+4.8%
look: 4.5 | smell: 4 | taste: 4 | feel: 4 | overall: 4.5
A: The beer is cloudy brownish amber in color and poured with a finger high beige head, which has good head retention properties and consistently covered the surface. A light amount of carbonation is visible.
S: There is a moderate amount of sour aromas in the nose, which also has notes of merlot and oak.
T: Like the smell, the taste is sour and has prominent flavors of oak. The finish is rather acidic and has lots of merlot flavors.
M: It feels medium-bodied on the palate. There's a substantial amount of dryness, which particularly stands out in the finish.
D: Any traces of alcohol are completely hidden in both the smell and taste. I had no idea this was 11% until looking it up.
688 characters
4.13
/5
rDev
+4.8%
look: 4.5 | smell: 4 | taste: 4 | feel: 4 | overall: 4.5
Thanks Alex for sharing this magnum I never would've tried otherwise! Seemingly exclusive to West Lakeview in the states... maybe hasn't shown up elsewhere yet.
It pours an opaque russet tone, more orange in the sunlight. Intricate webby lace and good retention, with strong initial carbonation. Surprising for a "prise mousse" bottle (per the label).
Aroma has a musty, saison-like funk to it, a slight whiff of alcohol, with mild farmhouse character mixed with wine grapes.
Tart, tannic, and vinous... full bodied with a strong fruity/grape presence. Mildly wood at room temperature. It's full bodied and there's some indication of the 11%, but it really goes down with no trouble at all. Something there suggests the distilled spirit barrel, but it's hard to pin down. It's no more boozy than a dark red wine. A sipper with a dry finish.
Best shared, it's a bit strong for more than one glass, despite its easy drinkability.
934 characters
3.82
/5
rDev
-3%
look: 3.5 | smell: 4 | taste: 4 | feel: 3.5 | overall: 3.5
Bottle: Poured a hazy amber color ale with a small foamy head with good retention and minimal lacing. Aroma consists of light oak notes with some tartness and some light alcohol. Taste is also a mix between some tart and oak notes with some fruit and alcohol notes also noticeable. Body is about average for style with medium carbonation and some alcohol was perceptible though nothing too perturbing. Different and quite complex makes this one hard to describe. I enjoyed it but not sure I would seek this on a regular basis.
526 characters

3
/5
rDev
-23.9%
look: 3 | smell: 3 | taste: 3 | feel: 3 | overall: 3
Picked up the last bottle (I think) from Max's during a fun afternoon in Baltimore with Masterski. Bottle consumed a bit later. Served in a BFM goblet. Smells like a combo of gin and whiskey, more toward the former. Light acidity and touch of cherry. Dry and gin-like.
268 characters

4.27
/5
rDev
+8.4%
look: 4 | smell: 4.5 | taste: 4 | feel: 4.5 | overall: 4.5
Thank you Grant. This was the highlight of a recent bottle share.
Gushed at bit, but caught most of it in a tulip. Pours a hazy brownish orange with a really nice head with obviously good carbonation on this. Smell is amazing. Funk, farmhouse, hay, some wood and earthy notes. Taste is a complex mix of tart, grape skin, oak tanin, and some lactic quality. Mouthfeel is dry with not a trace of the 11% ABV. Outstanding overall. Would love more. If you ever see this, don't hesitate for even a second.
501 characters

4.18
/5
rDev
+6.1%
look: 4.5 | smell: 4 | taste: 4 | feel: 4.5 | overall: 4.5
Magnum purchased at West Lakeview Liquors. Brewed and bottled in 2009. Served in a wine glass in Matt's backyard with friends.
A - Watch out, this one is a gusher. Plenty of carbonation, which is a departure from the norm. Pours with two fingers of off-white foam that settles to a thin cap and leaves tons of splotchy lacing. Otherwise this looks like the other variants of the Grand Cru, with a hazy orange-brown body that reveals plenty of sediment.
S - This is quite a bit different from the Cabernet and Bourbon versions, in that there is significantly less wood and barrel character. You can tell this was barrel-aged for a shorter period of time. There are the usual notes of grape skins and lactic sourness, but this time it is complemented with a distilled grain alcohol note. It's not fusel, but this definitely seems boozier than the other releases.
T - The alcohol is better hidden in the taste, with more tannic character coming through instead. This leave the vinous, lactic, earthy, and light sherry notes to take center stage. Quite mellow, with a bit of bready malt character actually making an appearance.
M - Pretty smooth, and low in carbonation even with the voluminous head. Only a touch of heat persists after the dry, tannic finish. Medium body the is consistent with the taste in suggesting a significantly lower ABV.
D - This was pretty easy to drink, with its minimal apparent alcohol, attenuated flavors, and low carbonation. It's less successful than some of its Grand Cru brethren, but it was still pretty enjoyable. The magnum was consumed with nary a complaint, and we still had plenty of energy afterward.
1,653 characters
4.3
/5
rDev
+9.1%
look: 4 | smell: 4 | taste: 4.5 | feel: 4 | overall: 4.5
Figured I neeeded to treat myself for veteran's day. At Max's... poured into a duvel tulip snifter.
The beer pours a hazy orange brown color with surprisingly good head retention and lacing. Many bon chien grand cru beers are still, but the carbonation in this one is pretty good. The nose is likewise impressive, with light brown sugar, milk chocolate, orange citrus and light sour. The beer smells pretty good, but on the palate, this is just excellent. The chocolate and brown sugar intertwine nicely in this beer and dominate the flavor profile. The sour component is all in the background in this excellent beer, as this beer actually seems to lean to the sweet side. The beer finishes with some nice astringency and light bitterness, which helps to balance the sweet and sour flavor component. The grappa flavor is barely noticeable, but is there at the finish as well. Mouthfeel is at most medium bodied, and the beer has a long, complex, grappa, sour funk and chocolate finish.
Just excellent, and completely different from the other grand cru bon chien beers I've had.
1,079 characters

3.65
/5
rDev
-7.4%
look: 4 | smell: 4 | taste: 3.5 | feel: 3.5 | overall: 3.5
Picked this up about week ago or so. Haven't had much time until now to try it.
Pours a mild reddish-brown color with a one-finger head into my glass. Head fades.
Apple and cherry greet the nose, followed by only a hint of oak. It's certainly enticing.
Sour with apple and grape to start but alcohol warmth is quick to distort the palate, bring along strong oak flavor.
Mouthfeel is chock full of sourness and alcohol warmth. They both work in tandem to hurt the overall flavor.
Read the last couple of sentences. It started out good but needs a few years in a proper cellar.
581 characters

4.3
/5
rDev
+9.1%
look: 4 | smell: 4 | taste: 4.5 | feel: 4 | overall: 4.5
375ml bottle.
First surprise for me, at least for a BFM bottle, is that this is a veritable gusher, pouring a murky chestnut brown with a huge orangish white head. Great lacing.
Aroma is very woody with dry boozy notes with some tart light fruits, green apples and pears especially. Some musty vinous aromas and there is a bit of funk in the nose but it's fairly subtle.
The taste is more of the same with the sweet pears and green apples mixing with the dry alcoholic flavors of the spirit barrel. The fruit does take on a more wine-like grape-skin character and the finish is spicy, dry and burns with alcohol.
The mouthfeel is extremely wine-like and dry with a nice burn in the back of the throat. It has much more carbonation than I was expecting, especially from this brewer.
I really liked having a more carbonated BFM Grand Cru and this is one of the best I've had in the series. Really complex stuff.
914 characters

2.9
/5
rDev
-26.4%
look: 3.5 | smell: 3.5 | taste: 2.5 | feel: 3.5 | overall: 2.5
Poured into a tulip. Brewed in 2009 and bottle December of the same year. Big thanks to stevefinny for this.
3.5 A: Opaque ruby red plum color. Two and a half fingers of frothy off-white head. Retention is decent and a few spotty whisps of lacing are left.
3.5 S: Lots of funk like the other iterations. Musty basement, dry barn wood, and rotting wood lead the way. Vinous grapey fruitiness with something along the lines of a persimmon. Musky wilderness, apple orchard, and hints of tart cherry. Slightly tannic astringency and a slight booziness. Complex, but not as deep as the aromas in some of the other ones. Still, quite nice.
2.5 T: Flavors burst out in the taste. Much more potent than the nose suggests. However, the bad come out with the good. Very noticeable tannic astringency and also a medicinal punch. Vinous grape and mixed berries from the barrel. Some tart cherry as well. All the funk mentioned in the nose is there. Very dry with just a hint of acidity. Booze is quite noticeable. The barrel seems to have taken over here and the results aren't that great.
3.5 M: Lighter medium body. Nice spritzy carbonation. Light creaminess. The astringent pucker is what prevents this from having a higher score.
2.5 D: Of the five of these I've had, this is easily my least favorite. It's the booziest and easily the most astringent. This one I can't recommend.
1,377 characters

4.42
/5
rDev
+12.2%
look: 4 | smell: 4.5 | taste: 4.5 | feel: 4 | overall: 4.5
An 09 375 bottle split with onix1agr and pour into duvel tulips.
A- a good his when opening and then the foam slowly starts to rise a quick pour into the glass solved that problem and yielded a finger or so of light tan head that hold for a bit then slowly settles leaving. Some patches of lace on the glass and a cm of suds on top. A good swirl brings the head right back to its former glory. Hazy burnt orange in color with a bit of sediment floating about.
S- thar be some bugs in this. A slightly tart and sour twang with a touch of lemon zest. Vinous hits way in the back like sour grapes. As the brew warms more fruits and the myriad of spirits really start to come out and bring some rotting wood with it but in a good way.
T- very complex and deep. Opens up with a musty barnyard hit that rolls into a slightly boozy vinous touch. Grainy and mildly sweet with a good tart sour flourish. Lots of grape must and some funky apples. Ever so faint medicinal hint lurking way in the back.
M- a step of two above medium in body with a little bit of slip to it. Light carb but it works well in this brew. Just the faintest hint of heat and a solid pucker. Semi dry tannic finish.
O- this one has been taunting me for years and one day I cracked and had to have it. So I bit the rather lofty priced bullet and I'm glad I did this is a stellar brew. I'm finding more subtle nuances with each sip and am quite impressed.
1,427 characters
4
/5
rDev
+1.5%
look: 4 | smell: 4 | taste: 4 | feel: 4 | overall: 4
Accidentally let this one fall over (gently! I was gentle!) while moving stuff for Denise; unfortunately it started fizzing and leaking spirit aromas. To the freezer!
Gusher alert! Lost probably 1/4 of this small bottle to the gods of carbonation. Somewhere, Tomme Arthur is smiling. Yeasty and strongly fruity aroma. Smells dry and reminiscent of a sparkling wine.
Lots of fruit in the taste initially as support streams in from the barrels. Booze plays a key role in the overall profile, massaging my throat as it descends. Pretty good, not worth the exorbitant ($18+) price.
579 characters

3.78
/5
rDev
-4.1%
look: 4 | smell: 3.5 | taste: 4 | feel: 3 | overall: 4
Bottle, extreme gusher. Pours a hazy cider orange with white scattered foam. Nose is sour apple, brett, oak, and light fruit. Weird feel in the mouth, almost like it was poured from a hand pump, seems without carbonation. Much more mellow and superior to the Vin Jaune Grand Cru, which was all over the place. Brett and fermented apples head up the flavor, followed by oak and a light saison-like hop presence. Pretty nice, though the mouth feel is weird.
455 characters

4.97
/5
rDev
+26.1%
look: 4.5 | smell: 5 | taste: 5 | feel: 5 | overall: 5
Imbibed 2/13/2011 at Tria Washington Square in Philadelphia.
750 ml bottle. $25.
A - Pale orange hue. Light lacing. Mildly cloudy.
S - Medium + intensity of brett, citrus, tart berries, yeast. Deep, nuanced, complex, and so inviting.
T - Tart but not sour, funky, rich but light. Layers of brett, lactobacillus, Belgian yeast, mild fruity notes of citrus and cranberry, very subtle maltiness. The balance of acidity and sweetness is strikingly dynamic and disciplined like an expertly played game of tennis. Flavors notably persistent.
M - Subtly carbonated, Medium - mouthfeel. Well balanced. The mild effervescence cleans the palate. Elegant and clean.
D - 11% ABV is a shocker, the alcohol is so seemlessly integrated into the overall flavor and body of the beer. This beer drinks like a fine white wine. Seemless, beautiful, one of the best beers I've ever enjoyed.
875 characters
Abbaye De Saint Bon-Chien Grand Cru (Aged In Spirit Barrels) from BFM (Brasserie des Franches-Montagnes)
3.94
out of
5
based on
22
ratings.