Abbaye De Saint Bon-Chien Grand Cru (Aged In San Giovese Barrels)
| BFM (Brasserie des Franches-Montagnes)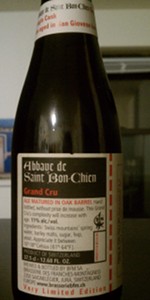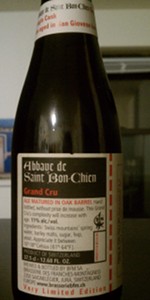 BEER INFO
Brewed by:
BFM (Brasserie des Franches-Montagnes)
Switzerland
brasseriebfm.ch
Style:
Bière de Garde
Alcohol by volume (ABV):
11.00%
Availability:
Limited (brewed once)
Notes / Commercial Description:
No notes at this time.
Added by SFLpunk on 01-31-2011
This beer is retired; no longer brewed.
HISTOGRAM
Ratings: 9 | Reviews: 6
Reviews by SFLpunk:

3.21
/5
rDev
-9.8%
look: 2.5 | smell: 4 | taste: 3 | feel: 3 | overall: 3
375mL green glass pry-top champagne bottle. Brewed in 2009, bottled March 2010.
Opens without any event. Pours a murky muddy brown without any bubbles ("sans mousse").
Nose smells tart. Vinous, caramel and oaky.
Palate is un-us-ual. Salty, caramel, woody, earthy and tart. No carbonation at all. This is more like wine then beer. Oxidized and tart.
I don't really know what to say about this beer. I think a lot of people are going to straight-up hate it. Might improve with age, but not super pleasant right now.
517 characters
More User Reviews:
3.56
/5
rDev 0%
look: 2.5 | smell: 4 | taste: 4 | feel: 2.5 | overall: 3
Another thanks to jh1982 for bringing this to the Idaho/Nevada tailgate. Opens and pours a muddled red and brown color, absolutely still pour, no carbonation, not very pretty. Aroma of cherry, wine, sour lactic notes, oaky.
Flavor is good, you get notes of cherry, sourness, oak, caramel, toffee, you can tell its plenty complex, but without any carbonation, it really can't reach for the stars. Hides the alcohol quite well, big plus for that.
Ultimately, flat beer is going to have major limitations, and depending on the style, it will hurt some beers more than others. This isn't a big as barrel aged imperial stout, it suffers even more when a sour-y type beer lacks carbonation, especially ones with fruit flavors.
724 characters
3.17
/5
rDev
-11%
look: 3.5 | smell: 4 | taste: 3 | feel: 2 | overall: 3
Pours from a "Very Limited Edition" green glass bottle with a "Single Cask... Ale aged in San Giovese barrel" tag slung around the neck, also stating, "Brewed in 2009 | Bottled March 2010." A faint (get our your stethoscopes here) pft with the cap opening.
Deep caramelly copper in tone, with a few sudsy bubbles from a decent pour, but absolutely no head.
Caramel and butterscotch initially on the nose, very delicate up front, but with a subtly nice backbone. More carbonation would probably yield more aroma, but as it stands, little here to work with and a lot of mystery left. Not even much to work with from the alcohol - lacking the character of a good wine (which in many characteristics it's more similar to than beer).
I have to move to mouthfeel next, since it's far more prominent than taste on initial sip. Thin and flat. Holding it in my mouth because I desperately want more from it, but little comes. Reasonably mild to medium bodied, as long as you factor in the issue of no carbonation. Are there some of you out there who will defend this? - probably, but in reality, for the style and flavor it's just not that pleasant.
Taste buttery (yeah...), mild bite in alcohol gives it some intrigue. Caramel and lots of subtle nicely delicate oak. I suppose some of the earthy San Giovese character is also in there, beneath some tight grain, faint puckering character in the form of watery sour. Complex, yet simple. Great, and at the same time lacking a standout grabbing flavor to really make it worth note. Vinous, but not outstandingly so. Conflicted here.
Overall, I hate it when I first take a sip, the flat blandness hitting initially, but it gives up an increasingly delicate and complex presentation that makes me want to keep working on it. Ultimately, though, I just keep ending up disappointed.
1,825 characters

3.47
/5
rDev
-2.5%
look: 2.25 | smell: 4 | taste: 3.75 | feel: 2.25 | overall: 3.25
The pour couldn't be more still. Dead flat. A mixture of brown and red colors. Aroma was red wine, some sour funk notes and dark cherry oak intrusions.
The flavor is good, but the mouthfeel is difficult without any carbonation. You still get the cherry, oak, sour, caramel, red wine notes and toffee, its a complex mix of stuff from. Amazing how big of a beer this is but you can't really tell.
I don't know why this wasn't carbonated, I've had other stuff from the brewery that was.
492 characters
4.61
/5
rDev
+29.5%
look: 3.5 | smell: 5 | taste: 4.5 | feel: 5 | overall: 4.5
Recently purchased the 375 ml version of this beer the other day at State Line.
This particular version of Bon Chien pours the pretty much typical glowing, reddish amber color with no head to speak of and no lacing. In other words, this beer is completely still. This being Bon Chien, the nose of course is completely outrageous, showcasing nuances of red wine, corn flakes (I kid you not), horse sweat, vanilla, wet blanket, watermelon and raspberry. It simply does not get much better than this. The flavor profile generally replicates the nose, though it's not quite as "in your face." Also, on the palate I get some light brown sugar and chocolate, as well as the expected red wine, vanilla, light tar, watermelon, caramel and raspberry sweet tart. The flavor array in this beer is just stunning. Interestingly, there is not nearly as much of a sour funk component to this beer, and I'm actually getting a bit of moderate sweetness (which goes well with the spritzy, sweet tart flavor in the finish). Mouthfeel is full, soft, creamy and just all satin on the palate. The finish is extremely smooth and long, with that lovely sweet tart flavor at the end. The 11% abv. is almost completely unnoticeable
Except for its appearance, this beer flirts with perfection and is among the better grand cru versions I've had of this beer. Absolutely delicious, this is another amazing offering from the folks at BFM. Really need to pick up another bottle or three next time I'm up at State Line.
1,491 characters


2.55
/5
rDev
-28.4%
look: 3 | smell: 3 | taste: 2.5 | feel: 2.5 | overall: 2
Look: the beer pours a brown-copper color with no head at all.
Smell: Sour berries, sweet berries, red wine vinegar, alcohol and some wood.
Taste: Sweet and sour. Caramel, red fruits, apple and lots of very acidic wine vinegar. Aftertaste is dry and unpleasantly sour with a bite of strong alcohol. This beer tastes like wine was added after brewing
Mouthfeel: Medium body, no carbonation
Overall: Compared to the regular version (world class), this beer is disappointing. The barrels didn't do this beer any good making it much less complicated in flavor by adding a too strong wine like flavors to the beer. Maybe some aging will improve this beer, but right now, it is not good.
684 characters
Abbaye De Saint Bon-Chien Grand Cru (Aged In San Giovese Barrels) from BFM (Brasserie des Franches-Montagnes)
Beer rating:
3.56
out of
5
with
9
ratings