Abbaye De Saint Bon-Chien Grand Cru (Vin Blanc Barrel)
| BFM (Brasserie des Franches-Montagnes)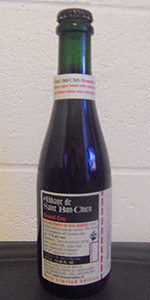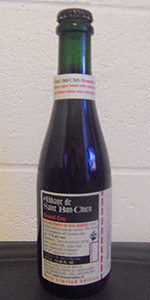 BEER INFO
Brewed by:
BFM (Brasserie des Franches-Montagnes)
Switzerland
brasseriebfm.ch
Style:
French Bière de Garde
Alcohol by volume (ABV):
11.00%
Availability:
Limited (brewed once)
Notes / Commercial Description:
None provided.
This beer is retired; no longer brewed.
Reviews: 10 | Ratings: 38
4.08
/5
rDev
-5.3%
look: 4 | smell: 4 | taste: 4.25 | feel: 3.75 | overall: 4
'11 vintage, released in 2012. This is listed as "extra bubbles," which means it's lightly carbonated rather than flat.
This smells funky and dusty, with lots of fruitiness, with a dry and vinous aroma.
The little bit of carbonation does help this one, as the fruit and funk come to the forefront. It's mildly sour, lots of oak, and a nice malt backbone.
This is medium bodied, with a fairly low level of carbonation. It's definitely a slow sipper.
This is yet another fun variant here- it's not the best I've had, but it's good like most of the rest.
555 characters
4.38
/5
rDev
+1.6%
look: 4.5 | smell: 4.5 | taste: 4.25 | feel: 4.25 | overall: 4.5
Its is almost a wine rather than a beer. A very different product from the original SBC.
It has a lighter body thant the SBC (which I miss), and has some secondary flavors that reminds me to some dry sherry or "palocortado" (wich I don't like). Eve though, it is amazing.
271 characters

4.18
/5
rDev
-3%
look: 4.25 | smell: 4.25 | taste: 4.25 | feel: 4 | overall: 4
A-Pours a cloudy copper color. Fluffy, white foaminess grows after the pour. The head deflates over a dozen seconds or so. Not much lace, if any.
S-Ithas all the Bon Chien complexity I am accustomed to but they seem more muted here. Musty and funky with some tart cherry aromas. It's time in the white wine barrels has leant scents of oak and old Sauterne wine.
T-I am picking up some of that acidic white wine flavor, I also get some sweet white desert wine flavor as well. Oakiness and a semi-tart fruitiness. An overall funkified flavor with some cherry tart that is Oud Bruin-esque. Lots to pick out here.
M-Medium bodied with a subtle carbonation. Tannic feel. Booze hidden exceptionally well.
O-These are some pricey bottles so it's definitely a treat to sip some Bon Chien and/or it's variants. I like the original more than this (reviewed original in late 2012, which was the '11 vintage) but this was, of course still quite a remarkable beer.
956 characters

4.4
/5
rDev
+2.1%
look: 1.5 | smell: 4.5 | taste: 4.5 | feel: 4.25 | overall: 5
A
375ml into a tulip. Opens with a tiny hiss, pours a dead dull drab walnut. No lacing. Only in the world of BFM would anyone consider this as something "with extra bubbles". Pour from a height of two feet if you want to encourage froth.
The aroma is not particularly intense. Sour dark cherries, white grape skin, generous medieval
funk.
The taste is vastly more expressive than the scent. More tart than sour. Strong vineous qualities, exceedingly dry. The wine barrel's contribution defines the flavor. The aftertaste reverberates a low sour bitterness that lingers forever. Easy to sip tiny sips repeatedly, each a full dose, lip smacking. Thin mouthfeel that seeps into the smallest crevasses as if some goes straight into the blood, passes through the mouth. Tremendous complexity. At room temp its morphs towards a swiss barleywine.
cheers
jd
853 characters

4.39
/5
rDev
+1.9%
look: 4 | smell: 4.25 | taste: 4.5 | feel: 4.25 | overall: 4.5
Poured from a 375 mL bottle into a Golden Monkey Goblet. This bottle was brewed in 2011 and bottled in 2012.
Appearance: Pours a medium red/brown hazel color and leaves a minimal off-white head which fades quickly.
Smell: Oak, cherries, some tartness and acidity, and perhaps some grape-like scents. Definitely pleasant, and quite moderate.
Taste: The tartness shows a lot more in the taste than the smell. Definitely lots of tart cherry in this one. It picked up a good amount of oak from the barrels as well. It ends with a wine-like
finish which it must have picked up from its time in the white wine barrels. The alcohol is spectacularly hidden, I would've pegged this one at about 7%. Very tasty.
Mouth-feel: Feels quite carbonated - sticks a little on its way down. Not unpleasant, just interesting.
Overall: This is a quality brew. It definitely has some sour to it but is very well balanced and the alcohol is extremely hidden. I honestly don't think this one needs any more age - it is at its best now. Delicious.
1,028 characters

4.28
/5
rDev
-0.7%
look: 4.25 | smell: 4.25 | taste: 4.25 | feel: 4.5 | overall: 4.25
Bottle from Binny's. Served in a tulip at Sean's place.
A - White foam settles to a collar, wisps, and spotty lace. Hazed burnt copper body. Thanks to Jerome for bottling this one with extra bubbles.
S - Loads of musky brett here, with some lactic acidity as well. Oak, vinous notes, sour cherry, a surprising stone fruit note - perhaps from the Swiss white wine?
T - The taste is more acetic, with a hefty dose of vinous oak, sour cherries and vinegar, some tart candy (Sweet Tarts?), grape skins, and less malt than one would expect from an 11% beer. There's a bit of the usual red fruit sweetness, but this seems more wild than other beers in this series.
M - Medium body, with medium-low carbonation. Super dry finish with tooth-coating candy-esque residuals. Moderate pucker and acidity that grows over time. No alcohol as far as I can tell.
D - An excellent wine-barrel aged sour that hides its alcohol shockingly well. One of my favorite BFM Grand Crus, and something I'd drink regularly if it weren't so darned expensive. Sean and I crushed the bottle pretty easily.
1,079 characters

3.54
/5
rDev
-17.9%
look: 3.5 | smell: 3.25 | taste: 3.75 | feel: 3.5 | overall: 3.5
Served in a Lagunitas mason jar.
Y'know, I might not mind the major fluctuations in taste in these BFM beers if they didn't cost so damn much (and also make themselves so unique and interesting to me...). Oh well, gonna try 'em anyway... This one pours a mostly clear sunrise ruby topped by a half-finger of dirty cream suds. The nose comprises mild red wine, wet oak, light musty greens, very light cranberry, and a vague spiciness that I can't quite put into words (though it has something of a pepper/cilantro/parsley vibe to it at times). The taste takes a sterner look at the wine, adding in a strong sourness to it, particularly throughout the finish. Behind the sour, slightly tomato-y wine character (there's a sense of Blood Mary in there on occasion) lies a bit of cilantro, a hint of light oak, and the lightest breeze of wheat that could possibly nudge a windsock for a moment. The body is a lithe medium, with a light carbonation and a fluid feel. Overall, an interesting beer that leaves me with a divided opinion: I do enjoy the sourness and whatnot, but the whole Bloody Mary-like character puts me off a bit too much for me to call this stuff great by any measure. As of this moment, the normal AdBC is my heavy preference.
1,241 characters

4.47
/5
rDev
+3.7%
look: 4 | smell: 4.5 | taste: 4.5 | feel: 4.5 | overall: 4.5
The beer appears fairly hazy and auburn colored with only a faint trace of head that dissipates hastily. The aroma brings acetic and lactic funk, sourness, cherries, oak. A terrific smelling beer. The flavor is both tart and sour, with a lovely balance of oak, fruit, wine. A nice tannic, vinous chcracter throughout. Alcohol presence is there but well hidden. Carbonation is light with an acetic yet smooth feel on the palate. An elegant beer. I would happily have this again.
477 characters
4.42
/5
rDev
+2.6%
look: 4 | smell: 4.5 | taste: 4.5 | feel: 4 | overall: 4.5
Every so often, a visit to the beer glass comes as close to changing my life as a beer can. Ok, it doesn't cure cancer or solve world peace but as soon as the nose eclipses the rim of the glass, all my worries flee from my mind and my heart. This is one amazing beer!
Rusty mauve in color, the beer carries a tawny hazy appearance with chestnut and garnet hues as well. Slight foam releases from the beer below and slowly forms a mesh of white across the beer's surface and seems to prefer a wine-like appearance as to beer. With no real lacing to mention, remote specs form on the glass before floating into the beer fairly soon after.
As the nose hovers over the glass, immediate mouth whetting and sweat braking reflexes ensue because of the savory tartness of citric and acidic fruits, savory dark dried fruits, and well aged ciders and oaked vinegar. Blackberry, blueberry, red grape, white grape, crabapples all play into the super fruity realms while musty notes of saddle leather, balsamic, sweet tobacco, and sea brine keep the waves of aromas coming.
Acidic fruit flavors of crab apples, white grapes, cider, vinegar, cherries, and limes dissolve into the taste buds for a hapless saturation of taste. The sheer intensity of flavor is too much to thoroughly explore, yet is so inviting as the session lasts mere minutes as well. Richer support of dark dehydrated fruits of sultans, prunes, figs, and dates all provide supple richness and complex oxidized balsamic notes that satisfies the "meaty" components of savory needs. Somewhat salty, briny, and earthen oak, almonds, vanilla, and pepper, the beer continues to offer varying degress of taste with each and every sip.
Its complex elegance is met with a medium-light body that's more suited for full bodied red wines than of beer. Once the acidity pierces the soft tissues of the mouth, a soothing candied malt texture apologizes and then delivers the more savory textures of oxidized sherry fruitiness. Though pleasantly sour and not-so-shyly astringent, the wood spices hides well the beer's strength and keeps the taste of super glue alcohol from burning out of control.
Salty, savory, sour, and rich- the beer simply does all that sour ales are expected to do. It's sour intensity favors that of well blended gueuze while the savory notes speak to pleasantly oxidized Flanders red ales.
2,359 characters
4.42
/5
rDev
+2.6%
look: 4 | smell: 4.5 | taste: 4.5 | feel: 4 | overall: 4.5
Sampled the other day at Max's.
The beer pours the prototypical bon chien color of reddish amber, with brown overtones. The bottle notes that this beer was made with extra carbonation (bubbles), but if so, it's certainly not greatly over carbonated. The color of this beer is quite lovely, but as always, there is not much head retention or lacing in this beer. The nose is all bon chien, showcasing considerable wine, sour, vanilla and grape aroma. The flavor profile replicates the nose very closely, with something of tannic, slightly bitter finish. This beer is quite vinuous, and the fruit flavor and vanilla blend well with the sour component. Mouthfeel is medium bodied, with a long, sour, wine infused finish. Alcohol is well integrated into the flavor profile, and again, is typical of bon chien.
Excellent beer as always.... just wish the price wasn't getting so high for these grand cru beers from BFM.
915 characters
Abbaye De Saint Bon-Chien Grand Cru (Vin Blanc Barrel) from BFM (Brasserie des Franches-Montagnes)
Beer rating:
4.31
out of
5
with
38
ratings