St. Peter's G-Free (Gluten Free Beer)
| St. Peter's Brewery Co Ltd
BA SCORE
76
okay
13
Reviews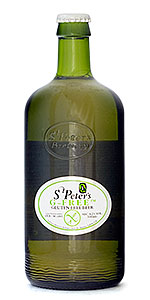 BEER INFO
Brewed by:
St. Peter's Brewery Co Ltd
England
,
United Kingdom
stpetersbrewery.co.uk
Style:
English Bitter
Alcohol by volume (ABV):
4.20%
Availability:
Year-round
Notes / Commercial Description:
No notes at this time.
Added by Sigmund on 12-25-2008
Reviews: 13 | Ratings: 29

3.24
/5
rDev
+8.7%
look: 2 | smell: 3 | taste: 3.5 | feel: 3.5 | overall: 3.25
500 mL bottle from the LCBO; dated Feb 1 2016 and served well-chilled.
This gluten free beer is medium yellow-gold in colour, with a crystal clear complexion. An aggressive pour failed to produce any lasting head - a half-finger of loose, bone white froth was produced, but fizzled off within 20 seconds. No lacing; no cap. Weird nose - I've reviewed more than a thousand beers in my day, but the aroma on this one is leaving me at a loss for accurate descriptive terms. Grain husk and honey biscuit, with boiled vegetables, compost and weakly floral hop notes.
Tastes better than it smells - almost like a real English bitter, though it's not exactly difficult to tell that this isn't technically "beer" (at least, in the traditional sense). More grain husk, with notes of honey sweetness, boiled vegetables and muddled citrus pith. Finishes with a leafy, grassy, floral note that persists into the aftertaste. The hops save this one, giving it actual depth beyond the unusual vegetal sorghum-derived flavours. Light-ish in body, with moderately low carbonation levels and a very smooth texture in the mouth. Sessionable in theory; in practice, I'd rather drink their organic pale ale.
Final Grade: 3.24, a C+. Speaking as a BA who lacks any sort of valid excuse to be drinking gluten-free beer in the first place - I'd say that, compared to many of its competitors, St. Peter's G-Free is a genuinely respectable effort - which makes it a virtual must-try for celiacs (or anyone else on the GF bandwagon). While this beer does taste a little weird to my palate, I can't honestly say that it isn't one of the best GF brews I've tried to date. This is mostly due to the presence of the Amarillo hops, whose floral, citrusy tendencies somewhat complement the grainy, honey-like sweetness of the sorghum. Is it the sort of thing I'm likely to buy again? Well, no - certainly not at $4 a pint. But if you're a celiac looking for something that at least begins to approximate a craft beer, this is as good a place to start as any.
2,029 characters
1.34
/5
rDev
-55%
look: 2.75 | smell: 1.25 | taste: 1.25 | feel: 1.25 | overall: 1.25
Bottle: Poured clear golden color ale with a small foamy head with limited retention. Aroma of unrefined grain is not very interesting. Taste is quite atrocious with some weird unrefined grain and no discernable hops. It had been a while since I had such a large drain pour.
274 characters

3.46
/5
rDev
+16.1%
look: 3.25 | smell: 3.5 | taste: 3.5 | feel: 3.25 | overall: 3.5
St. Peter's G-Free doesn't look like any less of a beer for not using barley or wheat. In fact, it has the same characteristic golden colour and shiny, clear complexion as any other English bitter. Where it comes up short, however, is in its inability to produce (or at least retain) any head.
Just because someone has an allergy to wheat doesn't mean they can't enjoy hops! Why do so many brewery overlook this? Heck, half the beer drinkers I know prefer a flavour dominated by hops anyhow. I'm glad St. Peter's recognizes this and uses citrusy, floral Amarillo hops.
Though they smell slightly different in combination with the exceptionally chalky mineral-dense water, the hops' key signatures of zested citrus and orange blossoms are fully appreciated. These fruity, leafy flavours show up even bolder on the palate where the impress a grassy bitterness that nearly makes us forget altogether about grain.
The hops don't have much legs behind them (as they rarely do in simple English bitters) but the flavour of oranges, though gentle, doesn't flee away that fast. And while sorghum doesn't quite emulate the wholesome, bready toastiness of barley, it does have a clean and lightly honeyed cereal taste that makes it a very agreeable alternative.
Gluten-free beer generally serves as a reminder that if I suffered from celiac disease I'd probably lose all interest in living. Most are simply that unfortunate. But St. Peter's G-Free is actually a proper, serviceable gluten-free ale that I find not only tolerable, but enjoyable. Turns out there's hope yet in the world for our poor gluten-sensitive friends (and fad dieters).
1,639 characters
3.3
/5
rDev
+10.7%
look: 2.75 | smell: 3.25 | taste: 3.5 | feel: 2.5 | overall: 3.5
A new selection at the local LCBO...
A - Pours a pale golden colour, thin layer of head with no retention or lacing.
S - Bready grains, cereal, toasted crackers and a hint lemon.
T - The American hop profile provides for a unique citrus flavour that pairs well with the sorghum base. Sour metallic citrus lingers on the finish alongside the bready grains and toasted crackers.
M - A tad thin and watery and finishes surprisingly dry.
O - A surprisingly flavourful brew and easily one of the best gluten free brews I've tried to date. I would easily drink this again and if I couldn't have gluten, this would easily be at the top of my list.
645 characters

2.81
/5
rDev
-5.7%
look: 2.75 | smell: 3 | taste: 2.75 | feel: 2.75 | overall: 2.75
500ml Bottle from the Ottawa LCBO for 4$
Appearance - Clear golden colour with an average size fizzy off-white coloured head. There is an average amount of carbonation showing and there isn't much lacing. The head lasted for around 2 minutes.
Smell - Hops, caramel, floral/citrus notes
Taste & Mouth - There is an average amount of carbonation and I can taste caramel, lemon, and some floral notes. There is also a bit of a hoppy bite to it. It ends with a bit of a spicy dry aftertaste.
Overall – One of the better gluten free beer's I've had. I can see this working well as a refreshing beer during the warmer weather. Still not a great beer.. just good for gluten free.
678 characters
3.41
/5
rDev
+14.4%
look: 4 | smell: 3 | taste: 3.5 | feel: 3.5 | overall: 3.5
The beer is served from a 500ml bottle, bought in Göteborg, Sweden. Expiration date is 16th of May 2013. The label has swedish nutrition markings and english text, brewed in Suffolk.
Appearance: The beer pours a nice golden hue. Very light and bright white head dissipates quickly, leaving just faint lacing on the side.
Smell: light citrus and hops. Slight hint of caramel.
Taste: Hops and bread. Finishes a citrus-like bitter, possibly menthol. Definitely not a session beer, but a nice diversion compared to the lightness of other gluten-free beers.
Mouthfeel: Light and crisp, plenty carbonation. Aftertaste lingers for a while, but other than that it has a clean finish.
Overall: It leaves a bit to be desired in a bitter, but considering this is a gluten-free offering, it's a good showing.
802 characters
3.47
/5
rDev
+16.4%
look: 3 | smell: 3.5 | taste: 3.5 | feel: 3.5 | overall: 3.5
The brew is pale golden, has a high off-white head, a bit uneven and with large bubbles. Leaving good lacing, but small curtains.
Smelling of fresh lemons and lime, some peel and possibly some cardboard.
Starting with some white bread, not much sweetness, lemon juice, lime peel, rather clean but a bit sharp bitterness.
Medium carbonation, slightly coarse, medium body, a dry (sharp) finish.
A perky nice lemon vibe in this one, refreshing but a tad to rough bitterness.
475 characters

3.34
/5
rDev
+12.1%
look: 2.5 | smell: 3.5 | taste: 3 | feel: 3.5 | overall: 4
Short-necked stubby green 50 cl bottle with an oval base (instead of a round ditto). A really small white and silver label.
A: Pours deep golden with hints of green. A really small airy white head. No lacings.
S: Floral hops; citric notes. Grassy. Some butter. A bit flowery.
T: Fruit, mostly citrus. Bitter hops. A bit sweet. Somewhat creamy.
M: Aftertaste is mediumlong and holds nice bitterness. Body is light and carbonation is medium.
D: This is a Gluten Free Beer. If you are one of the unlucky, with gluten allergy this must be one of the best choices for you.
576 characters
2.54
/5
rDev
-14.8%
look: 2.5 | smell: 3.5 | taste: 2 | feel: 2.5 | overall: 2.5
Appearance - Pale golden color with lots of bubbles rising and a small head that dissipates fast.
Smell - Smells quite fresh of hops, some citrus and caramell.
Taste - Some hops and sweet bread. But it finishes quite unpleasently, with bitterness and something i can't place. Maybe bitter menthol?
Mouthfeel - Light body with lots of carbonation.
349 characters
2.77
/5
rDev
-7%
look: 3 | smell: 3.5 | taste: 2.5 | feel: 2.5 | overall: 2.5
This pours a light golden colour with a centimetre of white head which doesn't stick around for long.
The nose is quite pleasant which is not always a sure thing with gluten free beers. Some nice hop notes. A bit of citrus.
The hop flavours come through on the palate but they are not enough to mask something else in there which is not as pleasant. Menthol? And something else - not sure what. Well out of balance.
Drinking these beers always makes me grateful that I am not gluten intolerant.
497 characters
2.82
/5
rDev
-5.4%
look: 2.5 | smell: 3 | taste: 3 | feel: 2.5 | overall: 2.5
A: Pale yellow color with an ivory-colored rather small head that dissipates quickly. Quite a boring looking one.
S: Sweetish hoppy aromas, citric notes and tangerines. Some floral notes. Quite refreshing. Besides the jops there are quite a lot of hard to define aromas and I suspect they derive from the sorghum used in the brewing. A peculiar smell, but not a very good one.
T: Fruity hop flavors and tangerines. It's rather sweet with a faint tart note in the middle. Grass. The overall composition seems strange since the usual malt flavors are not there. But still, some notes of crackers are noticeable. In the finish there is a not so pleasant bitterness, strange notes of menthol, white pepper and licorice. After a while the taste of menthol gets really annoying.
M: Light body, bland mouthfeel. Feels boring.
D: Perhaps this is a required taste, and I definitely would have bought it again if I had celiac disease. But for now, it didn't really do it for me.
973 characters
3.57
/5
rDev
+19.8%
look: 3 | smell: 3.5 | taste: 3.5 | feel: 3.5 | overall: 4
The colour is pale gold; the liquid is clear. The airy off-white head leaves some fine lacing.
The hoppy smell got citric notes (lime, bitter oranges, lemon) and a fine candy-like sweetness.
The taste is a bit different as there is no malt in this beer. The body is low. Lots of bitter citric hoppy flavours are mixed with a very neutral sweetness. The short aftertaste is dominated by fresh hops with a fine tart citric/lemon flavour and a hint of dough.
The carbonation is medium with lots of soda-like large bubbles. The liquid is light.
Much better gluten free beer than "Saxon", although it tastes more like a well hopped pilsner than a bitter. Very refreshing.
673 characters
3.19
/5
rDev
+7%
look: 3 | smell: 4 | taste: 3 | feel: 2.5 | overall: 3
500 ml bottle, bought at Ultra Stavanger (Stadionparken). ABV is 4.2%. Clear deep golden colour, moderate head. Pleasant aroma of Amarillo hops with notes of mandarin/tangerine. I started drinking it too cold, but the flavour is fairly crisp and dry with some fruity hops first, then some rubbery notes in the middle like sayravai says, and a very bitter finish. This bitterness is not entirely pleasant, as the beer is light bodied and lacks malts and sweetness to balance the bitterness. If i suffered from coeliac disease I would probably buy this beer again, but as gluten is not a problem for me, St. Peters Brewery has other beers that are more to my liking.
664 characters
St. Peter's G-Free (Gluten Free Beer) from St. Peter's Brewery Co Ltd
2.98
out of
5
based on
29
ratings.