Dismiss Notice
St. Peter's The Saints Whisky Beer
| St. Peter's Brewery Co Ltd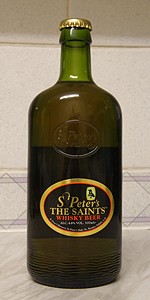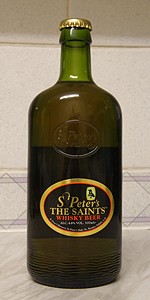 BEER INFO
Brewed by:
St. Peter's Brewery Co Ltd
England
,
United Kingdom
stpetersbrewery.co.uk
Style:
English Strong Ale
Alcohol by volume (ABV):
4.80%
Availability:
Year-round
Notes / Commercial Description:
No notes at this time.
Added by thepeter on 11-02-2011
HISTOGRAM
Ratings: 39 | Reviews: 23

2.68
/5
rDev
-16.3%
look: 4 | smell: 3.5 | taste: 2 | feel: 3 | overall: 2.5
Clear golden colour, near 2 fingers white head, sticky with lots of lace. Smell is full of smoke and peat with a little bit of biscuity malt underneath and to a lesser degree a bit of floral hop, but mostly just smoke and peat. Taste a strange mix of smoke and biscuity malts, peat is certainly there but this honestly just tastes like smokey salt water. Light carbonation, light mouthfeel, pretty average feel. Didn't get through much of this, really not my thing here, something I really should have passed on.
512 characters

2.83
/5
rDev
-11.6%
look: 3.5 | smell: 3 | taste: 2.5 | feel: 3 | overall: 3
A 500ml bottle with a BB of Sept 2012. Picked up ages ago from a branch of Waitrose. Described on the label as a balanced beer containing a measure of peated English whisky from St. George's Distillery.
Poured into a tulip pint glass. A clear sunset amber with medium carbonation. Forms a large head of creamy white foam that hangs around for a few minutes before subsiding. The aroma is intense and unusual - initially sharp and medicinal, not unlike TCP. Notes of smoke, tar, peat, wood, iodine and subtle malty undertones. Dry and slightly solventy.
Tastes of intense whisky flavours with a faint hint of beer. Similar to the aroma, notes of smoke, phenols, iodine, tar, sea-salt, peat, faint malt and subtle stewed leaves. Distinctly medicinal, astringent and solvent-like. A dry, rather harsh finish upon swallowing. Mouthfeel is thin and insubstantial, with tingly carbonation and a dry character. Somewhat astringent. Aftertaste of medicinal, smoky notes.
Hmmmm - I'm not loving this, though it's perhaps a matter of personal taste. It does what it says on the tin; there's plenty of whisky character in this beer. However, I find it excessive and unbalanced - you could be forgiven for not realising that this is a beer. The first impression is that someone's dumped TCP into your pint - it's a very strong aroma/flavour. After a mouthful or two you can begin to tease out the aromatic components and analyse them. Medicinal and solventy, the underlying beer never stands a chance to make an impact. This would probably benefit from having the whisky toned back somewhat, though I'm sure there are those who love it. Divisive - if you love peaty whiskies then this is the brew for you. Caveat emptor!
1,711 characters
3.03
/5
rDev
-5.3%
look: 3.5 | smell: 3 | taste: 3 | feel: 3 | overall: 3
Single 500mL bottle from the Conestoga LCBO, as part of the LCBO Fall Release. Poured into my oft-neglected St. Peter's branded ale glass.
Light caramel-amber in colour, with a half-inch of head that recedes into a thin ring. A few flecks of lacing.
The nose is unmistakably that of a peat and iodine heavy whisky, which according to the bottle is from the house whisky at their distillery in Norfolk. I happen to like peat whiskys, so this wasn't too bad. However, I have to mark low because not only is it extremely potent, it also happens to be the only thing on the nose I can detect, other than a sugary sweetness that makes this beer smell a bit like a rye and ginger ale.
The taste is quite similar, with the bitter peat flavor running the show. Again, if you like peat, this one might be appealing. But it is hardly something to get that excited over - quite bitter and salty. Thin bodied, a touch watery.
A miss for me. Not sure why this brew was part of the release, other than for the sheer novelty. An interesting experiment, but it just doesn't have the balance of other beers of the same style.
1,116 characters

2.56
/5
rDev
-20%
look: 3.5 | smell: 2.5 | taste: 2.5 | feel: 2.5 | overall: 2.5
500ml Bottle from the Ottawa LCBO for 5$
Appearance - Gold/amber colour with with a an average size fizzy white head. There is an average amount of carbonation showing and there is some fair lacing. The head lasted for 3-4 minutes before it was gone.
Smell - Smoke, peat, wood, malts
Taste & Mouth - There is an average amount of carbonation and I can taste malts, peat, and some smoke/burnt notes. There is also some herbal notes. It ends with a malty and smokey finish.
Overall - Not my kind of beer.. If you're in the market for something odd/interesting tasting, then give this one a try.
596 characters

2.82
/5
rDev
-11.9%
look: 4 | smell: 2 | taste: 3 | feel: 3 | overall: 3
Very nice, deep golden amber colour with a large, frothy white head that hangs around as a thick collar and leaves some heavy lace.
Saying that this beer has a smoky aroma is putting it mildly. Spent peat, ash, and burnt wood assault the nose. There is a very mild honey-like sweetness and a subtle floral note, but these are all but lost in the smoke.
Smoky qualities dominate the taste as well. There is a solid malt backbone and a nice fruitiness to be found as well. Notes of grains, earth and mineral water in the finish.
Rather heavy feeling for a relatively thin-bodied ale. Minimal carbonation. Mostly dry throughout with a mild syrupy feeling. Smoke, earth and grasses in the aftertaste.
The taste grew on me, but I just think this one smells awful and can't enjoy it. Was expecting a sweet Scotch Ale type of beer, but this is made for fans of smoke or chipotle beers.
884 characters
2.61
/5
rDev
-18.4%
look: 3.5 | smell: 2.5 | taste: 2.5 | feel: 3 | overall: 2.5
Poured into an Abbot Ale glass tankard while waiting for the bar-b-que to get going on Easter Sunday 2012.
Clear and light amber in colour: good white head on top. The 500ml bottle (best before 08 Dec 2012) looks great and the beer looked fine too, it's the taste and smell that I didn't take too.
The nose is all peat smoke and wood fires, as is the taste: I'd never have guessed this was a whisky beer if I hadn't poured it myself. Ashtray smokey and much too much for my palate: I had trouble finishing the bottle, my wife took a sniff and refused to help, it nearly went on the Bratwursts as a marinade but she didn't like the sound of that either. I'm sure some people will rave about it, but it isn't for me.
716 characters
3.62
/5
rDev
+13.1%
look: 3.5 | smell: 4 | taste: 3.5 | feel: 3.5 | overall: 3.5
Thanks to Ruds for this one.
Poured from a 500ml. bottle, best before 01 Aug 12.
Appearance: A nice honey colored body that has trouble pulling more than 1 fat finger of foam. Low lacing and some retention.
Smell: Very peaty, mildly ashy with a smoky meat aroma.
Taste: Peat, wood smoked meat, smokiness and hints of whiskey sans the alcohol. Caramel malt with a mineral bitterness finishes it off.
Mouthfeel: Medium bodied with a creamy feel and the latter part of the feel is a bit thin.
Overall: Interesting, good but not great. Still worth a try for sure.
565 characters
3.48
/5
rDev
+8.8%
look: 4 | smell: 3.5 | taste: 3.5 | feel: 3 | overall: 3.5
Poured from the bottle to an English handled pint glass.
A clear golden/yellow colour with a large white fluffy head that maintained its presence well throughout drinking.
The aroma is all about peated whisky (from St Georges an English distillery), smoke, tar and wood also coming off the glass.
Again, as you'd expect from this beer a real peated whisky flavour, think Laphroig in a beer bottle! Lots of smoke therefore, wood, malt, a little herbs and spice in the background. Bitter-dry aftertaste.
Mouthfeel was a bit of a let down for me, medium bodied but way too much carbonation in this beer!
Overall an interesting beer. I'm a big fan of peated whisky so this flavour worked for me! Would I try again? I wouldn't go out of my way for it, but I would happily raise a glass if someone gave me a bottle, quite a unique beer and I do reccomend trying it for a couple of quid from Waitrose!
899 characters

3.23
/5
rDev
+0.9%
look: 3.5 | smell: 3 | taste: 3.5 | feel: 3 | overall: 3
Beer bottle (50 cl.) purchased from Bières & Chopes and tasted in 2011.
Appearance : pale amber color, with white foam head (not persistent).
Smell : peaty and smoky aromas.
Taste and mouthfeel : watery, caramel malts and toasted notes very strange.
Drinkability : an average beer in the style Scotch Ale.
307 characters
3.45
/5
rDev
+7.8%
look: 3.5 | smell: 3.5 | taste: 3.5 | feel: 3 | overall: 3.5
Not sure I'd call this a strong ale - maybe a smoked beer. Golden amber colour with a thin head.
Big peaty, whisky scent with a nice smokey over tone. Really can't pick much else up in the scent. Maybe a bit of shoe polish.
Smoky, peaty taste - almost like an Islay. Fruits, smoke, leather and even tobacco in it. Light hops that come through as apples and raisins in the taste.
A bit high on the carbonation, and a bit one-sided in the taste - too much emphasis on the smoky, peaty part of it and not enough development elsewhere. A good beer - I might by it again, but I've had subtler, smoother whisky beers.
614 characters
3.88
/5
rDev
+21.3%
look: 4 | smell: 3.5 | taste: 4 | feel: 4 | overall: 4
Recently purchased at the Waitrose supermarket, BB 14/09/2012, served cool in a straight imperial pint glass. Notes: the beer label describes this beer using a measure of English whisky from St. George's Distillery, thus imparted with 'smokey' overtones from peated malts.
A: pours a dark red golden hue, coming with a relatively thin off-white beer head retreating to a thin rim, on top of quite moderate carbonation.
S: the smell is really interested, like peated malt whisky yet also very savoury smoky (almost like cold-smoked fish!) like the famous rauchbier from Bavaria…! A good swirl reveals a robust pale ale base full of nice English malt aroma with a light touch of hop fruitiness. All in all, the aroma is balanced and the peatiness or smokiness doesn't overpower any other elements, IMO.
T: the foretaste is immediately salty-sweet and peat-smoky, reminiscent of Scottish islands' peat-dominated whiskies, with its sea-watery edge, rotten seaweed, muddy and menthol-medicinal hints lingering alongside the pale ale's maltiness and light fruity hops. The aftertaste is semi-bitter (as from wooden-cask ageing process I reckon, yet also from hops), semi-dry, delicately spicy with more lingering peat-smoky aroma to boot.
M&D: the mouthfeel is generally refreshing while carbonation always at medium level, which I like; all in all this whisky-flavoured beer (I guess whisky was added to the maturation stage, instead of fermentation?) is an easy-drinking, rather well integrated one for any peaty whisky lover, or at least for me. Where the complexity of beer has been neutralised, whisky contributes a naughty dimension to the overall tasting experience.
1,680 characters
3.31
/5
rDev
+3.4%
look: 2.5 | smell: 4 | taste: 3.5 | feel: 2 | overall: 3
St. Peter's Brewery works with St George's Distillery to create this Beer. It Pours a clear brown unexciting with little to no head and just a bit of lacing. The Aroma however is quite exciting, if you like whiskey, which you should if you bought this beer. The nose is ALL whiskey, Peaty malty whiskey. So much that I feel like I can smell the alcohol but as this is only 4.8% I doubt that is what I am smelling. Again, there is no other way to describe this beer other than "Whiskey Flavored" I mean it is like a maltier scotch and soda with a hint of beer. The palate is a bit thin and over carbonated and overall it is not one that I will be buying again, but it is exactly as advertised and I am glad I tried it.
719 characters
St. Peter's The Saints Whisky Beer from St. Peter's Brewery Co Ltd
Beer rating:
3.2
out of
5
with
39
ratings