Draconic Transylvanian Pale Ale
| Kruhnen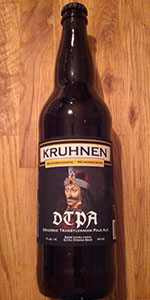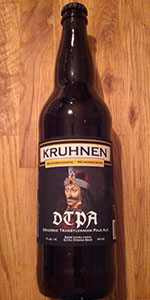 BEER INFO
Brewed by:
Kruhnen
Quebec
,
Canada
kruhnen.com
Style:
American Strong Ale
Alcohol by volume (ABV):
9.00%
Availability:
Year-round
Notes / Commercial Description:
No notes at this time.
Added by groleau on 12-29-2013
Ratings: 15 | Reviews: 4
3.8
/5
rDev
+1.9%
look: 3.5 | smell: 4 | taste: 3.75 | feel: 3.75 | overall: 3.75
4.19
/5
rDev
+12.3%
look: 4.25 | smell: 4.5 | taste: 4 | feel: 4 | overall: 4.25
Rocky and lumpy head. Four fingers thick initially. Settles slowly in a cream like fashion. Surprisingly little lace on the glass. The liquid is light amber and very cloudy.
I smell licorice and grapefruit. I also detect sage, lavender and rosemary. Beautifully complex.
It starts with a soft, full-bodied pale malt. This is completely dominated by a very dry spiciness--more of the sage and lavender. Long aftertaste, a bit chewy. The carbonation is moderate to low. Very light alcohol in the background.
518 characters

4.18
/5
rDev
+12.1%
look: 4.25 | smell: 4.25 | taste: 4.25 | feel: 4 | overall: 4
Draconic Transylvanian Pale Ale sounds odd and maybe even a little off-putting, but rest assured the beer is highly approachable (impressively so at 9%) and will be familiar to any North American hop-head. Don't believe me? Just look at it! Hazy but bright golden, it is topped with a white beading of lace.
D.T.P.A smells lemony-fresh enough to wash your hands with. Heck, I'd shower in this! Soapy, citrusy hops brim even in a bottle that's over a half year old. There's also a tart element to all this fruitiness; notes of over-ripe apricot and peach blend in with notes of tropical mango and zestful tangerine.
But the colours don't begin and end with orange; shades of green range from the deep tone dill- and oregano-like herbal tastes to much fainter jasmine-green bitterness. Yellow exists in the form of freshly-dripped pine resin, while soft purple is conjured through gentle, perfumy notes of lavender.
This recipe includes a "secret Transylvanian spice" which the brewery remains very tight-lipped about. If what I know of Hungarian cuisine is correct, paprika is the most likely candidate. I don't taste it, but there is sometimes a low-lying spiciness in the finish. My money, however, is on caraway...
This has that punchy, seedy flavour and remnants of carrot and coriander. Regardless of the hidden ingredient - whatever it is - D.T.P.A leans towards the fruity, floral, and earthy; the most impressionable flavours are pine resin, citrus peel, chamomile, lavender, rosemary and a teaspoon of honey.
What type of yeast is used? While undoubtedly American inspired, more than a few sips/smells have been reminiscent of Orval, that most beautiful Belgian brett beer. It has the soft fruitiness, light funkiness, plush texture and irresistible intricacy. The similarity, while far from identical, warrants mention.
Draconic Transylvanian Pale Ale is an engaging ale; I couldn't turn my attention to anything or anyone else. It has a flavour profile with so many different, moving parts that even Rube Goldberg would be confused. A highly enjoyable and memorable Double IPA, this speaks very highly for Kruhnen.
2,138 characters

4.04
/5
rDev
+8.3%
look: 4 | smell: 4.25 | taste: 4 | feel: 3.75 | overall: 4
3.62
/5
rDev
-2.9%
look: 3.75 | smell: 3.5 | taste: 3.75 | feel: 3 | overall: 3.75


4
/5
rDev
+7.2%
Bottle: Poured a hazy deep blonde color ale with a nice thick foamy head with good retention and some very good lacing. Aroma of resinous and citrus hops is quiet powerful with light residual sugar notes also noticeable. Taste is dominated by some powerful citrus oriented hops with some resinous flavours also noticeable with a well-balanced malt presence that let traces of residual sugar noticeable. Body is quite full for style with good carbonation with no apparent alcohol. I am really enjoying the product from this brewery and I could see myself purchasing this beer on a regular basis.
596 characters


3.84
/5
rDev
+2.9%
look: 4.25 | smell: 4 | taste: 3.75 | feel: 3.75 | overall: 3.75
A:
Pours a hazy brownish gold with insane carbonation and an airy three fingers of white head that gassily inflates and pops its way down to half that. Excellent retention; lots of sssscummy lacing.
S:
Tons of tropical fruit. Yeasty spice, grapefruit, bubblegum, bananas, caramel malt, lemon rind.
T:
Vaguely bitter and inoffensive. Earth, juniper, tea, toffee, orange pith.
M:
Medium bodied with well-hidden alcohol and a dry finish.
O:
Pretty good IPA (although apparently it sees itself as a strong ale or something).
Beer opens with a satisfying pop and pours beautifully. It had a really fruity hop profile in the nose. The beer tastes much less west-coast-tropical than the aroma would have you believe. The rest of the beer is enjoyable and quite decent albeit overly carbonated.
May try again (well definitely try other stuff from the brewery); worth trying
869 characters


Draconic Transylvanian Pale Ale from Kruhnen
Beer rating:
66.7%
out of
100
with
15
ratings