Ripstop Rye Pils
| Base Camp Brewing Company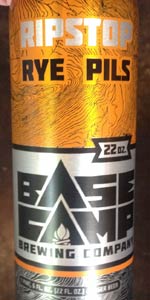 BEER INFO
Brewed by:
Base Camp Brewing Company
Oregon
,
United States
basecampbrewingco.com
Style:
German Pilsener
Alcohol by volume (ABV):
5.70%
Availability:
Summer
Notes / Commercial Description:
No notes at this time.
Added by Brad007 on 07-15-2013
Reviews: 11 | Ratings: 55

4.51
/5
rDev
+18.4%
look: 4.75 | smell: 4.25 | taste: 4.5 | feel: 4.5 | overall: 4.75
Pours a bright gold with a huge white head into my glass. Lots of lacing and the head sticks around for quite a while, even as it warms up.
Spicy rye malt compliments the use of noble hops in the nose. Not as sweet or grainy as some examples. I believe that makes this beer hop-forward.
The taste is where this beer really shines. The spiciness of the rye adds to the earthiness of the hops with a touch of buttery bread in-between. Very crisp too.
The mouthfeel is just more of the excellent interplay between rye malt and noble hops. It has a "chewy" texture to it as well.
Besides the ultra-cool aluminum bottle, this beer would work very well on a camping trip. I would still pour it into a glass/cup though. Unlike their In-Tents Ale, this is much more drinkable.
782 characters
4.41
/5
rDev
+15.7%
look: 5 | smell: 4.5 | taste: 4.25 | feel: 4.25 | overall: 4.5
A: Poured a light but glowing golden gold with great carbonation presenting a beautiful billowing white pillow of foam and bubbles. Even after minutes and sips this beer had great head retention and loads of lacing
S: I pick up a little bit of grains and nice blend of floral meets grass with a nice dash of rye and spice. Smells delightful and probably the most aromatic pils I have had next to Laurelwoods Portlandia Pils.
T: Marvelous. The rye and the Noble hop spiciness is balanced, tame and not overly done. Complimentary. The initial taste was floral meets grassy hops with a nice rye presence. This finish is dry, clean, refreshing with a lot of flavor. A nice little bit of bitterness is there on the end.
M: Lighter bodied, well carbonated, loads of flavor from the rye and Noble hops prevail. So nice!
O: I have had some great Pilsners, the best, see Chuckanut, appreciate the style, true to style and B JCP standards minus the ABV being a tad high. Tastes great, easy to drink, error free, clean, crisp.
1,020 characters
4.33
/5
rDev
+13.6%
look: 4.5 | smell: 4 | taste: 4.5 | feel: 4 | overall: 4.5
Served on tap into a pilsner glass.
A- Poured a pale golden color, very clear with visible carbonation, bright white fluffy head that left glass coating lace.
S- Huge floral, honey, citrus, and clean lager notes.
T- Lots of floral, honey, lavender, pilsner malt, citrus, and spicy rye notes.
M- Light to medium body, prickly carbonation, dry, and refreshing.
O- An incredibly unique take on a pilsner with a great balance of sweet and spicy notes. One of the best pilsners I have ever had.
495 characters

4.25
/5
rDev
+11.5%
look: 4.25 | smell: 4.25 | taste: 4.25 | feel: 4.25 | overall: 4.25
22 ounce metals bottle at Das Bierhaus, Burlington, VT.
Poured a medium straw hue, with dome chill haze, and with a one finger foamy white head. There was good retention and lacing.
The smell featured a vibrant noble hop spice atop a grainy pilsner malt.
The taste consisted of a grainy pilsner malt and a super spicy, herbal noble hop. Rye spice added greatly to the experience.
The mouthfeel was typical of the style.
Overall a very tasty, and spicy pilsner.
470 characters

4.23
/5
rDev
+11%
look: 4.25 | smell: 4.25 | taste: 4.25 | feel: 4 | overall: 4.25
Poured into a Seattle Beer Week pint glass. Pours a slightly hazy light golden amber with a one finger white head that eventually doubled in size from constant, light carbonation; nice presentation. Very nice aroma of light bready malt and light grassy and floral hops, slightly sweet. Flavor follows with light malt, noble hops and a hint of rye sourness. Light to medium bodied with pleasant active carbonation. A very nice, well balanced pilsner with a deft light touch of rye. I don't do much session drinking, but if I did, this would probably be what I'd drink. I will revisit this and check out other Base Camp beers. Nicely done. So this comes in a cool aluminum, crown capped bottle. Is this a can or a bottle? I'll follow earlier reviewers with bottle, but we may need a new serving type here.
803 characters

3.93
/5
rDev
+3.1%
look: 4 | smell: 3.5 | taste: 4 | feel: 4 | overall: 4.25
Handsome golden amber brew in the Duvel tulip, with a very nice foamy cap. Crisp mouthfeel with plenty of spritziness. More attractive suds with every pour.Delicious warm, malty taste with that grainy rye flavor. Slightly sweet with the elegant rich tangy taste. Nice aftertaste of malt with the distinct bitter twant of hops.
Another great rye-flavored brew. I'd call this one a Rye Beer-- but is it a lager or an ale? Is it a can or a steel bottle? I don't know but the graphics are quite unusual and beautiful. Also it seems narrower and sleeker than the standard 22 oz bottle, which now seems clunky by comparison. From the 22 oz bottle purchased at Bottleworks in Seattle.
678 characters

3.89
/5
rDev
+2.1%
look: 3 | smell: 3.25 | taste: 4.25 | feel: 4.25 | overall: 4
Pours a hazy light golden yellow with a smallish head that leaves very respectable lacing.
Aroma is spicy rye with an earthy/bready backbone.
Taste is crisp, clean, and refreshing. A very nice blend of grainy malts, rye, and a touch of earthy/grassy hops that gives it the slightest hint of bitterness at the end.
Overall, a great interpretation of a Pilsner.
And the bottle concept is just plain awesome! Thank you Portland Oregon...hikers rejoice!
452 characters

3.8
/5
rDev
-0.3%
look: 3.5 | smell: 3.5 | taste: 4 | feel: 3.5 | overall: 4
It says rye on the 22 oz. aluminum bottle….buybuybuy! Split with my wife.
The pour is pure kolsch, light yellow, unfiltered, with an odd perfect circle in the middle of the head. Nose is nice & light, almost like honeyed tea, the rye is light in the nose, hoping it'll come on like a BNSF train in the mouth. Let's see.
Ripstop is that rarest of animals at this point of the 'craft beer revolution' – something different. The rye & the kolsch & the lager interact like Israel & Iran. The flavors clash epically. Spicy rye is strong & peppery, while the delicate lagering lurks underneath like a Wheat Thin in the back of the throat. Other items of interest include some herbal essence, moderate bitterness that grows with the temperature. Grainy & rough in texture, but so easy to pound.
This won't win any Grammys, but I might grant it a Soapy. An odd but nice pairing of disparate ingredients that works; a good beer with an excellent package.
965 characters
3.58
/5
rDev
-6%
look: 3.75 | smell: 3.75 | taste: 3.5 | feel: 3.5 | overall: 3.5
Packaged 3/3/15.
Pours a murky light orange with a foamy bone head that settles to a partial film on top of the beer. Foamy streaks of lace form around the glass on the drink down. Smell is of grain, rye, grass, and earthy hop aromas. Taste is much the same with grain, grass, and earth flavors on the finish. There is a medium amount of hop bitterness on the palate with each sip. This beer has a lower level of carbonation with a slightly crisp mouthfeel. Overall, this is a pretty good beer with rye characteristics that are only coming through in the smell to me.
Serving type: can.
588 characters
2.76
/5
rDev
-27.6%
look: 3 | smell: 2 | taste: 3 | feel: 3 | overall: 3
Appearance: opaque, piss yellow with nice clean head and tiny bubbles.
Nose: Pineapple, citrus, and yeasty.
Taste: Crisp and hoppy, malty. Well balanced, crispy dry crackers at the end.
Notes: I didn't find this very interesting.
238 characters

2.38
/5
rDev
-37.5%
look: 3 | smell: 2.5 | taste: 1.75 | feel: 3 | overall: 3
4/19/2014 at Base Camp Brewing Co. Served in a small-sized taster glass as part of a flight.
Everything about this except the taste describes itself as a pretty typical pilsner. The rye, however, completely throws off the taste, such that it has an extremely harsh bite and a frankly bad aftertaste that ruined my ability to enjoy it.
335 characters
Ripstop Rye Pils from Base Camp Brewing Company
3.81
out of
5
based on
55
ratings.