The Pony Bar - Upper East Side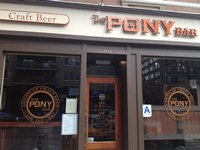 PLACE INFO
Type:
Bar
1444 1st Ave
New York
,
New York
, 10021-3003
United States
(212) 288-0090 |
map
theponybar.com
Notes:
No notes at this time.
Added by cosmicevan on 08-01-2012
Reviews: 10 | Ratings: 43
3.5
/5
rDev
-17.3%
Stopped by here my first time in NYC. Don't know what is compares to locally but the selection was not that great for what I would have expected in such a large metro. Good spot though for a relaxing atmosphere, pretty good service, a modest selection of fresh brews and the chance to sample a few on cask.
306 characters

3.58
/5
rDev
-15.4%
vibe: 3.5 | quality: 3.75 | service: 4 | selection: 3
Vibe is nothing special... Very ordinary. Quality is fair beer seems fresh, lines were clean. Service was fair. Nothing terribly notable. 20 drafts, no bottles or cans.
173 characters

3.66
/5
rDev
-13.5%
vibe: 3.5 | quality: 4 | service: 3 | selection: 4
One of the other joints I checked out while we were in NY. Place was surprisingly crowded for a Wednesday night and was just as loud as the other gastropubs/brewpubs we hit up during our vacation, which is why I'm giving this place a 3.5 for atmosphere.
Beer: I've seen better selections at other places (Rattle-N-Hum, The Ginger Man, Good Beer, etc.) but there was a vast variety of beer styles to choose from, just not many of each style.
Service: Ordered at the bar, so no comment on service.
Food: Didn't order food, so no comment on food.
Price: Price was average for a pint, nothing ridiculously overpriced.
A place worth hitting up for different beers, especially if you're from out of town.
704 characters
4
/5
rDev
-5.4%
if you want good craft beer in the UES of Manhattan, this is one of the first places to check! constantly rotating taps, video screens updated in real time, etc make for a great experience. good burger too!
206 characters

4.03
/5
rDev
-4.7%
vibe: 4.25 | quality: 4 | service: 4 | selection: 4
Alot of similarities (if it aint broke-dont fix it) with its west side sister bar. This is a fine addition to the limited upper east side, NYC craft beer bar scene. They typically have a high quality tap list of BA worthy options as well as getting "hot" beers like Stone Enjoy By IPA, which was super nice to find and enjoy on tap.
Quality drafts in a relaxed and pleasant setting. We paired a few pints here with dinner at one of several close by Thai food restaurants.
Obvious choice if you find yourself in this part of town. Well worth a visit.
552 characters

4.33
/5
rDev
+2.4%
vibe: 4 | quality: 4.5 | service: 4 | selection: 4.5 | food: 4.5
The new Pony Bar! Deep in the heart of the Upper East Side, of all places. Who would have thought?
Inside and out, Pony UES looks exactly like the original Pony in Hell's Kitchen: the old-school storefront (reminds me of Fells' Point in Baltimore), wood a-plenty inside, breweriana on the walls and that unique Adirondacks-hunting-lodge-style ambience where you feel like you could just pull up a stool, drink a beer, make some friends and possibly live there happily ever after.
The new Pony is just as cozy as the original one, only now we get a lot more space: ten tables with seating for 4-6 people each, plus four barrels and a bigger bar as well. I imagine the crowd could get a little iffy (this is UES after all), but also more interesting in terms of eye candy. I like to stop by before the after-work rush and enjoy the quietness.
Great tap list, with a lot of variety and some occasional jewels like Hill Farmstead, Southern Tier Creme Brulee, Sam Adams Cinderbock, Ballast Point Barmy Ale...
Service is as remarkable as in Hell's Kitchen- visit four or five times and you'll soon be a regular. Pony bartenders remember names and can kick ass!
Tasty food, well-made sandwiches with imaginative fillings (oyster-and-bacon to die for) and the fairest prices in New York. In these times of eight-dollar pints, the Pony's $5 pours are truly a godsend.
Hopefully this Pony won't get insanely busy and overrun with Bud Light-drinking douchebags like it happened to the original Pony. Cheers!
1,507 characters

4.38
/5
rDev
+3.5%
vibe: 4.5 | quality: 4.5 | service: 4 | selection: 4.5 | food: 4.5
I have visited Pony Bar HK a few times and unfortunately haven't reviewed it yet so I will take the time to do so now for Pony Bar UES. I love the step up and the atmosphere. The bar is easy to get to and right on the corner. Once you get inside you will see a lot of similarities. Digital beer menu which is updated every time a new beer is tapped. I stopped in before Savor NYC and had the pleasure of Stone doing a take over wit Greg himself. They do a great job of doing regular beer events with full tap takeovers.
I had some of the appetizers and the BBQ pulled pork sandwich which was awesome. A good, solid food menu for a great beer joint.
Overall this place is great, reasonably priced and a must stop when you are looking for good craft beer in the UES. Cheers!
775 characters
4.45
/5
rDev
+5.2%
vibe: 4 | quality: 4.5 | service: 4.5 | selection: 4.5 | food: 4.5
I remember that night at the brewery when Danno was telling me about an UES location.
'Yeah? Where?'
'75th & 1st.'
'Like, near the Blue Moon?'
'It is the Blue Moon.'
Well, that'll be easy to find Lopezless at the door (my buddy E.Lo used to work the door at Blue Moon on Friday nights…)
It's just pre 7ish, and I score parking just off the corner on 76th, as I am awesome. Don't stare directly at the 2nd Ave Deli sign across the street on approach lest you be drawn in. Pony, having been here a good few times now, I've never been appropriately surfaced for note scribbling overdue, but am barside now; with people looking on as they do.
Hockey stick shaped shiny laminated wood bar, panel base, and foot box; seating for 14+ on highback chairs, except for Witz stooled. Large wood barback unit on the inner brick wall; a counter running the length holding 2 tiered booze to both sides of a center vertical piece with shelved bourbon, and hey, an Oxbow growler displayed. Clock stopped at 4:20 above, or maybe it's me. Narrow boxed shelvings on the ends the width of a pair of growlers. Horizontal LED boards to each side of center listing tap selections; brewery, beer, state, ABV, & pour size in alternating colors. Some tiered booze below the bar and cupboardingness to both sides. Swag case up front and another wood unit to the rear with guest growls lining atop.
Brown brick & I think there are two tone blue gray painted piece play over vertical slat lowers, hard to tell in this lack of light. Large logo windows up front over 1st Ave cornered to 75th. Slat wood floors, black ceiling with blended duct and a day after tomorrow canoe. Sunken spots over the boards in the unit, drop cut growler lighting along the bar, and track spots along the outers. Flat screens in the corners of the bar.
Shared table benching back with dark wood trim in between. Pony blackboards, a handful of brewery tins, a New York State map from 1816 (when there was no Nassau County, and we were the better for it), a map to the rear with a shit load of lake play, another New York State map up front. Some cool rock prints on the back wall; Linda Ronstadt, Jim Morrison, and of course, the amazingly haunting Joni pic; not as awesome as Hell's Kitchen's ghoulish Neil print, but damn close.
10 rectangular tables run the perimeter 3 sides around; shared benchings on the wall and shorty stools on the outsides. 4 barrel tables out across the floor; jumping from one to another is not encouraged, we barrel full of monkeys. And some bar counter space forward the bar.
A pair of 10 tap each barbell towers at different ends, with nondescript alternating red & black chess piece bishop handles (that which differentiates serving 8oz & 14oz pour sizes), and a pair of handpumps on the bar in between. Witz says there's also a seldom seen green handle they put up for 5oz pours. Regardless of serving size, all pours are $6.
20 taps, all American craft; nearly 1/3 of them localish (Brooklyn Halfling Pils, SingleCut John Michael Rum Barreled Aged Dark Lyric Lagrrr, Barrier Ruckus IPA, Newburgh New Burton IPA, Carton Monkey Chased The Weasel & Boat Beer), the remainder a mix of regional here (Atlantic Bar Harbor Summer Ale, Cisco Grey Lady Wit, Heavy Seas Red Sky At Night Saison), not near (Founders Porter, Lakefront Klisch Pilsner, Left Hand St Vrain Tripel, Abita Strawrator Strawberry Lager, Avery Joe's Pilsner), nowhere near here (Stone Sublimely Self-Righteous Ale with Espresso Beans, Imperial Russian Stout 2011, & 12.12.12 Vertical Epic Ale, Firestone Wookey Jack Black Rye IPA, Green Flash Imperial Red Rye), and the obligatory cider (Docs Hard Apple Cider). + the Left Hand Stranger Pale Ale with Cascade hop on cask. I had 4 beers below 5% (Carton Monkey Chased The Weasel & Boat Beer, Brooklyn Halfling Pils, & Avery Joe's Pilsner), & a shorty Firestone Wookey Jack Black Rye IPA.
Next time out it was the Penn Kaiser Pils, Victory Sunrise Weisse, and I was really liking on the Bluepoint Hoptical Illusion IPA with Centennial on cask.
If I eat now, I should be able to dodge the 2nd Ave Deli entirely (though its sirens sing their sweet sweet songs at me). Had contemplated the short rib sandwich, sloppy duck sliders, and something with bacon but still arrived at the Roast Beast, 'cause, yeah, and I was long overdue. Beast was awesome; came with surprise chips and horseradish pickles of the sinus clearing variety. Witz added the soft pretzels, which were 2, and came with a chunky mustard that was quite good!
Adamtending, his Heady friend, and talk of good things beer; Hill Farmstead & Tired Hands, oh my. And my notes say 'We love skull girl'. I wonder what I meant by that? Homerun derby today, it is soooo being watched, and tunes; old Van Halen a-playin'. Not a bad Monday. Comfortable house, tasty food, & great beer in good shape. Makes me not mind dropping Witz off on the UES.
4,952 characters
4.56
/5
rDev
+7.8%
vibe: 4.5 | quality: 4.5 | service: 4.25 | selection: 5 | food: 4.5
Go to Upper East Side spot. Awesome selection of craft beers that rotate whenever what is on tap runs out. Food is great as well. Prices are reasonable for NYC, with any beer being $6, as well as a Happy Hour daily that isn't advertised (4:20-5:20) where all beers are $4. Larger than the Hell's Kitchen location.
313 characters
4.58
/5
rDev
+8.3%
vibe: 4.5 | quality: 4.75 | service: 4.5 | selection: 4.5
Having lost David Copperfield as a go-to venue in the Upper East Side, I was so glad to see the beloved Pony Bar branch out in this neighborhood. So .... venturing out in a heavy rain during MLK Weekend (2015), I made my way here; the trip was worth the drenching. Much like it's Hell's Kitchen sibling Pony Bar UES duplicates the same laid back vibe: it is a single room with a moderate bar on one side and a smattering of tables and high tops opposite. They have an electronic draft list that continually changes. An excellent selection that offers a good array of local crafts - such as Brooklyn's new entry "Other Half Brewing," who had a tasty Belgian on cask.
The service (Cory) was excellent: my water glass was always filled and my beer glass was never empty. Add to this, a superb burger and decent background music, one could stay here all day - no matter the weather. Gitte Up to the Pont Bar!
905 characters
The Pony Bar - Upper East Side in New York, NY
4.23
out of
5
based on
43
ratings.