Hopothesis IPA
| Hopothesis Beer Company
BA SCORE
75
okay
32
Reviews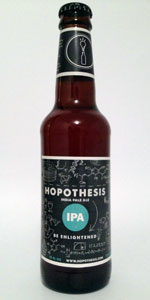 BEER INFO
Brewed by:
Hopothesis Beer Company
Illinois
,
United States
hopothesis.com
Style:
English India Pale Ale (IPA)
Alcohol by volume (ABV):
7.10%
Availability:
Year-round
Notes / Commercial Description:
The Hopothesis IPA is the first of many cerebral drinking experiences. Our India Pale Ale is specifically formulated to be balanced, flavorful, and approachable. It can be easily paired with a variety of food and you can drink more than one and still feel quite lucid. Enjoy.
55 IBU
Added by MasterSki on 08-03-2012
Reviews: 32 | Ratings: 155
3.04
/5
rDev
-2.3%
look: 4 | smell: 3 | taste: 2.75 | feel: 2.75 | overall: 3.5
July 13 printed on the bottle, guessing that's an expiration but hard to be sure. Brewed in Monroe, WI... Minhas? Really? If it was good enough for Randy Mosher (5 Rabbit), I guess so... *sigh*
Into a tulip glass it pours a dark reddish copper color, lots of sticky off white foam and lacing in the glass. Ok clarity, some retention after a few minutes.
Sweet caramel smell, light floral and orange peel, but pretty mild hop content.
Taste is similarly caramelly sweet and malt forward with vague citrus, a bit one dimensional. Sweetness lingers, a light bitterness in the aftertaste that fades quickly. Medium feel, the sweetness is a little session-prohibitive, but it's drinkable enough. Comparable to DFH 60 Min, or similar entry level pale ales, but even SNPA is hoppier. With so many more unique IPA's on the market, this will be hard to return to at $12 a six pack.
Half Acre's first beer was also contract brewed and pretty meh, so i'll give Hopothesis the benefit of the doubt that (hopefully) they can only improve from here on out.
1,047 characters
3.88
/5
rDev
+24.8%
look: 4 | smell: 3.5 | taste: 4 | feel: 4 | overall: 4
Poured from tap into a pint glass. Pours a dark toffee color.
Balanced aromas of toffee, caramel, some spice.
Medium/full bodied with a real nice feel. Good balance with really good flavors of toffee, caramel, bitter hops and some navel oranges.
A very good EIPA. Well balanced and you don't taste the alcohol at all.
320 characters
4.06
/5
rDev
+30.5%
look: 5 | smell: 4 | taste: 4 | feel: 4 | overall: 4
12 oz twist-off bottle poured into a nonic.
7.1% ABV, VEN JULY 13 on neck.
A - Leaving the sediment in the bottle might have been a good idea considering the pour still produced a hazy golden amber beer. Hopothesis' chunky ivory head rose quickly, surpassing my standards and caked the nonic in thick lace as it slowly descended.
S - Hopothesis' engaging aroma begins with a bold hop presence that blends light lemongrass citrus notes with those of earthier, more grassy and dry leaf-like hops and a floral finish. Hints of butterscotch elevate the grainy caramel malt background but a dry cardboard nuance brings it back down.
T - Grainy pale malt and husky notes take a turn to something quite different (and better) when bold caramel sweetness jumps out to overtake much of the hoppiness. Lemongrass citrus stays true in flavor, lingering along the finish with just a pinch of pine resin on the back end.
M - Hopothesis' IPA is a pretty hefty one weighing in just over 7% ABV and it shows in the mouthfeel. All the malt which goes into this beer provides a striking medium-full body and powerful lingering sweetness that is (thank goodness) balanced by a bit of dry, hoppy bitterness on the finish.
O - Hopothesis' IPA finishes much sweeter than one might anticipate from an IPA but, the beer as a whole is rather interesting and thought-provoking, a compliment I'd imagine. American hops are used in a manner that creates a somewhat English outcome, forsaking the bolder citrus characteristics for something a little more subtle and understated. Somewhat off target and a little higher in alcohol than what I'd look for in a sessionable IPA I'd say, but a good beer nonetheless.
1,687 characters
3.83
/5
rDev
+23.2%
look: 4 | smell: 3.5 | taste: 4 | feel: 3.5 | overall: 4
A - Pours a medium golden brown with a generous off white, pillowy head
S - Smells sweet, biscuty, and hoppy. A little bit of a piney / citrus hop smell.
T - My first impression was that it reminded me of Bells Two Hearted. It's sweet and malty upfront, with a decent amount of bitterness as it finishes. It was also a pretty easy to drink, session-able beer, with a fresh hop taste. Very well balanced.
M - Medium to full bodied for an IPA and seemed a little thick, but I expected this since it was a little on the sweeter side.
O - It wasn't a beer that blew me away (especially with all of the great IPA's out there). But for a reasonably priced, session beer - I'd certainly buy this again!
699 characters

4.35
/5
rDev
+39.9%
look: 4 | smell: 4 | taste: 4.5 | feel: 4.5 | overall: 4.5
In my short time immersing myself back into the craft beer world, I have found myself gravitating toward the IPA sector. I find this version to be a great example for the variety, hoppy, but not overdone. I definitely understand what the Brewmaster meant when he said it was "sessionable"; purists be dammed...
It tastes like...more.
..so, I think I will.
356 characters

3.53
/5
rDev
+13.5%
look: 4 | smell: 3.5 | taste: 3.5 | feel: 3.5 | overall: 3.5
Served in a shaker pint glass at Beer Bistro North.
The final beer (supposedly) of my latest sojourn through the Windy City. It pours a clear auburn-amber topped by a finger-and-a-half of dirty cream-white foam. The nose comprises light caramel, flowers, and a general sense of citrus peel. The taste, unwavering in its decision to follow the nose to the letter, does just that, though a touch of light leek does manage to sneak in there for the sake of it. The body is a light medium, with a light moderate carbonation and a dry finish. Overall, an alright IPA, nothing too spectacular or eye-opening here. Something tells me subsequent batches'll be slightly more exciting, though (just a hunch on my part)...
712 characters
3.98
/5
rDev
+28%
look: 4.5 | smell: 4 | taste: 4 | feel: 3.5 | overall: 4
Saw this beer while studying for a Master of Science and couldn't resist the label. A deep cherrywood finish and floral hops. Big on the hoppy sap taste, but not unbearable. Somewhere between the flavor of a Bell's Two-hearted and Goose Island's IPA. A solid offering, although still now quite laying a glove on nearby 3 Floyd's.
329 characters
Hopothesis IPA from Hopothesis Beer Company
3.11
out of
5
based on
155
ratings.