Lakewood The Temptress
| Lakewood Brewing Company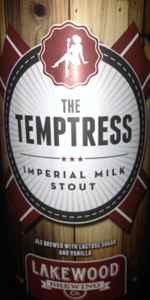 BEER INFO
Brewed by:
Lakewood Brewing Company
Texas
,
United States
lakewoodbrewingcompany.com
Style:
Milk / Sweet Stout
Alcohol by volume (ABV):
9.10%
Availability:
Year-round
Notes / Commercial Description:
Va-va-voom! Our Temptress is seduction in a glass. Curvy in all the right places, this Imperial Milk Stout pours with a thick, milk chocolate head. Chocolate and caramel malt give it a rich and complex body while the lower carbonation gives the beer a silky mouth feel. She's voluptuous, with a soft alcohol warmth that grows deeper with every sip. Take your time with her and she'll reward you.
Added by Mora2000 on 10-13-2012
Reviews: 89 | Ratings: 728

3.98
/5
rDev
-1.7%
look: 4.25 | smell: 3.75 | taste: 4 | feel: 4.25 | overall: 4
Inky black pour, with a medium brown finger of head. Nice splotchy lace. The aroma is very roasty, some coffee, vanilla and soft notes of chocolate. Sweet, somewhat sugary. Taste is more chocolaty with vanilla, a bit milky, with a slight cocoa dryness and roasted background. Creamy, naturally, with a strong medium to full body, light carbonation.
Very well done, tasty milk stout. Drinkable, no real booziness.
413 characters

4.14
/5
rDev
+2.2%
look: 4.5 | smell: 3 | taste: 4.5 | feel: 4.5 | overall: 4.5
Appearance: Motor oil, but pours faster.
Smell: A deep, roasted something. Perhaps cocoa. I can't really place the smell. It's subtle.
Taste: Strong at first, and then it settles into a sweeter drink.
Mouthfeel: Creamy and smooth. It feels like chocolate milk does.
This is an interesting one. I am having a tough time (albeit an enjoyable one) picking out the individual characteristics of the smell and taste of this brew. However, there is one thing that stands out: it is excellent. I just don't know why...and it's not just the gratuitous ABV. The feel of this drink is so smooth and creamy, it's rather incredible. The taste is excellent: maybe that is a roasted, chocolate flavor; I just can't tell. The key thing is that whatever components are in this, it makes an all-around, well-mixed, overly-enjoyable brew. This is now my favorite milk stout. I will get this again...as soon as a friend from Dallas brings it to me once more.
941 characters
4.07
/5
rDev
+0.5%
look: 5 | smell: 4.25 | taste: 3.75 | feel: 4.5 | overall: 4
12 oz. bottle poured into stout glass
L: almost black, slightest hint of amber highlights if held up to light; fully opaque; perfect light brown head about 1 1/4-inch of thick creamy foam that laces very nicely
S: super malt sweetness; coffee; no dark quad-like smells to begin with, but a slight raisiny smell ocassionally shows up about 1/5 into it; still very sweet; last 1/3 reminds me of Guinness with some sweet thrown into it; i'd swear i could smell the alcohol
T: coffee! the first sip tasted like an iced vanilla latte. so good. from there it becomes rich dark chocolate, then the alcohol kicks in, then slowly it transitions into a slight raisiny smell at times but never gets the full-on Belgian strong dark/quad smell because it ALWAYS stays very sweet. burnt chocolate near end ... the bitterness? can't taste hops, but it definitely has a bitter bite at times
F: thick but creamy; good carbonation without it overpowering the mouthfeel. love the weightiness
O: I'm not a stout drinker, but with this first venture into the American milk/sweet stout, I'm now VERY interested. If the entire thing tasted like the first sip, I might quit my job, liquidate my entire worth into Lakewood stock and live at the brewery ... good gawd, was THAT good! But the first sip of coffee goes away and at times it tastes just like a very dry stout with sugar added to it, which is to say, it tastes like a stout.
Stouts not being my bag, I still can recognize the greatness in this beer. LOTS of alcohol, though, so for me, it may always be a 1- or 2-beer session at most ... something to savor from time to time, not to throw down at a BBQ.
1,646 characters
3.31
/5
rDev
-18.3%
look: 4.25 | smell: 3.25 | taste: 3 | feel: 4.25 | overall: 3.25
Appearance: Pretty close to straight up black. Some super dark brown at the edges when held to direct light. Head is khaki and super creamy. Drops to a thin cap and smallish creamy collar that persists for the duration. Some splotches of lacing.
Smell: Roasted chocolate. Chocolate malts with a big helping on lactose. Milky sweet chocolate. So much chocolate. Grainy roasted malt. Touch of alcohol and grass in the back. Not a ton of complexity, but what it has is nice.
Taste: Melt a Tootsie Roll down and roast that bad boy and that's this beer. Milky sweet with a ton of lactose sugar sweetness. Incredibly sweet. Crystallized chocolate candy. Boozy. Gritty cocoa bitterness on the back. Chalk. Some vanilla and something almost woody. Licorice and something slightly smoky. Bitter from cocoa. Hops are non-existent.
Mouthfeel: Silky smooth. Super creamy. Medium body with a moderate carbonation. A bit dry on the finish.
Overall: I wasn't tempted, but I was intrigued before the diabeetus kicked in.
Entirely too sweet overall. Dial back the lactose a touch and it would be a solid milk stout, very solid.
1,117 characters

4.03
/5
rDev
-0.5%
look: 4 | smell: 4 | taste: 4 | feel: 4.25 | overall: 4
Draft, this one sounded really good.
Deep, dark black with a chocolate milk colored head. Foam slowly abates, leaving a nice network of lace.
Smell of caramel malt, chocolate, and some vanilla.
Loaded with flavor, roasted malt, cocoa, coffee, finishes with more vanilla. Warm but no alcohol burn, well hidden for 9%.
Rich, layers of flavor, thick body. Smooth mouth feel.
Very drinkable despite the complexity and high alcohol.
430 characters
4.24
/5
rDev
+4.7%
look: 4.5 | smell: 3.5 | taste: 4.5 | feel: 4.25 | overall: 4.5
Poured Into my DFH Snifter/goblet glass
A: Pours a great 1 inch, brown head. The only thing that lets light into this beer is the carbonation sitting right under the head.
S:Not too much in this department. This was the only let down of this beer. A little sweet smelling but nothing too crazy
T:Out of the bottle the first sip is a bit boozy with a dark chocolate malty finish. As it warms up the vanilla comes out much stronger and the alcohol calms down a bit. The finish is different than any stout I have had before. I cant tell if it is the roasted malt or hops that I am getting in the finish but its a very refreshing dark chocolate finish.
M: Wonderful mouthfeel. Thick and coating the whole tongue. Silky smooth despite the decent carbonation. You would almost think it is milk/cream like. Awesome
O: Overall a great Imperial Milk Stout. While I cant say I have had many I have had my fair share of stouts and this one is very drinkable. I would definitely pick this up if it were available in Jersey. I can see me drinking this for desert even in the warmer weather. Cheers!
1,090 characters
4.13
/5
rDev
+2%
look: 4.5 | smell: 4 | taste: 4 | feel: 4.5 | overall: 4.25
Poured down the middle of a snifter giving way to a big thick tanned head and a dark seductive black body. Laces nicely.
It's got a nice roast and chocolate character to it but there has to be a smoked malt aspect to this thing. I had it on draft and now on bottle and there is a smokey/meaty type of malt thing going on.
Mmm big smooth creamy mouthfeel. Roasty with some sweet chocolate and some smoke. Well balanced between roast and sweet aspects. Super easy to drink. It is quite dangerous.
Love this.
512 characters

3.71
/5
rDev
-8.4%
look: 4 | smell: 3 | taste: 4 | feel: 4 | overall: 3.75
Live review. Found this at the local liquor store, hadn't heard of it before, but the idea of imperial milk stout is always an intriguing one.
A - Pouring hard lead to about a finger of light tan head, good lacing on glass. Head recedes to a foamy cover on the surface. Actual beer is nearly midnight black, with traces of ruby. No real bubbles visible.
S - sweet, roasted scent. Not very strong smelling, but faint black malts and an unidentified sweetness come through. Disappointed by lack of real aroma
T - Up front is a faintly chocolate note of dark malt, immediately followed by an explosion of vanilla and oaky notes. Strange beer, enters in a unique way and coats your tongue with conflicting flavors. Alcohol and milky sweetness fight it out, and there's a spicy vanilla bean thing that's clashing with the chocolate. An interesting flavor profile, makes up for the lacking nose. Think something oak aged with vanilla and pasteurized into creamy, spicy madness. It's a little jumbled, and I personally feel like the boozy is working against the great notes of vanilla and wood, but for the most part it's very flavorful and enjoyable
M - Thick but smooth. Feels like it's got very active carbonation, and it foams and creams up with little provocation in the mouth. Excellent feel for this style, exactly what you'd hope for.
O - Other than the disappointing lack of nose, and the slightly contrary flavors, this beer is pretty great. It could use a little balance, and I sure wish I could smell this thing, but all around it delivers some complexity, some body, and for the price it does it's job well
1,617 characters

4.38
/5
rDev
+8.1%
look: 4.25 | smell: 4.25 | taste: 4.5 | feel: 4 | overall: 4.5
12oz bottle into an oversized snifter.
A - rich chocolatey black with an inch of tan head that goes down to a ring & cover. Some lacing sticks around. Pretty nice.
S - sweet milk chocolate, coffee. Not terribly complex but pretty expected for a milk stout. You really can smell the sweetness, and not in a bad way.
T - so much chocolateness, it's wonderful. Then the coffee, and a little bit of dark fruit hidden in there with the roasted malts. It's sweet, but not overly so. Really enjoyable.
M - thick and creamy, yet very smooth. You do get a little bit of the heat, though. This page says 8.5%, but my bottle reads 9.1%.
D/O - very drinkable. This is an outstanding offering from a young brewery. The barrel aged version of this is definitely better (seriously, beergasm), but the regular version is still excellent.
826 characters

4.12
/5
rDev
+1.7%
look: 4.25 | smell: 4 | taste: 4 | feel: 4.5 | overall: 4.25
12 oz bottle courtesy of fthomasl pours a rich black color with a dense cap of khaki head. Nice retention and great lacing.
Nose is sweet chocolate with a mild plum fruit and brown bread. Smells like a milk stout, thats for sure.
Taste starts with chocolate and mild roast, followed up with a surprising amount of grassy hop. The finish is long and dusty with the alcohol finally making its presence known. The mouthfeel is very nice, the beer is perfectly carbonated and the body is silky smooth. It is not as heavy and sweet as I thought from the aroma, but it is more than enough to compliment a 8.5% ABV. This is quite a tasty treat, I am looking forward to getting some more of this on my next trip up to the metroplex!
726 characters
4.65
/5
rDev
+14.8%
look: 4.5 | smell: 4.5 | taste: 5 | feel: 4 | overall: 4.5
Not the actual Temptress, but the Bourbon barrel Temptress. Had a glass at the brewery on 12/22/2012. This was a wonderful stout. Must admit that the entire tasting experience was very nice, but the Temptress, either aged in a bourbon barrel, or not, was wonderful.
265 characters
4.2
/5
rDev
+3.7%
look: 4 | smell: 4 | taste: 4 | feel: 5 | overall: 4.5
Had this one on tap at Zio Carlos Brewpub in Fort Worth on West Magnolia.
Served in a brandy snifter the color was jet black inkiness with a single finger worth of dark brown head.
Aromas of chocolate and coffee greeted my nose and rich lingering tastes of smokey chocolate and espresso. The beer was surprisingly viscous and felt very rich on the tongue.
Low carbonation with an incredibly thick and rich mouth feel that lingered for some minutes after each sip.
While this effort by the fledgling Lakewood Brewing Co. in Garland is not the best Imperial Russian Stout I have had it certainly is distinct and holds it's own against the top US brews in this style I have tried and rate highly. (North Coast Brewery, Fort Bragg, CA, etc.)
743 characters
4.33
/5
rDev
+6.9%
look: 4.5 | smell: 4 | taste: 4.5 | feel: 4 | overall: 4.5
Appearance: The coal black liquid arrives with several fingers of head that leaves a curtain of lace behind
Smell: Chocolate and coffee
Taste: Milk chocolate and coffee, up front, with a hint of dark fruit and caramel that adds complexity; after the swallow, the milk chocolate flavor dominates the finish though there is a roasty quality the lingers throughout and becomes more noticeable in the aftertaste
Mouthfeel: Medium to full body with moderate carbonation; some warmth develops in the gullet
Overall: A very impressive imperial stout that brings a rich chocolate flavor with a coffee twist
602 characters
3.77
/5
rDev
-6.9%
look: 3.5 | smell: 4 | taste: 4 | feel: 3 | overall: 3.5
On nitro tap at the Common Table.
The beer pours a dark brown color with a nitro-induced tan head. The aroma is full of chocolate and coffee notes, as expected. The flavor features a lot of chocolate and some light smoke, as well as a ton of roasted malt notes. Slick mouthfeel and low carbonation.
301 characters
Lakewood The Temptress from Lakewood Brewing Company
4.05
out of
5
based on
728
ratings.