Till & Toil
| Lakewood Brewing Company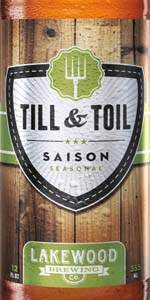 BEER INFO
Brewed by:
Lakewood Brewing Company
Texas
,
United States
lakewoodbrewingcompany.com
Style:
Saison / Farmhouse Ale
Alcohol by volume (ABV):
6.40%
Availability:
Spring
Notes / Commercial Description:
No notes at this time.
Added by tubeyes on 08-09-2013
Reviews: 8 | Ratings: 90

3.96
/5
rDev
+0.5%
look: 3.75 | smell: 4 | taste: 4 | feel: 3.75 | overall: 4
From 12oz bottle dated 3/2/16... About a month old.
Look has clear, bright pale body with thin white head that quickly dissipated.
Smells earthy, with hints of tropical fruits.
Taste is fruity, herbally, and rather malty. Great balance.
Feel is light to medium body, good carbonation and slightly sticky finish. Nice and sweet, crisp and refreshing.
Overall, this is a well made and very easy to drink saison. Will be drinking more of this!
450 characters
4.22
/5
rDev
+7.1%
look: 4 | smell: 3.75 | taste: 4.5 | feel: 4.25 | overall: 4.25
One of my preferred styles. Was very well balanced in all respects; not exceptional, but more than expected. Will return to this one throughout the summer.
155 characters

3.86
/5
rDev
-2%
look: 3 | smell: 3.25 | taste: 4.25 | feel: 4 | overall: 4
I spent about 30 min in a local liquor store trying to find something that sounded good for the season (winter going into spring), and I found a six-pack of this stuff. It had generally good reviews, and in my head, I wanted something with a strong character, but good drinkability. Nothing light, nothing heavy, but lots of flavor. Lakewood delivered me exactly what I wanted.
There is a ton of flavor in this. Smell was pretty good, and in a normal pint glass it looks like you're about to drink a Belgian pale ale. Absolutely loved it after my first few sips. It's got a great depth of flavor and doesn't feel too light or too heavy. I am going to be drinking this until it goes out of season, it's definitely in my top 5.
726 characters
4.15
/5
rDev
+5.3%
look: 4 | smell: 4 | taste: 4.25 | feel: 4 | overall: 4.25
A: 4.0 - Slightly hazy pale gold with a quarter inch of airy foam atop.
S: 4.0 - Clean malt scent, a little hoppiness, and a nice amount of yeasty phenols.
T: 4.25 - Nice initial bitterness with earthy hop taste, and a fairly fruity yeast profile that I didn't pick up in the nose. Medicinal phenols round it out in a very dry, well-attenuated finish.
M: 4.0 - Good amount of carbonation allows for a spritzy mouth feel
O: 4.25 - This is a winner from Lakewood. Very nice.
473 characters

4.04
/5
rDev
+2.5%
look: 4.25 | smell: 4 | taste: 4 | feel: 4.25 | overall: 4
Typical Saison smell on the nose. Unfiltered golden appearance with proper amount of head. Refreshing version of a farmhouse ale here. Best enjoyed fresh on a sunny day.
170 characters
4.29
/5
rDev
+8.9%
look: 4.5 | smell: 4.25 | taste: 4.25 | feel: 4.5 | overall: 4.25
Pours a hazy golden color with a thick foamy head. High carbonation. Head retention and lacing are excellent. Sour fruit, farmhouse yeast aroma. Slightly spicy. Decent aroma. Does have a nice spicy taste. Slight hoppiness. Belgian yeast taste at the end. Nice bitter aftertaste. Fairly impressive. Did not expect so much from this one, but I am very surprised. I like my saisons with some spice and hoppy.
417 characters

3.75
/5
rDev
-4.8%
look: 3.25 | smell: 3.75 | taste: 3.75 | feel: 4 | overall: 3.75
Poured from the bottle into my trusty DFH Tulip... Did I mention I LOVE this beer glass?
A - T&T pours a clear (?) straw gold, showing a slick one-finger head, that fades slowly, leaving a decent amount of lacing. The carbonation is highly visible, and never-ending, cascading upwards from the bottom of the glass, aiding in head-retention, and pushing the yummy aromas up towards your face.
S - Gobs of herbal tones greet the nose, as they should, considering this IS a Saison.
Hints of grass, bready yeast, white sage, and thyme jump out of the glass, tickling your sinuses. There's just a hint of tomato greens in there as well... Mmm-Hmm.
T - The palate follows the nose, with yeasty esters, sage, and a nice minerality tying the whole tasty mess together. There are hints of pineapple, and mango, which can be expected from the Mosaic hops. (Which, as a brewer, are my FAVORITE as of late... It seems the trend is catching.) There is an underlying sweetness that could be attributed to the malt profile, but I feel is derived from the application of Mosaic as an Aroma/Finishing hop. (Possibly even in small amounts as a dry-hop addition.)
M - A wonderful, prickly carbonation runs across the tongue, but does not overpower.
My favorite feature of this beer is the insane amount of refreshing drinkability it shows.
It doesn't overpower. It doesn't underwhelm.
O - As far as the style is concerned, it makes me damned proud to say that THIS BEER, is from Texas! (And especially in a market saturated with breweries "attempting" Belgian styles.) Crisp, refreshing, and superbly drinkable, Wim Bens and the fine folks at Lakewood knocked it out of the park on this one. This is a beer you can look forward to after a long day, or a short one, and it would be easily at home with all types of food pairings. Personally, I can't wait to try it against some hot-as-hell chicken wings with bleu cheese. Don't pass this one up, people.
Cheers!!!
<Matt The Beer-guy>
1,979 characters
3.84
/5
rDev
-2.5%
look: 3.75 | smell: 4 | taste: 3.75 | feel: 4 | overall: 3.75
A clear yellow, white head, frothy white lace.
S sweetness, some bubblegum esteriness.
T good bubblegum yumminess, sweet esteriness.
M good bubbly carbonated mouthfeel, good bubblegum estery flowery aftertaste.
O fantastic beer, great flavor, very friendly and tasty. Had on tap at OSDH.
287 characters
Till & Toil from Lakewood Brewing Company
3.94
out of
5
based on
90
ratings.