Mountain Man Strong Ale
| The Front Brewing Company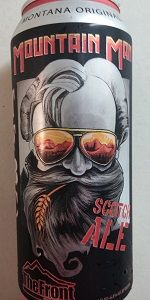 BEER INFO
Brewed by:
The Front Brewing Company
Montana
,
United States
thefrontbrewing.com
Style:
Scotch Ale / Wee Heavy
Alcohol by volume (ABV):
6.80%
Availability:
Winter
Notes / Commercial Description:
No notes at this time.
Added by GeezLynn on 01-04-2014
Reviews: 12 | Ratings: 48

3.92
/5
rDev
+1.6%
look: 4 | smell: 3.75 | taste: 4 | feel: 3.75 | overall: 4
Poured from a 16oz can into a snifter.
The can itself and tab, are awesome.
A-pours a deep ruby red, with a finger of off white head. Dissipates to just a ring. Little to no lacing.
S-A sweet malty bid with a hint of caramel. Very subtle on aroma, but smells good
T- Extremly light and clean. Has a buttery creaminess to it that goes down nice. Everything about this beer is light. Sweet malt character with maybe a bit of honey or caramel.
M- light bodied with light carbonation. Extremly clean mouth with a nice finish.
O- These Montana locals have been above expectations. Very good, drinkable beer here. Would definetly drink again.
★
648 characters

4.12
/5
rDev
+6.7%
look: 3 | smell: 4 | taste: 4.5 | feel: 4.25 | overall: 3.75
quality brew fit for winter fall spring summer crankin my bands demo on a boombox at the beach; quality smoke flavor winston red 100 same length filter longer cigarette than regular cigarette easy open box unfiltered lucky strike sophisticated fancy western shirt work boots 90s war metal booming from big block chevy; running subaru west divide trash cold smoke hippie off road; broke my right index finger for the third time in two years at hardcore show in kansas city
★
472 characters
3.86
/5
rDev 0%
look: 3.75 | smell: 4 | taste: 3.75 | feel: 3.75 | overall: 4
Straight from the can, top peeled right off!
A: Actually I poured some out to get a look. Pours a dark amber, mahogany color with a tan colored head, low carbonation, no head retention, not much head on the pour.
A: Very malty, peat, smokey aroma, toffee, spice, no alcohol on the nose, pretty straightforward.
T: Spice, malts, hint of peat and smoke, lingering toffee flavor, smooth, easy drinking.
M: Less than medium body but not light bodied, good amount of carbonation, semi-dry finish.
O: A middle of the road scotch ale/wee heavy, not impressive, but a solid offering, could use some more flavor but I would probably pick this up occasionally as an alternative to a stout during winter.
★
698 characters
3.55
/5
rDev
-8%
look: 4.25 | smell: 3.5 | taste: 3.25 | feel: 4 | overall: 3.75
Pours a clear dark brown with reddish highlights. Not a big head of foam but it is long lasting.
Fruity spicy malty nose. Leans towards the sweet side; better for me as I am tough on the style and any hint of peat would be a major negative.
Mildly sweet, fruity, right taste of grain, nice.
Good mouthfeel.
An easily approachable Scotch Ale for me. Nothing overboard.
★
375 characters

3.83
/5
rDev
-0.8%
look: 4 | smell: 4 | taste: 3.75 | feel: 3.75 | overall: 3.75
16 oz can marked 040815 at 42 degrees into shaker
From a trade with @JayWhitson
Aroma of malt
Head small (< two cm, aggressive pour), light brown, creamy, diminishing to a two mm ring and layer
Lacing good – complete ring of tiny to small bubbles
Body very dark amber, clear
Flavor moderately sweet and malty; no hops, no alcohol, no diacetyl
Palate medium to full, syrupy, lively carbonation
Appearance 4, Aroma 4, Flavor 3.75, Palate 3.75, Overall 3.75
★
457 characters
3.94
/5
rDev
+2.1%
look: 3.75 | smell: 4 | taste: 4 | feel: 3.5 | overall: 4
so i heard a radio spot for this beer that had to be 30 seconds long when driving around billings. it was the voice of a young woman, who enthusiastically told me about the hint of smoke in the finish, the regal full bodied amber base, the scotch ale authenticity, and the local pride that goes into it. by the end of the add, it felt like i had to have one, and i luckily found one on tap not too long after. it is indeed a solid scotch ale, full bodied, sweet enough, and packing a cool nutty and dried fruit middle like a hearty trail mix. i missed the hint of smoke at the end, but i definitely pick up on honey and molasses, which are the extra fermentables in here. the molasses is a really nice touch for the style, fits it perfectly. lots of body too, it simply feels like autumn in a glass, and i really dig that. im not so sure i did the politics though, if there are any here. cold smoke is the long standing scotch ale of western montana, and this seems like an attempt to stage a coup to me, but i am not from the area, and can only speculate. the beers are fortunately not very similar despite being in the same genre, so they should be able to coexist. overall a really solid beer, that with some more carbonation would really score well. sessionable too for its size, three or four of these would be well within the comfort zone.
★
1,345 characters

3.04
/5
rDev
-21.2%
look: 3.25 | smell: 3.5 | taste: 2.75 | feel: 3 | overall: 3
Poured from the open top pint can into a schooner glass. A pretty aggressive pour produces about a half inch of tan colored head that dissipates quickly but leaves a solid ring and islands of lace. The beer is a fairly dark yellowish-brown and appears to have light carbonation.
The aroma hints strongly at a molasses-like maltiness within. This is confirmed on the tongue, along with some dark fruit notes, a hint of Beech Nut chewing tobacco, and some breadiness. The mouth feel is fairly light considering the malty flavors. Bitterness is almost wholly lacking, leaving an overly sweet aftertaste that wears on the palate after awhile.
This is a decent Scotch ale I suppose, but I find it hard to drink more than one. It is overly sweet even for this style and could use some bitterness to balance.
★
809 characters
4.12
/5
rDev
+6.7%
look: 3 | smell: 4 | taste: 4.25 | feel: 4.25 | overall: 4.25
A vigorous pour leave not much lacing or head. Thankfully, the rest is very good. Hints of smoke and BBQ with a very chewy caramel flavor. Really good stuff!
★
157 characters

3.74
/5
rDev
-3.1%
look: 4 | smell: 3.75 | taste: 3.75 | feel: 3.5 | overall: 3.75
Had on tap at Trappers Saloon in Eureka, Montana. Asked for the darkest local beer on tap and they brought me this. I was very pleasantly surprised. Seems to be a decent amount of scotch ales in Montana. This one is very tasty.
★
228 characters

3.98
/5
rDev
+3.1%
look: 3.5 | smell: 3.5 | taste: 4.25 | feel: 4.25 | overall: 4
Served on tap in a pint glass
Appearance – The beer pours a deep brown color with a one finger head of just off white-foam. The head has a lighter level of retention, fading to leave a moderate level of foamy lace on the sides of the glass.
Smell – The aroma of the beer is heaviest of a roasted smell mixed with some sweeter aromas of a toffee and caramel smell. A very light coffee and chocolate smell are there as well, giving a nice darker and sweet smell overall.
Taste – The taste begins with a sweeter caramel and molasses flavor mixed with a bit of roasted malt taste. These flavors create a strong base taste for the beer and remain throughout the entirety of the taste. A little bit of a chocolate and some nice darker fruit flavors of raisin and fig come to the tongue as the taste advances to the end, producing a very sweet but pleasant taste to linger on the tongue.
Mouthfeel – The body of the beer is on the thicker and creamier side with a carbonation level that is on the lower side. For the sweet and dark flavors of the brew the feel is fantastic; coating the tongue in all the rich flavors.
Overall – A sweet and roasty beer pretty much sums it up. A good brown ale to give a try to if you get a chance.
★
1,245 characters
3.93
/5
rDev
+1.8%
look: 3.75 | smell: 3.75 | taste: 4 | feel: 4 | overall: 4
Pint on tap at the Grand Union Hotel in Fort Benton, MT. Arrived a dark brown-black with a ruby red halo at the bottom of the glass and a smooth, creamy, fine tan head of around two fingers height. Aroma decidedly sweet and malty, moderately roasted yet with a surprising degree of floral, earthy hops (for the style): Toffee, chocolate milk, coffee liqueur, sultana raisins, red licorice, Fuggles hops, faint pine needle. A moderately thick and rich brew redolent with cola and chocolate notes, sweet and smooth like a milk stout, low carbonation and a surprisingly fruity finish full of strawberry and raspberry-evoking esters. More drinkable and light than the sweet flavor suggests. Small brewery but a tremendous effort here. I am on the fence about the style designation given here but what do I know. That's what the brewery intended. Certainly there are Scotch ale elements and the overarching effect is deeply caramelized malts tempered via a clever degree of English hop-driven balance.
★
996 characters

3.84
/5
rDev
-0.5%
look: 4 | smell: 3.75 | taste: 3.75 | feel: 4 | overall: 4
On tap at Fusion in Helena.
Nice appearance - cloudy brown with a well-retained white head. Smell was a bit muted by the extremely cold temp the beer was served at, but it leaned very malty, with caramel and light fruity yeast. Flavor matched - rich caramel malts with a hint of roastiness. Slightly sweet but balanced with light English(?) hops. Mouthfeel was medium bodied and slightly dry with modest carbonation.
Enjoyed my first beer from The Front and will look for more from them in the future.
★
502 characters
Mountain Man Strong Ale from The Front Brewing Company
3.86
out of
5
based on
48
ratings.