Dismiss Notice
Dismiss Notice
Märzen Oktoberfest
| Prost Brewing Company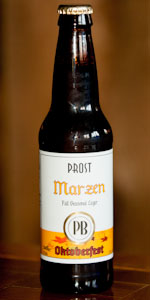 BEER INFO
Brewed by:
Prost Brewing Company
Colorado
,
United States
|
website
Style:
Märzen / Oktoberfest
Alcohol by volume (ABV):
5.80%
Availability:
Fall
Notes / Commercial Description:
Märzen is a lager; orange/redis in color, the style is characterized by a medium to full body, malty flavor and clean dry finish. (ABV 5.5% 22 IBU'S)
Added by Mebuzzard on 09-30-2012
Reviews: 14 | Ratings: 45
3.56
/5
rDev
-11.4%
look: 3.5 | smell: 3.75 | taste: 3.5 | feel: 3.5 | overall: 3.5
Poured from a 12oz bottle with no enjoy by date; into a pint glass.
Appearance - orange, clear, lots of carbonation that forms a medium to thin white head. Lacing is fine.
Smell - sweet bread, honey, syrup.
Taste - candied malt sweetness; flavors remind me of sweet rolls.
Feel - light, sweet, malty; somewhat dry finish.
Overall - very drinkable, but only one or two at most for me, as the sweetness runs strong.
★
413 characters

3.97
/5
rDev
-1.2%
look: 4.5 | smell: 3.75 | taste: 4 | feel: 4 | overall: 4
Recommended by the guy at the liquor store so I bought a six-pack. Yeah, I'm that easily swayed IF it's a style I like. And yes, I like this a lot and seems like a good base note to compare other Marzens. Pours a copper-penny color, its smells of nuts. Pay no attention to my nose, I never do. The taste is a nice balance of malt and hops with a dark brown bread taste to it. Medium bodied, light carbonation. If this was one of several in a flight, I'd choose it as the beer I wanted to accompany dinner.
★
525 characters

3.84
/5
rDev
-4.5%
look: 3.75 | smell: 4 | taste: 3.75 | feel: 4 | overall: 3.75
I love me a good Marzen, but this was just a little bit too light for me. I would have preferred just a touch more flavor and depth to really make this one of my favorite Oktoberfests. It was pretty good, but I couldn't shake the feeling that it could have been just a bit better. Maybe it wasn't quite as bready or malty as some, maybe it was the slightly lighter color, I don't know. But it didn't quite stack up to the best of the best.
★
443 characters
4.47
/5
rDev
+11.2%
look: 5 | smell: 3 | taste: 5 | feel: 4.5 | overall: 5
Pours a clear well carbonated light copper color with an inch of off white rocky head. A very light nose to it. Taste is crisp and delicious. Very balanced with a touch of malt on the backend. Very good marzen. In fact I can't think of a better one.
★
249 characters
3.85
/5
rDev
-4.2%
look: 4 | smell: 4 | taste: 3.75 | feel: 4 | overall: 3.75
Reminds me of a German style Ofest. Nice toasted maltiness with a spicy/herbal hop backing....medium body with a spitzier feel and dry finish. Above average but not one I would likely buy again.
★
197 characters
3.62
/5
rDev
-10%
look: 3.75 | smell: 3.5 | taste: 3.75 | feel: 3.5 | overall: 3.5
Bottle label data: ENJOY BY 12/20/14
The body is crystal clear with a deep gold hue and a one-finger thick, lasting white head. Fruity aroma, like peach and apricot with a mild, malt undertone. The taste mimics the aroma with a bit more grainy bread flavor; rather sweet. Medium mouthfeel; kind of coarse on the palate; dry finish.
A decent beer but there is a little too much overt sweetness that works its way into the overall flavor. Hop bitterness stays low-key and takes some of the sweetness out of the picture. Worth a try...
★
534 characters

4.13
/5
rDev
+2.7%
look: 4 | smell: 4 | taste: 4.25 | feel: 4.25 | overall: 4
I've had this before on draught but never from a bottle. Pours, as advertised on the label, with "an orangish hue color," which leaves me reeling from the grammatical indifference of that descriptor, but this is about beer. The aroma is malty and nutty, slightly herbal, with the faintest hint of booze. Hits the palate hard with dark cherry, malt, and bready goodness. A little molasses, even a bit flowery. The mouthfeel is slippery and moderately carbonated. It goes down like a dream and leaves the slightest hint of bitterness on the back end to remind you that you did indeed drink something, however at 5.8% abv, that realization is going to come to you sooner or later. Great marzen, and like other stuff from Prost, highly drinkable. I'd probably opt for GD Hoss in place of this given the option, but would recommend this to any fan of Oktoberfest.
★
858 characters
3.5
/5
rDev
-12.9%
Quick review:
Light copper color with okay head. Aroma is bready, biscuity and fruity. Taste is also biscuity and bready, but with a strong fruity sweetness that is not balanced enough by the noble hops. Finish is also too sweet. Some good classic Marzen flavors but too sweet for my preference.
★
300 characters
4.21
/5
rDev
+4.7%
look: 4 | smell: 4.25 | taste: 4.25 | feel: 4 | overall: 4.25
Poured from a 12 oz. bottle into a tall pint glass. Label says enjoy by 12/18/14.
Appearance: Pours a deep golden orange with a lot of rising bubbles. About one finger of off white head which slowly settles into a thin creamy layer.
Smell: A bready, toasty, and fairly sweet malt forward aroma with hints of caramel, biscuit, and subtle fruit. Toasted barley malt with upfront hints of biscuit, sweet caramel, toffee, grains, cracker, and yeast. Subtle fruit hints of apple and orange along with some sugar sweetness. Light hints of earthy hops. Also some hints of spice. A pretty solid malty aroma.
Taste: Like the aroma hints at, a toasty, bready, and sweet classic Marzen malt driven taste with notes of caramel, biscuit, and fruit. Upfront toasted barley malt with good notes of biscuit, caramel, toffee, toasted bread, yeast, grains, and cracker. Light fruit undertones of apple and orange. Sweet notes of sugar. Subtle spice presence with a slight note of cinnamon. Subtle earthy hop presence. A solid taste.
Mouthfeel: Medium bodied with a moderate amount of carbonation. Creamy, crisp, and very smooth.
Overall: A pretty good take on a Marzen. Good bready malt flavors with a nice subtle presence of fruit and hops.
★
1,233 characters
4.32
/5
rDev
+7.5%
look: 4.5 | smell: 4.25 | taste: 4.25 | feel: 4.25 | overall: 4.5
Draft at the brewery served in a heavy, dimpled Oktoberfest stein. The beer is a deep amber in color color with a nice, well retained head. Pretty much spot on for the style - rich aromas of biscuity malt with layers of autumn leaves, toasted grain, and a subtle fruity, caramel sweetness. Satisfyingly malty and flavorful but cleaning up very well to finish with a grassy noble hop flavor and snappy bitterness. I'm game for a full boot of this, anytime.
★
457 characters

3.96
/5
rDev
-1.5%
look: 4.5 | smell: 3.5 | taste: 4 | feel: 4.5 | overall: 4
I was delighted to find that this is a legit German style Oktoberfest. If I didn't know any better, I would think it was brewed in Germany by Germans for Germans during a big German fest.
It's a beautiful clear orange color with a huge white head. The smell isn't as strong as some others I've had, but still present and gives that signature Oktoberfest scent (sweet, bready malts). The taste is not as sweet as I expected, this is a very balanced brew. Doesn't linger long and is insanely drinkable.
I had a growler full of it about three hours ago, now it seems I have an empty growler I need to fill.
★
606 characters

4.21
/5
rDev
+4.7%
look: 4.5 | smell: 3.5 | taste: 4.5 | feel: 4 | overall: 4.5
My first visit to Prost on 11-08-2012 was a great success, and the beer that really stood out to me was the O-fest. (I am a big fan of the style, and find that most disappoint.)
A: Billowing cloudy heat atop a layer of crystal clear orange-gold. Some lacing and stickiness from the foam. The large steins are a great presentation vessel for this beer.
S: doughy bread, faint hops, and some malt sweetness. farily clean and light, not an overpowering aroma.
T: More biscuity and bready malts, some light candy sweetness, and a nice balancing herbal hop note at the end of the drink. The balance between all of the flavors is great, and nothing overwhelms you or makes you tired of it. It is not overly biscuity or sweet or hoppy, it is a perfect marriage of all of these things.
M: Light to medium body, goes down smooth and refreshing. You could take down several steins in one sitting and not feel like the beer is syrupy or heavy.
O: this is a well crafted beer, and is so balanced that it makes you want more and more. It is refreshing, malty, semi-sweet, and extremely drinkable. I highly recomend it, and hope they bottle it one day. One of my favorite fest biers to date.
★
1,184 characters
4.13
/5
rDev
+2.7%
look: 4.5 | smell: 4 | taste: 4 | feel: 4 | overall: 4.5
this is a perfect marzen in my opinion. its as good as it gets, with characteristics you dont usually find in this style. it pours halloweeny looking orange color, crystal clear with a tall and lasting white head of clouds. it smells german malty, duh, but lighter than a lot of these. biscuity, even buttery cracker profile. it also has a touch of sweetness that doesnt stay in the finish. some balanced hopping as well. i love the flavor, its malty and sturdy, but plenty drinkable. lots of grains coming together here. smooth texture, same as all the prost beers, theyve got this part dialed. this is one ill go back to for sure. the perfect seasonal, realy really good. easy to make a night of these.
★
704 characters
4.85
/5
rDev
+20.6%
look: 4.5 | smell: 4.5 | taste: 5 | feel: 5 | overall: 5
Perhaps the best Marzen/Oktoberfest I've had. Although I've yet to travel to Germany.
Nice light copper color. Clean and clear. About 1 1/2 inch thick white foam is rich and somewhat sticky.
Aroma is light but effective. Sweet and light caramel underneath with subtle hop and yeat spice throughout. Nothing to set your nose on an escapade, but it does the marzen job nicely.
This beer just tastes awesome. The sweetness is soft biscuit sweetbread, light caramel drizzled in. Earthy spice comes and goes, and dances with the floral spice quite well. Nice zip on the end to announce the hop pressence, but not enough to offer bitterness.
Fantastic beer.
★
666 characters
Märzen Oktoberfest from Prost Brewing Company
88
out of
100
based on
14
ratings.