Ten Of Clubs / Kleveretien
| Brouwerij Het Nest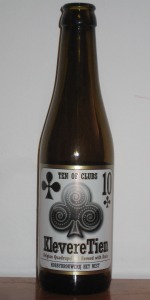 BEER INFO
Brewed by:
Brouwerij Het Nest
Belgium
hbhetnest.be
Style:
Belgian Strong Dark Ale
Alcohol by volume (ABV):
10.00%
Availability:
Rotating
Notes / Commercial Description:
The "Ten of Clubs" is a dark ale with a hint of anise and loads of character. Some may call it "Abbey-style," but we just think of it as great beer.
Aged in oak barrels and brewed from an original recipe by Het Nest - a group of friends making excellent craftbeer to promote the Flemish town of Turnhout Belgium - the world wide center of the playing card.
Added by Jason on 08-09-2012
Reviews: 14 | Ratings: 66
2.04
/5
rDev
-45.6%
look: 4 | smell: 2.5 | taste: 1.5 | feel: 3 | overall: 1.5
Dark ruby body with a frothy head.
Licorice and alcohol nose, slight coffee.
Flavor is horrible. Lots of alcohol, anise, followed by pure NyQuil. That green stuff.
Feel...hot, boozy, semi dry.
Overall one of the most awful beers I've ever tasted. I don't like taking medicine unless I have to. Drain pour, here.
315 characters

3.95
/5
rDev
+5.3%
look: 3.75 | smell: 3.75 | taste: 4 | feel: 4.25 | overall: 4
Bottled and possibly bottle conditioned
Pours a dark cola near black body with big foamy tan head
Brown sugar and ash aroma
Flav our is esthers and seaside rock
Nice mouthfeel too
182 characters
4.4
/5
rDev
+17.3%
look: 4.25 | smell: 4.25 | taste: 4.5 | feel: 4.25 | overall: 4.5
330 ml bottle. Best before 2016-09-11.
A: Dark brown. Poured 4 fingers high of head, moderate retention.
S: Medium toasty caramel. Some soybeans and raisin.
T: Medium toffee flavor. Slightly coffee. Chocolate aftertaste. Medium low sweetness. Low sourness. Moderate bitterness.
M: Medium full body. High carbonation.
O: Great caramel, coffee, and chocolate texture.
366 characters

3.94
/5
rDev
+5.1%
look: 4 | smell: 3.75 | taste: 4 | feel: 4 | overall: 4
750 ml bottle from Rare Beer club. Pours brown with foamy, beige head. Aroma is of funky yeast, sherry, chocolate and plums. Body is full and crisp.. Yeast, dark fruit, hops, spices, brown sugar and nutty malt fill the mouth. Finish is long and bitter. Complex and tasty brew.
281 characters
3.76
/5
rDev
+0.3%
look: 4 | smell: 3.5 | taste: 3.75 | feel: 4.25 | overall: 3.75
Description above says this is aged in oak barrels, not true. There exists an oak-aged version, but this is just the regular version. 330ml bottle.
Label calls it a quadrupel brewed with anise, and lists it as 10.1% alcohol.
A - Beer looks black, holding it up to the light reveals that it is a very dark red. A tan head builds up and retains pretty well, a swirly cap and thick ring remain at the end with bits of lace.
S - Though it's not huge in the scent I definitely get anise along with spice, raisin, candi sugar and some alcohol.
T - Anise is a touch fainter here, but it is still noticeable and blends in well. Flavor opens up a bit more here with some light roast, smoke, and light earthy hoppiness coming into play. Raisin, spice, yeast and brown sugar to be had as well.
M - Really nice mouthfeel. Very smooth, good body, great highish carbonation, minor alcohol warmth. Good balance of roasty, sweet and even hoppy flavors. Surprisingly drinkable, 330ml solo is fine.
O - Good stuff, the anise is low key which works well here. Doesn't really have the depth one might expect from a 'quad' but pretty nice and kinda unique for the style. Everything I've had from Het Nest is pretty good, under the radar Belgian brewery right here.
1,250 characters

4.21
/5
rDev
+12.3%
look: 3.5 | smell: 4.25 | taste: 4.25 | feel: 4.25 | overall: 4.25
(best before Oct 2013, stored in fluctuating climate - poured into a 10oz tulip)
A: cloudy, nearly opaque burgundy (mostly brown with reddish highlights)... bit of loose foam forms on the pour, falls, light-thin cap left... practically no lacing
S: dark Belgian chocolate, brown fig... really damn cocoa... not much fruitiness to speak of, not a strong boozy aroma... decent intensity until the last ounce, minus the dregs, is poured in - loses some edge after that
T: the dark fruit comes out right away first sip - raisin-vinous, maybe a splash of black cherry - blending together, with the rich, chocolaty flavor, to create an unmistakable abbey ale character, reminiscent of an Abt 12 / Gouden Carolus Cuvee hybrid, sort of... little bit of roasted grain sprinkled in there and a herbal-cordial soft flare of alcohol on the end, light lingering bitterness
M: concentrated malty body, medium-full, but nicely dry in the finish... not a strong warming sensation - weird for 10%... nicely tempered alcohol, soft and rather tamed, but a bit of a delicate sting/numbing remains long after
O: had this one other time on tap about 2 years ago - close enough to the draft version, though I feel like this has a bit more of a bottle-conditioned yeast overtone, drier and a little sharper altogether... pretty tasty and worth checking out once
1,342 characters

3.43
/5
rDev
-8.5%
look: 4.25 | smell: 3.75 | taste: 3 | feel: 3.75 | overall: 3.5
Ten of Clubs pours a very dark almost porter-like color with some reddish tones. The head is a thick off white that recedes slowly.
There are strong coffee notes with a background of smoke and banana. I smell spice as well, but can't put my finger on it. Probably the anise.
For me the bitterness is over the top for this beer. The aftertaste is very bitter and persists. It reminds me of a blend of a porter and a quadrupel. I almost didn't finish the bottle. However, I chilled it a bit more and came back a couple of hours later. Much better. It seems smoother and more drinkable in my opinion.
It is a highly carbonated beer with medium thickness. Basically what you would expect in a quadrupel.
Overall this beer is pretty good. I wasn't expecting the bitterness or porterish tastes. It is much better to me chilled.
826 characters

4.11
/5
rDev
+9.6%
look: 4.75 | smell: 4.25 | taste: 4 | feel: 4 | overall: 4
A-pours a dark chestnut with an absolutely beautiful looking head, three fingers worth of creamy and tan head that leaves a layer throughout the glass
S-dark fruits, dark bready malt, cocoa, bit of molasses and cola
T-taste is full of dark fruits, some chocolate, dark malt, and a light finish of anise
M-medium to full body, light to moderate carbonation
Overall I really enjoyed this beer, glad the anise isn't more powerful, something I would revisit in the future for sure
480 characters

3.79
/5
rDev
+1.1%
look: 4 | smell: 3.75 | taste: 3.75 | feel: 4 | overall: 3.75
A-Pours dark brown with a medium sized head of brown foam.
S-Some cola, dark fruit and molasses. A slight hint of alcohol. I don't like anise much and I do pick it up in the nose but it isn't too intense.
T-Not as cloying as many Belgian Darks, which I am thankful for. The anise is rather light. Cola and dark fruits along with a flavor that reminds me of Tootsie Rolls. A bit of Belgian spice.
M-Thankfully not very cloying. Body is lighter than I thought it would be. Warms the cheeks a bit.
O-Actually pretty appealing. I've never developed much of a taste for this sort of beer. This one I enjoyed more than most.
623 characters
3.6
/5
rDev
-4%
look: 3 | smell: 3 | taste: 4 | feel: 4 | overall: 3.5
Poured into a tulip glass.
Appearance: Black, with tons of foam producing a 2-3" head that lingers for quite awhile. Thick residual lacing on the edges of the glass.
Smell: Definitely dark fruits, including prune and date notes. Didn't really appreciate much of a anise smell.
Taste: Burst of prunes, raisins, and dates upfront that mellows out as the malt takes over. Finishes with dark chocolate and mild hoppiness, maybe with some citrus notes. Once again I wasn't able to appreciate the anise.
Mouthfeel: Medium to full-bodied, smooth throughout.
Overall: A very smooth-tasting, respectable beer. Maybe the bottle I opened was too old and the anise doesn't age well, but I was underwhelmed by its absence. I would consider having another to try to elicit the anise flavor again, otherwise I wouldn't go out of my way to look for it again when some of my other favorite Belgians are easier to find.
906 characters
3.72
/5
rDev
-0.8%
look: 3.75 | smell: 3.5 | taste: 3.75 | feel: 4 | overall: 3.75
Pours a huge fluffy off-white colored head that fades at a med pace with big bubbles popping first, super dark cola molasses colored brown beer with some mahogany light sneaking through.
Nose brings some dark malts, molasses, candi sugar, lots of toasty brown malts, some dark candied fruits light fig and date, light bursts of anise spices and almost cinnamon like, touch of cocoa and some phenolic and estery booze, as well as light herbal hops.
Taste has an earthy almost mushroomy kinda taste which is interesting. Plenty of sweet flavors, toasty brown malts, little molasses and burnt brown sugar, candi sugar, etc, bringing a fair sweetness, and some light phenolic and estery booze again. A bit of dark candied fruits, fig, date, and toffee covered apricots even somehow not sure how that even works, but it's there. Yeast brings a little bready dough flavor, and a little yeasty flavor even. Hops cut in with a light herbal flavor and mild bitterness overall. Finish brings bit more of the herbal hops and bitterness, still fairly sweet and sticky, little syrupy, some syrupy brown malts and candi sugar as well as some phenolic booze.
Mouth is med to a bit fuller bodied, decent carb, some warming booze.
Overall not bad, a nice overall malt and sweet profile, light fruits is nice too, and even the herbal hops add it's own touch, the booze isn't too bad but the phenolic booze flavor is a little much. Still a pretty decent beer.
1,444 characters

3.59
/5
rDev
-4.3%
look: 3.5 | smell: 3.75 | taste: 3.5 | feel: 3.75 | overall: 3.5
On draft at max's in balt
P: tulip
A: black, no head and trace lacing
S: belgian candy sugar, dates, black licorice, dark fruit
T: sweet up front, a little too sweet for me, black licorice & dates mid palate, bitter chocolate at the end w trace of hop bitterness
M: oily, lingering
Overall: not bad at all, but not exceptional, wouldnt go out of my way to try again
366 characters

3.72
/5
rDev
-0.8%
look: 3.5 | smell: 4 | taste: 3.5 | feel: 4 | overall: 3.75
A cellar temperature bottle is split between two snifters. Although categorized as a Belgian strong dark ale, the label identifies this beer as a quad brewed with anise.
The beer has a very dark brown color, almost like a stout. The head is of a decent size and is composed of light brown foam. Swirling leaves behind a little bit of lacing and some film.
The beer has a strong malty aroma, with some notes of alcohol. Characteristics of black licorice and anise are detectable. There is also a hint of smoke.
There is a strong flavor here, which I am attributing to the anise. There isn't as much toffee as I expect from this style, but there is some roasted malt; its as though this beer lies somewhere between a quad and a stout.
This is a full-bodied beer with plenty of carbonation. It isn't as sticky as I expected it to be, based upon its ABV.
I don't think this quite fits into the guidelines of a traditional quad, but as a strong dark ale, it is quite tasty. Apparently this beer is fairly rare, considering the number of reviews for it on this site, so if you see it, it may be worth checking out.
1,113 characters

3.82
/5
rDev
+1.9%
look: 3 | smell: 3.5 | taste: 4 | feel: 4 | overall: 4
Poured from a bottle into a tulip glass. Thick white head fades quickly. Dark brown color with a lot of floaties. Little or no carbonation present. Smell of dark fruit and candy sugar. Nice flavor of figs, dried fruit and a touch of molasses. The 10% abv is well hidden. A well balanced beer. Good representation of the style.
326 characters
Ten Of Clubs / Kleveretien from Brouwerij Het Nest
3.75
out of
5
based on
66
ratings.