Forty Four American Amber
| Riverside Brewing Company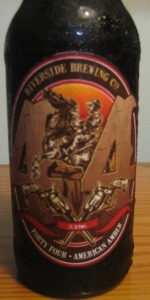 BEER INFO
Brewed by:
Riverside Brewing Company
Australia
riversidebrewing.com.au
Style:
American Amber / Red Ale
Alcohol by volume (ABV):
6.50%
Availability:
Year-round
Notes / Commercial Description:
No notes at this time.
Added by ADZA on 10-21-2012
Reviews: 10 | Ratings: 15

4.42
/5
rDev
+13.9%
look: 4 | smell: 4.5 | taste: 4.5 | feel: 4 | overall: 4.5
Had on tap at Spooning Goats.
Pours a cola colour, lots of red tinge to it. Head is foamy, beige, fairly thin with large bubbles. Some bead. Great colour, nice otherwise too.
Notable roast to the nose, a little smokey and some red wine notes. Above all is a big hoppy character, citric with a touch of resin, grapefruit, slightly burnt but really lovely.
Taste is similar: plenty of bitter roast from start to finish providing a solid base. Some amber roasty malt with metallic edge to it. Hops are very very present, loads of resin, pine bark, citrus zest and mandarin. Quite spicy on the back where the two characters blend. It's all a big piquant blend of lovely flavours. Yum.
Noticeable pull from the hops and quite dry. Certainly enough body to carry it through, but not entirely smooth.
Exemplary American amber. Nice roasty character but great hop dominance as well. Great beer.
895 characters

4.39
/5
rDev
+13.1%
look: 4 | smell: 4.25 | taste: 4.5 | feel: 4.25 | overall: 4.5
A beautifully balanced beer, packed full of flavour - Cannot remember ever having a better American amber ale.
aroma: milk chocolate, citrus and tropical fruit
taste: grapefruit, milk chocolate, malt, spice, pepper, stone fruit, citrus, tropical fruit and slight brown sugar.
A pleasure to drink - delicious! Riverside brewing is at, or near, the top of Australian brewing right now.
386 characters

4.3
/5
rDev
+10.8%
look: 4 | smell: 4 | taste: 4.5 | feel: 4 | overall: 4.5
No BB. From Beer Cartel
Pours a dark amber body. Two finger head stays. Nice.
Aromas of serious malts on nose. Add caramels.
Taste is a let down sadly after look 'n' smell. Somewhat watery in bottle form. Good malt flavours dominate with caramels and treacle toffees backed with moderate but not overbearing hop bite.
Mouthfeel is a little under carbonated and a little watery
Look forward to getting back on tap or trying another bottle. Wish I had reviewed on tap, much better memories.
EDIT 2012 02 02, second bottle from Beer Cartel.
Despite being a 100% gusher, the beer that was left is as I remember it on tap. Scores adjusted to reflect a great Aussie Beer. Malt bomb, hop bomb, balanced bomb.
708 characters

4.2
/5
rDev
+8.2%
look: 4 | smell: 4 | taste: 4.5 | feel: 4 | overall: 4
330ml bottle from Platinum Liquor, into a Mikkeller glass.
Amber brown appearance with a slightly yellow-beige foam on top. Nice head that retains well and adds a bit of lacing.
Smells of pine and grapefruit along with sweet malt. Nice integration of all three along with a little bit of something that reminds me of what lightly toasted ovaltine would be like.
Hoppy, however, it is the malty flavours of this that really set it apart. Caramel, toasted ovaltine, roasted malt along with some nice hop backing makes this a joy to drink and drink a fair bit of. Even reminds me of putting a blowtorch on caramel at times.
Medium bodied, the hoppiness cuts through the solid malt base to make this really drinkable and has a good hoppy finish. Hard to tell it is 6.5%, perhaps only the amount of flavour is a giveaway.
My favourite new Australian beer from 2012. Has something for when you are seeking hops and plenty there if you want something malty. Really good all round beer.
983 characters
4.1
/5
rDev
+5.7%
look: 4 | smell: 4 | taste: 4 | feel: 4 | overall: 4.5
From a 330ml bottle. This one was part of a case purchased from Beer Cartel, although Spooning Goats in the city is my favourite haunt for grabbing a glass of this brew.
Pours a deep amber-brown, with what could be hazing, but could just be a very dark colouring. Head is voluminous when poured: a rocky, frothy beige that forms in large bubbles and leaves some pleasant sudsy lace. Body is really surprisingly light and fluid, but holds a small amount of vivacious carbonation. Pretty happy with it overall.
Nose is a beautiful blend of crisp, direct hops and melded solid malt: the malt gives hints of chocolate and dusty grain, while the hops rise above and give a lovely brisk sharpness. There's nothing particularly citric about the hops, and that's great in this beer. It's more of a clean, green-and-earth crispness that balances and hangs on to the malt. Good stuff.
Taste is also great. Earthy depth to the palate, with a rich, supple malt presence forming a consistent and dependable stage. Above this is a crisp, bright hop flavour, that dances pleasantly, leaving a leafy, tea-like fragrance and a bite on the back palate. Smooth roast rounds out the finish, giving a sense of completeness, but also a comforting warmth, suggesting that you can snuggle with it for just a little longer.
Feel is smooth, but there is a touch too much carbonation to this particular bottle—it's certainly not been an issue in the past with other bottles I've had.
Overall, I love this beer. It's a beautiful blend of malt and hops, and provides that amazing balance that seems to be the hallmark of Riverside's brews. I love the fact that I can get such quality beer so fresh in Sydney: this is the equal to any American Amber I've had.
1,736 characters
4
/5
rDev
+3.1%
look: 4 | smell: 4 | taste: 4 | feel: 4 | overall: 4
Growler into a tulip
A-- dark reddish brown color. Good one finger head that falls away to a thick collar. Solid spotty lacing on the sides of the glass.
S-- Big caramel backbone. lots of toffee. Underneath is the real prize. Grapefruit, pine and passion fruit. Well balanced nose to match the ingredients.
T-- caramel that changes to nuts, grpaefruit, pine, and then some pavlova. Solid bitterness in the taste but a big backbone.
M-- Good amount of oil and resin to match the malt. Slick and smooth in the mouth. Perfect carbonation for the style. 6.5% sipper that can be done in winter and in summer. Good idea to me.
O-- Most "adult" beer currently in Australia. Well hidden alcohol and just a fun beer to enjoy. On par with the US classics and current. A style that is hard to match but has been.
810 characters
3.95
/5
rDev
+1.8%
look: 4 | smell: 4 | taste: 4 | feel: 3.5 | overall: 4
Thanks to Mulder for this drop and it pours a hazy copper hue with a creamy two finger head and clingy lacing here and there,the smell is full of pine cones,caramel,sherbet,grapefruit and brandy snaps,the mouthfeel is medium bodied with moderate carbonation and fills the palette with a smack of those piney bitter hops first up followed by a slight roastiness,burnt toffee,bitter grapefruit and finished with a pine hop bitterness,overall im really suprised at this as i didnt think it be this good it has a solid hop character which i like in my Americain Ambers and very enjoyable,would buy again without doubt.
614 characters
3.9
/5
rDev
+0.5%
look: 4 | smell: 4 | taste: 4 | feel: 3 | overall: 4
Bottle from Platinum Liquor.
Deep mahogany with a tight beige, milkshakey head which falls surreptitiously leaving behind a sticky raised ring.
Serious complexity in the malt profile. Strongly fortified toffee notes, pungent bread and strawberry jam. Clean freshmint and pine hops behind it.
More of the deeply baked, bordering on scorched, toffee notes, bolted onto sharp and potent resinous pine and eucalyptus. There's also a pleasant woody nuttiness and strawberry milkshake
Syrupy entry owing to a strong hop oil presence. Slightly sizzly carbonation quickly cuts through, paving the way to the lengthy, somewhat rough bitterness.
Beefy, ballsy, full-on hoppy Red Ale. While this is undeniably charismatic, it's more of a sipper. Which is perfectly fine.
764 characters

3.75
/5
rDev
-3.4%
330ml bottle.
A - ruby red, , pours a decent creamy offwhite head, slightly hazy
S- strong tropical fruits (lychee) with a less potent floral scent from the hops,trace of sweet caramel in there too
T - fruity (passionfruit, lychee) bitterness at first that rides along, with the slightly roasted, biscuity malt flavour popping in halfway through. Nice long, dry bitter aftertaste that shows off the dry hopping. There is a nice crispness to this beer.
M - dry texture, medium carbonation, moderate body (maybe a touch thin).
O - pleasant - the hoppy bitterness is much more apparent than I expected, and overpowers the crystal and roasted malt flavours of a typical amber. Certainly worthy of a shot, but a bit too bitter and strong ABV to make this sessionable for me.
779 characters

3.55
/5
rDev
-8.5%
look: 4.25 | smell: 3.5 | taste: 3.25 | feel: 4 | overall: 3.75
330ml bottle. Murky, amber-brown colour with a generous tan head which lasted well and left some nice lacing. Aroma of pine resin dominates with some caramel. Light / medium sweetness gives way to a medium / heavy bitterness. Smooth, medium bodied, generous carbonation and a dry, roastiness. Very long lasting pine resin stickiness in the finish. Pretty decent. 7.
365 characters
Forty Four American Amber from Riverside Brewing Company
3.88
out of
5
based on
15
ratings.