Fifty Five Pale Ale
| Riverside Brewing Company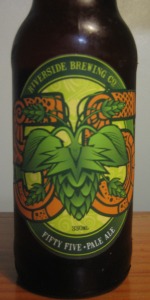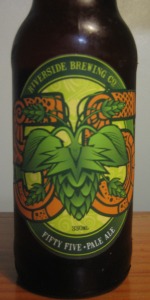 BEER INFO
Brewed by:
Riverside Brewing Company
Australia
riversidebrewing.com.au
Style:
American Pale Ale (APA)
Alcohol by volume (ABV):
5.50%
Availability:
Year-round
Notes / Commercial Description:
No notes at this time.
Added by danieelol on 11-16-2012
HISTOGRAM
Ratings: 8 | Reviews: 6
Reviews by danieelol:

4
/5
rDev 0%
look: 4 | smell: 4 | taste: 4 | feel: 4 | overall: 4
This seems like a refreshing choice to break my 2.5 week beer fast.
Surprisingly I seem to be the first to review this. Purchased from Porters Northwood.
Pours a darkish brown-red-copper. Competent head/lacing.
Smell is quality APA- lots of grapes, reminiscent of Sierra Nevada Pale Ale or even Torpedo. Rather pungent and fresh smelling. There is pininess and just a general white wine quality.
Taste is relatively dry and bitter.
Carbonation is fairly abrasive, which serves to underline the bitter hoppiness.
Textbook Australian application of an American Pale Ale. Not breaking any new boundaries but does what it sets out to do very effectively.
656 characters
More User Reviews:

4.44
/5
rDev
+11%
look: 3.5 | smell: 4.5 | taste: 4.5 | feel: 4.5 | overall: 4.5
Preface to this review: I've been very impressed with Riverside so far, and it was with a great deal of shock that I realised I'd not actually reviewed any of their beers. So, swinging by Porters at Northwood, I grabbed a bunch of bottles to review, including this one, which I believe is the only one of their current range that I've not sampled before. So I'm going in with no preconceptions.
Pours a clear, fluid deep golden-amber hue, actually certainly on the dark end for a pale ale. Head is pretty light white, forming a fine film across the top, but not retaining much further than that. Good lacing, and noticeable but fine and capricious carbonation. Looks decent.
Nose is wonderful. Crisp, piquant fresh hoppy goodness, with a clean bright scrubbed lemon character, and a sweetness that gives it a slightly tropical bent. If it didn't say specifically "American cascade" on the bottle, I would have guessed NZ hops, and fresh bountiful ones at that. Lovely nose.
Taste is clean, and light and beautifully drinkable. Fresh melon characters meld with a mellow but stalwart malt basis, and some slightly organic, fresh, tingly sherbet characters which dance around along the top. Hint of candied orange, papaya and quince. Bitterness is beautifully balanced: it sits around to lift the beer, but doesn't become too coating or aggressive on the palate.
Feel is smooth and light, and well-matched with the flavours of the beer.
Overall, this is fantastic stuff. So clean and drinkable, but full of flavour in just the right ways. Even knowing what Riverside was capable of, I didn't expect such a fresh and delicious take on a pale from them. I may have a new favourite Australian APA.
1,696 characters
3.94
/5
rDev
-1.5%
look: 4 | smell: 3.75 | taste: 4 | feel: 4 | overall: 4
Big thanks to MrKennedy for this surprise and pours a dirty a apricot hue with a creamy two finger creamy head with nice lacing everywhere,the smell is nice with aromas of pine,herbs,floral bouquet and citrusy hops,the mouthfeel is medium with minimal carbonation which suits perfectly and has tastes of citrus,fruit salad,a touch of pine and finished with a nice herbal spicy finish and overall I wasn't expecting this much from it but to be honest definitely a new favourite APA for me will drink again cheers.
512 characters

3.55
/5
rDev
-11.3%
look: 2.5 | smell: 3.75 | taste: 3.75 | feel: 3.5 | overall: 3.25
From Beer Cartel. No BB.
Pours a deep amber. The head is somewhat disappointing. Quick off white one finger dies to a film, some fine sheet lacing, not a lot.
Aromas of citrus hops, apricot, rockmelon.
Taste is similar to aroma. Quite smooth hops drive a balanced palate, but little zest noticeable. On the back palate some lemon notes come forward, a bit disconnected.
Complex, but a little dull.
Mouthfeel smooth, medium bodied low carbonation.
This is a beer I have been waiting a long while to get my hands on. It didn't quite live up to expectations. However, it is not a typical Aussie APA.
Not sure if freshness is an issue? Was expecting more lifted notes.
669 characters


3.75
/5
rDev
-6.3%
I had a 330ml bottle bottle purchased from Beer Cartel. This beer won a bronze award at the 2014 CBIA Craft Beer Awards. I rousted the beer to ensure the residual yeasts were in the pour.
Appearance: pours with good white 1-2cm head. Colour is cloudy tan and rather dullish.
Aroma: very good pine and citrus hops also some toffee apple sweetness coming through.
Flavour: interesting. The bottle says it is late hopped with truckloads of American Cascade. That accounts for the very present aromas. For me the bitterness of the high level hops really comes through strongly and that's all I'm getting on the palate. I like a bitter beer so this is fine but it lacks some other complexity, however that seems to be Riverside's approach when I think if the 77 as well, for example. Mouthfeel is smooth and carbonation medium. I'll have this one again.
849 characters
4.32
/5
rDev
+8%
look: 3.5 | smell: 4 | taste: 4.5 | feel: 4.5 | overall: 4.5
Bottle thanks to Dan as part of the Aussie BIF.
Pours a hazy golden colour with a small head. Fair head retention.
An interesting combination of citrussy and spicy hops. Really nice melon and pineapple notes sitting underneath. A little sweet.
Lovely light amber malt note that backs off immediately for some juicy, citrussy hops. Balanced and somewhat complex. Moderate bitterness. My kind of pale ale.
Medium body with moderately-high carbonation. Very nice.
A delightful Pale Ale. Riverside has only come onto my radar in the last 6 weeks and it is doing very well. Is it phenominal, no, but for an Australian beer from a new brewery it is pretty damn good.
665 characters
Fifty Five Pale Ale from Riverside Brewing Company
Beer rating:
4
out of
5
with
8
ratings