American Rye Ale
| Reuben's Brews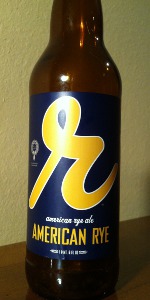 BEER INFO
Brewed by:
Reuben's Brews
Washington
,
United States
reubensbrews.com
Style:
Rye Beer
Alcohol by volume (ABV):
5.40%
Availability:
Year-round
Notes / Commercial Description:
No notes at this time.
Added by dirtylou on 02-09-2013
Reviews: 9 | Ratings: 35

3.16
/5
rDev
-14.4%
look: 4 | smell: 3 | taste: 3 | feel: 4 | overall: 3
Poured from 22oz bomber into a pint glass.
Appearance: golden hue with the tiniest hint of haze and a strong effervescence. Head is two fingers of frothy ivory foam with nice retention and a chunky lace. I think it's enticing.
Smell: smooth and lightly sweet, but there's a problem here. The rye spiciness in an ale this blond basically triggers the same olfactory reaction as the adjunct character in a cheap lager. My brain knows this is a good-quality beer, but my nose just thinks Miller. OK, maybe not that bad, but the association is now made.
Taste: the taste starts off good, with some biting spiciness and a light, sweet malt, but as the flavor progresses, I seriously keep getting this weird macro lager vibe. What the heck is going on? The rye in this beer manages to do a good job replicating the flaws in an American adjunct lager.
Mouthfeel: medium body with a good level of carbonation and creaminess. I like it.
Overall: I'm obviously not rating this beer as low as a macro lager, and it is seriously not *that* bad, but there is a sense memory that just kind of does this beer in for me. Certainly not everyone will get this, but ... it's odd.
1,167 characters
3.18
/5
rDev
-13.8%
look: 3.5 | smell: 3.5 | taste: 3 | feel: 3.25 | overall: 3
A: Pours a hazy pale gold with a bone white head.
S: Aromatics of yeast, rye spice, and citrus.
M: Medium body and easy drinking.
T: Palate of spice, toast and citrusy hops. Crisp finish with a mild bitterness.
O: Straight forward and easy to drink. Reminds me strongly of a hefeweizen.
288 characters
3.25
/5
rDev
-11.9%
look: 3.25 | smell: 3.25 | taste: 3.25 | feel: 3.25 | overall: 3.25
Thanks to FalconA for this one. noticed it in the back of my fridge and is dated 16.10.13 so we in business still! enjoyed from a washington beer mini snifter.
a - brew poured a transparent straw yellow with a thin fizzy head. no lacing to speak of, but a thin ring of fizz hung around clinging to the glass on the surface.
s - very big grainy rye. almost pilsner like or blonde ale like.
t - again, all about the rye. thick grain with some malt.
m - light to medium bodied. a bit chewy.
o - overall, i'm a fan of rye beers, but this one is a bit over the top for me. a big splash of hops would make this amazing.
618 characters
3.58
/5
rDev
-3%
look: 4 | smell: 3.5 | taste: 3.5 | feel: 4.5 | overall: 3.25
Poured from a 22oz bottle into a Anchor pint glass. Beer was bought from Bottleworks in Seattle, on 9/9/13, and consumed as I write this on 9/11/13.
Appearance: Cloudy deep gold/copper, with an amazingly resilient white head.
Smell: Notable aroma of rye malt, with subtle hints of spice and a certain phenolic that is reminiscent of yeast stress - though it could be a characteristic of yeast strain used. Either way, it is not a major factor.
Taste: Very smooth, round flavor. Spice, malty sweetness, with a firm hop bitterness. Little to no hop flavor. I enjoy this beer. A return to a more simple beer in stark contrast to the 'everything but the kitchen sink' motto that plagues new breweries. Again, there is a phenolic character, though does not linger, as the beer finishes.
Mouthfeel: High effervescence is prickly at times, and leaves a tang in the finish. The light body and high carbonation are very similar to a bavarian hefeweizen.
Overall, I enjoyed this beer despite of its minor flaws. It reminds me slightly of a common flavor in some of my early homebrews, back when I bottle conditioned. Therefore, it is entirely possible that since this beer appears to be bottle conditioned, that the flaw may have been a result of treatment in the trade (though the brewery is fairly close to point of sale). I would give this beer another try, and look forward to trying their Roggenbier that I also brought back with me. Really bummed that I missed their tasting room!
1,482 characters
3.66
/5
rDev
-0.8%
look: 3.5 | smell: 3.75 | taste: 3.75 | feel: 3.5 | overall: 3.5
Bronze, WBC
Hazy straw-golden body - huge notes of rye, a rather strong bitterness presumably derived slightly more from the rye than the hops, which are driven by notes of grapefruit rind. The finish is a bit grainy for my tastes - not my favorite Reuben's offering.
270 characters
3.84
/5
rDev
+4.1%
look: 3.75 | smell: 4 | taste: 3.75 | feel: 4 | overall: 3.75
Bottle opened on 4.14.13
A - Pours a cloudy, very pale light orange with a one inch off-white head with good retention.
S - Wheat, lots of lemon and rye.
T - Subtle lemon and light rye.
D - Good carbonation with a light body.
O - Smooth and soft. Pretty mild and light. Good summer beer.
292 characters

3.92
/5
rDev
+6.2%
look: 3.5 | smell: 4 | taste: 4 | feel: 3.5 | overall: 4
Poured into a Dogfish Head pint glass. Pours a quite hazy peach amber with a thin white head that dissipated to a thin film and ring around the glass. Interesting aroma of citrus, light stone fruit with distinct spicy rye. Flavor is wheat and lemon that are light enough to showcase the peppery, slightly sour rye. Finishes slightly sour with bittering hops. Light bodied. Nice balance between a hefeweizen type body and rye, both complement each other nicely. Refreshing. The third rye beer released in bottles from this brewery. All were enjoyable.
550 characters

3.96
/5
rDev
+7.3%
look: 4 | smell: 3.5 | taste: 4 | feel: 4.25 | overall: 4.25
Color is golden amber poured into the wildly inappropriate Affligem chalice, but it shows off the lacing, attractive white foam, and champagne bubbles. Great sudsy mouthfeel with that slightly tart and grainy rye flavor. It's like an aromatic Saison without the funk. A slight sweet malty taste adds to the pleasure, with just the right balance of hoppy bitterness. Aftertaste has that resiny note I associate with rye.
Creamy texture, tangy sensation, malty but light, and aromatic rye flavors-- a winner in any of the lighter quaffable categories. It's also a great example of a rye beer, and refreshingly clean to boot. Another Northwest brewery I've never heard of, but this is reason enough to look for more of their beers. From the 22 oz bottle purchased at Bottleworks in Seattle.
788 characters
4
/5
rDev
+8.4%
look: 4 | smell: 4 | taste: 4 | feel: 4 | overall: 4
pint at the brewpub
a: this lovely rye ale is a golden yellow in color, hazed, topped with a bone white head that recedes to a thin ring and surface coating
s: body of pale malts with clean notes of spicy rye, yeast gives some bubblegum and banana, bready, nice citrusy hop nose
m: moderately carbonated with a light-medium body
t: digging this - a combination of bready, flavorful pale malts and a balance of spicy rye, some good estery yeast character, bright citrus and a moderate bitterness
o: a tight little rye ale and highly drinkable, my first intro to this cool little brewery
590 characters
American Rye Ale from Reuben's Brews
3.69
out of
5
based on
35
ratings.