Imperial Stout Aged In Bourbon Barrels
| Reuben's Brews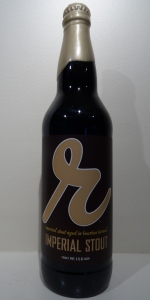 BEER INFO
Brewed by:
Reuben's Brews
Washington
,
United States
reubensbrews.com
Style:
Russian Imperial Stout
Alcohol by volume (ABV):
11.90%
Availability:
Fall
Notes / Commercial Description:
No notes at this time.
Added by dirtylou on 02-25-2013
Reviews: 9 | Ratings: 48

3.84
/5
rDev
-0.8%
look: 3.5 | smell: 3.75 | taste: 4 | feel: 3.75 | overall: 3.75
Poured from a properly cellared, 2013 vintage bottle into a Reuben's Brew small snifter. Pours pitch black with slight head that dissipates to a thin ring around the glass with slight lacing. Aroma of sweet toasted malt, bourbon, light chocolate. Flavor is sweet toasted malt, lightly nutty, milk chocolate. Medium bodied with light, but sufficient carbonation, which is a relief after the nearly still pour. Nice chocolate and mild nutty flavors here, but the malt seems a little thin for such a big stout. However, it has handled three years of aging quite nicely and tastes pretty good. The nutty notes of a brown ale are odd in a big stout, but fit into the profile fine. Enjoyable and aged better than expected. I will have to try a fresh bottle, but this has been unexpectedly popular and hard to find over the last few years. I very rarely change my reviews after posting, but in this case, I'm increasing the Taste score; this was very pleasant to drink and I enjoyed it until the last sip from the glass. Although a bit light in malt for its ABV, it is nicely balanced and held up exceptionally well over time.
1,119 characters

2.54
/5
rDev
-34.4%
look: 2.5 | smell: 2.75 | taste: 2.5 | feel: 2.25 | overall: 2.5
Poured into a snifter. Batch #1, bottle #311, 2014 vintage.
2.5 A: Black color. Not much of a head formed - just enough to prove that it isn't totally flat.
2.75 S: Very woody. The rest of the nose is a bit subdued, which is probably mostly the result the low carbonation. Chocolate, caramel, and molasses with a pronounced roastiness. For a beer this big, it's awfully dry though. The barrel offers hints of leather and vanilla, but it's a lot weaker than the typical BBA brew.
2.5 T: Like the nose, this is very dry and roasty with a big woody presence. The bourbon component itself is rather lacking again. The trio of chocolate, molasses, and caramel is back but could use more strength. Boozy, somewhat astringent finish.
2.25 M: Medium to heavier medium body. The very low carbonation makes it feel lighter than it is and doesn't allow for any creaminess.
2.5 D: It's not terrible, but I grade on a curve and this is well below the average barrel aged imperial stout. It's unbalanced in that it's too dry and lacks the essence of bourbon. The only brightspot is that this is batch #1, hopefully subsequent batches are better.
1,153 characters
3.8
/5
rDev
-1.8%
look: 4 | smell: 4 | taste: 3.75 | feel: 3.5 | overall: 3.75
Batch No. 1; Bottle No. 48; VIntage 2013
Appearance: Pours a translucent coffee color with a modest head; speckles of lace here and there
Smell: Chocolate, caramel and Bourbon
Taste: Chocolate and caramel forward, rather sweet, with the Bourbon flavors developing through the middle; while the Bourbon makes a statement well into the finish, it is the sweet chocolate and caramel flavors that are most prominent
Mouthfeel: Medium to full body with low to moderate carbonation
Overall: A few flaws here, particularly in the mouthfeel and the lack of roast; enjoyable, just a bit shy of what it could and should be
Thanks, Flanders Drive, for the opportunity
667 characters
3.86
/5
rDev
-0.3%
look: 4 | smell: 4.25 | taste: 3.75 | feel: 3.5 | overall: 3.75
Reuben's brews some incredible beers, in an impressive array of styles, but based on my experience with this, their 'barrel program' still needs some work. The bottle I had was close to flat, and too oaky and dry to be really enjoyable. There were some interesting fragrances and flavors here, and real possibility, but it just never came together. With more experience ageing beers, and Reuben's recent expansion, this is only bound to get (much) better.
458 characters
3.11
/5
rDev
-19.6%
look: 2.5 | smell: 3.25 | taste: 3.25 | feel: 2.75 | overall: 3
650 mL bottle poured into a snifter.
Appearance - Pours with almost no head or bubbles. The thinnest of collars. Black body but transparent and looks kinda brown in the light.
Smell - Nutty caramel. A bit of bourbon. More woodiness and some oxidation.
Taste - Sweet chocolate. Nuttiness. Caramel and oak. The finish is more oxidized. A little bitter. Slight cardboard.
Mouthfeel - Nearly flat. Medium heavy.
Overall - Not digging it much. Doesn't help that it's flat.
482 characters

4.18
/5
rDev
+8%
look: 3.5 | smell: 4.25 | taste: 4.25 | feel: 4 | overall: 4.25
22oz (hand-numbered: batch 1, bottle 40, vintage 2013) into a tulip. Pours a translucent deep brown w/ a minimal khaki head that settles quickly to a wispy film
Aroma is big rich bourbon, vanilla, caramel, and booze. The bourbon is strong w/ this one.
Taste is caramel and bourbon, brown sugar, vanilla. Chocolate and molasses. What seems to be missing here, or at least diminished, is the big dark roasty malt; it's overwhelmed by the bourbon. This could almost even be a chocolatey barleywine, or alternatively a non-imperial stout, aged in bourbon barrels. The beer seems to be secondary to the bourbon. Don't get me wrong though: I like it. It's just a little unbalanced.
Mouthfeel is slick and coating, but never syrupy. Minimal carbonation doesn't help.
Overall a very bourbon-forward stout, a little on the sweet side. It's good for what it is, but I wish the base beer was big and bold enough to balance the bourbon character.
938 characters
3.68
/5
rDev
-4.9%
look: 3.5 | smell: 3.5 | taste: 3.75 | feel: 3.75 | overall: 3.75
Bottle opened on 10.21.13
Thanks C!
Batch No. 1
Bottle No. 141
A - Pours a dark brown with a few dark tan bubbles that are gone instantly.
S - Subtle bourbon, that's all I got.
T - A differetn sweetness, almost fruit-anise, then some more bourbon.
D - Low carbonatino with a medium body.
O - Bourbon and a unique sweetness, pretty solid, but a bit dissapointed in this one.
378 characters

4.37
/5
rDev
+12.9%
look: 4 | smell: 4.5 | taste: 4.25 | feel: 4.5 | overall: 4.5
On top, into a tiny snifter, on release day, at the brewery.
Appearance: Jet black with a very thin and wispy mocha-colored head.
Aroma: The nose leads with strong bourbon, oak, vanilla, and a faint licorice or anise note.
Taste: First sip was quite cold but some roasted malt, whisky, and a bit of booze heat was apparent. As the ale warmed up, the vanilla and chocolate notes come in more. There is a bit of vegetal woodiness on the finish.
Mouthfeel: Slick, rich, mild carbonation, and pleasantly mouth-coating.
Overall: Easily the best barrel-aged stout from Washington. Also, dare I note, a rare ale which, even though it shouldn't, does add a bit to the fun.
672 characters
4.36
/5
rDev
+12.7%
look: 3.75 | smell: 4.5 | taste: 4.5 | feel: 4 | overall: 4.25
on-tap, at the brewery. $4 for a 6oz pour
12 year old bourbon barrels were obtained from Alan at Hair of the Dog
Served in a cute little snifter - ebony body, no head. Really lovely stuff - coconut, bourbon, vanilla, dark chocolate, oak. Really nice flavor profile - for a brewery just screwing around with barrels, this is pretty eye-opening.
350 characters
Imperial Stout Aged In Bourbon Barrels from Reuben's Brews
3.87
out of
5
based on
48
ratings.