Beerlao Gold
| Lao Brewery Co.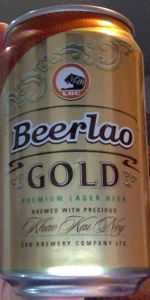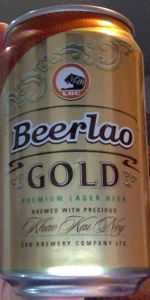 BEER INFO
Brewed by:
Lao Brewery Co.
Laos
beerlao.la
Style:
American Adjunct Lager
Alcohol by volume (ABV):
5.00%
Availability:
Year-round
Notes / Commercial Description:
No notes at this time.
Added by bylerteck on 02-12-2013
HISTOGRAM
Ratings: 13 | Reviews: 8
Reviews by Poupae:
More User Reviews:
3.78
/5
rDev
+26.8%
look: 3.75 | smell: 3.75 | taste: 3.75 | feel: 4 | overall: 3.75
Gold with tonnes of light sediment floating evenly with the body, and 3 fingers of fluffy off white head that fade fast. Chunky lacing.
Sweet malt, like sweeter than your average pilsner. Reminds me of an Oktoberfest beer on the nose. Quite floral, like some blossoms in there, but not overpowering. A sort of astringency as well.
Sweet malt, light dull bitterness that carries through, the same floral character also resonates.
Surprisingly low carbonation, lightly sweet brew like an Oktoberfest beer, a semi-dry finish.
Overall, I've had a lot of brews and think this one's not as bad as some are rating. If you can get your hands on one, why wouldn't you try it? Seriously, I drove to Laos to get this one. Not saying its the world's next best rare beer, but if you've tried it, you are in a seriously rare situation. Photo added by me.
849 characters

3.47
/5
rDev
+16.4%
look: 3.75 | smell: 3.5 | taste: 3.5 | feel: 3 | overall: 3.5
2.34
/5
rDev
-21.5%
look: 2.25 | smell: 2.5 | taste: 2.25 | feel: 2.5 | overall: 2.25
I had this during a business trip to Lao, I visited Beerlao factory on the same trip. Beerlao made up 90% of the beer consumption in Lao and also export to neighbour country Thailand. One can easily find Beerlao in any restaurants in Lao and also at the airport lounges.
This is a relatively new product (2010) compared to Beerlao Lager (1973).
Pour from 330ml bottle to glass. Clear gold with medium crown.
Malty metallic nose. Clean and crispy on palate with dull bitterness.
Overall, still prefer the original Beerlao Lager.
528 characters

3.1
/5
rDev
+4%
look: 2.75 | smell: 3.25 | taste: 3.25 | feel: 3 | overall: 2.75
"Beerlao Gold" premium lager beer brewed with precious Khao Kai Noy.
330ml brown glass bottle with gold body and neck labels and a branded pry-off crown cap purchased at a minimart in Luang Prabang, Laos for 12000 kip (~$1.45 at the time of this writing). This is the priciest of the Beerlao beers, and as far as I know doesn't make it outside the country (unlike its sistren). Reviewed from notes taken Summer 2016.
5.00% ABV.
Aroma is sweet but balanced, suggesting pale malts, honey, rice, fresh barley, and floral Hops. Suggests a simple but pleasant brew with nice depth of flavour. Quite enticing, though it doesn't promise much intricacy of flavour. Aromatic intensity is above average.
A rice edge does accompany the usual rice lager sharp overcarbonation in the third act and finish, but unlike many Japanese and Chinese mass-produced rice lagers, the rice here is full-bodied and flavourful. Clean barley blends well with the apt pale malt backbone, and tame notes of subsidiary honey and even Graham cracker do manifest, propelling this far from the cheap tasting swill that Southeast Asian macros tend to be.
Indeed, it's more in line with a well-brewed German lager, boasting noticeable depth of flavour and above average complexity for a Southeast Asian lager (whether rice or all malt).
Balanced albeit relatively simple (though as abovementioned, it does exceed regional competitors in terms of complexity), with a pleasing approachable taste.
Mf: Yes, it's overcarbonated, but not bitingly so. Smooth, wet, and refreshing, though its medium body will prevent it from being as appealing in the Lao heat as, say, Beerlao original.
O: I remain a defender of Beerlao as the best beer brand in all of Southeast Asia's backpacking circuit, but that endorsement aside, Beerlao Gold is merely above average when measured against Western expressions of the style. That it distinguishes itself from the myriad garbage beers ubiquitous in the region is testament to its quality, but it won't impress discerning drinkers. I think I'd sooner reach for a Beerlao or Beerlao dark, but this is well worth trying when in Lao PDR, and it's one of the better rice beers I've tried.
C+ (3.10) / ABOVE AVERAGE
2,214 characters
3.23
/5
rDev
+8.4%
look: 3.5 | smell: 3.5 | taste: 3 | feel: 3.25 | overall: 3.25
330ml bottle poured into a pils glass.
The clarity is crystal clear with bright golden color and thick foamy white head that stays with pretty good retention before gradually subsiding to everlasting frothy crown along with some lacing patch and spot on the glass-side, not much of visible carbonation.
Grain takes the lead in both aroma and flavor together with some sweetness and breadiness from malt as well as a slight touch of flash spiciness. Apart from that, there is also typical earthiness note of AAL as well as husk and slight acidic. The aftertaste has some residual watery-like.
Light body, crisp with semi-smooth mouthfeel and some lively carbonation generated refreshing feel through the palate, finish is clean and rather dry. Overall, it is average AAL that tends to go light, refreshing, and very easy drinkable.
833 characters
2.69
/5
rDev
-9.7%
look: 3 | smell: 2.75 | taste: 2.5 | feel: 3 | overall: 2.75
1.93
/5
rDev
-35.2%
look: 3.5 | smell: 1.75 | taste: 2 | feel: 2 | overall: 1.5
3.5/1.75/2/2/1.5
Poured from a 33cL can into a Beerlao Gold glass.
Clear gold. Smells metallic and skunky. Completely disappointing. It's worse than normal Beerlao. Unexpectedly Sharp, whether from metal or some 'superior' malt I know not. The sweetness is never heavy, but so light as to taste almost sour or spoilt. The mouthfeel is thin and the finish mercifully brief. I don't understand why or how this beer got made. NOT recommended. I didn't finish it.
EDIT: I think the can is the culprit. The draft version is still subpar to the classic, and generally repugnant, but it is mostly just adjunct sweetness and sharp-cheap finish that puts me off.
655 characters
2.89
/5
rDev
-3%
look: 2.5 | smell: 2.25 | taste: 2.75 | feel: 4 | overall: 3.5
I'll leave reviewing the nuances of this particular beer to others, and therein lies my own review: it's not really worth analyzing. It is a solid, workaday beer, something cold and bubbly to accept when given, but there is nothing special about it. My ratings were so low, not due to any actively bad things I could detect, but due to the lack of anything worthwhile. Better than a Corona, but that's a low enough bar to not be saying anything.
Not a bad beer, but nothing that I will seek out.
496 characters
1.84
/5
rDev
-38.3%
look: 1.75 | smell: 1.5 | taste: 2 | feel: 1.75 | overall: 2
Got a bottle at a mini mart in Vientiane. First time I've seen this after a week in the country. Apparently brewed with Saphire hops. From notes.
A - Pours golden and bright with strong carbonation. Two finger white pillowy head was gone really fast. No lace, no retention.
S - Corny, honey, really sweet. Lot's of corn. Seemed a bit mild but everything was unpleasant.
T - Really corny, oily, grainy. Quite sweet but not in a pleasant way. After some time it became more grainy, probably it's only redeeming quality.
M - Oily feel, medium carbonation, stinging corny sweetness in the finish lingers unpleasantly.
O/D - A fair step down from any other product carrying the Beerlao name. Don't know why this is so hard to find or why they even bother to make it at all. Not worth straying from the very beaten path of Beerlao and Beerlao Dark for. Got a little easier to drink and mellowed out a bit after a while, but still wasn't too nice of an experience.
965 characters
3.5
/5
rDev
+17.4%
look: 3.5 | smell: 3.5 | taste: 3.5 | feel: 3.5 | overall: 3.5
L: pale gold, lots of carbonation, not much head retention. looks just fine
S: smells like a sweet pilsener, more like a marzen or maybe Stiegl Goldbrau?
T: definitely bigger than a pilsener- more sweetness and more "club" crackers. some grassiness
F: smooth, vienna lager-ish, easy to pound
hmm. I want this to be different than beerlao- which is OK- but I had both in the same day and didn't discern much difference. Would drink it again but wouldn't seek it out
468 characters
3.41
/5
rDev
+14.4%
look: 3 | smell: 3.25 | taste: 3.5 | feel: 3.5 | overall: 3.5
Beerlao Gold from Lao Brewery Co.
Beer rating:
2.98
out of
5
with
13
ratings